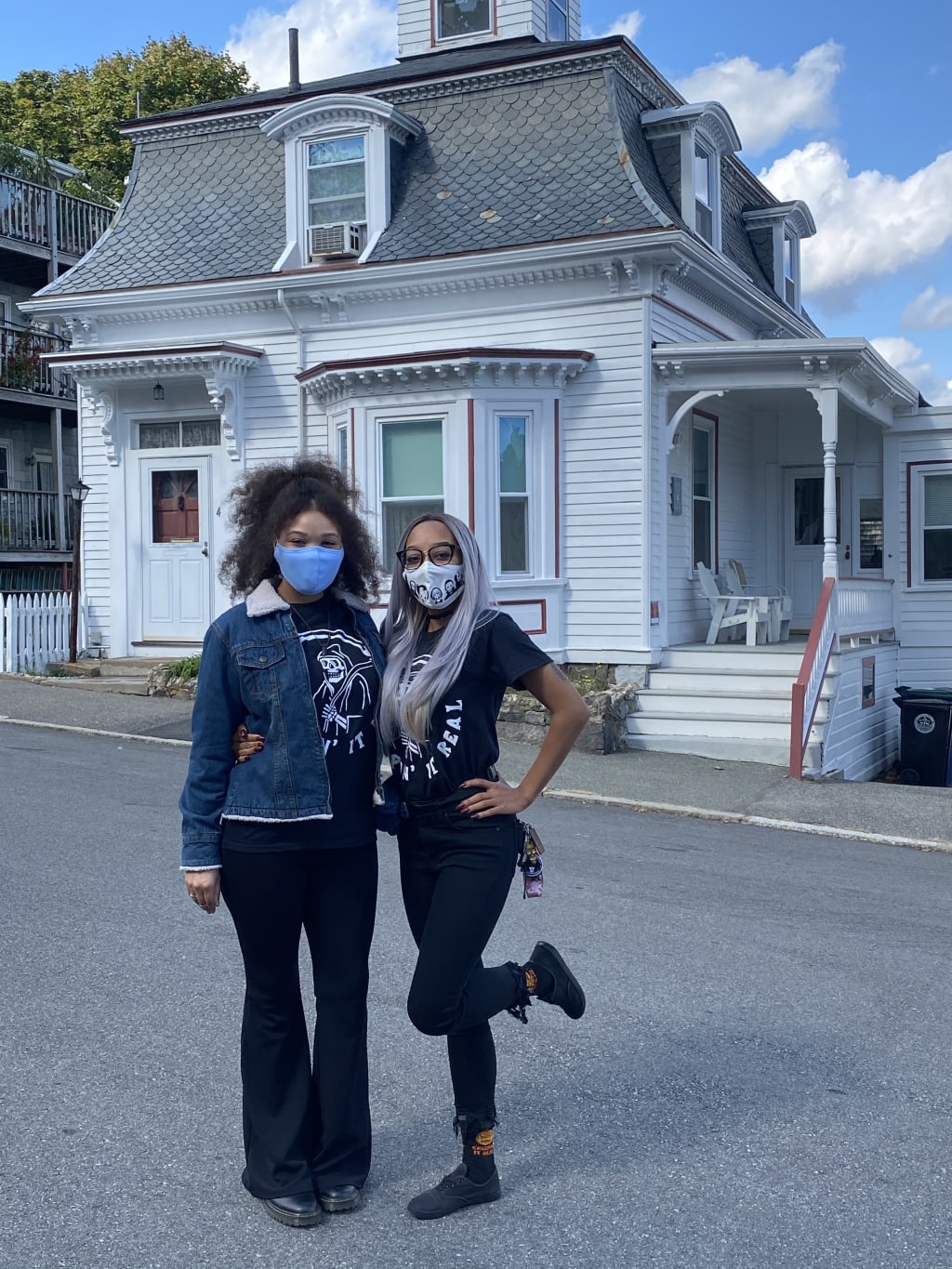 "Creepin' It Real" in front of the Hocus Pocus house!
Salem, Massachusetts is a small town whistling with historic energy. From cobblestone streets to historical buildings, to museums showcasing important artifacts, Salem is a special place. Visitors from all over the world come to learn the history of the Salem Witch Trials and everything else the town has to offer. When I had the opportunity to visit Salem in early October, the weather allowed for an array of outfits worn by all ages and sizes. One of my favorite parts of the trip was viewing all the cute trends and outfits of the visitors.
What the Puritans Wore
When I entered the Salem Witch Museum, there was a shadowbox containing outfits the Puritans wore. In the late 1600s, the Puritans were very religious and based their lives on their beliefs. According to learnsalemwitchtrials.weebly.com, their conservative beliefs transcended into what they wore: modest, appropriate, and plain items of clothing. Women specifically had to be covered from head to toe in long dresses and aprons, wearing their hair slicked back in an updo. Men wore black suits and top hats.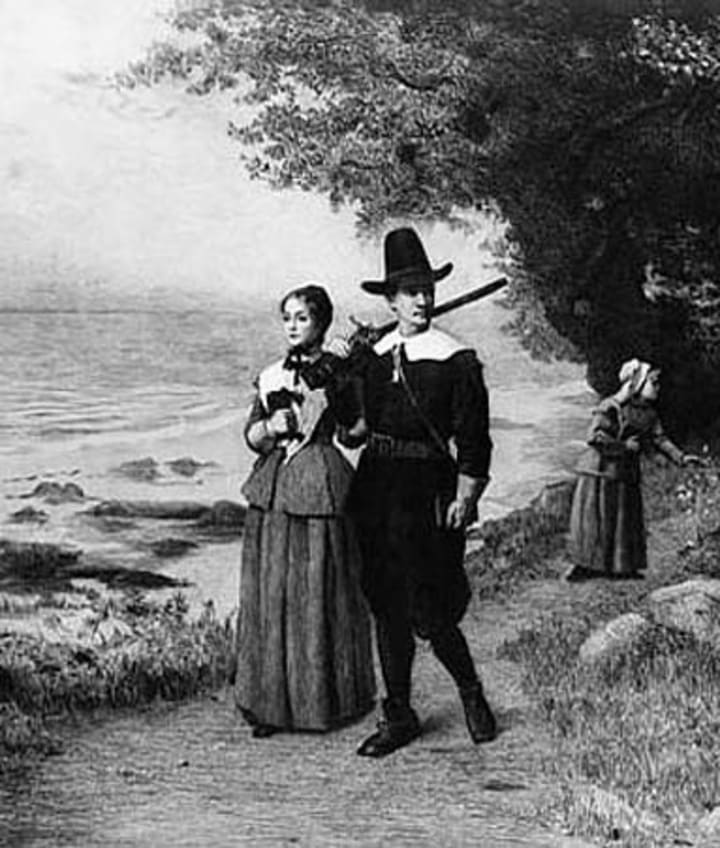 Although those who were accused of being witches looked like everyone else in their community, the media reframed the appearance of a witch. In the 1930s, The Wizard of Oz shows the wicked witch as a green woman who is dressed in all black and wears a pointed hat. Soon after the movie's release, witches lost the negative connotation and gained a different view from the public eye.
The Modern-Day Witch
Nowadays, we have a better understanding of witches, pagans, and those who practice witchcraft. Long gone are the days of accusing people of practicing witchcraft and hanging them as a result.
While out in public, witches typically do not wear pointy hats, paint their skin green, or put curses on children. Instead, they prefer to not wear any clothes, bond with the earth, dance under the moonlight, and frolic through floral fields.
The modern-day witch cannot dance around naked in public, as that is considered public indecency. Witches today wear a lot of dark clothing and accessorize with jewel-toned rings and necklaces. Long gowns, lace, and bell sleeves are a few trends you could find in a witch's closet.
Modern-day witches can aesthetically relate to the beloved characters in movies and TV shows where witches such as The Craft, AHS Coven, Charmed, Practical Magic, Bewitched, and Sabrina the Teenage Witch. Witches also look towards their idols for outfit inspiration, like the iconic Stevie Nicks and the sultry Lana Del Rey.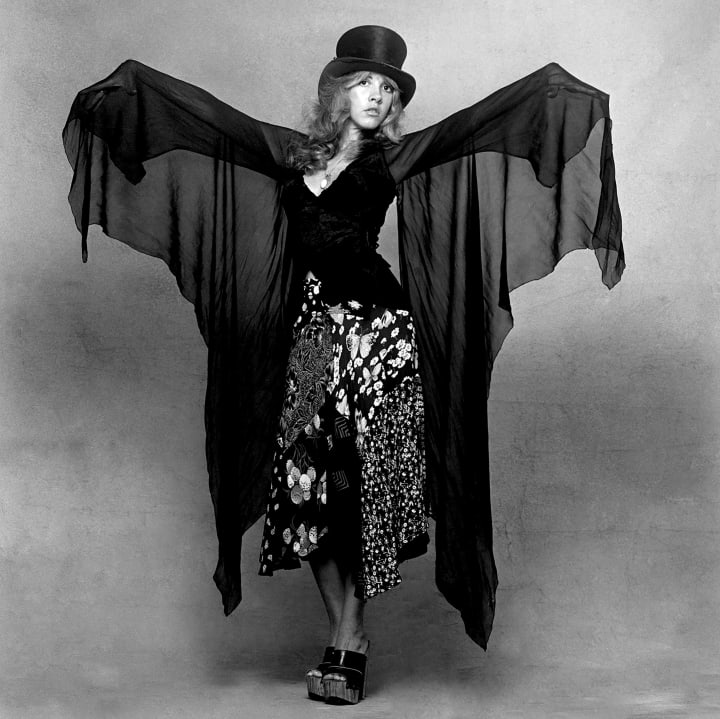 Salem Inspired Witch Attire
Here are a few outfit combinations inspired by Salem, Massachusetts.
Outfit #1: Sweater + tennis skirt + tights (optional) + Doc Martens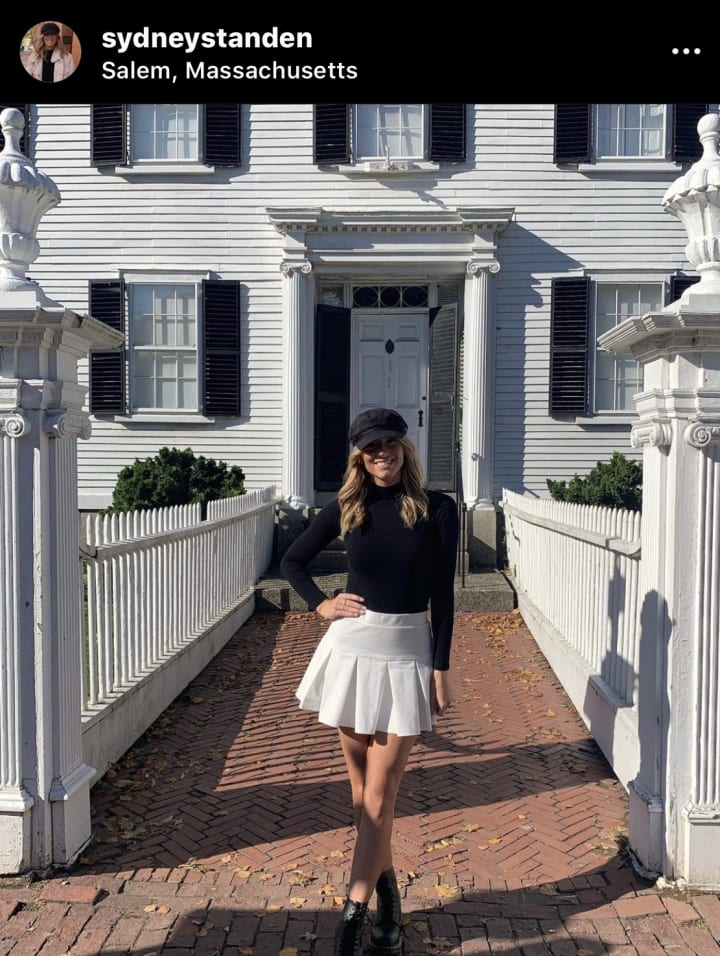 @sydneystanden (IG) is very trendy in the tennis skirt--one of the biggest trends of 2020.
Outfit #2: Sweater dress + corset top or corset belt + over-the-knee boots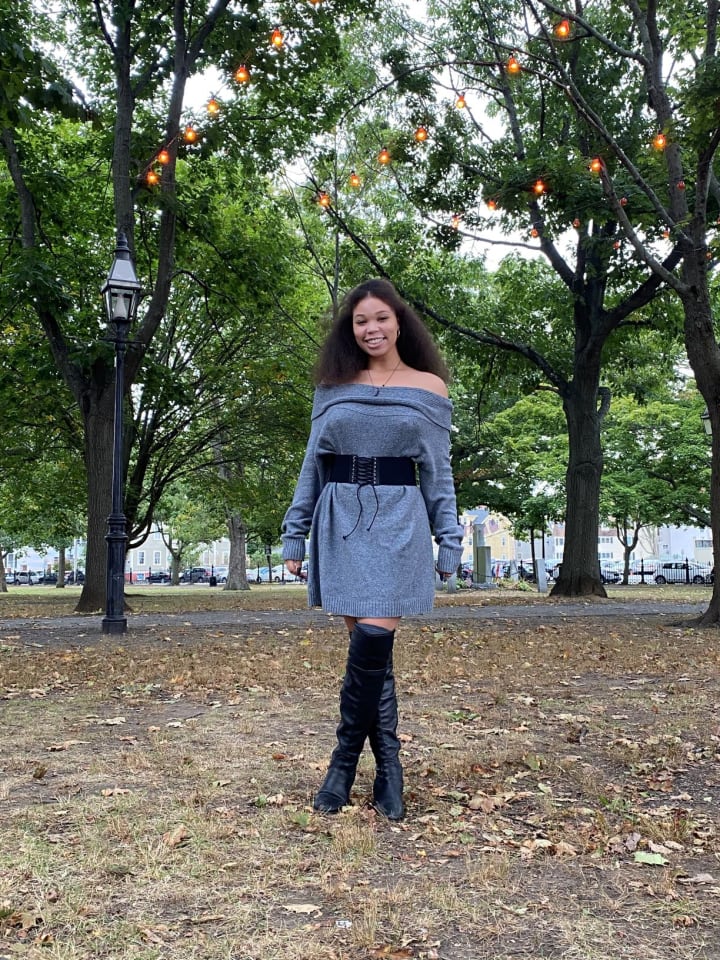 Similar to the Puritans, I saw a lot of people wearing floor-length dresses and skirts. For a trendy touch, witches would pair their long skirts with a corset top or a corset belt.
Outfit #3: Tiered dress + leather jacket + boots
Like tennis skirts, tiered mini-dresses are trending as fall fashion. I saw a girl wearing a yellow and black checkered mini dress with chunky socks and black platforms. So cute!
Outfit #4: Modern Witch Hat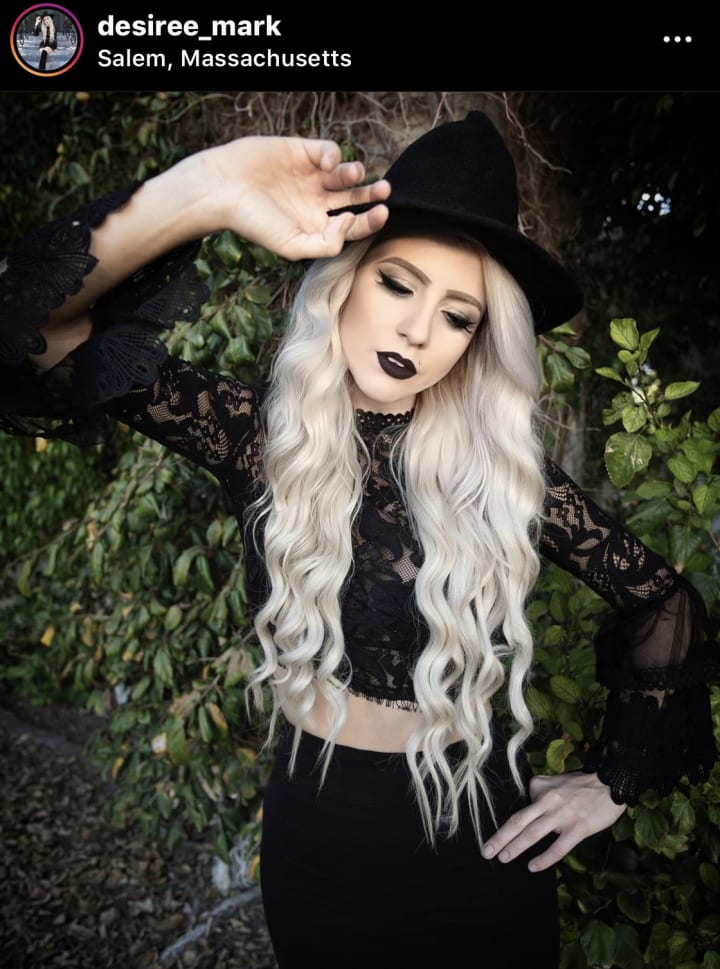 This year was the first year I have seen the modern witch hat! I think it's a cute idea to give witches more comfortability when expressing themselves through fashion. Not everyone is rid of ill-feelings towards witches, so the modern witch hat allows self-expression without drawing too much attention.
Outfit #5 All black everything + accessories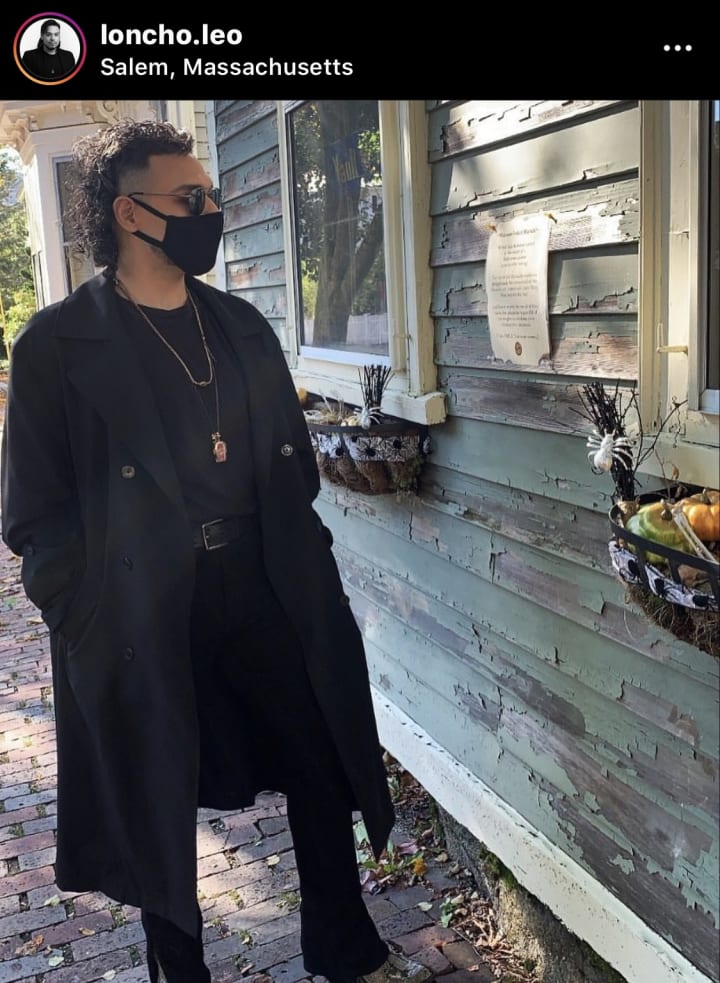 Wearing all black will always be a killer look. Think Morticia Adams: a long dress with flowing bell sleeves, dark makeup, and black heels. The black outfit can be broken up with jewelry and other accessories.
Outfit #6: Poncho + leggings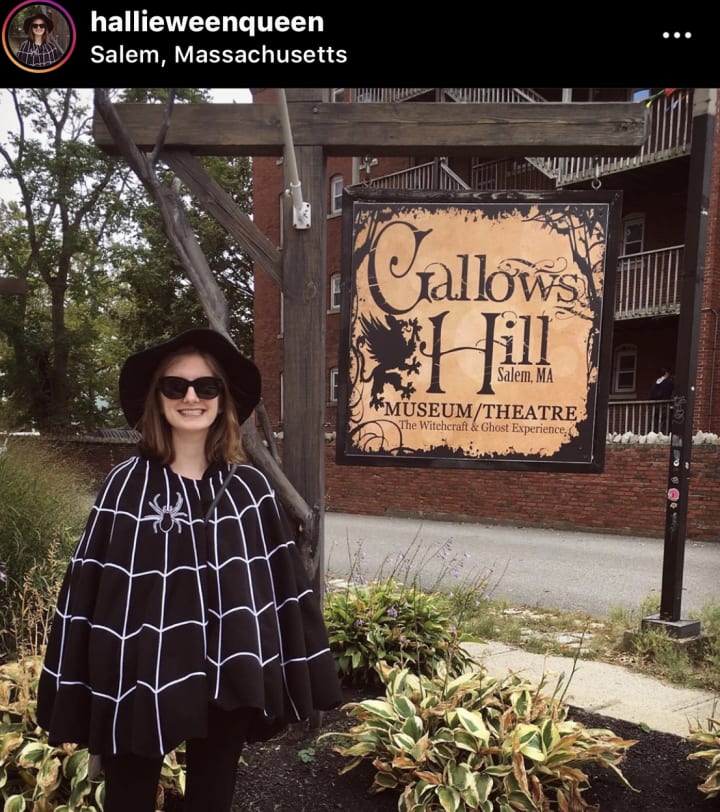 Ponchos and capes are perfect for fall. Wrapped in a poncho or cape is equivalent to the coziness of being wrapped up in a blanket.
Outfit #7: Halloween Costume
During the month of October, you can't go wrong with wearing your Halloween costume! Showing your spooky spirit is never frowned upon.
Outfit #8: Spooky t-shirt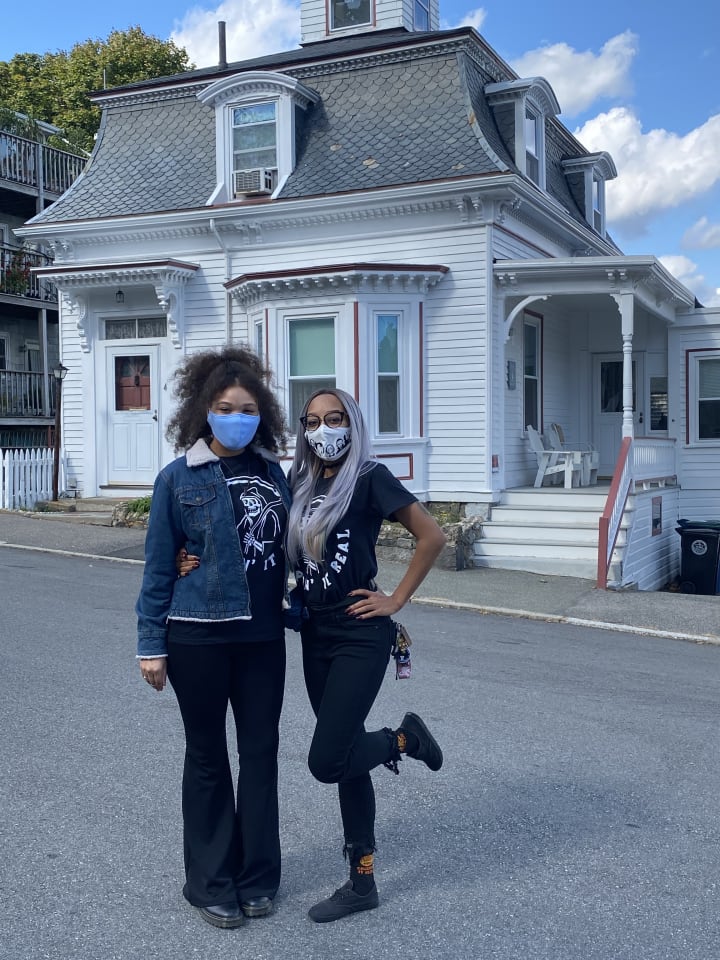 A Halloween-themed graphic tee is a perfect top for a fun but simple look. Even the sight of a spooky saying is enough to bring out the Halloween spirit.
Outfit #9: Salem Merch
In Salem on Essex street, there are plenty of small businesses and gift shops to support. I was happy to see lots of people strutting around in their new Salem t-shirts and hoodies.
Outfit #10: Plaid Skirt + Blazer
I was happy to see a lot of colorful clothes while in Salem. While I loved seeing the traditional fall colors like mustard yellow and olive green, I liked seeing other colors that weren't necessarily considered fall colors like pinks and purples.
I hope you can takeaway some outfit ideas for the rest of fall. Remember, you can add witchy elements to your outfit without sporting a tall, pointy hat. Blessed be!
Sources:
https://mgetsdressed.com/2019/10/24/guide-to-creating-wearable-witchy-outfits/
harpersbazaar.com/fashion/trends/g1496/stevie-nicks-style-photos/?slide=1
https://www.bustle.com/p/the-complete-history-of-clothes-worn-by-witches-from-the-salem-witch-trials-to-the-craft-19260755
https://learnsalemwitchtrials.weebly.com/clothing.html#:~:text=Women%20wore%20dresses%20that%20covered,and%20hats%20with%20a%20brim.
I had permission to use the pictures from Instagram.
About the Creator
I'm a 20-something writer and digital artist. Follow my art account @bratty.beach on Instagram for more creative content.
Reader insights
Be the first to share your insights about this piece.
Add your insights