10 Creative Kurta Styling Tips to Look Taller
Styling Tips to look taller when wearing Kurta's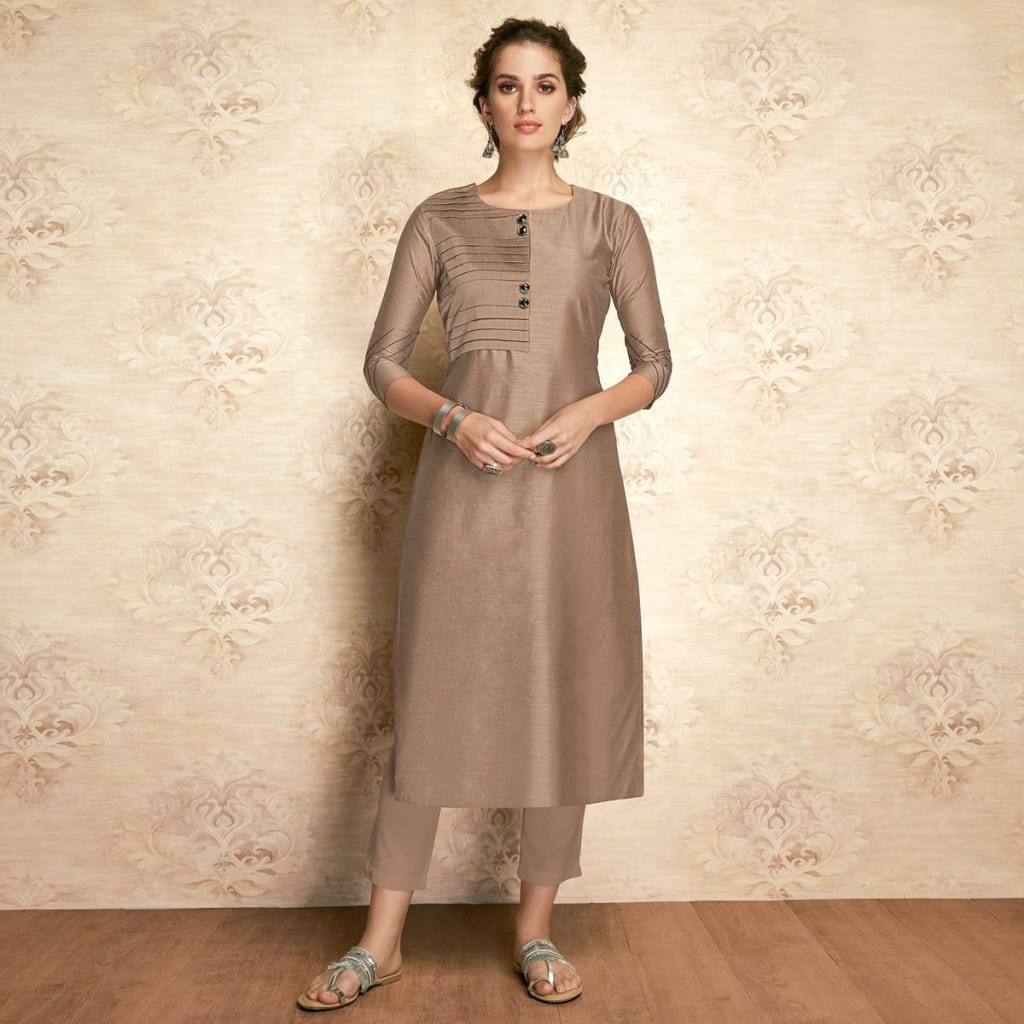 Kurta designs for girls
Do you feel that you don't have a proper height and that's why you get to your wit's end when you have to choose your clothes? Do you also feel hesitant in opting for an outfit as you have the fear that you might look shorter? Thought the average height of Indian women is around 5 feet, always remember that all the good things mostly come in small packages! So, love yourself and try out these ten creative tips to style your Kurtas in a way that you won't look as short and will still stand out and shine.
Pick Straight Pants as Bottom
Following fashion trends, blindly isn't a great idea. For example, palazzos are in trend these days. If you have a short height and pair your Kurta with palazzo pants, it might not suit you. Wonder why? Palazzos have wide flares at the bottom which make you look shorter, so it's better to wear long kurtas with fitted pants. You can add a pair of stilettos to give you extra height.
Solid Colored Kurta
With so many Kurta designs for girls available in the market these days, one can get confused about what to choose. Solid coloured outfits create an illusion of a long vertical line and give you a taller look. Just ensure that you wear a well-fitted Kurta and choose colours such as neon lime, peach, navy blue, deep purple, and teal.
Avoid Complicated Prints
Shopping for Kurtas could be a daunting task as the variety and choices are endless – with so many fabrics, patterns, prints, and cuts available, you might end up buying a printed kurta which might not be the perfect choice for you! Big and complicated prints might make you look even shorter as they also create an uncomfortable line of sight. For a taller look, try to buy prints that are not too confusing or harsh on the eyes. If you want to see some such Kurtas which will enhance your height and make you look taller, Continue here and view some of our latest collection.
Usual Kurtas with Front or Side Slits
The traditional kurtas in your wardrobe that have side or front slits are right for you. The front slits that mostly start at the waist are the right choice if you pair them with some solid coloured bottoms. It will help to create lines in a way that makes your legs look much longer and what's more? You also look slimmer!
Choose a Monochrome Attire
Though this one isn't new, it's a very trusted trick. Yes, monochrome provides you with an illusion of height. So, if you wish to look taller, then avoid prints in your outfit. Go for monochrome Kurtas, and you will look taller. Check out a variety of monochrome kurta designs for girls and shortlist what you like.
Wear Long Straight Cut Kurtas
While shopping, remember that short Kurtis might make you look shorter, so it's advisable to opt for longer kurtas, which go beyond your knees. Long Kurtas tailored in a straight cut and solid colours, with minimalistic prints will always add length to shorter framed women. Pick up straight-fitting pants in the same colour to give a continuous effect which will make you appear taller.
Deep Neck Cuts
Other than the colour, fitting, and prints of the Kurta, you should find the ones that have deep and big necklines, for example, sweetheart or v neck. Deep necklines always give a leaner look to your neck, hence providing an illusion of a few extra inches to your height.
Opt for Darker Hues
Choosing darker shades like teal, deep purple, burgundy, charcoal, navy, and black is a wise way to create an illusion of height for shorter women. Dark and solid colours make petite women look taller. Longer Kurtas in monochromatic and solid hues offer a tall appearance to short-heightened women.
Go for Vertical Patterns
With stripes being in fashion, always pick vertical striped Kurta if you are short-heightened. Horizontal stripes make you look shorter and broader, and the vertical stripes add an illusion of extra height. You can also pair it with a similar bottom in vertical prints and tailored in a straight cut.
How about Skirts with your Kurta?
Try wearing your Kurta with low to medium flare skirts as they work very well for short-heighted girls. It helps to create an illusion of additional inches by eliminating the extra fabric and gives you a taller and leaner look.
So, whether you are shopping for kurtas for office, for casual outings, or parties, keep these tips in mind and enjoy wearing this lovely outfit.