With its plethora of kid-friendly content, Disney Plus has become the streaming service of choice for many families. Movies on Disney Plus are also great for everyone in your family, with each show full of childhood memories for grown-ups. Don't worry about not knowing where to start when faced with huge content, this article helps you sort out 10 best kids movies on Disney Plus.
When introducing the best kids movies on Disney Plus, this article also lists each movie's content rating. If you want to let your children watch kids movies on Disney Plus, this can help you know if the movie is right for your kids to watch. Not only that, Disney Plus develops parental controls to limit what your child can watch. Just read on learn about what is content rating and the 10 best kids movies on Disney Plus.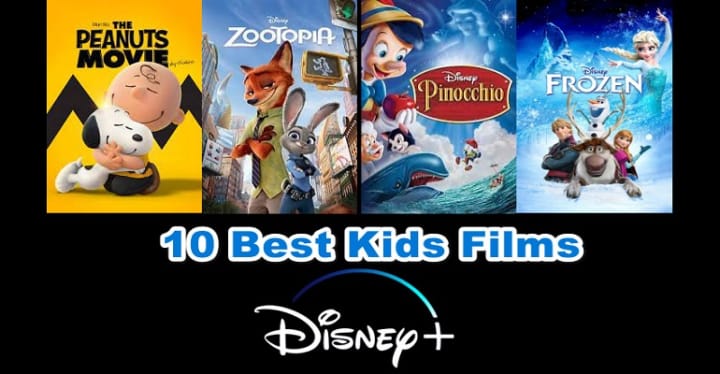 All Disney+ content has a maturity rating that is set by Disney+ or in accordance with local regulations. Disney Plus divides movies into five option ratings: G, PG, PG-13, R, and Unrated.
G (General Audiences): All ages are permitted. Nothing would be offensive to parents if children watched it.
PG (Parental Guidance Suggested): Some content might not be appropriate for kids. It is advised that parents provide "parental guidance." There may be some content that parents may find inappropriate for young children.
PG-13( Parents Strongly Cautioned): Some content might not be suitable for children under 13. Parents are advised to be cautious because some content may be unsuitable for pre-teenagers.
R (Restricted): Persons under the age of 17 must be accompanied by a parent or adult guardian. Some adult material is present. Before taking their young children with them, parents are strongly advised to research this film.
Unrated: Unrated content might exist in some markets. Junior Mode* won't include any unrated material. The content ratings limitations of the profile being used must be set to the highest rating (TV-MA: This show is expressly intended for adult audiences and may not be appropriate for children under 17) in order to access unrated content.
*Junior Mode: It is also known as Kids Profile, which features an easy-to-use Disney+ interface. Content Ratings for Junior Mode cannot be changed because it is already structured to include content suited for all ages. There may be some changes in the availability of particular titles while streaming from a Kid's profile in different countries/regions due to variances in local ratings and cultural sensitivity.
Disney Plus account can have up to seven separate profiles. You can choose the content ratings for each Disney Plus profile, as well as the name and avatar. After setting up, content rated higher than the profile's content rating will not be displayed when browsing or searching Disney+.
Tips:
Disney+ has a number of parental-control options for parents and guardians who wish to ensure that their children can't access such adult-oriented content, such as the ability to create a Kid's Profile that can assist your children watch content that is appropriate for their age.
Step 1 Open your account and select "Add Profile".
Step 2 Choose a character icon and set a name for the profile. Switch "Kids Profile" to "On," then click "Save."
1. The Peanuts Movie (2015)
2. Cinderella (1950)
3. Zootopia (2016)
4. Sleeping Beauty (1959)
5. Frozen (2013)
6. Inside Out (2015)
7. Encanto (2021)
8. Beauty and the Beast (1991)
9. Pinocchio (1940)
10. Ice Age (2002)
Reader insights
Be the first to share your insights about this piece.
Add your insights