Supported by Ollie
You Shouldn't Be The Only One Eating Healthy — Treat Your Dog To Clean Food.
My name is Mochi and here's why Ollie, the fresh dog food, is my favorite thing to eat. It's wooftastic!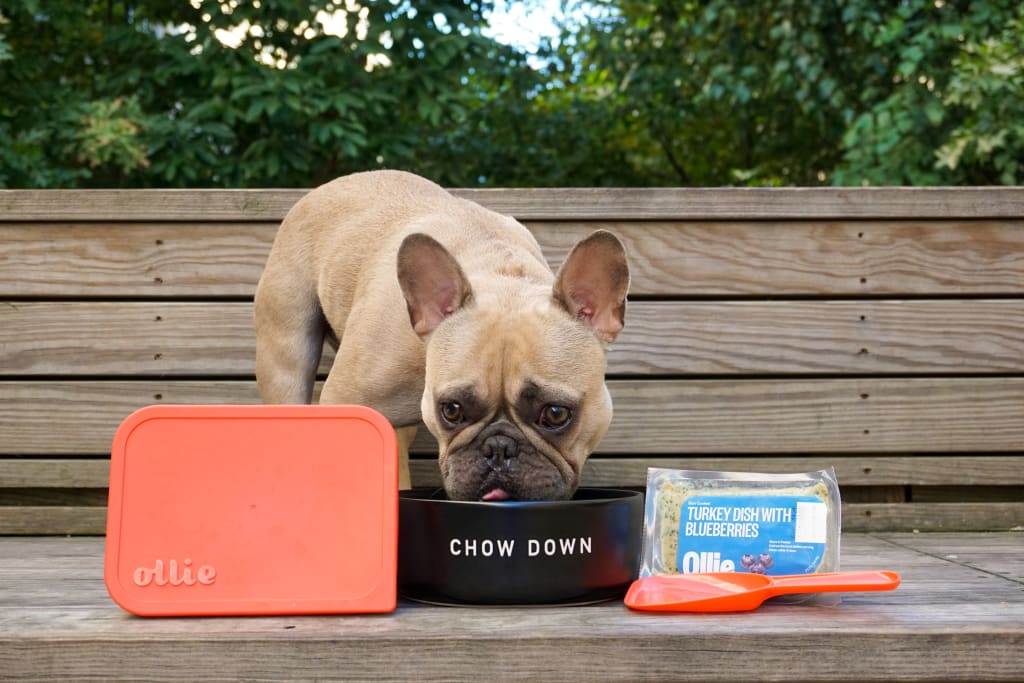 Woof! My name is Mochi and I am a blue fawn French Bulldog, living in Brooklyn, New York. I was born during the pandemic in the suburbs of White Plains, I lived a sheltered life in my early days of puppyhood and yet, I quickly adjusted to my life as a city pup. When New York City started to open up, I turned into a social butterfly, always on the go to meet other city pups and their humans. I may be short, but I've got a huge personality to make up for my height. My weekends are packed with either dog friendly events or puppy play dates at Boris and Horton, a dog cafe in the East Village and my favorite place in all of New York City.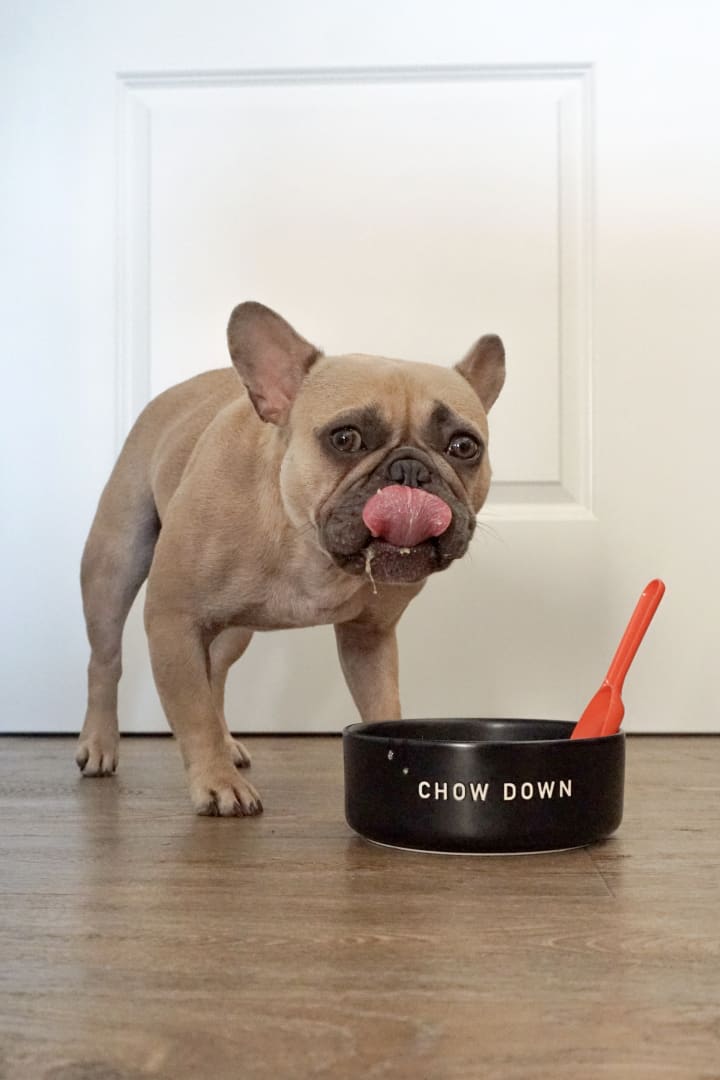 As busy as I am, it is very important that I fuel myself with the best ingredients and the most nutritious diet in order to be energetic and ready for any and every adventure with my humans. I'm not picky about playing with friends but I am very picky with eating my dog food. For a little over the past year, I was on the raw food diet, but I started to lose interest in my food at 10 months old. My parents were concerned because I was lean and skinnier than most French Bulldogs at that age. I would eat half of my meal and then back up, waiting for my parents to add coconut oil, meal boosters, or sometimes dog friendly peanut butter to get me to eat more. That's when they decided to change my dog food in hopes that I would be more motivated to finish my meal and gain more weight. Luckily, they found Ollie, human-grade dog food and let me tell you why the switch to Ollie made such a difference to my diet and lifestyle.
1. Customized to My Needs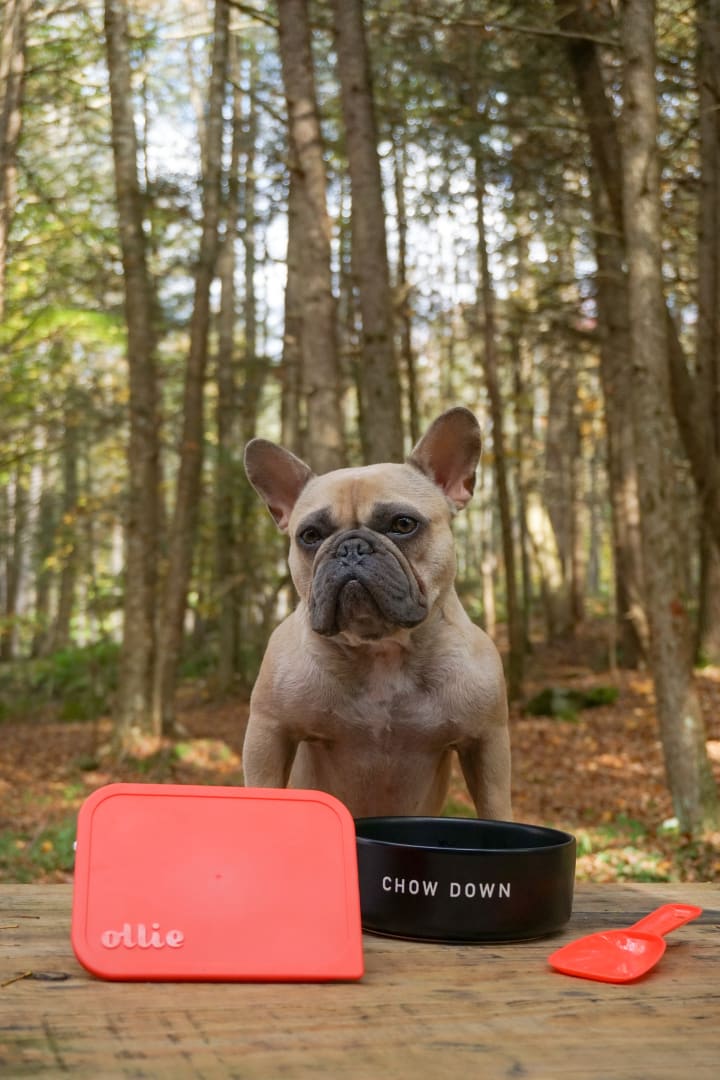 Before placing an order on their website, I took a quick quiz and the results showed me that I should be eating about 425 calories a day based on my age, breed, weight, activity level and allergies. Every food pack is made with human-grade, natural ingredients. That's why when you open each pack, you'll see the fruits and vegetables in their actual form so you know that it's made with healthy and real ingredients without any additional preservatives and fillers. Ollie teamed up with a veterinarian nutritionist to formulate the recipes while ensuring that it is gently cooked and maintains its nutritional value. In addition, there are four different protein and recipe options to choose from, which is great for a picky eater like me. My parents rotate the protein every few days for me so I don't get bored of the same food and they are all nutritionally balanced and complete.
2. Fast Delivery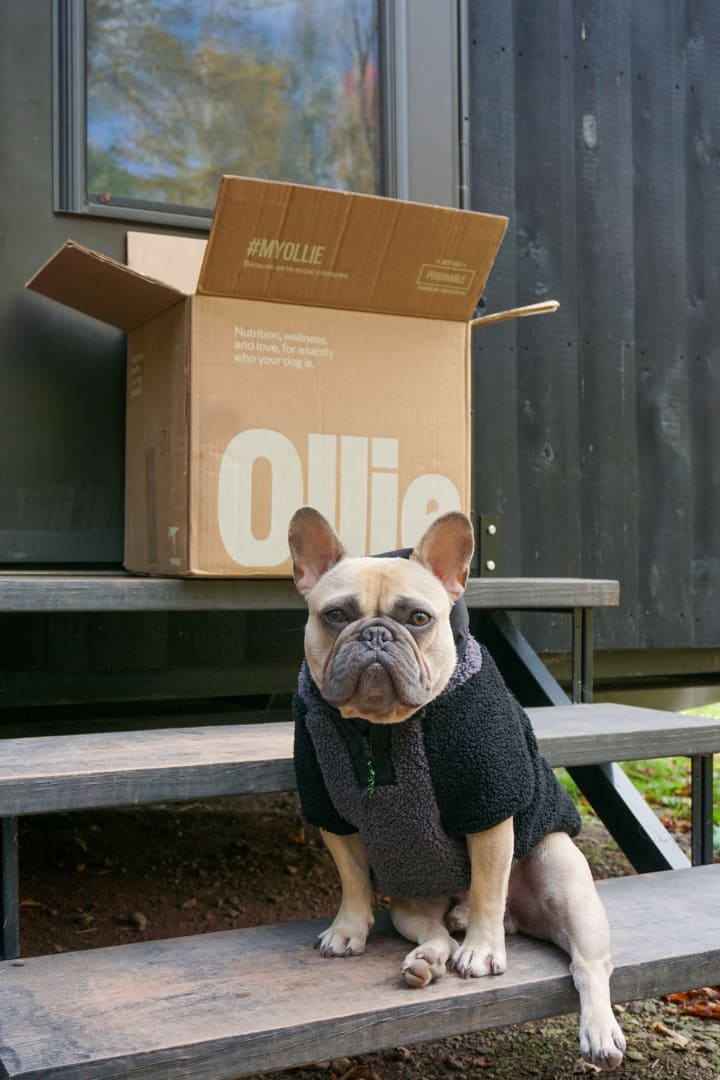 Previously, my parents drove every few months to buy my raw dog food in bulk. Now, they receive shipments of Ollie every month. It arrives right on time and is packaged securely with dry ice so that the food packs are still cold and frozen. All you've got to do is store it in the freezer and thaw a pack the night before in the fridge! My parents are so glad they don't have to make trips to the pet store buying in bulk because now, it comes straight to our door — and the shipping is free with your order! This means more time to explore the city and go to puppy play dates. Honestly, this was one of the main deciding factors for switching to Ollie.
3. More Motivated to Eat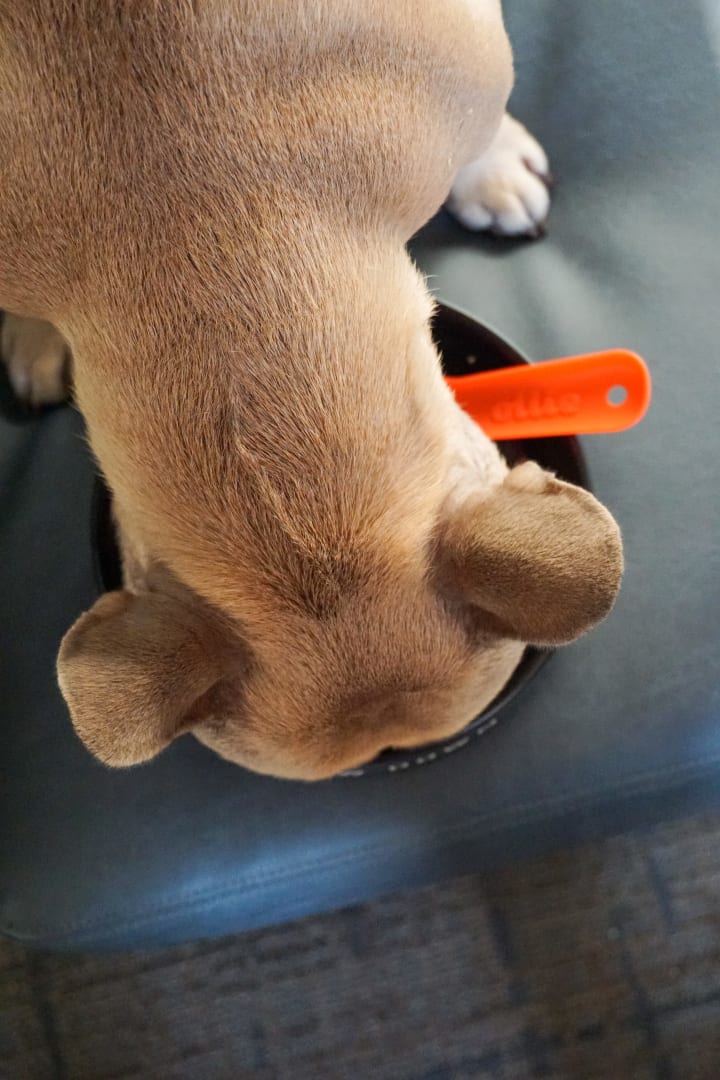 As I've mentioned before, I struggled to clean my bowl because I am such a picky eater. Ollie taught my parents to add hot water to my food to enhance the meaty aroma. They even smelled it themselves and considered trying it out because it smelled comforting and savory. I can't wait for my next meal and would wait patiently as they prepare it each day. Before my parents would have to sit next to me, add extra flavor or meal boosters, and watch me eat a little more. Now, they set the food down and leave me alone to eat in peace. Also, they noticed that I'm still lean, but gained a little more weight so that I look more built overall like other French Bulldogs my age. They observed that I pooped less but that it was firm and not wet. My parents talk about my poop so casually to other dog parents, it's embarrassing! However, it is true that my poops were never consistent, but now with Ollie, they are easy to pick up and smell less.
For all these reasons and more, I am incredibly glad to be a part of the Ollie pack. I've seen the difference that it has made on my diet and lifestyle. It was an easy transition from raw to a human grade, fresh dog food diet. Ollie keeps it real by telling you all the ingredients in their recipes and they're not afraid to speak about how their dog food improves digestion, meaning less poops per day. Furthermore, they know how to satisfy a picky eater like me which is the biggest difference my parents have seen since I started Ollie. No wonder they tell their friends I eat better than them because I do, thanks to Ollie's customized, subscription meal plan designed specifically for me. Finally, Ollie arrives straight to our door so my parents don't have to stress about last-minute trips to the pet store to restock on buying dog food. They also like that Ollie's packaging is either compostable, recyclable, and made from recycled materials, which means we're doing our part in helping our planet to reduce waste. Every pup should be living their best life and it starts with a complete and healthy fresh food diet like Ollie. When you eat better, you feel better! That is why I am fueled by Ollie so I feel ready for more adventures!