You May Call It Puppy Love
I call them best friends.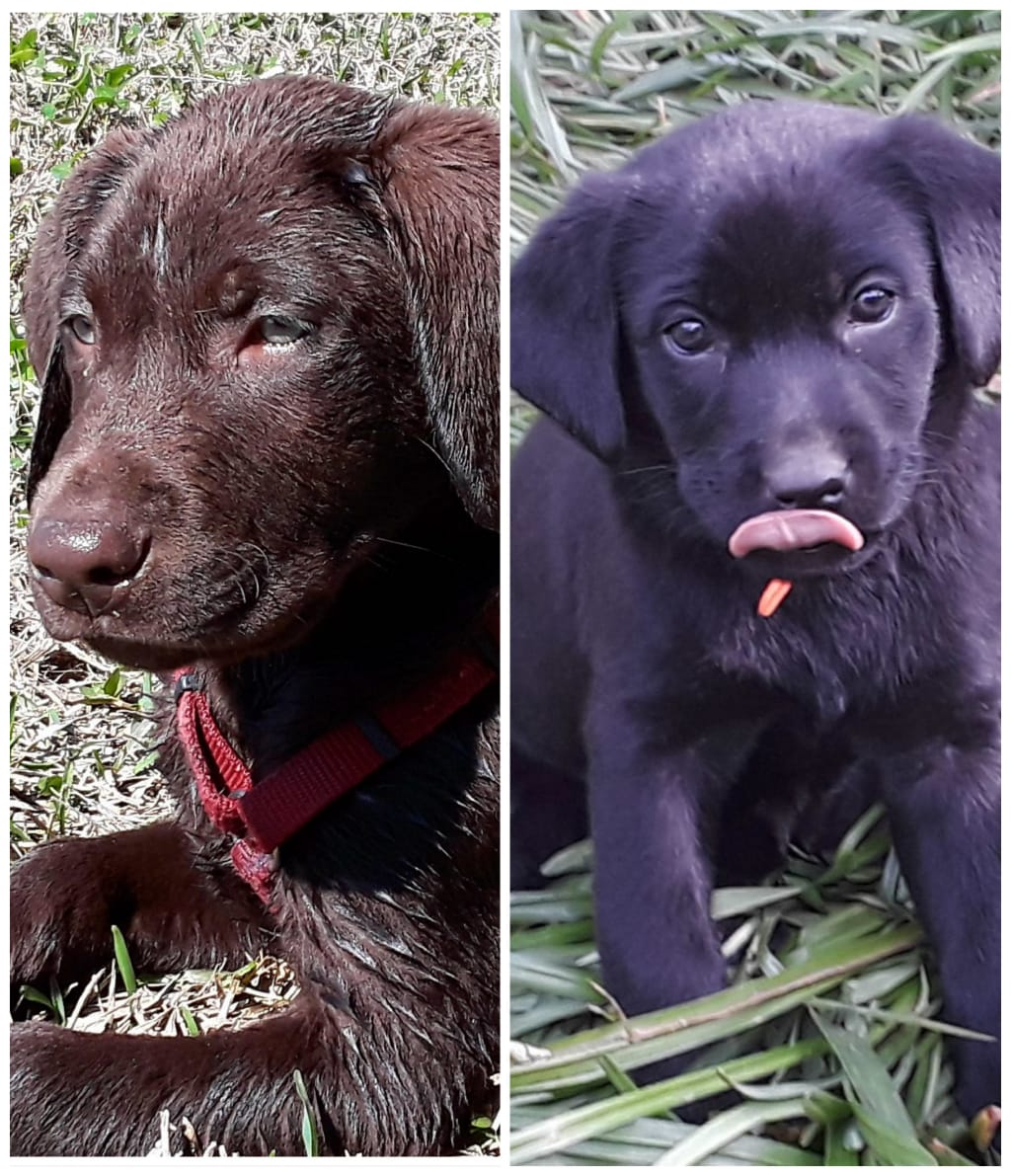 Limit and Gracie
Funny thing about friendship: It can last forever or it can end just as abruptly as it began. The first time you meet, that bond is formed. Meet Gracie and her BFF puppy friend, Limit. I don't find their friendship to be any more different than mine. These two were purchased with the sole purpose of someday becoming "GREAT" duck hunting dogs. Gracie belongs to my husband and I while Limit belongs to our next door neighbors. They differ in age but not by much. When these two met, Limit was going on five months while Gracie was just reaching nine weeks. An instant friendship started from day one. They became inseparable and did pretty much everything together including getting into trouble. What they didn't know was just how short-lived that friendship would become. You see, in order to become a good hunting dog, four months of training has to happen and since Limit was the oldest, he would soon be leaving to start his journey while Gracie stayed behind and waited her turn. This is their short but cute furry friendship story.
It's wrestling time.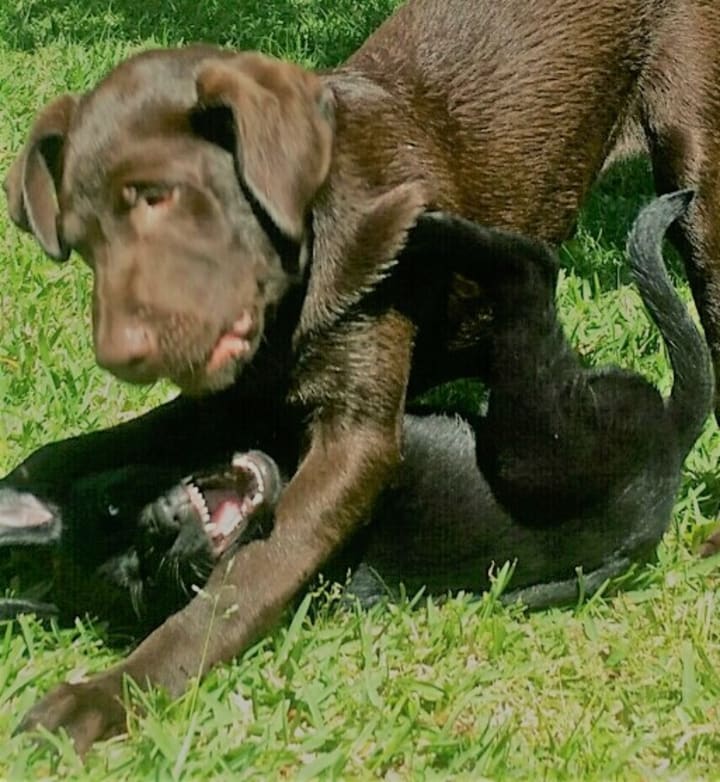 I find that friendships are developed when you both possess different qualities. You both have different likes and dislikes and although your personalities differ, you still get along. I realized that these two puppies are no different than you or I. They may seem close, however, they differ in allot of ways as well. Take Limit for example. He is the Chocolate Lab. He is hard-headed and stubborn. He may act like he wants to be loved and admired but he doesn't like to be petted or touched. The Black Lab Gracie has a loving heart and embraces every bit of attention that you are willing to give her. She's a pleaser. Limit likes to just run around for playtime yet Gracie likes to wrestle. She is what you would call a "TOMBOY" and loves to play rough. The more hyped-up Limit got, the more she liked it and yet when you put these two together, you had double the trouble. The thing about puppies is that they don't like to listen so when these two got going, all rules went out the window. They used to sneak away when no one was looking just so they could run next door and get in a quick play session before they were caught in the act. We just couldn't drill it into their furry little brains that it was impolite to show up at someone's house unannounced. That still exists today because now Limit is home and Gracie is gone. He still sneaks over every once in awhile.
Naps were a blessing.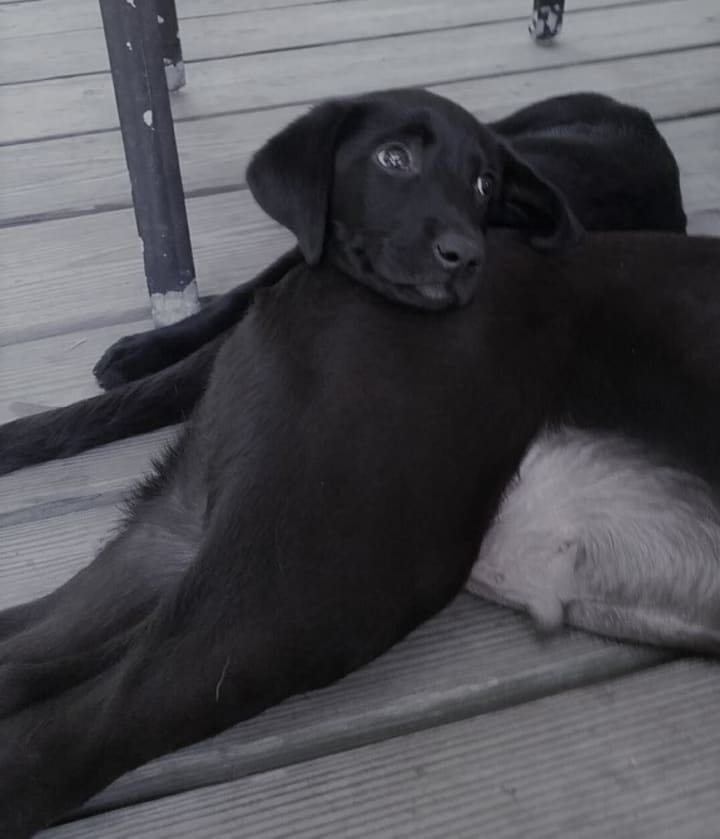 Just like any childbearing parent who is waiting for that moment of silence and bliss, puppy life is no different. Puppies can be busy work but yet, their playtime is so short that you look forward to every nap moment that comes your way. Limit was Gracie's security blanket. She enjoyed laying on him after each play session. No matter how tired she was, it was not nap-time as long as Limit was out and about. Trying to coordinate that time was difficult because Limit was not always around, however, when he was, I would go and borrow him just so I could use that time for him to wear her out out so that I could embrace those puppy naps. There is nothing more enjoyable than watching a young and slow puppy try to keep up with her older and faster friend, yet, he would never leave her behind. No matter how far she lagged when they would play chase, Limit always stopped and waited for her to catch up before he would take off again. That is what I would call true friendship. He knew that her short legs could never keep up with his. It wasn't always about chase or wrestling though, sometimes just laying in the grass fighting over a stick was enough to keep these two friends happy.
Boundaries Please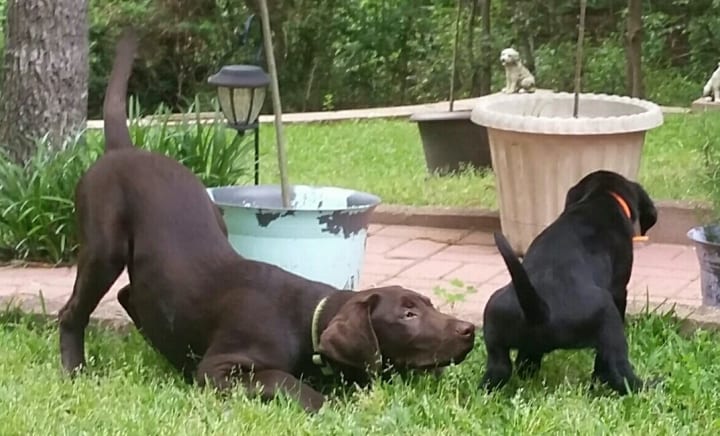 When I say that these two were always together is an understatement. Their time may have been short, but it was blissfully sweet as well. As with any other friendship, sometimes boundaries were crossed. Limit always wanted to run and frolic in the water and so did his sidekick Gracie. Because Gracie was a dominant puppy who liked to play rough, it didn't seem surprising when she would leap like a cat on top of her tall friend Limit and dunk him under the water, however, his retaliation would always be to take off running. I think that he knew that he was faster than his friend and her ability to catch him would never happen. That was his escape from what probably seemed like a puppy bully moment. I think those boundaries would be tested now because he has no idea just how big and fast she has now become. I think her dunks would be a bit more aggressive and I am pretty sure that she could keep up now.
A Little Training Session
Friendships can sometimes bring distance. Life moves on and sometimes it takes you to different places. When I mentioned that Limit and Gracie had just a short time together, I must admit that it was roughly a month. You see, eventually Limit left to start his training and Gracie would everyday try to sneak next door for her daily play session with her favorite friend. There were times that Limit got to come home for a few days but the more he trained, the more he changed and Gracie tried to pick up where they left off only to be let down because the one thing you can't do with a dog in training is break that foundation. What did we do? We involved Gracie in the training sessions and while Limits remained serious and we kept him focused on what he was being trained for, to retrieve ducks, we made Gracie's fun. There were times that she would feed off of his energy and we would see the hunting dog come out in her as well. The way I see it is, whats a friend if they can't lead by example?
Friends For Life
I will end this with just one word "FRIENDSHIP." It can mean different things to different people. It can be a lifelong bond or a short-lived encounter. As I am writing this, Limit is finally home and has even gone on his first hunt while Gracie still has another month of training to go. What I want to see when she does return is if their friendship stayed intact. Will they pick up where they left off or did distance change them? Will they still frolic in the water, enjoy boat rides, nap together as well as chase and wrestle? Or will they just be hunting buddies? I guess only time will tell.