Why Dogs Deserve 5 Star Meals
Why is Ollie important? Because we need to protect our dogs.
The top 3 things that are constantly on my mind are usually:
Is baby Kennedy okay?
What will I eat next?
Where's Phoenix?
One and two are self-explanatory as to why, so let's go ahead and skip to number three. Phoenix is the capital of the sunshine state but it's not because I am geographically challenged that I am constantly wondering its location. There is also the definition of a Phoenix if you look it up in Webster dictionary which follows, "noun. A mythical bird of great beauty fabled to live 500 or 600 years, to burn itself and rise from its ashes in the freshness of youth; often an emblem of reborn idealism or hope". Now there is a third noun for the word Phoenix and it's personally my favorite definition, a 5-year-old 35lb Beagle/German Shepherd (who lives with Ashley and Kenny Hawk). We rescued Phoenix when she was just 3 months old after she and her littermates were found abandoned. Around this time, I had also just moved in with my now-husband when one day he surprised me by bringing her home. Four years later the three of us have moved into 2 different homes, run marathons, traveled to the deserts of Arizona and the mountains of California, and welcomed her little sister and my first two-legged baby Kennedy. The reasons we love our Phoenix are just about endless but one that is often on my mind is how safe she makes me feel. So recently I decided to thank her for protecting us and decided we needed to do a better job of protecting her.
Many of us are familiar with the saying, "You are what you eat". As a professional nutritionist I recently realized that I was becoming guilty of preaching a message about the importance of consuming sustainably sourced whole foods; however, there was one member of our family who wasn't quite getting the same treatment as the rest of our family. We read the food labels on what we buy for our kids, but it seems most people don't read the labels on dog food. That's when I found Ollie. Ollie is fresh dog food that is customized for your pooch and delivered straight to your door. Not only do you get to avoid the trip to your pet shop, but you can also set up a subscription so that you never have to worry about running out.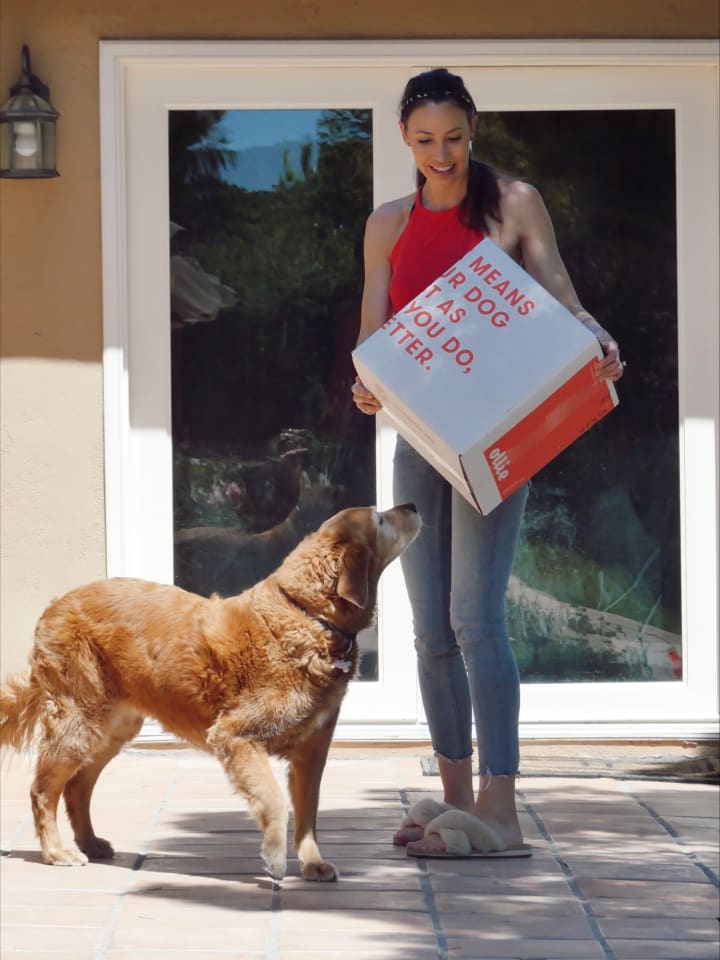 So why is Ollie important? Because we need to protect our dogs. Why do we need to protect our dogs? Because they make the world a better place. To help explain how they make the world a better place I wanted to provide the top 3 reasons why dogs are often better than humans, at any given time.
Dogs help us live longer. Studies have shown that petting a dog for 5 minutes per day can lower your blood pressure which often helps reduce the risk of cardiovascular disease, the number one killer in the US. Bonus advantage, exercising your dog often requires you to exercise too and those who exercise 3-4 days per week have a longer life expectancy than those who don't.
They protect our kids. Doctors are now finding that children who grow up with a dog in the house have less chance of developing allergies or eczema. We've also seen that people with dogs recover twice as quickly from illness as those who don't own dogs.
They make us happy. Point blank. No matter what we do or how rough our day was, our dogs are happy to see us. Dogs are joyful for sometimes no apparent reason and that happiness usually rubs off, and before we know it we too are happier.
For these reasons and many more Phoenix is not just a part of our family she is also the heart of our family, and she has proven her love for us countless times. In 2016 I decided to run my first marathon, and who do you think was my training buddy? A buddy who never complained about the early start times, or asked to take breaks? A buddy who trained up to 20 miles with me but never complained when she had to stay home come race day. Then there was the time my husband and I found out that Phoenix would become a big sister. She watched my belly grow and while taking a running hiatus she did her best to even gain a little sympathy weight. Once Kennedy arrived, she continued to protect our home from the Amazon delivery man and stray squirrels, but she also keeps a constant watch on the baby. So how can you thank a friend who has been there for you during all these times? I consulted my love languages book and decided that Phoenix's love language is food!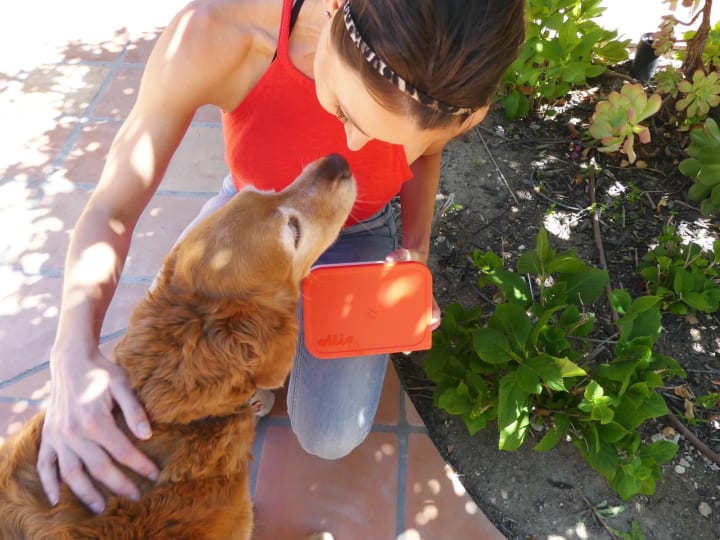 Just like people, when it comes to food dogs have their preferences as well. As many know, I have been a vegetarian for most of my life, but that does not mean that I expect my dog to be! In fact, you don't necessarily want your dog to be a vegetarian, because they need to get all the things that they would naturally eat in nature. What wouldn't they naturally eat in nature? Well, I won't get into it, but let's just say there are some scary things found in kibble that no critter should be consuming. Let alone our beloved fur babies.
Ollie on the other hand allows you to choose between four recipes that are all posted on their website. Under each recipe, they list all of the ingredients as well as the nutrition information. As a nutritionist, I have to say I was pleasantly surprised to see the number of whole foods including vegetables that were included in each recipe. Then it came time to order. I simply entered all of Phoenix's information under her profile and from there they created a custom meal plan based on her activity level, allergies, and previous portion sizes. A few days later a box arrived at our door and we were ready to make the switch! We started gradually so that it was not too big of a change by just adding a small scoop from her pre-portioned packages to her current food. Phoenix has been eating just Ollie for almost a month now and I have noticed the changes in her energy, coat, and demeanor. She was enjoying it so much my parents' dog Poppy has recently made the switch as well. My husband says that eating organic has made her feel more like a California pooch, but I simply think it makes her feel more like a part of the family.