What Defines a Top Employee?
EmPAWYEE of the Month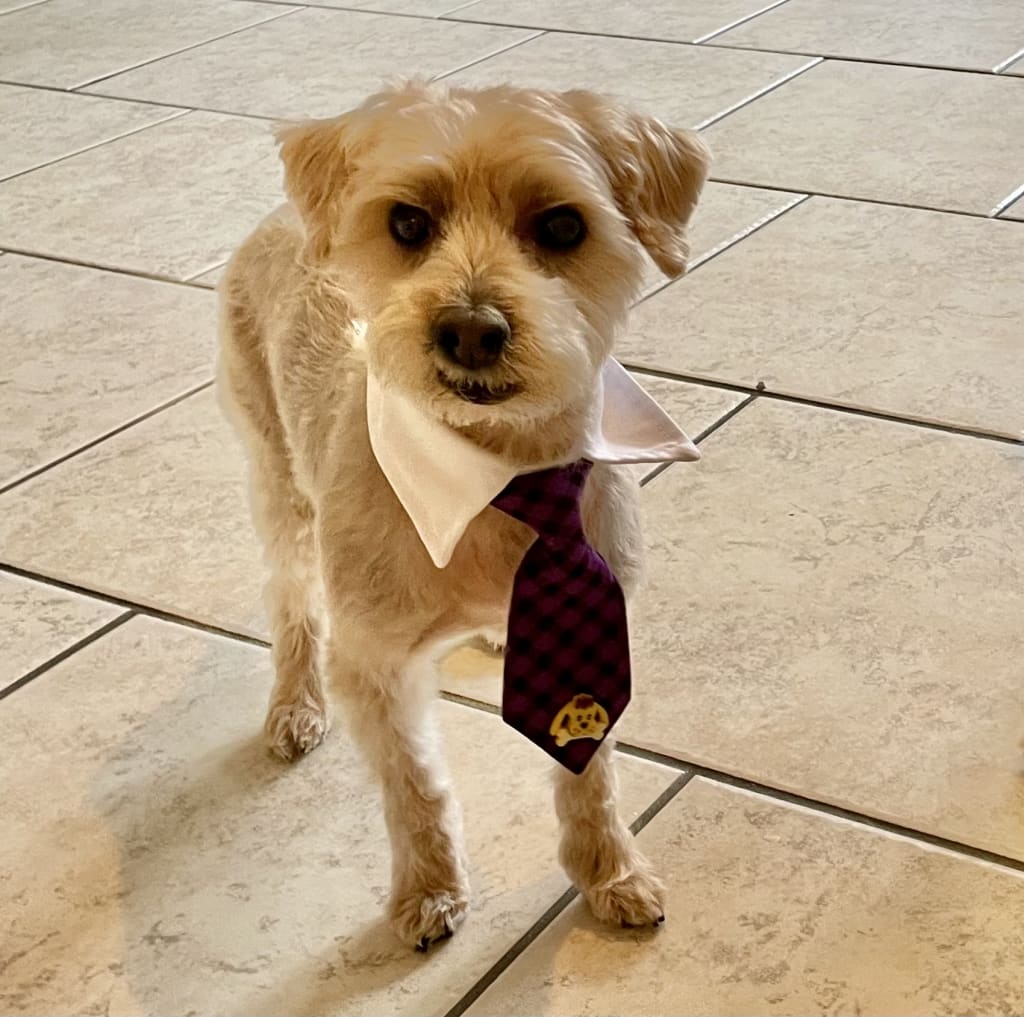 Leo's Formal Attire
An employee must possess the following traits: look presentable, exhibit loyalty, exude passion, and demonstrate empathy. It is with great honor that I nominate Leo as my "EmPAWyee of the Month," as he excels in all these categories.
Looking Presentable:
Just look at him!
Leo loves to wear different attire and always trusts my judgment when selecting the outfits he wears. He remains close by when I am doing my virtual zoom presentations. And, when allowed, he is happy to photobomb my presentations. When doing formal events, Leo cooperates by also wearing a tie!
Not surprisingly, he often steals the limelight by softening up my audience before I start my presentation. Talk about the perfect icebreaker!
I distinctly remember one person saying that after looking at my attire, they were glad Leo rose to the occasion. That caused a loud burst of laughter and put the crowd solidly in my corner.
Kudos to Leo for helping me relax the crowd that day ahead of my 90-minute virtual slide presentation!
Loyalty:
When Leo sees me getting dressed, he stays close to me to learn the game plan of the day.
On some days, he moves in and out of the camera range and generates warm reactions. On other days, he stays far away from the camera without any complaints. In short, his loyalty allows him to always remain flexible and adaptable to changing circumstances.
Passion :
There is never a moment where Leo isn't exuding passion. Leo relishes his role as a morale booster when he senses it is needed. Who can ask for more from a supportive employee?
Empathy :
My fur baby also is good at showing empathy. Whenever one of my presentations doesn't go well, and he senses I had a rough day, he quickly runs to my side and lets me know that he remains my biggest supporter. He is there to offer the same level of support and love that I have always given him from day one!
Leo came to us at the age of seven from an elderly couple with the help of a dog rescue organization. The wife passed away, and the husband was unable to take care of him. It was a perfect match as Leo came from a loving and understanding owner that provided him unlimited love and support. After learning the details of Leo's background, I knew that he wouldn't settle for anything less than a loving and nurturing relationship.
Not surprisingly, when we first laid our eyes on Leo, it was love at first sight.
Challenges of Working from Home
Working from home has produced many new challenges. Among them has been a reduced ability to socialize and share our work experiences with our colleagues in less formal venues. Along with decreased physical movements of walking around a company's cafeteria and watercooler, it has generated a sense of isolation and emotional exhaustion.
According to an article in the Journal of Occupational and Environmental Medicine, (written by: Xiao, Yijing; Becerik-Gerber, Burcin DDes; Lucas, Gale PhD; Roll, Shawn C. PhD, March 2021), many have encountered mental challenges through this global pandemic. That is why the presence of someone like Leo has been a lifesaver.
After all, how many of us could schedule a zoom meeting with another colleague to discuss water cooler topics? Instead, many of us have had to manage the mental issues emanating from social isolation and depression.
Therefore, I have little doubt that Leo deserves my nomination for keeping me sane throughout this period of Covid-19 insanity. I trust that there are many other Leo's out there that deserve the same level of recognition. Please reach out to them and show them how much you have appreciated their efforts.
Go, Leo! Let me know if you agree with my nomination by hitting the heart button below.
dog
Chan Economics LLC, Public Speaker
Chief Global Economist & Public Speaker JPM Chase ('94-'19).
Senior Economist Barclays ('91-'94)
Economist, NY Federal Reserve ('89-'91)
Econ. Prof. (Univ. of Dayton, '86-'89)
Ph.D. Economics