We Didn't Get the Dog We Wanted
Instead, we got a treasure we didn't know we needed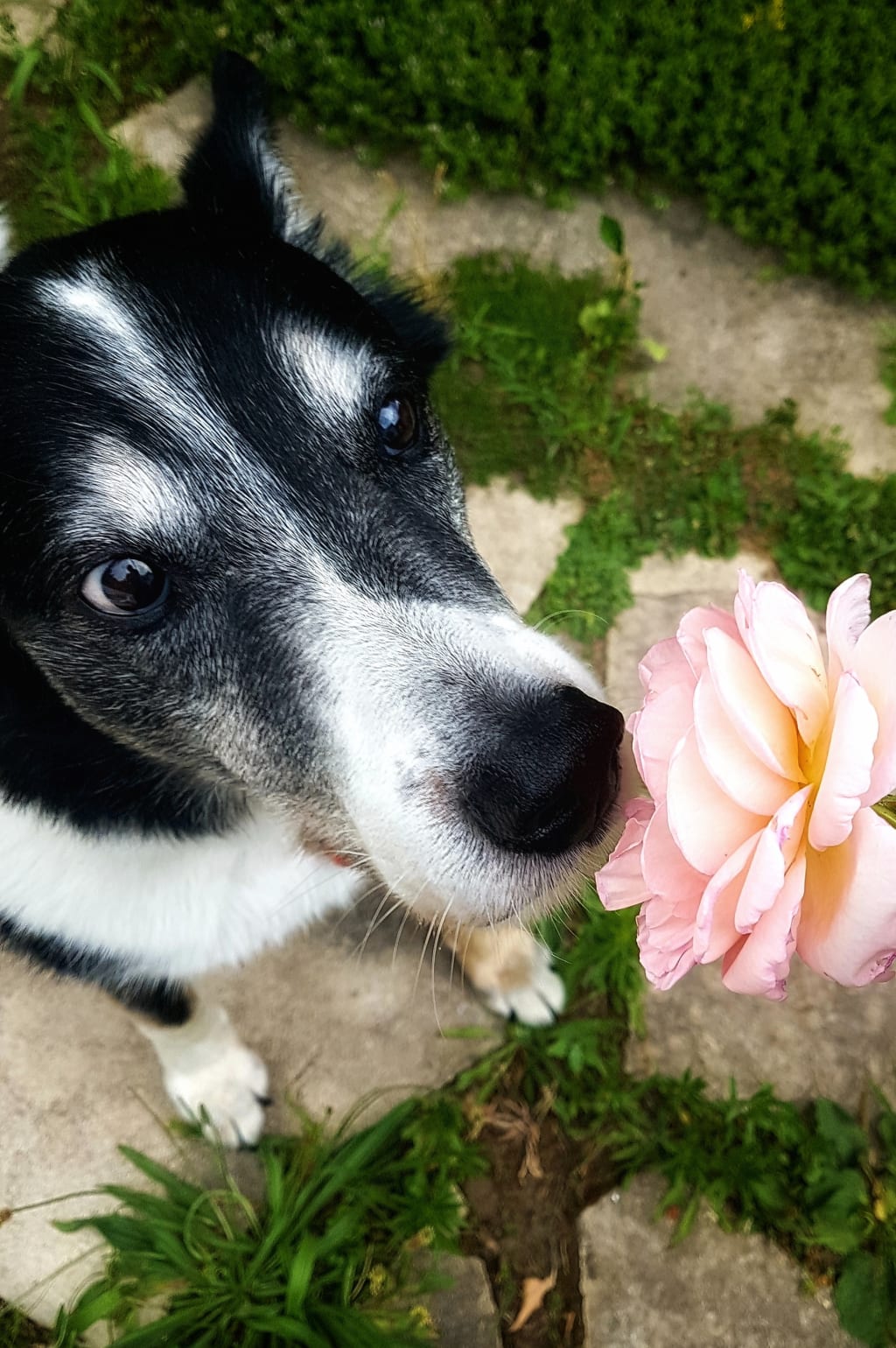 Sometimes we don't get the dog we want; rather, we get the dog we need.
Case in point: Sunny, a part-border-collie rescue dog, returned to foster three times before he came to live with us at 10 months of age. Sweet but traumatized, he was a dog who needed a stable environment. We were frustrated by his excessive neediness and fear-based aggression. As a border collie, he was whip-smart and learned quickly, but we never believed he would end up teaching us to love, grieve, and be more empathetic.
As humans, we often think we're the only ones to experience and express empathy, but as we grew with Sunny we realized he had an uncanny ability to sense grief, trauma and illness. Not only would he sense something was wrong, he would change his behavior and seek out ways to comfort us during our darkest moments.
We marvel at his gift. A year or so after Sunny settled in, I sustained a brain injury that resulted in post-concussion syndrome and post-traumatic stress. I was exhausted, depressed, anxious and scared. My humans couldn't understand my symptoms and were generally unsupportive.
But Sunny taught me that I wasn't alone, and that he'd be there beside me every step of the way. If I was emotionally and mentally depleted, he'd lie beside me or at my feet. When I was bedridden, he would jump up beside me and lean against me or put his head or paw on my legs. I had psychotherapists and other healthcare professionals caring for me, but sometimes I just needed quiet to soothe my mind, and that's when Sunny came to my rescue, acting as doctor and teacher and closest confidante. He'd spend hours at my side, just being a dog. I sort of learned how to be a dog too—to clear my mind, to be in the moment, and to be content just hanging out doing 'nothing'.
His limitless empathy—his ability to know when to provide support—saved my life.
Since then, Sunny has been with us through the loss of friends and family members, illness and upheavals.
But the love and joy he brought into my Dad's life after my Mom passed away was, and is, something even more incredible to behold. He's reminded my Dad that he is the 'VIP' in a dog's life, and that, in itself is worth living for.
After 63 years of spirited matrimony, my Mom died, and my Dad sunk into a deep depression. His emotional state wreaked havoc with his physical body. He was prone to infection, his kidneys failed, and his heart was literally broken (for which he now has a pacemaker).
We encouraged him to stay with us at our home, where we could care for him. One day, Dad was sitting outside on our deck, crying quietly. I knew he was there, but I wanted to give him space to grieve.
Apparently Sunny had a different healing approach. I heard a giggle, then full-blown laughter, from outside. I walked to the window and looked out to see Sunny, his paws up on the chair, plastering dog kisses on my Dad's face and washing away his tears. My Dad was laughing, really howling, for the first time in ages. Job complete, Sunny sat beside him with a look that said, 'OK, what else do you need, Papa? We got this covered!'
Sunny gave my Dad a new reason to live, an important role to play as 'Dog Papa'. He'll will stop in to visit Sunny when we're not home, and the two of them will play fetch for hours. My Dad's mobility and mood improve when he's around the dog. Now we'll show up to visit and he'll say, 'where's Sunny?' And he regularly shows friends (and strangers, likely) pictures of Sunny on his phone, and beams as he introduces him as his 'granddog'. (I'll note, sorry kids, he doesn't show pictures of his grandchildren).
Did we get the dog we wanted? The jury's still out. But we certainly were gifted with the dog we needed; Sunny, who has taught us how to feel joy and share empathy and be in the moment. Sure, we taught him a few tricks and things, but his lessons to us have been more than we could have ever anticipated.
About the Creator
I live with a broken brain and PTSD--but that doesn't stop me! I'm an author, artist, and qualified mediator who loves life's detours.
I co-authored NOT CANCELLED: Canadian Kindness in the Face of COVID-19. I also publish horror stories.
Reader insights
Be the first to share your insights about this piece.
Add your insights