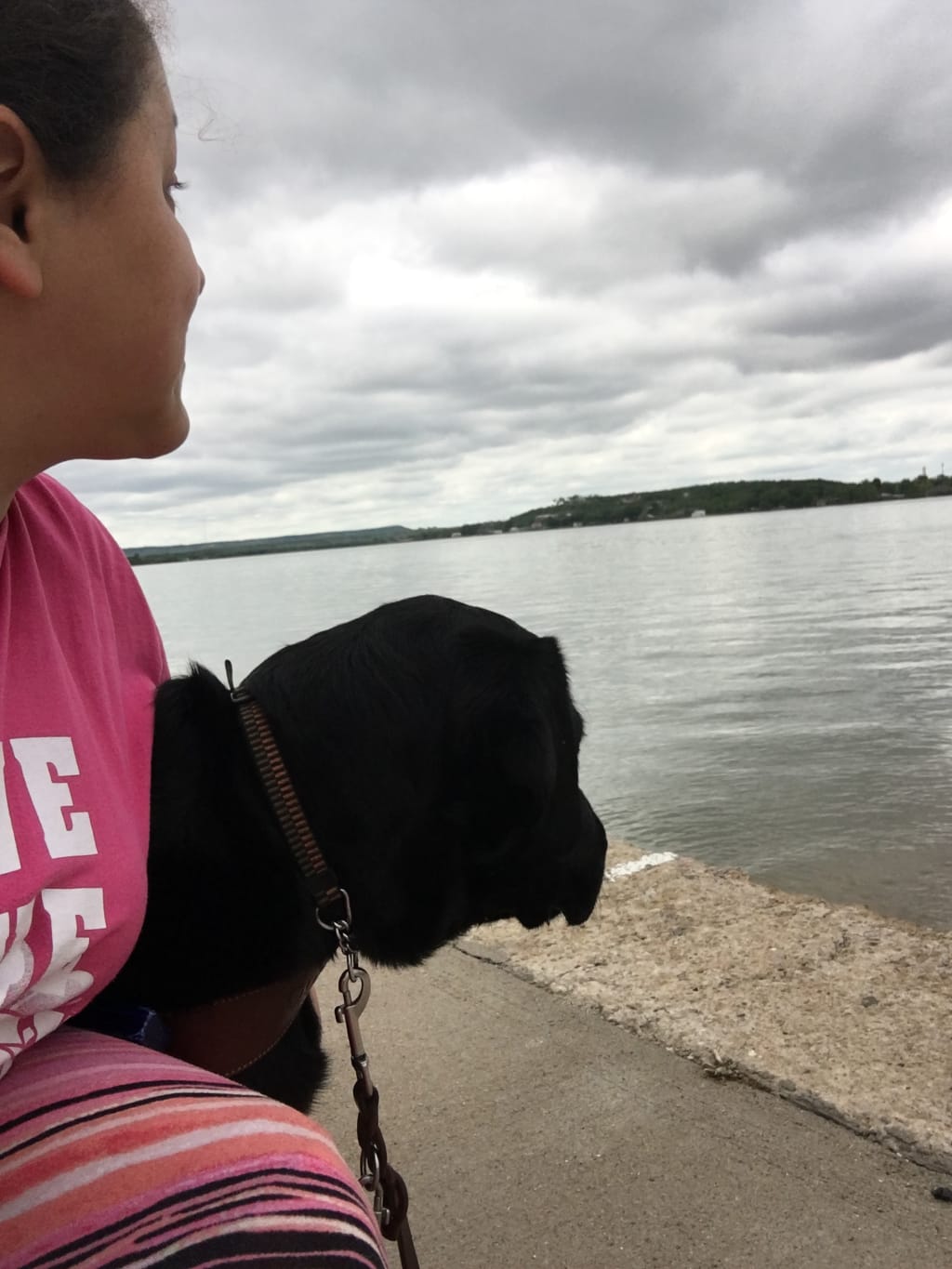 ​I Knew that having a guide dog was going to be hard work, and a lot of responsibilities. But I never realized that you could fall in love with a dog so much until I had my first guide dog Uno. A black Labrador who was very vocal about everything. She hardly barked, but the sounds that she would make almost sounded like actual words. She was not just my guide dog, but she became my baby, my little toddler. When retirement came for Uno. It was so hard, and in my circumstances, I was not able to keep her. At thirteen years old Uno was back at the school and soon was adopted by a new family. I was so attached to her, and I felt like nobody understood that she was my baby. I took care of her since I first received her. I also took care of her health for all eleven years that she was with me. It was also hard retiring her because she still wanted to guide me. She still wanted to help me around obstacles, finding the steps and the curbs for mommy. But she had gotten too slow. Like it or not, it was just that time for her retirement. I've missed her so much, and even till this day, I still miss her.
​At Guide Dogs for the blind, I learned that when it comes to retiring your first guide dog, it is the hardest, but you are not alone because there are others who have gone through retirement with their guide dogs also.
​When I retired Uno, I was even thinking of not getting another guide dog. It took me forever to apply for my second guide dog. I was then recommended to go to Guide Dogs for the Blind. I then Applied to Guide Dogs for the Blind. I was yet not too sure of it, and I was missing Uno still too much. It took about eight months after the home interview for me to get my second guide dog.
​In August 2018, I went to Guide Dogs for the Blind in Boring, Oregon. I got an orientation of my dorm room and an orientation to the rest of the building. I also got to meet my class mates who were also there getting their guide dogs. Then Monday came and it was that time to meet our match. I received a black Labrador who is very energetic, playful, and who loves to please her human. Her Name is Deja, and she looked a lot like Uno, but a little bit taller than Uno. I saw that she is just beautiful, and I was glad to have her, but I just was not bonding with her. I then called my friend, and I told him that I was just not bonding with her. He then said, "Oh she is perfect for you." Then Deja and I started working on some routes together all that week. I had decided to give her a chance. Sunday came, we were finally able to take a break from all of the hard work we were doing. I then decided to go on the GDB Nature path with Deja. We were walking so fast, and I finally realized, "it feels like we are flying." I said that really loudly and it was just an exciting and wonderful moment. I was not able to walk that fast in a long time with only my cane. With My first guide dog it really felt like I was flying, and here I was again with my second guide dog, flying again. I received my freedom again with Deja. At that moment I knew she was perfect for me. The second week came and I felt more confident that Deja was the one. The one that is going to guide me for a very long time. Before graduation, I got to meet with one of her puppy raisers. We had an amazing graduation ceremony. Her puppy raiser agrees, she is perfect for me.