Walking in a Winter Wonderland
Tips on Keeping Those Not So Snow Dogs Warm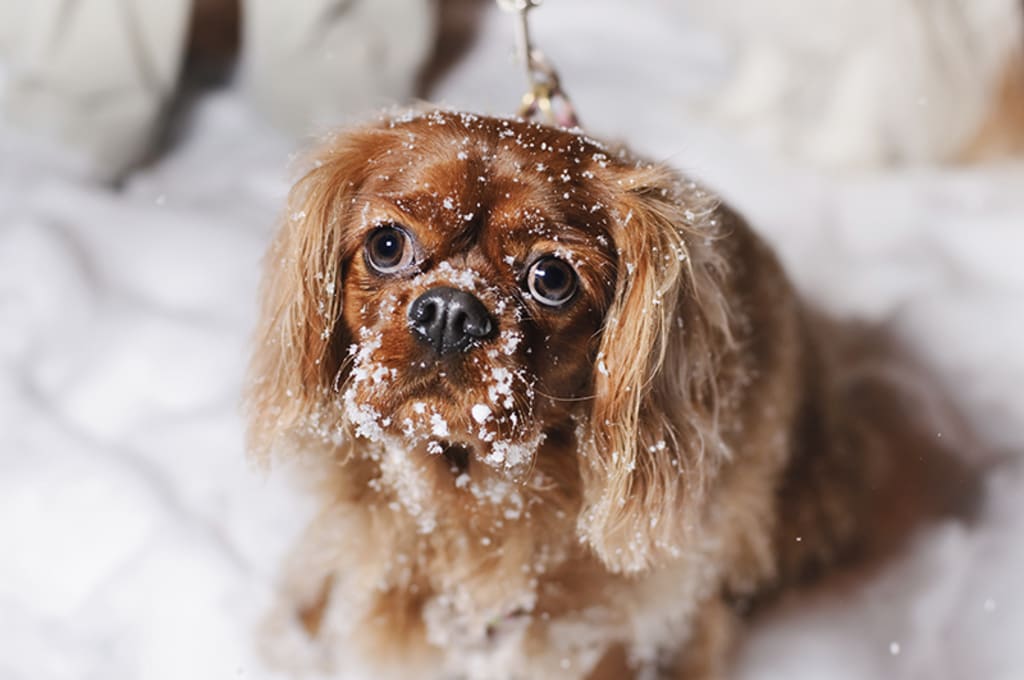 Pristine snow encapsulates the driveway and the surrounding yards, while more snowflakes descend with brilliant tranquility. My dog Milly immediately adds some yellow hues to this picturesque scene, highlighting the flower bed beside our front door. After relieving herself, she enthusiastically tugs me back inside the warm house. Milly is not what you would call a "snow dog."
Originally from South Carolina, Milly has made it very clear to me that she has a intensely low tolerance and indeed, some disdain for winter. Her first cold season in Pennsylvania was not an enjoyable one, but through time and some handy accessories she has been able to let herself find some fun in prancing through the snow.
One of the first purchases I had made for my little southern belle after adopting her was a hooded, winter coat, thinking that it would help her transition to the Keystone state's occasional frigid weather. While she does love her coat in rain or snow, what I should have instead brought home for her was a good set of traction boots. When we had first ventured out into the cold she immediately went lame, limping and picking up her paws in a desperate attempt to limit their time on the frozen sidewalk. We struggled on for a little, but in the end I had to carry her for a few blocks until she was ready to try walking again.
Some dog owners may not realize, just as I didn't, that while their dog's paw pads do indeed execute a protective function, walking on ice or salt will still cause pain for their dogs. Now of course, our four legged friends are going to have to venture outside every so often despite the unpleasant cold in order to respond to nature's call, but, thankfully, owners can find solutions to make their dogs more comfortable despite freezing conditions.
In my own attempt to do so, I had reached out to friends whose dogs also had this problem of going lame in winter. They suggested fitting Milly with some boots. It sounded funny, imaging a dog in boots but something had to be done. So off I went to my local pet store where I purchased Ultra Paws boots for Milly. When I removed them from their packaging, I didn't know what to expect or even how I was going to get them on her.
After several minutes of intense negotiating, my stubborn dog was at last ready for her first winter expedition in her new gear, boots and all as seen below.
All suited up!
At first she was unsure of herself; her first few steps were awkward. A tentative touch there, followed by a hop, skip and a jump there, but when she got the hang of those boots the change was dramatic. Milly actually allowed herself to frolic in a snow drift! Enabling Milly to have a good time outside was moment of joy for me, and I'm sure other dog owners will feel the same when they watch their once not so snow dogs launch themselves into a pile of fresh powder.
Walking in a Winter Wonderland!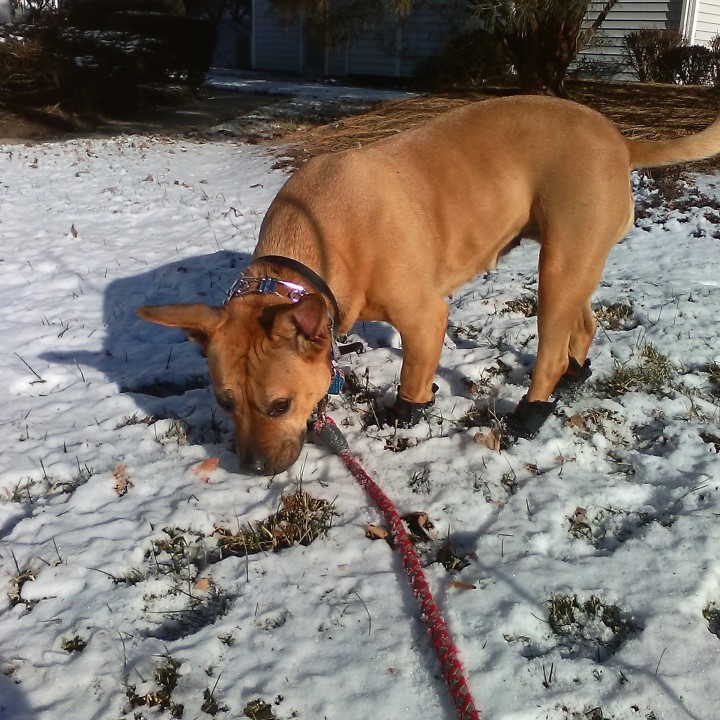 While we still keep our treks through the neighborhood on the shorter side during the winter, Milly can last much longer and is warm enough to even get a bit of quality sniffing time in. She also has realized that the boots are what allow her to do so and is very patient with me as I suit her up. Dog owners living in colder climates will be behooved to invest in a good pair of winter boots for their dogs and of course, a good coat if the dog in question is a short hair. This way, human and dog can experience an excellent time when walking in a winter wonderland.
how to

Laura DiNovis Berry
Welcome! I provide free book reviews for modern poets! At the end of the year, 10% of all earnings and donations will be given to a non profit organization. This year you will all be helping Lambda Literary! Thank you!
Twitter: @poetryberry

See all posts by Laura DiNovis Berry →