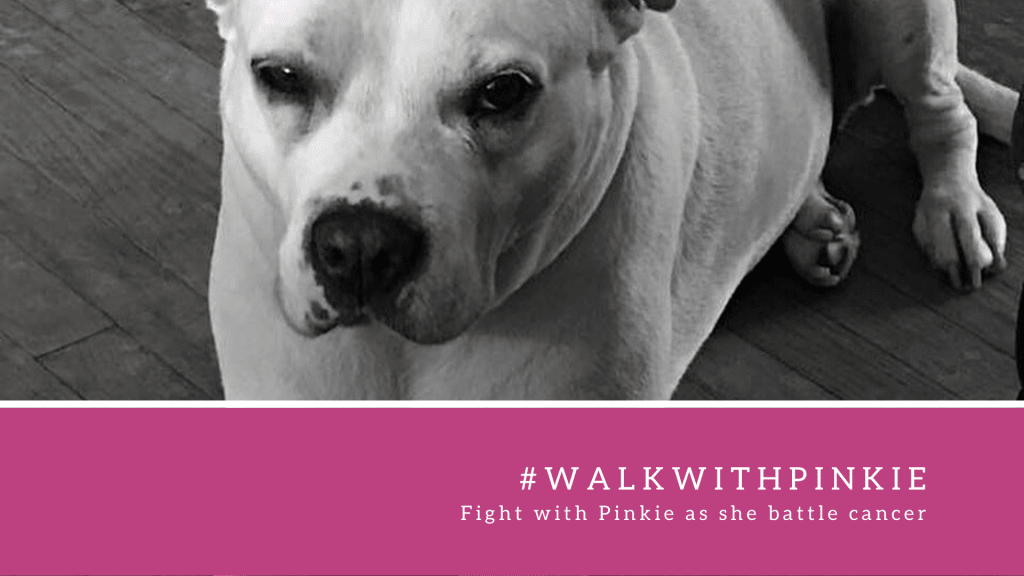 Every text has been copied from my post on the Facebook Fundraising page found here:
The other day, my best friend, Rease, reached out to me and gave me the most devastating news. 
"Pinky has cancer."
"When did this happen?" I responded.
If you do not know me, then my response would sound cold because I am someone who thinks about the results as opposed to comfort. My mind wandered to medical bills, Pinkie's survival rate, and how hard this must be for Rease. As someone who lost a father to cancer at a short time, I understand that this will be a stressful process.
The other difference between Rease and I come with planning. I am the spontaneous one and she is the one who is always prepared. Knowing that you have prepared for every event in life but cancer hits you the worst. Knowing and feeling like you cannot do anything will make you feel horrible.
Therefore, I have taken the liberty to create this fundraiser to help ease the stress while Rease continues to take care of Pinkie and give her the comfort that she needs. We also live in different states, so besides helping monetarily, I will do what I can to help raise the funds to offset medical expenses and to share Pinkie's life with the world.
Pinkie
Beautiful and loveable Pitbull she is. Pinkie is a female Staffordshire mix. She is a big sister to Blue and a daughter/protector to Rease and Tony. The day she came home, she brought nothing but joy and laughter to an already happy home.
Pinky loves to entertain unknowingly. She is strong-willed and we cannot match her powerful personality.
When Pinkie wants something. She gets it.
Sometimes I would hide her favorite tennis ball in places that even her parents would never think to look. Pinkie stands there, staring at the spot, refusing to leave until she gets her ball back. That sounds possessive, but it is not. It just shows you she understands what is rightfully hers, proving her loyalty to what she loves.
Therefore, we want to fight for Pinkie and walk with Pinkie. 
When I stayed over, I remember seeing her get up in the middle of the night and waddled her butt to her parents' room and then back down, as if she is checking on them.
The level of protection she has is unbeatable. She loved and protected her family. Now that she is the one in pain and fighting for her life to live, we want to stand with Pinkie and protect her. 
At least let her live out her life with comfort. Take her pain away.
The Diagnosis
The X-ray that was performed provided proof that there were cancer cells growing in her chest. The name of the cancer is uncertain but suspected to be pulmonary carcinoma. Pinkie is on medications right now.
We are starting this fundraiser because they have given us the option to start her off on Chemo. I have attached the estimated amount given by the vet but depending on how well Pinkie deals with Chemo, we will create a contingencies fund for future expenses.
We have also considered the option that there is the other outcome that Pinkie may react horribly to chemo. The worst can happen.
Rease and I have concluded that if the latter happens, we will donate the rest of the fund to canine cancer research or a Pitbull rescue group that works with rehabilitations in honor of Pinkie.
Here is the breakdown of the fundraiser:
Steroids $179.95
Urgent Care $1600
With Chemotherapy, the vet gave us two options and we are still weighing out which one we will go with. We have included the estimates down below. It can run anywhere from $400-800.
We are working diligently on coming up with funds besides this fundraiser. To stay transparent, here are some ways you can help without giving.
Please share this fundraiser with your friends and family. If you have a grant that you would love for us to seek, please share it. I will reach out to them personally.
We have created a blog (which is this one) to talk about Pinkie and give updates. This blog pays us a penny per view, so it is the best option to share and view it daily as the funds will go towards helping any future medical expenses.
Walking with Pinky will be published on my YouTube channel, so if you view it, we will get paid by ad revenue, so please like and subscribe to the channel for everything Pinkie. The first video will be up by midnight tonight because of work. (10/15/20)
Last but not least, please pray for Pinkie's comfort.
All proceeds from all available channels that I have included will go to the Ngo family. We thank you for your time and any help you wish to provide.
Editors Note: This page will be frequently updated for transparency.