View from the Dog House (Pt. 4)
Getting to Know Us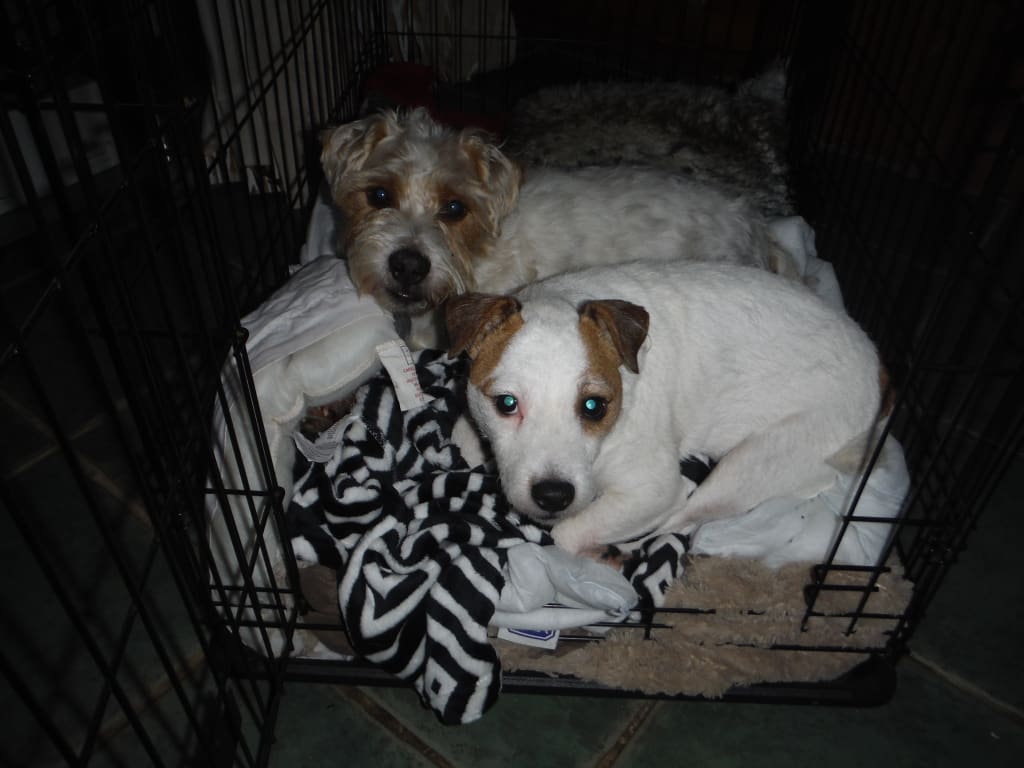 As dogs that blog, we are clearly more than a cut above the rest; and judging from the photos, we are obviously magnificent specimens—not that we consider ourselves to be dogs, you understand. That said, we do have selective canine habits. So for example, we sniff bums but only each other's—we don't mix with other dogs. We are also great fans of sending pee mails whilst out on our travels, which sometimes confuses she who thinks she should be obeyed at all times.
We walk along, (separately, now, of which more later), whiffing and sniffing and cocking our legs every now and then to leave a message. However, we make a big deal about whether we are cocking our right leg or our left, irrespective of which direction we are moving in. She can't make head or tail of it, and we both do it even though we are not together.
To answer your question as to why we don't walk together, well... we used to, but it became a bit competitive. One of us would mark a place and leave a message and the other would immediately supercede it. Naturally, that meant that whoever had gone first had to reclaim the spot, so it got to the point where the leads were a major bone of contention. We simply do not like being on leads together and it can lead to serious trouble. She won't let us off them because she doesn't trust us not to run off and scamp, in particular, like digging and burrowing. That is one thing when you are burrowing under the duvet, but quite another when you see a rabbit hole.
On the plus side of walking separately, we do get individual, quality time and we can always compare notes afterwards. And even though we are not together, whoever goes second always finds the marks and messages left by the first out!
Leads, however, are not the only things we take exception to—not by a long chalk. We don't like the hoover, the mop, in fact, cleaning of any kind. We are sent to our rooms when she baths or showers, as we don't like running water. We object to people coming to the door, we hate bicycles, high viz, people in hats or people, (herself included) standing outside, Bubbles, and our car, when we are in her. We don't like dogs (we are so a cut above them), we haven't actually exhausted the list, but you get the gist.
Our rooms are cages in which we have pillows, throws, and other comforts. We have them in the dining room at home, in Bubbles, and when we had our Bolthole to retreat to, we had them there too. She says we are the first chaps to have these and she wasn't sure about them; but she doesn't understand, they are our own space and we quite often choose to go and lie in them even when she doesn't need us to. None of the dogs in her stories live their lives like this, so that just shows you the gulf between them and us!
Monty is the Jack Russell in the Connie Armitage stories. He doesn't have his own space. He also has two mates he walks and plays with—two labradors called Hector and Lysander. If they have gone for a run over the fields and get muddy, they are confined to the kitchen when they get back to Connie's. We would never suffer such indignities! And labradors?!
Monty is quite good, like we are, at comforting Connie when she gets upset, and the only thing we do envy him for is that, in addition to her serviceable, every day VW Golf, Connie has a Morris Minor Traveller and he enjoys riding around sitting in the passenger seat with his paws on the dash board and the roof down.
Rumba and Samba are Jack Russells who have a somewhat lower profile in The Last Taboo, but figure a bit more prominently in Moving On, the sequel which she wrote in response to reaction to The Last Taboo. The common thread, however, is the importance of having the companionship and the particular attraction of the many characteristics of a JRT.
In addition to being dogs that blog, we are also culture vultures, most particularly when it comes to music. We haven't mentioned this before, but she who believes herself to be our illustrious leader also plays the piano and has been known to teach. We like to listen to her play as long as it is music that we like. There are certainly some pieces that we certainly do not like and boy, does she get to know about it! But mostly, it is very pleasant and Pickle likes to lie across her feet, which is not always helpful if she needs to use the pedal, but he occasionally helps out there by pushing the pedal down with a paw—whether it is needed or not.
We also have the radio on through the day and she even bought us our own digital radio, so we could carry on listening in the car while she was off working or shopping. This wasn't the success she had hoped for, but it was a good thought.
Hopefully now you feel that you are getting to know us a bit better now, appreciate how we support her writing, and, over time, you will get to know us even better.
Next time, we will talk about her efforts on the marketing front and some ideas we have about that. You have to remember that we are 21st century pups, and she is a product of the last century! Until next time love, licks and waggy tails from the Dog House.