Tuxedo Alago
The Loving Playmate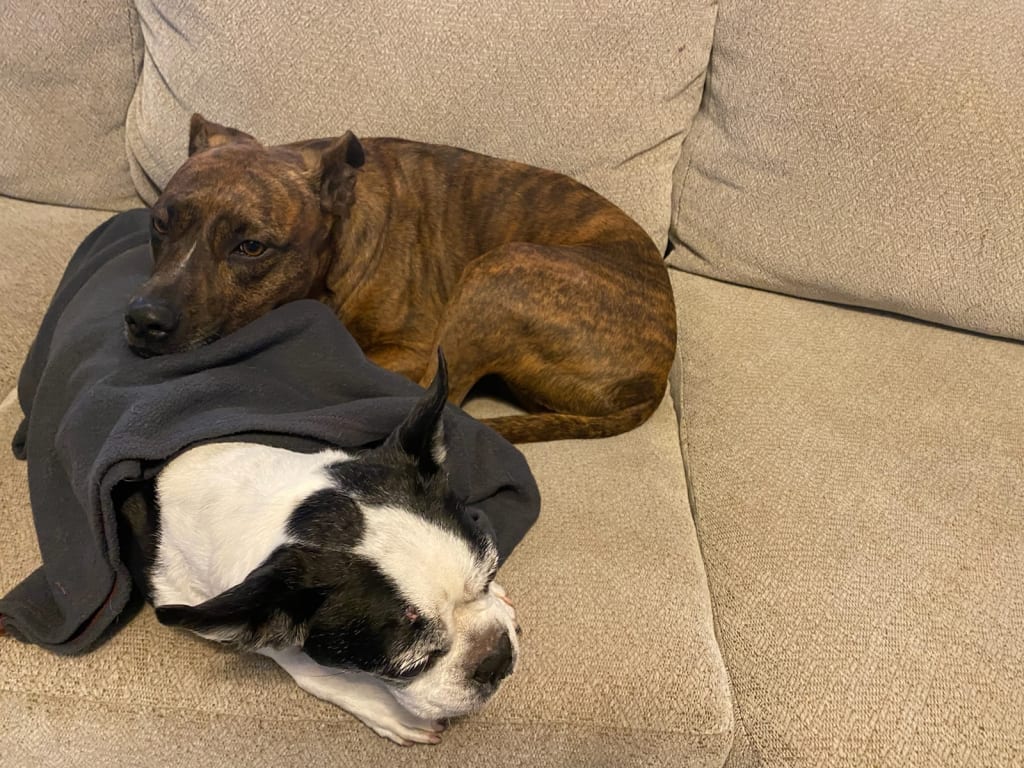 Tuxedo Alago
The Loving Playmate
By Roberto Alago
Few dogs I have met in my life are as friendly and playful as Tuxedo was.While his full name was Tuxedo Quantavious Jackson Alago; we called him Tux; for short.  When my son and his wife rescued Tux from the Cobb County pound, they had gone there to look for a cute little fluffy Maltese or similar canine for my daughter-in-law. Instead, my son fell in love with this two years old Boston Terrier.  So, they adopted it, named it Tux and shared their home with Tux for sixteen wonderful years. 
Tux was a cuddler. Tux enjoyed playing and sleeping with his new pals. Two years later, their first baby was born.  They were a bit anxious because, they didn't know how Tux would react. So, they decided to slowly introduced Tux to their newborn. To their surprise, Tux was overjoyed and was super protective of the new baby boy.  Tux started sleeping by the baby and later they became good playmates. 
Five years later, the second baby was born and Tux took to him as naturally as he did his older brother. When the baby was old enough, Tux and him would spend hours and hours playing, until they were both exhausted.
When Tux was twelve years old, he began to slow down and to experience hearing loss.  About this time, Molly; a female mixed breed, became the new family member and Tux's new companion.  Surprisingly, it took Tux longer to warm upto Molly than it did to the Children.  But, soon they were spending all the time together.  Molly's energy is contagious. So,  Tux experienced a period of renewed energy. Something similar to what runners call "a second wind."
Two years later, a beautiful baby girl was born to complete the family and once again, Tux became the perfect playmate and protector;  as it did before. They didn't even have a need for a baby monitor; anytime the baby would wake up or cry, Tux would alert everyone.
It truly has been a joy to have Tux as a member of the family. Whenever my wife and I came for a visit, Tux would greet us at the door. Tux's body would be thrusted left and right as if wagging his non existing tail.  Whenever we spent the night, Tux would sleep next to my wife. In the middle of the night, Tux would get up, walk around the house, check on all the family members, individually and only then, go back to sleep.
Unfortunately, dogs have such a short lifespan. According to the Vet, Tux outlived most of his breed, as most Boston Terriers die between twelve and fourteen. Tux lived to be sixteen! Only in the last month of his life did Tux loose the will to live. 
On one of those rare moments in the life of a pet, Molly seemed to sense something was wrong and laid to sleep with Tux;  something she usually did not do. My son took this picture and two days later Tux would be no more. 
Tux is now gone. But, his memory will last for at least two generations. Tux will be remembered as a perfect host, family protector, playmate and above all, a loving family member. Tux will be missed and I'm sure, for years to come, will be the subject of many family conversations.  Rest In Peace Old Pal, until we meet again. 
#adopt #pet #dog #family #stray #stay #rescue #loss #Tux #animal #shelter #pound #vet #death #love #best #friend #guard #playmate #child #RIP
About the Creator
Born in PR. Married, Father of four and Grandfather of eight. Soldier, Computer Expert. Admissions Associate at Interactive College Of Technology. A versatile man with interests too numerous to list; including: Acting and Public Speaking.
Reader insights
Be the first to share your insights about this piece.
Add your insights