Trusting Again
A horse named Jr's Journey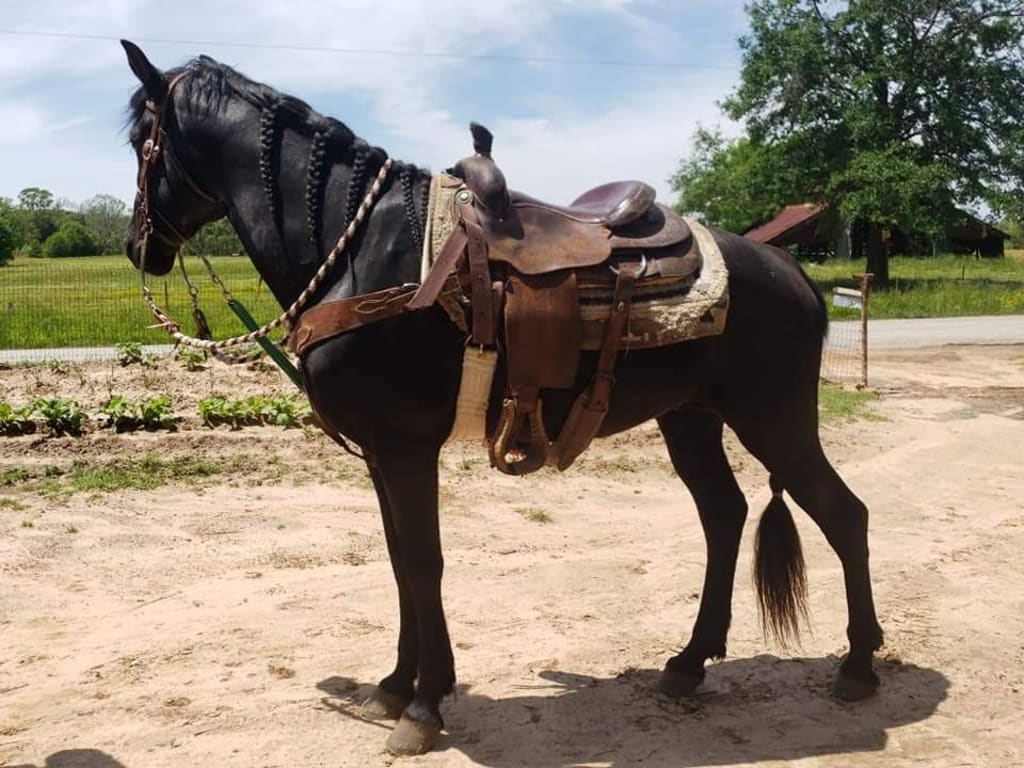 Patience and Love
Jr is a rescue studhorse who was mistreated severely. Someone beat him with barbed wire to the point that the barbs were broke off into his side. Blood was everywhere, when I got to him it was so bad that in a matter of minutes my shirt was covered. The vet was called and I was advised to put him down. I refused and told the vet to do whatever needed to be done to save him. Jr had this look in his eyes that broke my heart, it was like he was asking me not to give up on him, and at that moment I knew we would make a difference in each other's lives. The vet told me I was crazy and I just sort of laughed and told him to save him. Almost 3,000 later he was okay physically, emotionally he was not, and neither was I.
We both had to find a way to trust each other, it was a long road for both of us. We started off by just hanging out in the pen together, getting used to being around each other. I would sit in a chair with a book, and he would stare at me from the other side of the pen. One day I didn't bring the chair in I turned my back to lock the gate and as soon as I turned around he came charging across the pen and hit me in the chest at full gallop with his head and slammed me against the gate. With the breath knocked out of me I just looked at him, he took off running and did it a second time, and I stood my ground and didn't move. Jr took off running towards the other side of the pen and came charging at me a third time, this time yelled no at him and swatted his nose. He just stopped and looked at me and shook his head for a minute, and stood there, I slowly reached out my hand and he sniffed it. Jr finally let me touch him, I stroked his neck and his sides and worked myself all the way back to his hind end, I felt little shutters as I did so, knowing that this was his first time he was being touched with love and not anger. The tears flowed freely as they did so he let me hug his neck and he just stood there as if he understood that I could feel his pain. I worked with Jr for a month just getting him used to being touched and groomed. I bought a halter and lead rope and he let me put the halter on him, but when I tried to hook the lead rope to the halter he freaked out and would run. I assumed that this reaction was from being beat with a rope. It took Jr time to realize I wasn't going to hit him with his lead rope, finally he stood still and let me hook it to his harness.
I opened the gate and led him out of his pen and spent several hours just walking around with him so he would know that I wasn't trying to hurt him. We started doing this twice a day. One day I came pulling in the drive from the feed store and Jr, came running to the gate to see me. I stopped immediately and got out talking to him and he stood at the gate and let me pet him and scratch his ears. I opened his gate to put feed in his trough and he followed me out of the gate to the feed barrel and followed me right back inside his pen. I was shocked because there was no lead rope and he did it of his own free will.
Jr's and I spent so much time together, we worked at our own pace, getting to point that we had 100% trust in each other. That is the day that I decided to put a saddle on him made me nervous. I didn't think we would get to this point. We trusted each other and knew we would never hurt each other if we could keep from it.
I took the saddle and saddle blanket and bridle into his pen. I started with the blanket and held it out to him to inspect, he smelled it and walked away and then came back and smelled it again and stood still for me to put it on him, this was done again with his saddle, until it was on him and cinched around him. I put the bridle on him, and walked him around the pen for over an hour, I took him out of the pen and walked him around for a while. I finally got on him for the first time and we rode for over four hours, just enjoying each other's company. Jr, and I have built a bond together and will do whatever we have we need to do to protect each other. Jr and I trail ride a lot and people are amazed at the bond we have because I don't have to tie him up he follows me around and when we are riding I never use any form of whip and I control him with my hand and knee, not the reins. I will put a lead on him when other people get close to him for their protection, because like dogs horses can sense bad people. When I'm having a bad day, I just go out to Jr's pen and spend time with him and it always makes me feel better because he understands what I'm going through.
I was asked if I would sell him and was offered 1500 the first time and 5000 the second time, and I refused both offers and made it known that Jr, will never be for sale, he will grow old with me. We have come a long way together we have fought a long battle to get to where we are.