Touch
A language that connects us all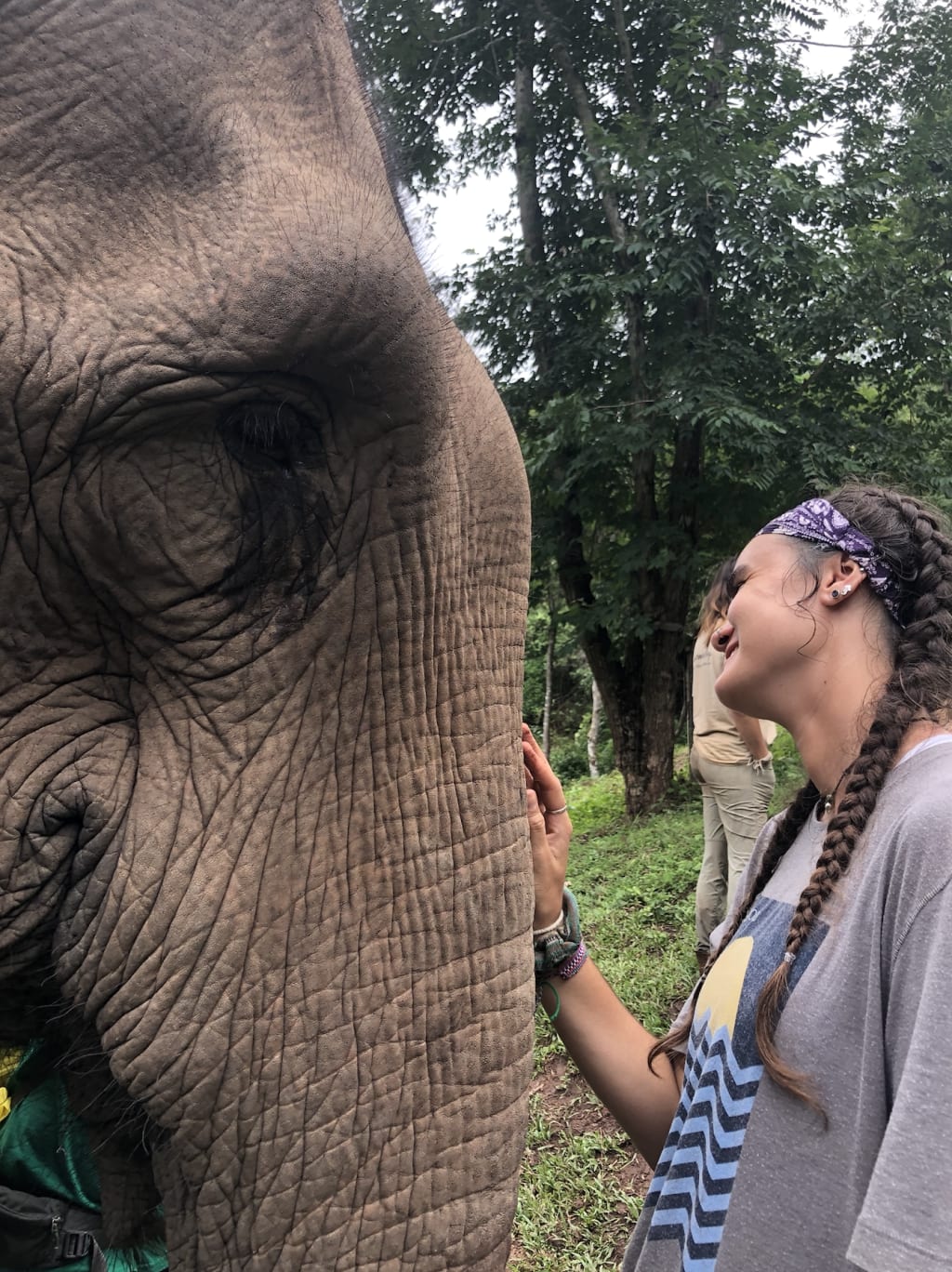 Life is all about moments, and if we are lucky enough these moments are captured in their purest form. This photo to me is one of those moments. An unexpected photo for the individual within the frame, but a photo that captures the true essences of everything in that moment. A moment captured in its purest form.
In the picture is a friend of mine, Kait, who I met only 10 days prior while volunteering abroad with Growth International Volunteer Excursion, better known as GIVE, in Thailand.
We were on our adventure portion of the trip, when the 22 of us were given the opportunity to interact with semi-domesticated elephants. Semi-domesticated means that, somebody owns the three elephants we were given the chance to interact with. Even though they are owned by an individual, they are able to roam free through the jungle in the region they are located. Since they are still owned, each elephant has their own caretaker known as Mayhoots.
Mayhoots are individuals who dedicate their lives to taking care of these majestic animals. They love them as if they were their own child. I mean, the bond that is formed between them is truly incredible. You would never believe me if I said that these elephants were basically giant dogs. Responding only to their owner. I am not sure that I believed it at first either. Being able to see it is a whole different story. This ton elephant listens to the commands of a 5'10 man. SOOO unreal.
That kind of connection with an animal, not a human, is something I have always admired and hoped to have. I grew up in love with movies such as Free Willy, and Flipper because of that bond that is formed. An unreal bond with an animal that we are not used to being around. Though I have not found such a bond yet, I continue to try. Or try to understand how such a bond could be formed by sampling trying to connect with the animal. I tried with these elephants. Looking into the eyes of elephant is insane, and intense.
Though I may not have had that magically moment that I have always dreamed of, I believe Kait did that day in the jungles of Thailand. For one, Kait had no clue that I was taking the photos shown, nor did she ask for them. We were all asking and taking a lot of photos. We were with elephants, what else do you expect in this day and age. These photos of Kait are something else. Kait is taking in the moment she is with these elephants. Connecting with the elephant through the language of touch. You can see it within the series of photos I took of her, which can be seen in the attached video.
I was able to capture that magically moment for Kait. That connection between her and her favorite creature on earth. A photo that is not only beautiful but captures all emotions occurring that moment. A photo that you can look at years from now and be transported back to that moment. Because only moments captured in their purest form can do such a thing. I hope that this photo continues to do that for Kait. Though it is not me within the photo, it transports me back to our days trekking with elephants. How unreal it was. Reminding myself that you do not have to be able to communicate with others, or animals to form a bond. Touch is a language that connects us all.
Reader insights
Be the first to share your insights about this piece.
Add your insights