I captured this picture on my iPhone. It came out really nice. Can you guess where the shot was taken?
This photo was taken at the Philadelphia Zoo!! I was so excited to see the tiger. And just to capture it the way I did I shocked myself. iPhones take really good pictures if you can catch it at the right angle.
It took a lot of focus and patience to catch the look I did with his tongue out. But I didn't hesitate. As soon as I seen the tongue I instantly captured it and that was how it came out.
I had to make my way through a crowd and get up close to the glass that the tiger was behind. I'm not exactly sure what type of tiger it is. But it's beautiful.
This photo was taken a few years back and I still have it. I admire this picture so much. I used to want to be a photographer, so on this trip to the zoo I thought why not start here.
I love animals and I love the wild.
If I could take pictures of animals all day I would.
The picture was off guard I took it while it he was in place and not moving. The only he did was bend down and stick his tongue 👅 out.
Even though the tiger is at the zoo it doesn't look like it. I like the fact they make the animals similar homes to where they originate from.
#nature
#photography
#camerawork
#iphone
#thewild
#tigertongue
It look like he's about to jump into the water. Or take a lick of something lol.
His posture is perfect and his stripes are bold.
Is he old?
The mind of a tiger
A fierce fighter.
Locked in cage
But well behaved
All he need is love ❤️
The picture was taken behind the glass but because I zoomed in you can barely tell. I'm think I'm good with photography. I didn't have to do anything drastic to capture the picture but get up close to the glass he was behind. I don't even know if it's a boy tiger it could be a girl. I'm not knowledgeable on animals but I can sure take a picture of one. 😊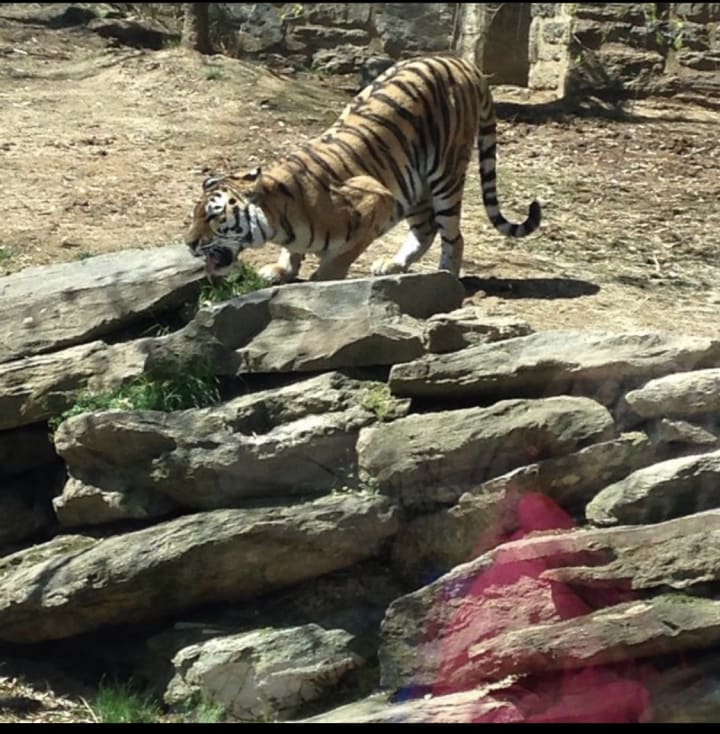 The capturing of the wild!
The wild is wild.
Unless tamed and trained.
The capturing of the tongue
In the midst of a wild one
Purring his red tongue
Looking for a ready one .
Swift n smooth like a cheetah.
Who can beat her?
Why not treat her?
Take a lick of water.
Here my growl.
The water makes me smile.
A little parched
Licking this water is where he starts.
The untamed tamed
What is there to gain
No scratches no scars
The picture wasn't that hard.
Tiger Tongue 👅
I love taking pictures whether it be of food, my family, nature, animals, and etc. I love creating memories to keep and to have something to look back on and be proud of.
It was a family trip to the zoo so I wasn't alone. I love traveling and doing things with my family.
Capturing this shot was epic. I had to get it. I kind of acquaint the tiger as my spirit animal. Animals are smart by nature. I used to have a phobia of animals because I thought they would harm me. However, seeing the people at the zoo deal with the tiger and other wild animals gave me calmness.
I also used to have a cat who I got really close too. Close too as her sleeping with me and letting her play with me. It was an experience. As well capturing the photo. Now I have a keepsake of my photo of my wild animal.
I became obsessed with cats after that they are so warm and loving. They need love too. I showed loved to my tiger at the zoo by capturing his beauty and physique.
That is what stands out to me the most and the stripes. The stripes are perfect and makes the tiger look perfect.
Please don't hesitate to like and comment about the photo. Let me know what you think. How did I do? Is the picture captivating to the eyes? Does it look like it was taken on an iPhone? Give me your honest opinions guys. And I hope you like it and tune into more of my stories here on vocal 💫😊❤️💋