Things You Need to Know Before Getting a Dog
Fifteen years and three dogs later, I look back on some things I wish I had known before jumping headfirst into dog ownership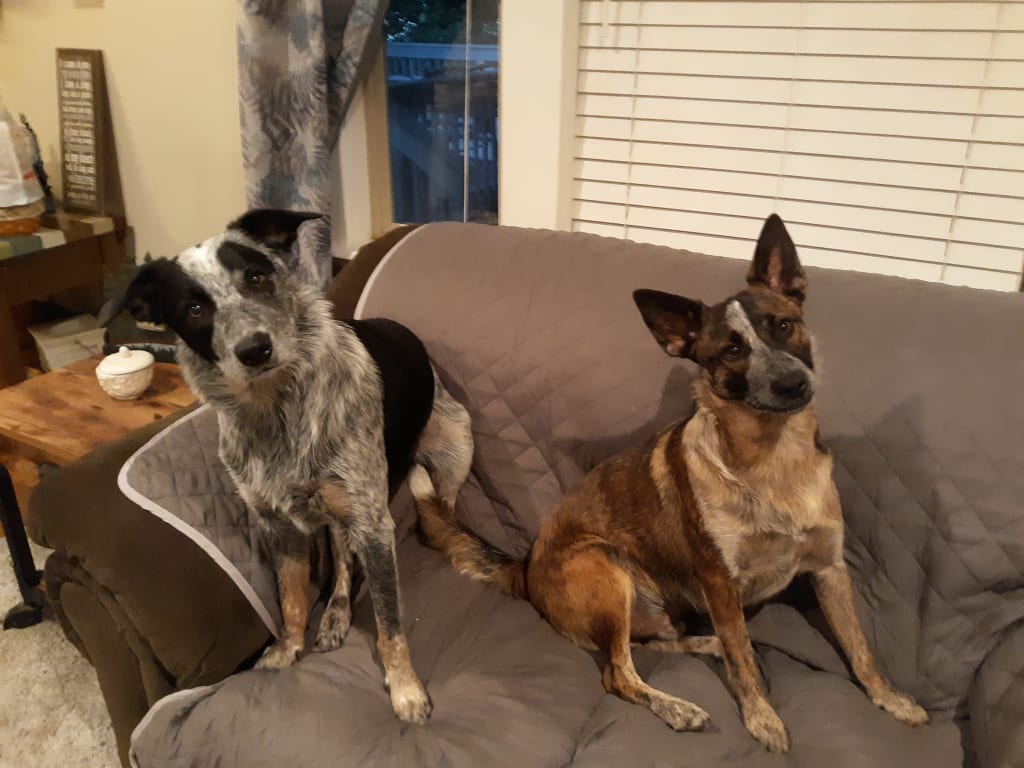 My boys Zephyr and Maverick
Growing up, I always wanted a dog. I loved animals and wanted to work with them some day as a marine biologist, veterinarian, or some kind of zoologist. My parents promised me on multiple occasions that we would get a dog yet they always found some excuse to explain why we never did. I became complacent in my pet-less life and held on to my wish of being able to work with pets in the future.
None of those dream jobs ever panned out. But I did finally get a dog! When I was twenty.
Even then, when I called my parents to ask if I could get a puppy, my father flat out said no and my mother claimed she wanted nothing to do with it. So three hours later I made the decision myself and brought home my first puppy, a Labrador/Border Collie/Blue Heeler mix.
Now, fifteen years and three dogs later, I look back on the things I wish I had known before jumping headfirst into dog ownership.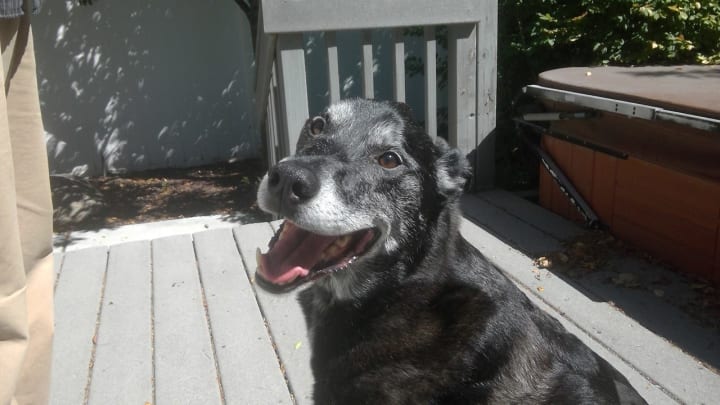 Cooper was the best thing to ever come into my life. I will never regret my decision to adopt him, but I do regret not knowing anything about caring for a dog when I brought him home. I was woefully unprepared and I basically borrowed a small dog crate from my boyfriend at the last minute so Cooper would have something to sleep in. Even naming him took the better part of a month.
Deciding to bring home a dog is probably a lot like deciding to have a baby. My husband and I don't have children. Our kids are our dogs, but I can't help relating raising my dogs to raising kids when I hear others talk about the problems they face with their children.
It's so important to get started the right way. You should make sure to have a kennel/crate, a comfortable sleeping pad for the crate, appropriate food for the age of the dog, food and water bowls, a collar, and a leash at the bare minimum. That brings me to my first point.
"Can you afford a dog?"
The number one question to ask yourself, much like when having a baby, is "can we afford it?" Dogs are not only a huge time commitment, but a huge financial commitment as well. They require proper nutrition, toys to play with, decent training, and, most importantly, regular vet check ups.
If you can't afford to take your dog to the vet at least once every six months, maybe you should rethink getting a dog. I'm talking about basic vet care. I'll get to unexpected medical care in a second here, but seriously. Dogs, and all pets, require basic vet care. Would you have a baby and then never take them for doctor check ups? It's the same thing. I know of far too many people who never take their dog to the vet and end up with problems that could have been easily avoided if they had.
Medical issues that need to be detected early are another huge reason to make sure you're taking your dog to the vet. Which brings me to my next point.
Find a reputable vet
I cannot stress enough the importance of doing research when choosing a vet. When I got my first dog, the vet I chose to take him to was located inside a popular pet store. It was half an hour away from where I lived so it seemed convenient. I do not recommend going to that vet and I suggest being cautious about other corporate owned vets. I should have done my research, but I didn't bother and instead chose convenience because I was assured I was doing the right thing and I didn't know any better.
My first dog Cooper was healthy and didn't need much vet care other than his six month check ups and keeping his vaccines up to date. As he got older though, the corporate owned vet became more and more crowded and during his senior years, when he started having health problems, it was impossible to get him in to be looked at without an appointment, which usually ended up being booked weeks out.
It became increasingly clear that they only cared about the money and not the health of my beloved dog. It took taking him to an expensive specialty vet to find out he had lymphoma that started growing near his kidneys. The corporate vet didn't take my concerns seriously and had brushed it off as simply chronic kidney failure.
Had I done even a tiny bit of online research, I would have found much better, more knowledgeable, and more caring vet options that were closer to home making it even more convenient than where I'd been taking Cooper for thirteen years.
When Cooper passed in May of 2019 after fighting his cancer for a year, I was devastated. Apparently I was in such a state of depression that my parents, the people that didn't even want a dog in the first place, urged me to get a new dog. Two months after I lost Cooper, I ended up adopting two adorable Border Heeler brothers from a local rescue. I knew a lot more about dog ownership and I was prepared to look for a better vet for them. It was a good thing too because as it turned out, both of my new dogs had health problems, one at eleven months, the other diagnosed at fifteen months.
Pet insurance - it could seriously save you
The best thing I did was get insurance through work for my new pups as soon as I could. After spending most of our savings on fighting Cooper's lymphoma, I did not want to be caught with sudden health expenses I wasn't prepared for.
I am so thankful I got insurance because for a few months, one of my pups, Zephyr, was losing weight and always starving, despite feeding him regularly, while his brother continued to gain weight on the same amount of food. Zephyr's stools were odd and looked like cow patties, something I knew from experience was not normal. Dogs should not be having diarrhea constantly.
Knowing the signs of illness thanks to Cooper's problems as a senior dog, I took Zephyr to the new vet I had selected. They did a number of tests on him. When the results came in a week later, it was positive for Exocrine Pancreatic Insufficiency, or EPI.
EPI is an extremely rare condition, found mostly in German Shepherds, where the pancreas does not produce digestive enzymes. This means that the dog cannot digest food and would basically starve to death without treatment. The fact that this vet knew to test for that was remarkable. I discovered in doing research about EPI that the majority of vets do not think to test for the condition, especially if the dog is not a German Shepherd, usually diagnosing with something different, most often Irritable Bowel Syndrome. That's how important it is to have a knowledgeable and caring vet. That's also how important it is to consider having insurance.
The treatment for EPI is an enzyme powder you add to the dog's meals. Every meal. And it's recommended to feed smaller amounts more times a day. For Zephyr, that's three times a day. The cost for the powder is about $100 for a twelve ounce bottle. One bottle lasts me one month, so that's $100 a month on medication alone, not to mention he needs a more specialized diet that ends up being more expensive.
See how all this is adding up? Thanks to my insurance, which costs me about $1700 a year for both dogs combined, I only have to spend $10 per bottle. That is a huge savings.
And as luck would have it, my other pup, Maverick, ended up sick too. I noticed a lump growing on his muzzle and, again, now knowing about dog health issues, I had a vet look at it right away. They removed it, had it tested, and it came back positive for stage two mast cell cancer. He was only a year and three months old.
The treatment for the cancer? Radiation therapy. The cost? $5000 to $8000. His prognosis if we did nothing? Maverick would have probably only lived for a few months if the tumor grew back, which it was very likely to do in four to six months even with full removal of the original tumor.
The only place that offered radiation therapy for animals was an eight hour drive from where I lived. I ended up having to rent a place to stay for the entire course of treatment, which was three weeks. Once again, thanks to my insurance, the only out of pocket expenses I had were for the rental and ten percent of the end cost for the radiation, which ended up being $5800. The total cost I paid to save Maverick's life was $580. My bank account and I breathed a sigh of relief.
My situation is a very good example of why you should be prepared to spend money on the health of your dog. If you're not willing/can't afford to spend the money it might cost to take care of your pet, even through unexpected health crises, you probably should reconsider dog ownership.
Adopt - don't shop
I bought Cooper from a lady selling puppies on the side of the road. Apparently her dog's pregnancy was an accident. He was only $50, but I had to get his vaccinations, food, and supplies, which cost quite a bit.
Zephyr and Maverick were adopted from a rescue. Their mom was abandoned with her pups and a local rescue took them in. They were $100 each to adopt, but they had their first set of vaccinations and we got a month's worth of food for both of them to get them started plus a bunch of great coupons for food, treats, beds, and other supplies at a popular pet store.
Those are just my own personal examples, but there are many reasons why it's better to adopt. It's probably a better deal cost wise to adopt. The animals will usually come with at least their first set of vaccines and the adoption cost goes toward helping other animals in the shelter or rescue. You'll be helping a dog get out of a potentially bad situation and into a loving home. And you'll know for certain that the money you spend to adopt is not going to a puppy mill.
Another good reason to consider adoption is that puppies are extremely difficult and time consuming to raise. Trust me, I've done it three times now. It might be a good idea for a first time dog owner to adopt an older dog that already knows basic commands and is house trained!
Neuter/Spay!
Unless you're planning on becoming a breeder, spaying and neutering is a must. This is something I knew I needed to do, but the timing is what I was clueless about. I trusted my vets, who will usually tell you to neuter at six months or older. The truth is, neutering or spaying too early can actually cause problems for your dog later in life. Thyroid issues, for example, is something known to occur when a dog is neutered too soon. Neutering/spaying too soon can also mess up the dog's temperament and growth.
I didn't know any of this, even when I adopted my new pups and had them neutered last year. I neutered them, and Cooper, at six months. Age is not necessarily the indicator of when to neuter/spay though!
I now know that a good rule to go by, for females, is to spay them after a minimum of one menstrual cycle. That gives them enough time for their growth hormones to do their thing. For males, neuter after their testes fully develop, which is usually at about a year old, at the minimum.
The only thing I would counter this with is the fact that my dog Maverick used to mark (urinate to mark territory) all over the house and everywhere. I was told that neutering can help slow or stop this behavior altogether, so I neutered him at six months with his brother. The issue with that is I know his testes were not fully developed. They were hardly noticeable, really. As opposed to Zephyr, who was and still is bigger and was pretty developed in that area.
I think Maverick was the runt as he was much smaller than the rest of his litter so neutering him at the same time as his brother might not have been the best decision. However, it did stop him from marking all over my house so that was something I appreciated. I just hope he doesn't run into any more health problems because of my lack of knowledge over early neutering.
And make sure to get your dog chipped! Most vets do it when your dog is getting neutered/spayed. Getting your dog a chip and keeping it up to date with your current address/phone information is one of the best things you can do for your dog and your own sanity. Especially if your dog is a runner. A chip can bring your dog home quickly if they ever go missing.
Choosing the right food
Dogs get allergies. And not just seasonal allergies. Food allergies are very common too. I wish someone had explained that to me sooner. You'd think that would a no brainer, but it just never occurred to me.
Cooper had chronic ear infections and the skin on his belly and under his thighs were always bright red. It took four years and five visits to the vet about his ear infections for one of the nurses to finally tell me the cause might be food allergies. Through trial and error, we discovered he was allergic to chicken. Once we changed his diet to consist of single protein (in this case beef or pork) dry and canned food, the ear infections went away and so did the redness of his skin. Fish is a great option for dogs with food allergies too!
A high quality food with good ingredients is so important for the health of your dog. Don't settle for anything that doesn't have meat as the first ingredient. If the ingredients don't sound appealing to you, don't give it your dog. Avoid foods that substitute potatoes and peas for grains. Grain free is good, but dogs need some grains and starch or they could end up with heart problems. Potatoes and peas are a main cause for that.
If your dog is picky like Cooper was and like Maverick is, add a good quality wet food to their dry kibble. It makes a big difference and makes it more appealing.
Scheduled feeding time is important. I used to free feed Cooper and he never wanted to eat his kibble so my mother would feed him snacks and people food to make up for it because she felt bad. This caused him to be overweight and obesity in dogs causes a lot of problems. They'll eat when they're hungry, but if you're worried, then like I said, adding canned food to their diet really helps. By feeding them at the same times every day, it can help stave off obesity and helps with potty training in pups. If you're raising a puppy, potty training can be a challenge, but knowing when they eat helps you to know when they're going to need to do their business.
Choosing the right breed
Dogs are adorable, especially puppies. They're so cute that they make you want to just take them home immediately without even knowing anything about the breed.
I got super lucky with Cooper being my first dog. Labrador Retrievers are smart, loving, and eager to please. They make wonderful family dogs. He was also a quarter Border Collie and a quarter Blue Heeler aka Australian Cattle Dog. Those breeds made him extra smart, lovable, and loyal. I didn't need to teach him to stay with me off leash, he did that on his own. He never tried to run away and he was so easy to train.
The issues I didn't know about came from his Labrador half. Labs are prone to some health problems. Obesity, thyroid issues, and lymphoma are common. Cooper ended up with all of those. When choosing my next dogs, I opted for just the Border Collie/Heeler part of him.
The breed is known as the Border Heeler and they have very little health problems. The health issues I ran into with them were because they weren't pure Border Heelers, they had other breeds mixed in there, including a little German Shepherd.
Border Heelers are also one of the smartest breeds. They're loving, loyal, adorable, and everything I wanted in a dog. The drawback was how destructive they could be if not stimulated enough. They're so smart that they need to have something to do all the time. Puzzle games are a popular way to keep their brains occupied. Exercising them regularly, multiple times a day, is a must. They're a herding breed and that drive is strong so I knew to be prepared for them biting at my ankles and calves, which is their style of herding.
Had I not researched the breed, I probably would have lost my mind trying to keep up with two of them and I would have had no idea why they kept nipping me and other people so much. Many of my sweatpants and leggings were destroyed by their baby teeth the summer I adopted Zephyr and Maverick, but it was okay. I was expecting it.
Make sure you know what to expect when choosing your dog. If you have kids, make sure they're good with kids. If you live in an apartment, you better look into small breeds because that Husky you're eyeing is not going to do well in an enclosed space. Knowing what you're getting into makes all the difference after you bring your dog home.
A lifetime commitment
This is one of the things I did know going into getting a dog. Dogs, depending on the breed, are a ten to fifteen year commitment. Smaller breeds can live longer and larger breeds generally have shorter lives. They are living, breathing creatures with feelings and a large emotional capacity. As pack animals, they bond to their humans pretty strongly in most cases. If you aren't willing to give them extra care in their senior years as they deal with arthritis or other health problems, do not get a dog. It is absolutely not fair to that animal to live with their family for years, only to suddenly be abandoned by the people they loved and end up alone or with strangers. Can you imagine how scared and depressed that would make them?
Dogs absolutely can suffer from depression, anxiety, stress, and a multitude of emotional ailments. They are, after all, creatures that run almost purely on emotion. Buying your kid a dog for Christmas because it's a cute puppy and then realizing a few months or years down the road that the dog is too big, too annoying, or too expensive, is a huge no no. Just don't do it.
I had wanted a dog for so long that I was prepared to care for Cooper as he got old, even with adopting him being a spur of the moment decision. In fact, I wanted to do it. I loved him so much that I would absolutely do anything to keep him as healthy and happy as possible for as long as possible. When he could no longer get up and down the stairs easily, I was there for him, giving him a boost to get up or making sure he didn't trip and fall. I fed him by hand when he was on a special diet and didn't want to eat it. Every Wednesday for the entire last year and a half that he lived, I drove him to his oncologist an hour away so he could get his chemotherapy. I knew it would take all day, but he counted on me to do what I could for him so I did it. I did it because I loved him.
If that sounds like something that would annoy you, if that makes you think "I don't have time for that," do not get a dog. A dog is not something you buy and leave in your back yard or in a kennel all day and night. For a dog, you are their entire world. A dog is meant to be a companion, one played with, loved, and cared for. A dog is a commitment. A dog is family.
dog
Writer. Wannabe artist. Gamer. Animal lover. Lover of all things fantasy. My dogs Zephyr and Maverick are my life.
Receive stories by Xennariel Revenlyr in

your feed