The View From the Dog House (Pt. 5)
Don't Judge a Book by its Cover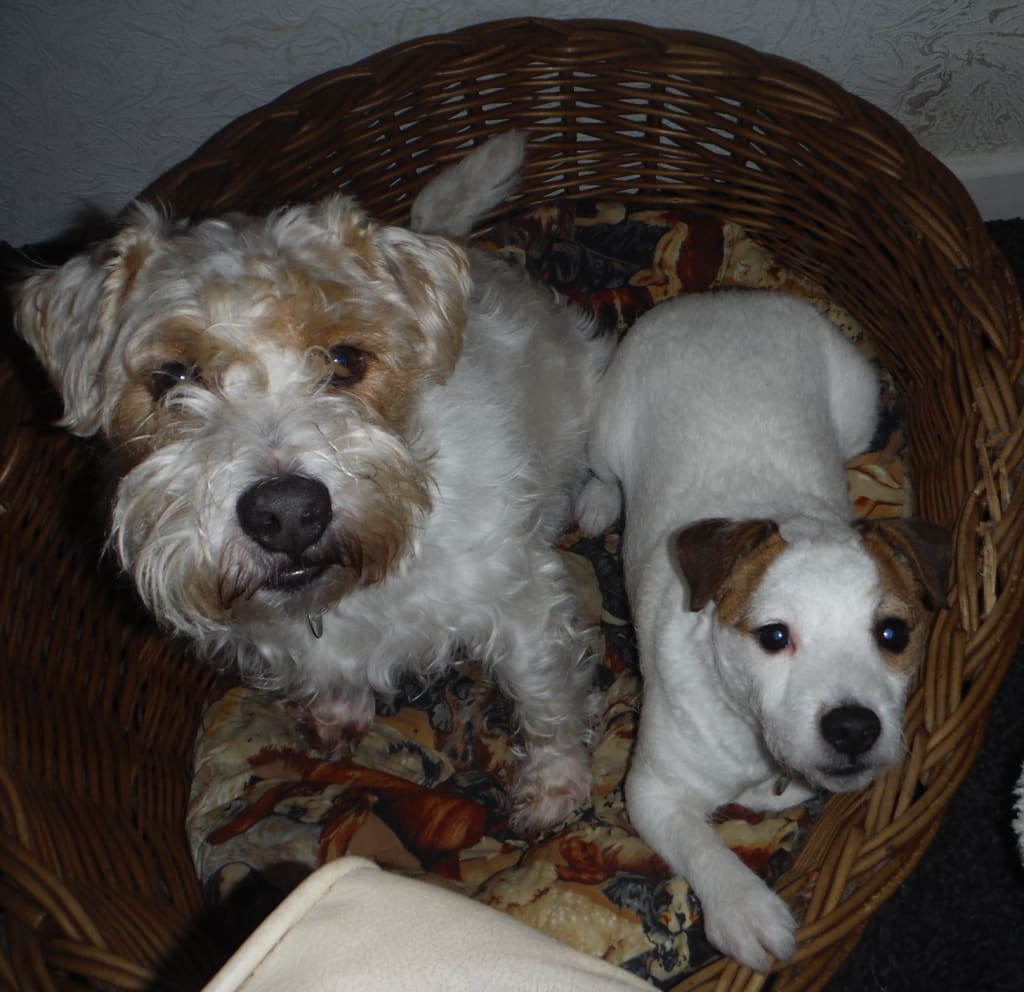 Isn't this a funny expression? The first thing that attracts a potential reader to a book is its cover isn't it? So far, with the exception of Tea Break Tales the covers for Rosy Teale's books have enough similarities to be recognisable as hers. Two more titles are ready to publish, and their covers will also reflect this so therefore, Connie's Reunion will have a similar cover to Connie's Bodmin Mystery.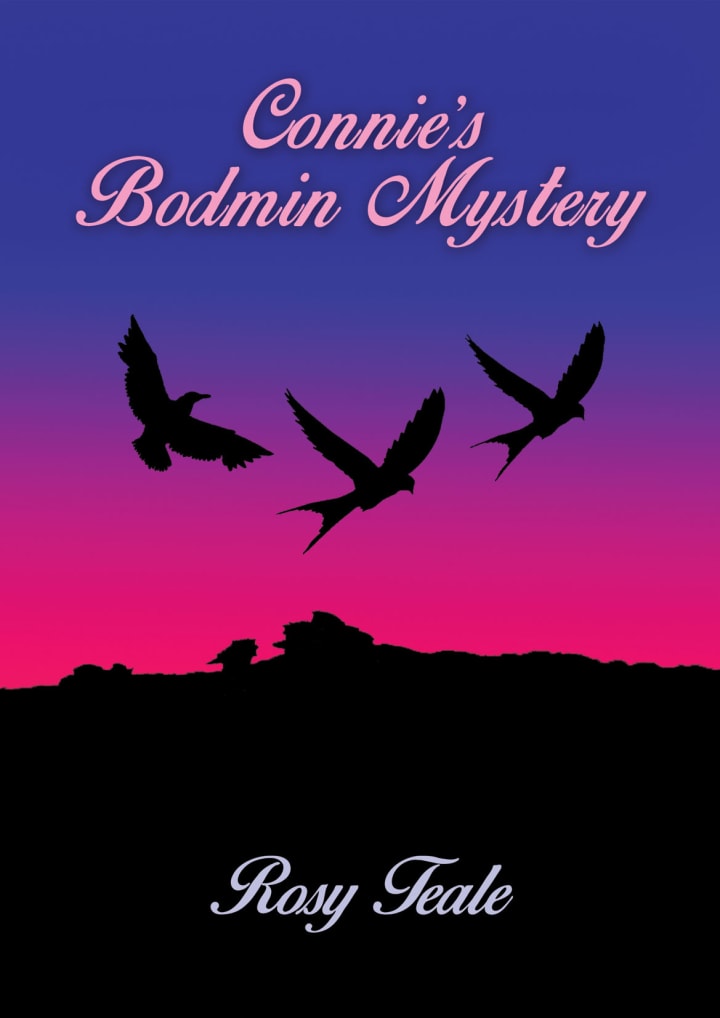 Her novel, however, New Beginnings, will have something very different and hopefully, if she gets an agent and a publishing deal, the cover will benefit from having outside professional help. She has been fortunate so far in having someone produce her covers based on her own ideas. She started writing another story yesterday, aimed at an entirely different audience so if that gets published in whatever guise, the cover will have to be one that appeals to a younger audience in today's world.
There is a flip side to this point of view though! I mean, just look at us—butter would not melt would it? But apparently, we are neurotic, and can be very difficult, and so proving the opposite to what has thus far been expressed, which just goes to show what a funny old world we live in.
I mean, would you say this little chap was neurotic?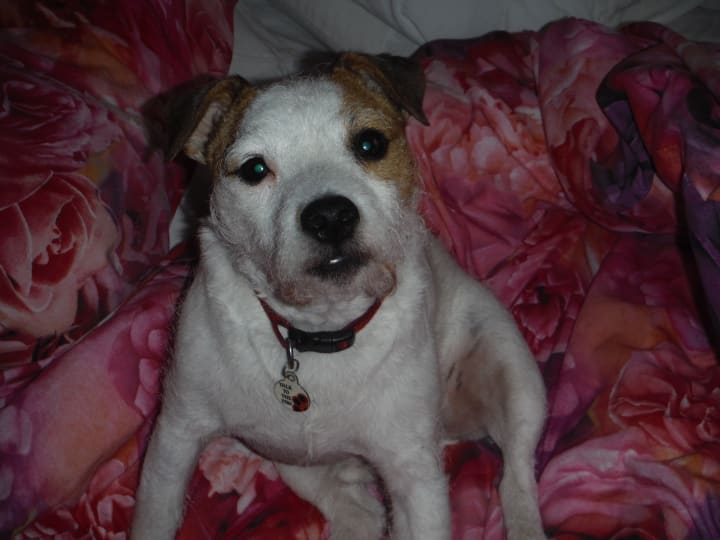 Of course not!
Or this high, wide, handsome hound?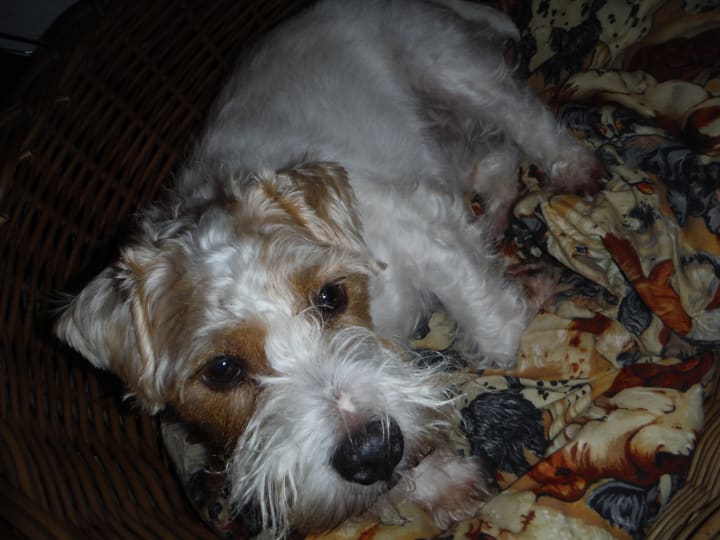 Of course not! But when it comes to books, we do think covers are important!
Marketing is probably the single hardest part of self-publishing hence her drive to get an agent to publish her novel, New Beginnings. It is all very well having a nice website to promote and sell your books, but the trick is to drive traffic to it, hold peoples' interest sufficiently that they browse and hopefully buy. Eye-catching covers play a part here, as well as enticing information indicating what the book is about. Promotional offers can help too, so hence anyone buying a download from Rosy Teale's website will get a freebie—Millennium Mayhem at present. This is a frothy and amusing romp through life in a typical rural village in England.
Mummy, Rosy Teale, she who thinks she should be obeyed at all times, had hoped that giving talks in libraries, to the W.I. and any other groups that she could persuade to listen would be productive. She is actually an entertaining and interesting speaker—we know this first hand as we get to listen to her practice runs. The talks themselves are well received, but sadly, people are slow to dip their hands in their pockets.
We thought that we could have been more involved with these talks, but she said it would just distract peoples' attention—and maybe she has a point. Not everyone is conversant in Jack Russell speak so our entreaties to make a purchase would probably have fallen on deaf ears.
Local press was very disappointing providing no support at all and local BBC radio made encouraging noises that did not follow through. Local commercial radio, however, invited her to go on air for an hour on their book slot. The results were disappointing but she enjoyed being back in a radio studio. We listened to it as she set the radio before she left but it was a bit odd hearing her talking to people we couldn't see when she wasn't here either!
So you see marketing is a rocky road which is tricky and frustrating to navigate. She briefly tried tweeting but didn't like it. We would like our own twitter account—we could tweet for the world! She also has a YouTube channel which never figured in her original plan. However, having had positive feedback at reading extracts from her books at her talks she thought it might be good to post video clips on the website and YouTube was the way to go.
She has not so far explored Instagram, but we think she needs to, especially if she is going to start targeting a young audience. We think she also needs to explore the potential of podcasts. So further proof, if proof were needed, that we are not your average terriers! We will keep you posted and catch you soon.
Meanwhile, love, licks, and waggy tails from the Dog House at Teale Towers!
literature
About the author
I write character driven fiction which I started to publish five years ago in memory of my late husband. I have always written and had the publishing dream - still do! I live in Devon with Pickle and Scamp my blogging dogs.
Reader insights
Be the first to share your insights about this piece.
Add your insights