The View From the Dog House Pt 16
Heinous Crimes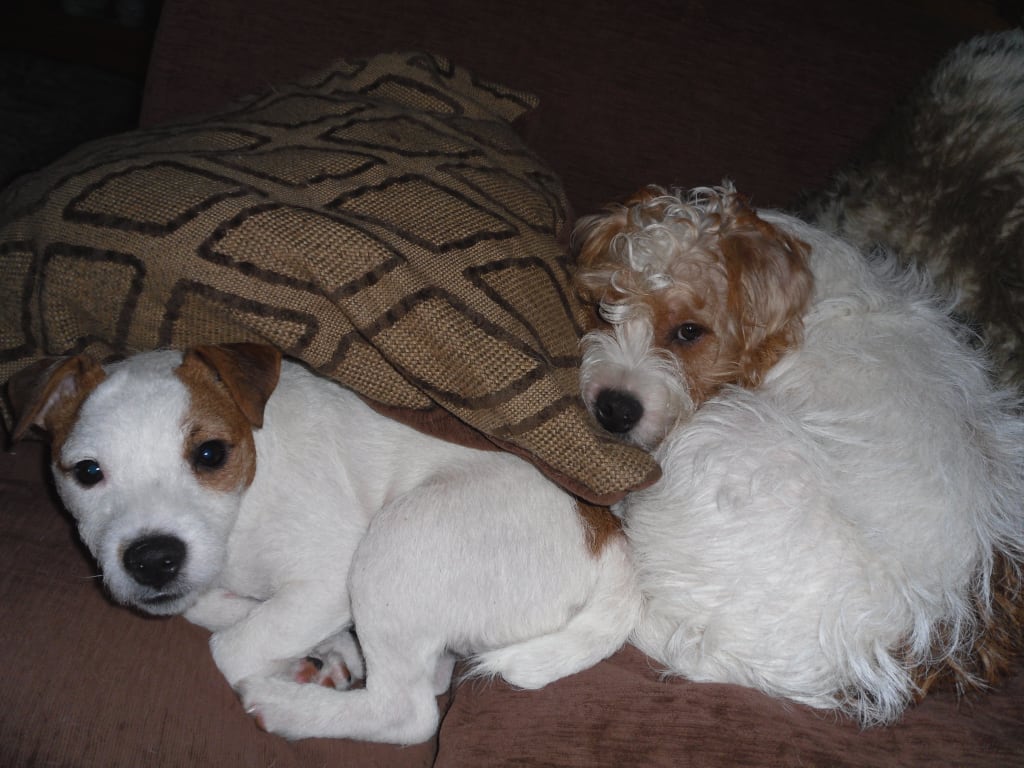 The view from the Dog House is very different to actually being in the dog house, and we are very much in the dog house just now. We have apparently committed a crime most heinous—so much so that we aren't even going to tell you what it is. Suffice to say that Herself is livid, and has told us our pedigree in no uncertain terms. We are the worst chaps in the history of Teale Towers apparently. If we weren't in her life, apparently she would be so much better off as we are not cheap to run.
She has cited our food—says she spends more money on food to cook for us than for Herself currently. Vet fees—well hang on—do we ask to go and see the old veterinary? No! It is always a visit under protest. Kennel fees—ditto vets. Do we want to spend time in kennels? No—of course not. In fairness, we haven't been in kennels for a while, and with luck won't have to any time soon, but yes, historically, we have. Why she has to pay people to look after us is beyond us—surely folk should be willing to pay for the privilege of spending time in our company (No, it's not a question).
We have cages in the car, the dining room, and had a couple at the Bolthole. At the moment we also have one in the lounge, and where you have a cage, obviously you need pillows, throws, and blankets, so a chap can be comfy and have something to snuggle into, make his space his own, and put his sniffs onto.
Treats! Can you believe that we get through more treats than all our predecessors put together; apparently bribery and corruption did not play such a major part in getting them to toe the line. They did have toys, which we don't get, but then Pickle has an annoying habit of chewing through his leads if they are left on when we stay in the car. We also have our own digital radio to listen to if we are left in Bubbles (our car). Then of course, there is the cost of grooming us and claw clipping, which is another thing she hasn't had to fork out for with our predecessors apparently, but in fairness, is not something we choose to endure. Oh there was plenty more where that all came from!
Then there is the question of time: the time spent shopping and cooking for us, and all the washing up that cooking for us generates. And what about the time needed to walk us... Not content with all of this, she then went on to berate us for the stress levels we cause her. Allegedly. She really went for it!
BUT...
Who else has she got to cuddle into? Nobody!
Who else gets her out in the fresh air? Nobody!
Who else dries her tears when they fall? Nobody!
Who else can melt her heart with just one look? Nobody!
So without us, however naughty we might be, her world would be a pretty lonely place. We reckon she needs a rethink.
We chose this picture by way of a change, and it has brought home to us the fact that we are both fading a bit. Normally we might suggest some doggy type dye, but in the current climate it would probably be wisest not to.
We do know that once words are said, they can't be taken back, but equally we are hoping that this little rant of hers has less to do with us being all things difficult, and more to do with the fact that she has had an operation on her leg, which has been very painful. Have we complained that we haven't had our usual walks? No—though it has been very wet here recently and our paws don't like it when it rains so it isn't all bad news—but we have snuggled in very companionably in the evenings, and we would kiss it better if we could, but we can't get at it—but it's the thought that counts, surely?
Hopefully we will soon be out of the dog house and once more be in a position to admire the View from the Dog House at Teale Towers.
Love, licks and waggy tails, Pickle and Scamp xx
dog
About the author
I write character driven fiction which I started to publish five years ago in memory of my late husband. I have always written and had the publishing dream - still do! I live in Devon with Pickle and Scamp my blogging dogs.
Reader insights
Be the first to share your insights about this piece.
Add your insights