The View from the Dog House (Pt. 13)
A Chap's Pedigree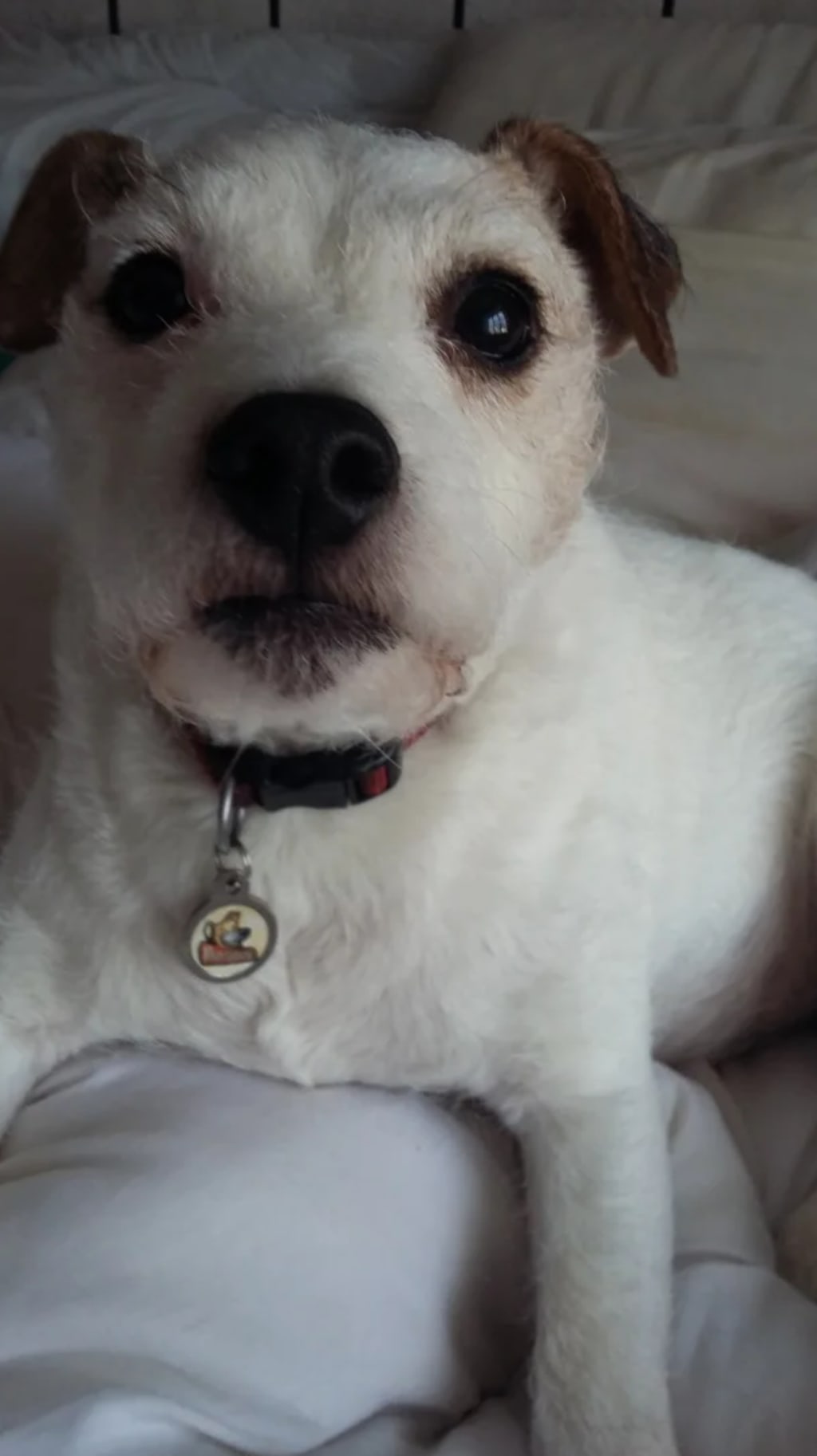 I, Scamp, the Pawsome one am mightily offended. I am told that I am going grey around the gills. I thought it was only fish who had gills? Going grey is for old people and I am only seven. O.K. - and a half but that is nothing! Even she who thinks she should be obeyed at all times isn't grey and she is ancient. But apparently my brown patches on my face are nearly white. They used to match the patch around my tail piece which is still vibrant thankfully, but what has happened to my face patches I can't imagine; maybe they just faded in all that sunshine.
My face is really interesting you know. My right eye is in my white furdy bits and has white eye lashes whereas my left eye is in a dark bit and has black eye lashes. Clever, eh? Pickle has the longest eye lashes ever seen on a doggery like chap. That's another reason I don't think he is a proper JRT whereas there is no doubting my pedigree. Having said that he had to have a new harness recently and the man in the shop told Herself to take Pickle into the shop so the man could fit him out properly. She apparently went white at the very thought and explained why that couldn't happen. Reasons included the fact that there were dogs in the shop and we don't like dogs and she then went on to describe our objections to all things associated with cleaning, to bikes, to high viz, to hats and helmets amongst other things. Apparently he laughed and told her that she obviously had a proper pair of Jack Russell Terrorists. She thought that was hilarious so maybe my brother Pickle is a JRT after all.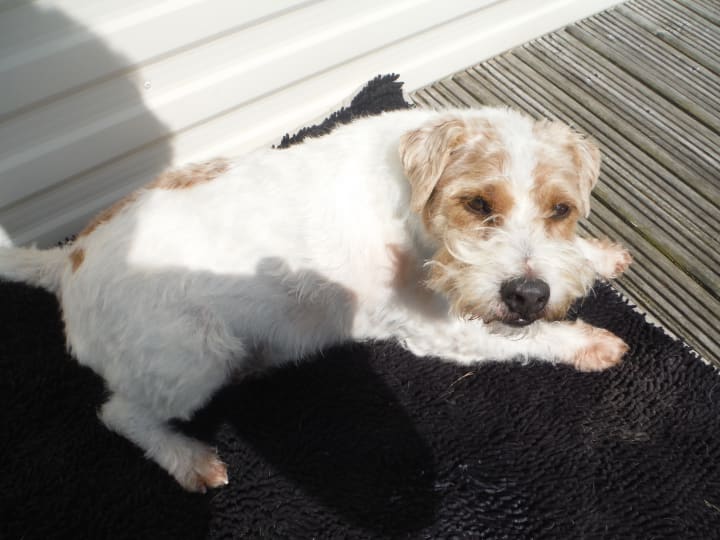 Scamp! Don't hog the blog! Anyone would think he was the only one with something to say. At least he has stopped banging on about writing about a new superhero, modeled on him if you please. Mind you we are very strong and made of tough stuff. I can run at a fair pace if I want to but I tend to be more of a thinker—I like to just lie and think about stuff—except for when I am seeing off marauders, of course.
We used to get to chase balls once in a while but we haven't for some time. We used to do it together but it caused problems. Scamp will chase ball after ball—retrieve it and take it back to be thrown again whereas I like to trot off with it and have a thoughtful chew. Scamp will have none of that and we end up fighting which is not good. But I ask you, if a chap has chased the ball and caught it is he really going to repeat the process? We also used to have toys, but we either fought over them or chewed them and quite frankly, the noise of the squeaky ones got on my nerves.
She's just put the radio on—we have it on nearly all the time and she always leaves it on for us if she is going out on her own. So much for the news, we will be going downstairs in a minute so she can have her shower. We don't like running water so we have to be excluded when she has baths or showers. Apart from anything else there is always the risk that we are going to get roped and and we definitely don't want that although we do have our own towels which are black and rather smart but we can admire them from a distance—we don't actually have to use them to appreciate them.
So it looks as if this blog is coming to an end. We have been admonished for talking so much about us and not about her books and her writing so that may change next time. We will catch you soon but meanwhile, sending love, licks and waggy tails from the Dog House at Teale Towers.
dog
About the author
I write character driven fiction which I started to publish five years ago in memory of my late husband. I have always written and had the publishing dream - still do! I live in Devon with Pickle and Scamp my blogging dogs.
Reader insights
Be the first to share your insights about this piece.
Add your insights