The View from the Dog House (Pt. 12)
Scamp—21st. Century Pup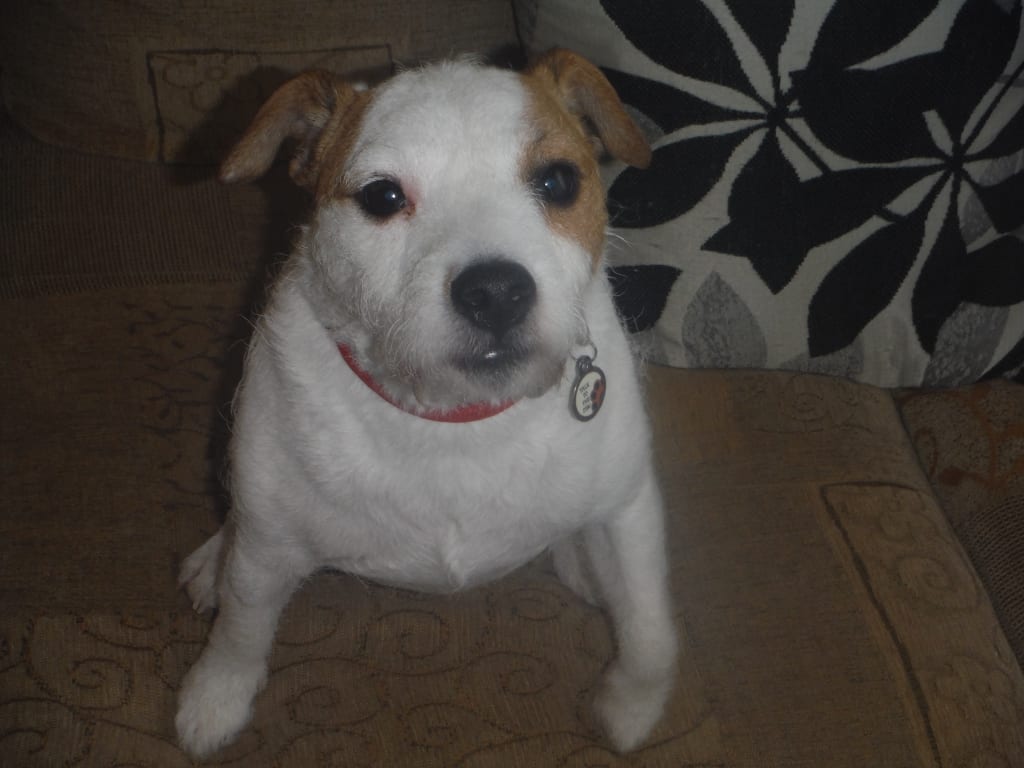 Well obviously I was not going to let my brother Pickle hog the limelight, so listen up! Scamp has seized the platform!
I am truly the brains behind us. I have been talking about blogging for years and I am still pressing for a Twitter account. Who do you think it was that persuaded Herself that she needed to ditch the pathetic little phone she had? Can you imagine? She had a phone that she could speak to people on and maybe text. And that was that! Eventually, I managed to convince her to get something that could do those things, but gave her internet and email access and served as a camera, too. "All the better to take spontaneous snaps of me," I said. I'd like to think that that's what swayed her.
Like my brother, I enjoy my walks with her, and I, too, have a wealth of ideas. She writes lots of things and recently started on a story aimed at younger people. Actually, she's got enough material to put together a book of short stories for younger readers. But I think there is room in the world for a new super hero—me! I could dream up loads of exploits—it could be really exciting stuff! I am going to work on that.
She says there are more than enough super heroes in the world and that it is not her thing, which only proves the point that she hasn't grasped; it's not her thing, it's mine.
My brother is a bit of a ponderous chap compared to me. I am small and wiry and very fast. We do not get let off our leads outside as we are not to be trusted apparently. It's probably a fair point. People have no idea what an exciting place the outside world is—whiffs and sniffs galore. When we used to walk around the park grounds when we were at the Bolthole, I used to find rabbit holes. It is very frustrating when out walking not to be able to chase a rabbit when one has the temerity to cross your path. Mr. Gascoigne, one of our predecessors, apparently used to chase squirrels because he, who was in charge of Pip and Bob (our immediate predecessors), could be trusted off his lead. He even had a special squirrel bark, we are told. He did blot his copybook, however, as on one occasion, he was off in the woods for so long, Mummy and Daddy thought they had lost him. He emerged eventually, but I don't think he was that bright chasing squirrels, as the first thing they do is climb a tree and they can virtually fly from tree to tree. He was apparently even bigger than Pickle (who, let's be honest, is a bit of a lumpkin), so no tree climbing for him! At least with a rabbit they are on the ground; and once upon a time, I could probably have got down a rabbit hole. I am advised that would not have been a good idea.
I am concerned to see that Pickle's coat is growing fast, as are his claws. He has the longest claws! This is not good news. It means that we are heading for a trim; usually it happens twice a year. It could be argued that three times would be better, but none of us like it, so we stick with twice. You wouldn't think I would need grooming, would you, but I get my share. Anyone who thinks Pickle is going to get something I am not can think again, especially when attention is involved.
I don't like Herself combing me, but there is no arguing with our grooming lady, let me tell you. Herself hates it more than we do, and gets seriously stressed on our behalf, which is not helpful. Pickle usually goes first and gets a good haircut, so he is once more transformed from a scruffy mutt to the high, wide, handsome hound he declares himself to be. Then he gets his claws clipped, at which point Herself has to leave the room. Then it's my turn! It's amazing how much fur comes out of me! Then I also have my claws clipped, but mine are much neater than his to start with. Even so, she who says she should be obeyed at all times has to leave the room again. By the time she has paid the fee, she is screaming for a drink. We get very agitated when she sweeps away our fur, but it makes no difference—it goes in the bin, at which point we retreat to our cages for a snooze.
So I hope you can see that I am cute and astute—a real sharp cookie. Until next time, it's love, licks, and waggy tails from the Pawsome one in the Dog House at Teale Towers. (By the way—I am officially pawsome—it says so on my tag; not the one in the picture—that says "Talk to the paw." I broke that one and my new one says "Pawsome," which I so am!)
dog
About the author
I write character driven fiction which I started to publish five years ago in memory of my late husband. I have always written and had the publishing dream - still do! I live in Devon with Pickle and Scamp my blogging dogs.
Reader insights
Be the first to share your insights about this piece.
Add your insights