The Ultimate Guide To Keeping Your Dog Healthy & Happy
There's no better priced nutritionist in Hollywood!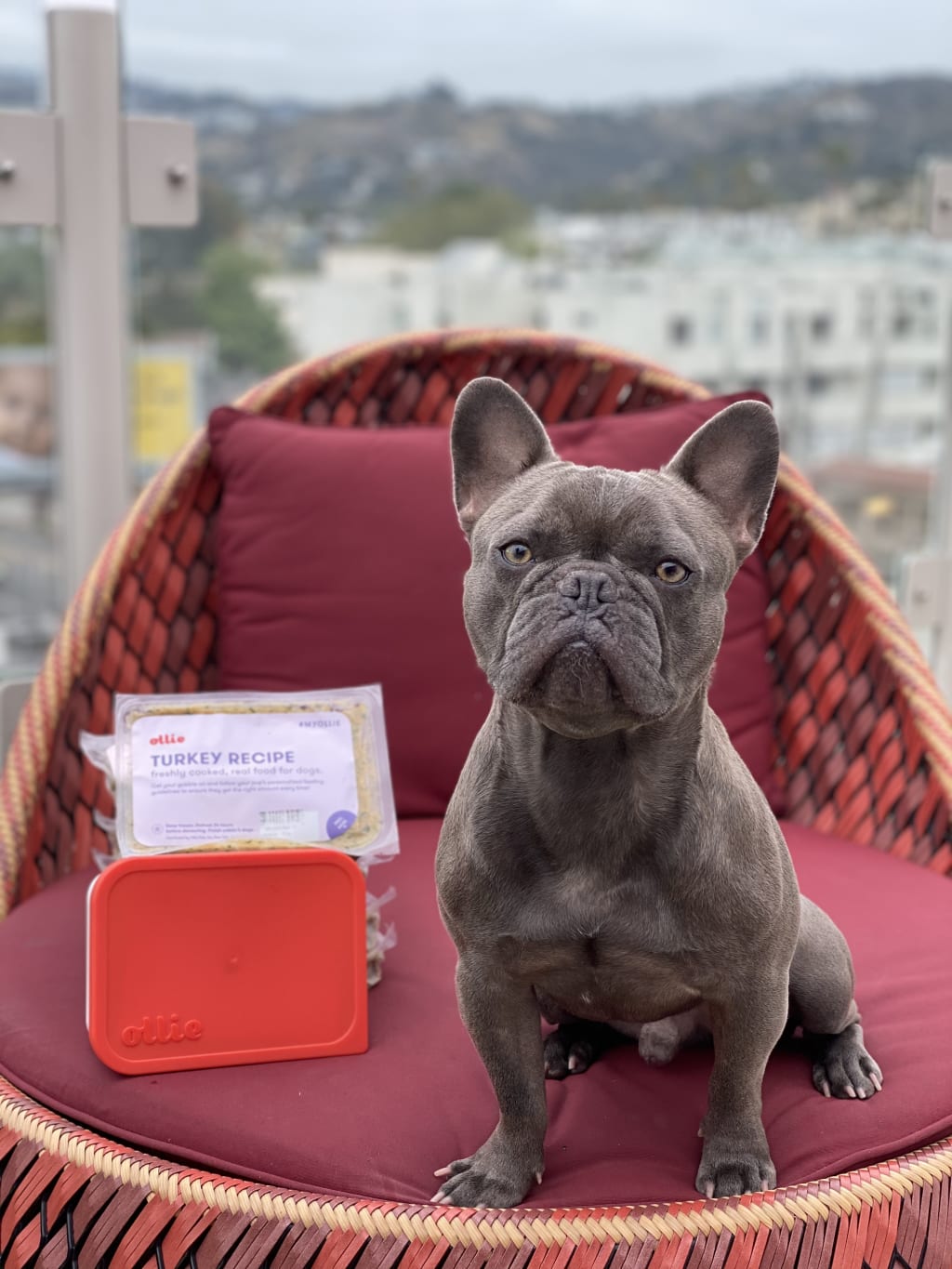 Hi! I'm Jambalaya, I know – a big name for a small dog. Just because I'm small doesn't mean I don't have a big personality. And, I'm here to share with you some tips for your pup, to keep them as healthy & happy as I am! But first, a little about me…
I was named after a dish often served in the French quarter in New Orleans. French quarter, French bulldog, Jambalaya... Get it? Being from the south, I'm all about Southern Charm. Wait, is San Diego the south? It's pretty south on the map!
Anyways... I was born and bred in San Diego. But I recently gave up "beach life" in pursuit of my dream of becoming a star! I packed up my tennis balls, chewed on shoes, and made the move to the city of dreams, Los Angeles, CA.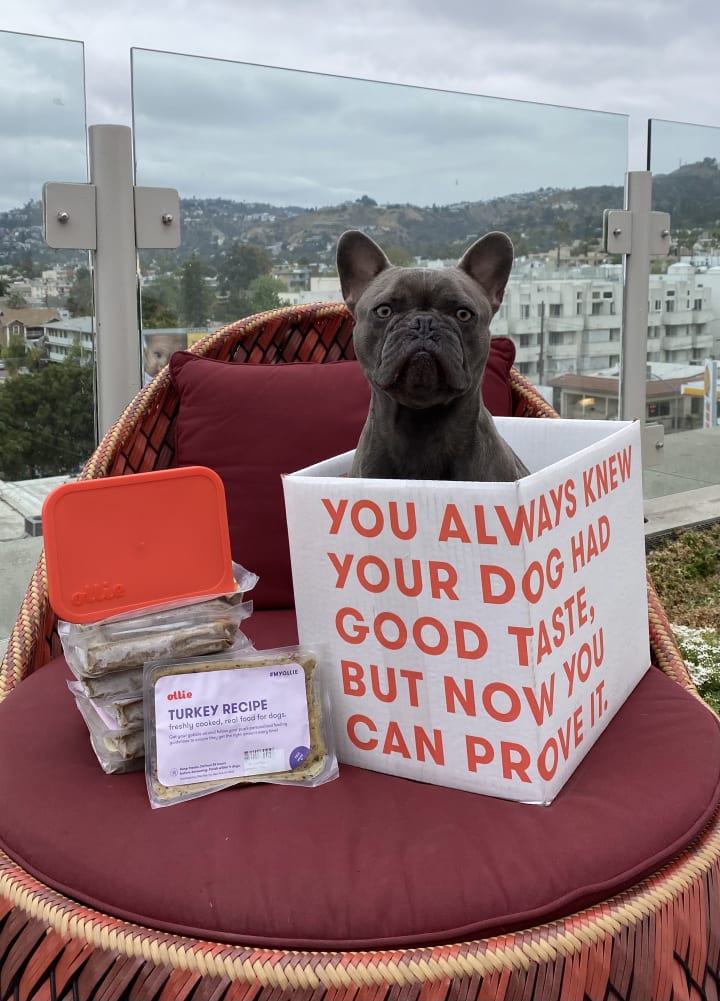 While West Hollywood doesn't have a beach, it does have tons of celebrities! I know the only way to make it to the top is to play nice with those who have already made it big. So, I always have my eyes out at the dog park for the best dressed dogs. Airbud, Benji and the Beverly Hills Chihuahua all walked so I could run! It's my turn to see my name in lights.
I'm about to turn two years old, (24 in dog years). Which in the city of Angels, is way past my prime! Lucky for me, my hair has always been grey, as I am a Blue French Bulldog.
I recently discovered Hollywoof's best kept secret, my personal fountain of youth...Ollie!
Ollie is human-grade healthy dog food that puts my nutrition first and keeps me in tip- top modeling shape. How else am I going to become a famous pup-fluencer? Ever since dad was able to make the switch to Ollie I've been feeling better than ever. This newfound health has allowed me to focus on what's really important. Money and fame!
Turning the old age of two this May, it's been hard to keep up with the pup-fluencer lifestyle of constantly going to glamourous paw-ties. Luckily, Ollie fills me up and gets me the energy I need to stay active. In between Pilates, Zoomies, and barking at neighbors – I need to be feeding myself the good stuff. Ollie allows me to get a healthy meal twice a day. Precisely at 10:00am and 6:00pm. And if dad is ever a minute late, I am here to remind him with a couple opera-grade Frenchie squeals.
Ollie has greatly increased my energy. I mean, I'm not saying I enjoy going for walks now... What's the big deal with walks anyways. Hasn't everyone heard the 1982 classic, "Walking in LA"? Nobody walks in LA!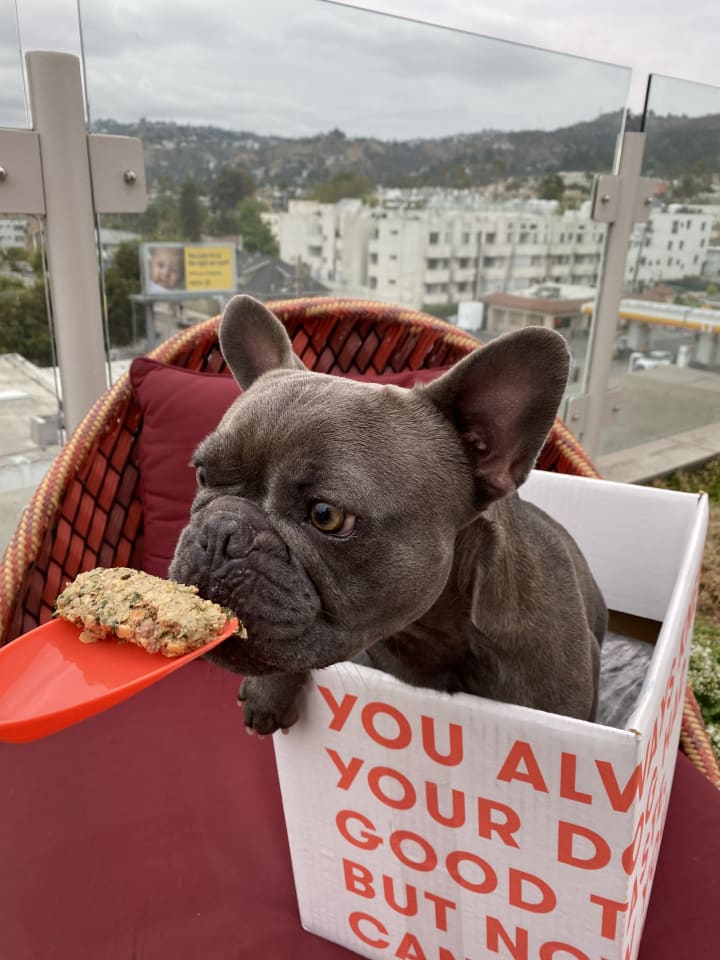 Still, I now have a lot more energy during my strategically planned zoomies. When my Dad logs into his Zoom meetings in the morning, it's time for my Zoomies! I like to bounce off the wall, making as much noise as possible to try and get all the attention on me. I'm cute, stop ignoring me!
I'm not a picky eater, I live by the rule of if you drop it – it's mine! However, this isn't the healthiest way to live. I was constantly having stomach issues and was a frequent visitor of my least favorite nightclub, The Vet. After the switch to Ollie, I've been avoiding The Vet, had more pleasant bathroom breaks, and am finally fighting that ridiculous rumor that Frenchies are gassy. How could someone this cute be gassy?
In my incredibly busy schedule of running to castings, auditions, and boozy brunches – I don't have time to cook. Ollie is so incredibly easy for my Dad. All you have to do is enter your pet's weight, age and breed and Ollie comes up with a customized diet plan for your pet. Once the diet plan is set, you're able to set recurring orders that take the "remembering" out of the process.
My Ollie is delivered once every two weeks. Ollie is delivered by the sweetest delivery people, who I may or may not bark at a bit from time to time. And, they bring it straight to the front door! Allowing me and Dad to stay right where I want to be, snuggled up on the couch. Once my Ollie arrives, it's time for some sniffing of the box! Ah, I love me some good cardboard!
Here's where the story gets good, the packages are pre-weighed out in precise amounts, so I am never over or underfed. This allows me to keep my ideal movie-ready shape! When it's FINALLY dinner time, Dad will place one of the many delicious flavors into my bowl. Give me a minute or so, and then call me Harry Houdini, because POOF the Ollie is gone! I've fallen in love with all of the delicious flavors. But, Ollie's turkey flavor has a very special place in my heart and bowl. It's a bite of Thanksgiving, twice a day! Turkey paired with blueberries, carrots, and chia seeds. My mouth is watering just thinking about it... Is it dinner time yet!?
But hey, they are all delicious! Beef, Turkey, Chicken, or Lamb. You truly can't go wrong. Your first box comes with a convenient pup-tainer to keep the food fresh inside the fridge. As well as a serving scoop, that is perfect for licking every last morsel off of. If you haven't made the switch to Ollie yet, I can't recommend it enough. Plus, you get a great discount on your first box. Via the Ollie website, on your first order, you'll save 50% off your first box. There's no better priced nutritionist in Hollywood!
I hope you enjoyed learning a little more about the glamorous life of Jambalaya. Feel free to direct message @jambalayafrench on Instagram with any acting gigs, Hollywood Hills house party invites, and/or questions on how Ollie changed my life! Thank you, Ollie for giving me the confidence, longevity, and gas-free lifestyle I needed to become a star!
This won't be the last you hear from me, see you on the big screen soon!
Sincerely,
Your favorite soon-to-be celebrity, Jambalaya Michelada Alemagou