The Tale of The Brown Snake and The Milking Cow!
Tickling The Ivories...
"How Now Brown Cow" well not really but this saying could be loosely construed as being a variation on a theme!
Or even the expression "tickling the ivories" could be applied but read on and you decide.
My sister-in-law from Sydney was having dinner with us on Christmas Eve and she told me this story from her childhood growing up in Bermaguie — a far South Coast Fishing Village located in N.S.W., Australia.
This area is a beautiful spot right on the coast. It is located more into the wilder bushier areas of the coastline as compared to for example Bateman's Bay. And it is here high on the cliff tops that overlook the tumultuous ocean waters, I have seen some of the most stunning houses and architecture where notable people such as wealthy film directors, fashion designers and others of this ilk have built their gorgeous homes and where they come to retire amidst nature's splendour.
This spot could not really be classed as being remote, but the privacy of the dense surrounding bush on one side coupled with the sometimes-raging seas on the other could give one I am sure, the feeling of living quite a solitary existence.
For the Americans amongst us this particular fishing village was made famous by the people who came here to deep-sea fish. The first person to come to mind is one Zane Gray — the American fiction writer who has a popular Bermaguie Caravan Park named after him and also Bob Dyer of "Pick-A-Box" television fame, who with his wife Dolly, spent many a happy and profitable time deep sea fishing off trawlers along this spectacular piece of the Australian Coastline.
Tourists come here in peak season as there is plenty to do from fishing, swimming in both the ocean and the Blue Pool – a deep ocean pool where you traverse about thirty steps down a cliff to get to the pool, surf boarding, bush walking and camping. Fish abounds and for the gourmet there are plenty of oysters and abalone to be bought, especially the fish which you may be able to buy from the fishing boats coming into the wharves with their "catch of the day". Fact is everything the summer camper could want is here.
The story I am about to tell you happened back in the forties when Bermaguie was not so tourist minded and dairy farmers and fishing (and smuggling) were among the main industries of the area. And my sister-in-law an only child, grew up on a dairy farm in this lush green pastured area of coastal New South Wales.
It seems that one of Jenny's forbears was walking through his pastures when the oddest thing caught his eye.
Unbelievably a brown snake was rearing itself up under a dairy cow nigh on milking time. Seems the udders of the cow were dripping slightly in preparation of its' milking and the snake was smart enough to take advantage of the situation; in fact, was reaching up to the udder and drinking the droplets of milk even as more were being further tickled out by the tongue of said brown snake!!!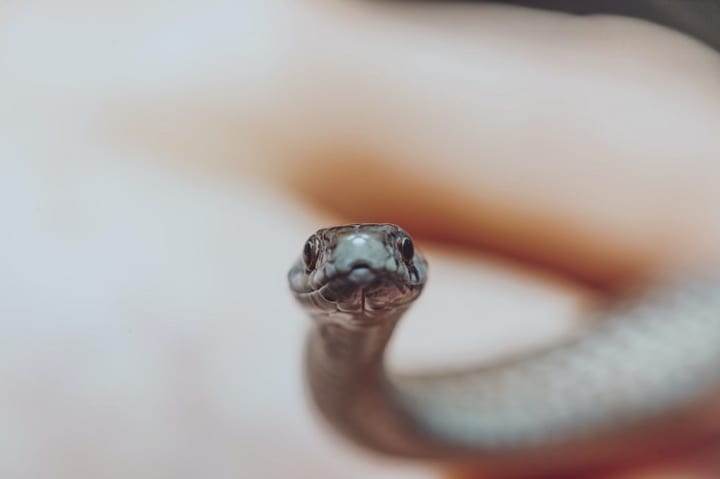 The cow was in fact was also very smart because it seems that it knew its' very life depended on it being completely still and she did not move a single muscle…. She could have been one very large statue!
The snake drank its' fill and slithered away but the thought that remains to this day is…. was it serendipity on the part of the snake? Or had it done this before?
Seemed a bit too practiced in its methods for this little cameo to just be a one off!

a.a.gallagher
Thank you for reading my words and for following me. I am a collector of stories. I also write to try and explain life's happenings to myself. I write poems about the environment, climate change plus fun rhymes aimed at young kids.
See all posts by a.a.gallagher →