The Stella Glow Up: An Adoption Love Story; EmPAWee Of The Month, Every Month
I meant to adopt a cat, and somehow ended up with an office manager.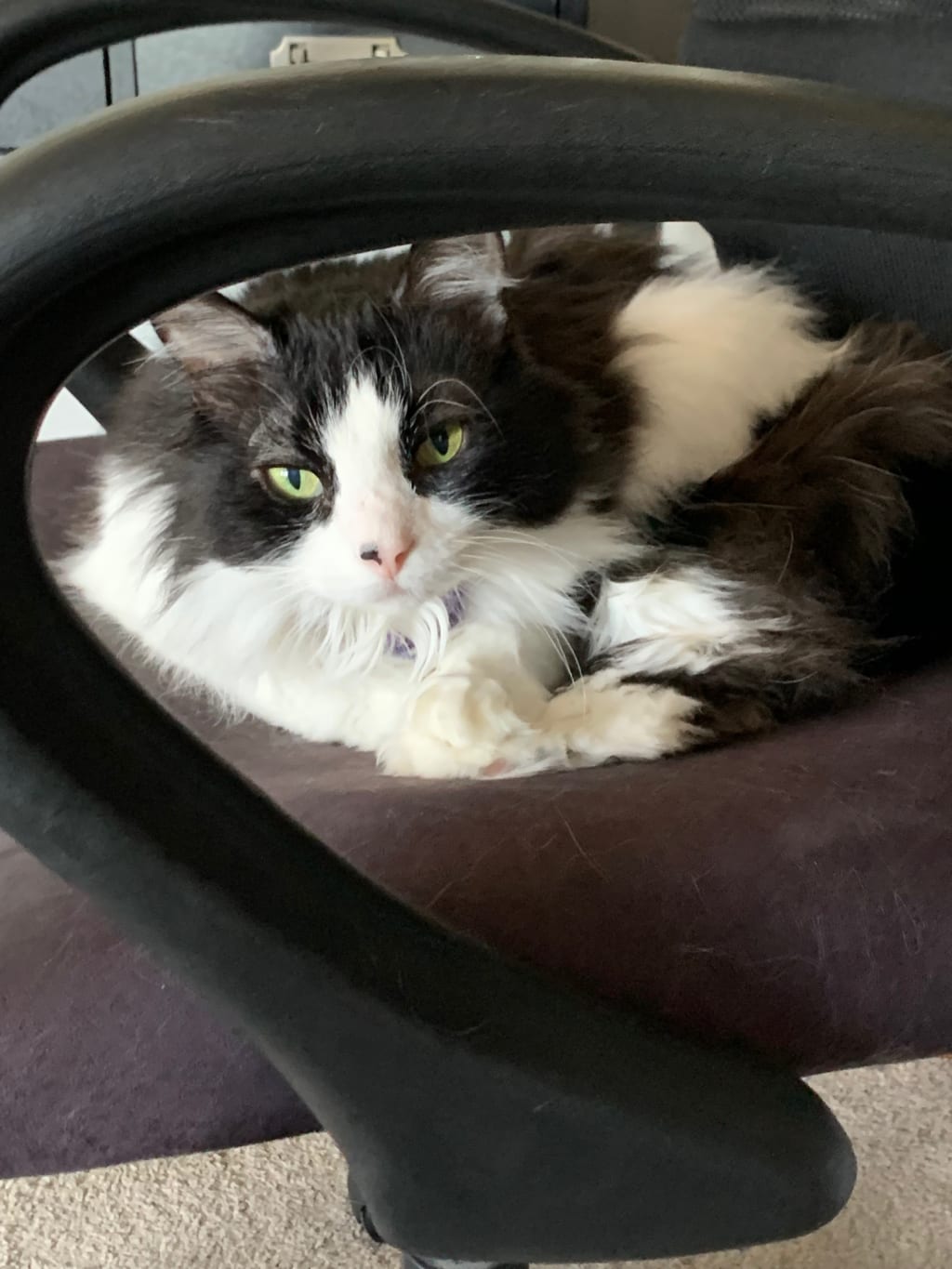 Stella, our new 11 year old Ragdoll cat.
A little background as to how Stella and I met:
I was fortunate enough to grow up with a family dog, and while a dog may be man's best friend, to an only child, they can sort of eventually feel like a furry little sibling.
Meet Tammy.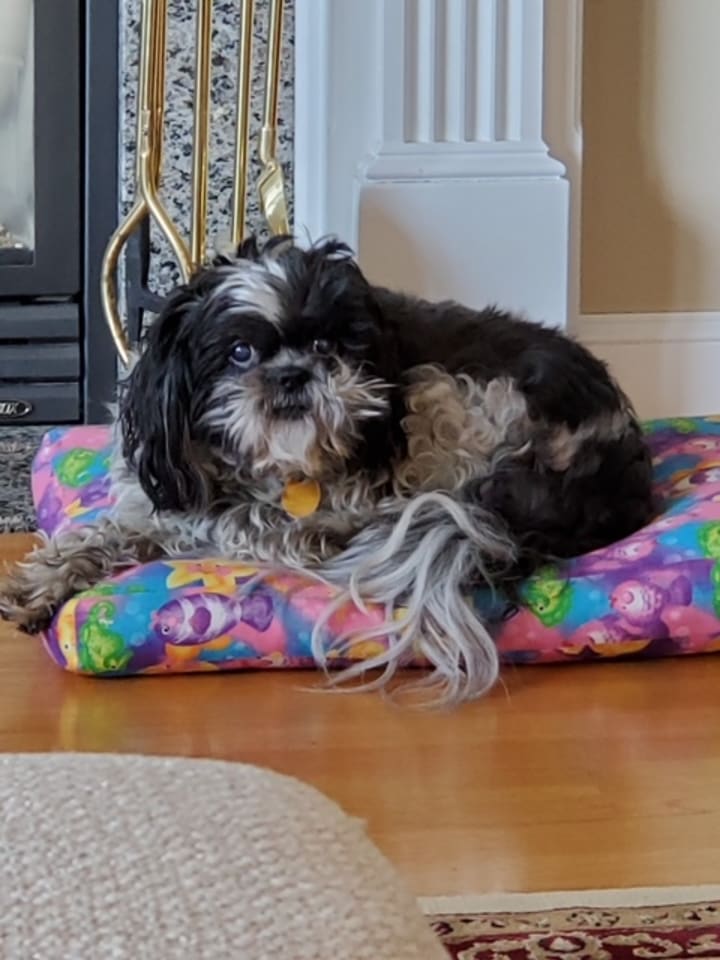 Tammy was an alpha Shih-Tzu who was super spoiled, sassy, loving, and an all around queen. I used to call her the Doggy-Ambassador, because she could make even people who didn't like dogs LOVE her.
We had her for 16 amazing years, and as she grew older, we could tell her time to pass was approaching.
I can be emotional by nature, and I have even been known to cry at the occasional commercial. So, I knew I would definitely be needing backup to deal with the grief that would come with losing my furry best friend.
For the past year and a half, I had been meaning to adopt a cat, but with the pandemic, work, and life, that goal had been pushed to the wayside. The cat tower and litter box were ready to go -- I was just missing the cat part.
But when Tammy started to really fade, I knew I was going to need some furry emotional support sooner rather than later.
In honor of Tammy, I decided to adopt another black and white animal, and soon Stella the cat and I had our initial meeting/interview scheduled.
During my adoption application process, the friendly shelter volunteer asked me what kind of pet I was looking for, and I replied, "I have a soft spot for independent and sassy animals who sometimes like to cuddle".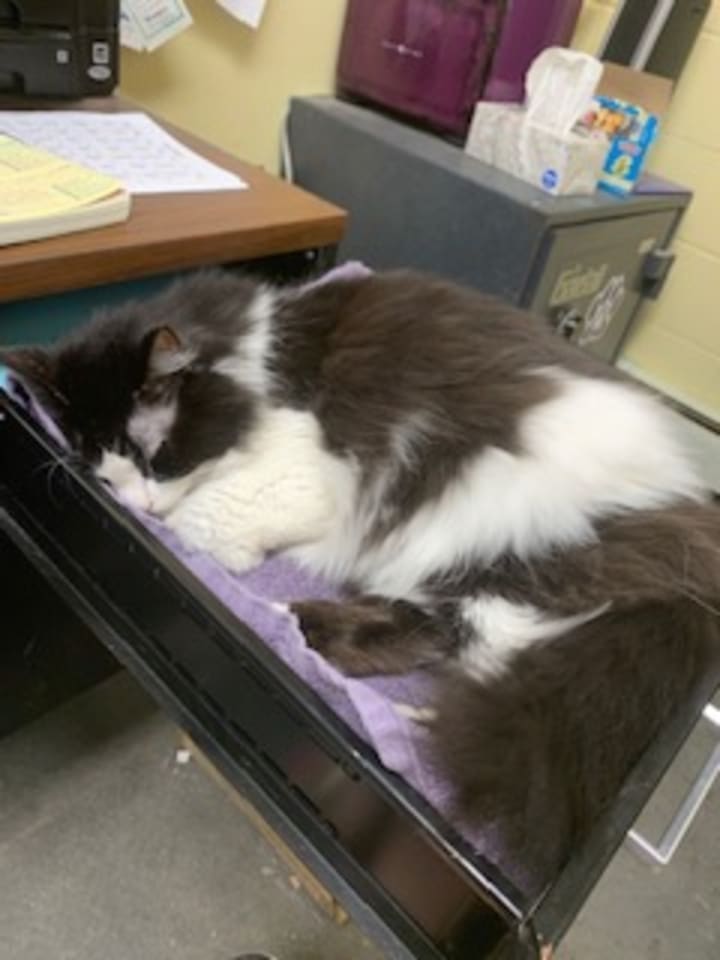 Before I met her, Stella had asserted herself as the Head Office Cat, and stationed herself in the main office for the duration of her two month stay at the shelter.
She was known for being stand-offish, cookie-motivated, and only affectionate toward a small group of people.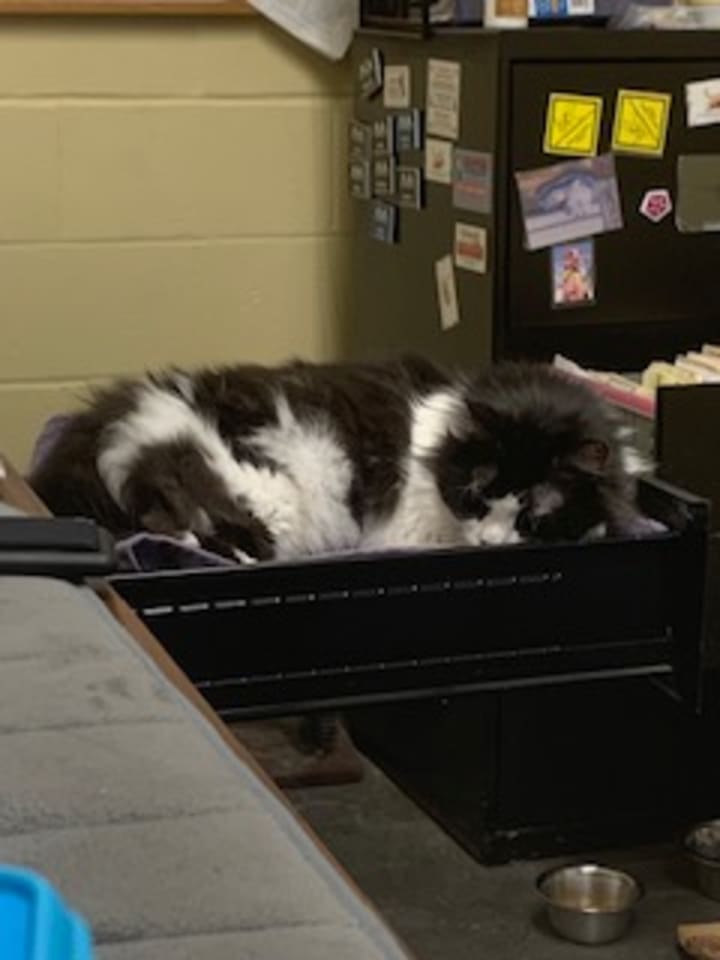 Perched in a top desk drawer, Stella avoided the crowds of the shelter and monitored the Director's computer.
We met in the office at the Lowell Humane Society (which I HIGHLY recommend to anyone looking for a pet). I sat in a chair next to the desk, said hi to her and the Director, and discussed Stella's likes, dislikes, and habits while patiently waiting for Stella to approach me.
The Director said, "She loves cookies," and I responded, "Perfect, I love giving cookies", which was followed by the Director filling my hand with bite-sized cat treats.
Stella slowly sauntered over, sniffed me, ate some cookies out of my hand, cautiously stepped in my lap, and promptly returned to her office perch. Overall, she seemed to like me.
The Director approved us as a match, and soon I had lil' 11 year old Stella in a cat carrier riding shotgun in my Honda.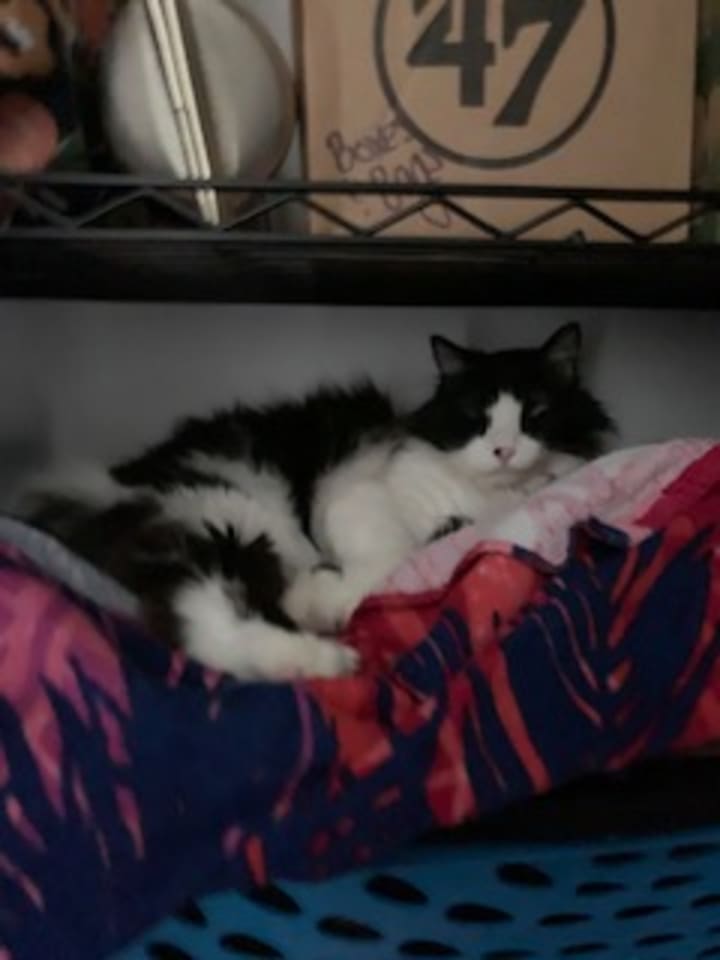 At first, Stella was pretty cautious, and our only interactions were when I'd try to give her cookies. (The vet gave the go ahead on treats, so I was offering them to Stella pretty much every two hours).
The turning point in Stella's outward behavior came when we presented her with a collar. She sat up all proud, and contently purred while I secured the collar around her neck. Ever since then, she has completely come out of her shell.
I guess in that moment, she realized she was permanently part of our little family.
If you had told me when we first adopted Stella in July that in almost three months' time, Stella would be a social, cuddly, punctual, work-loving, and orderly little lady, I would've rolled my eyes.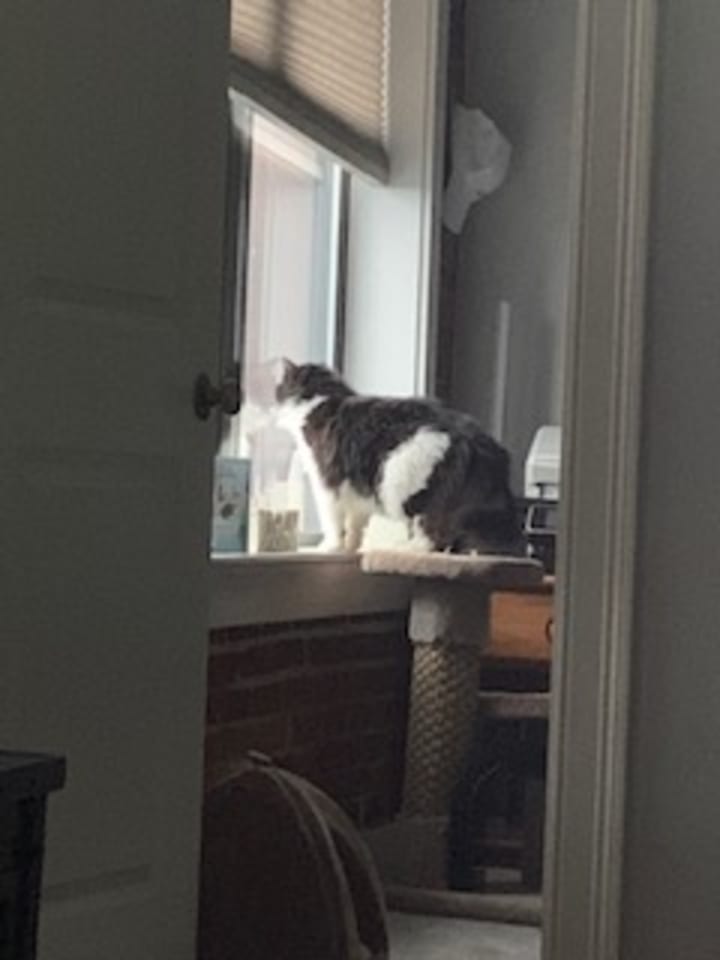 Since moving in, Stella has claimed the office area. From lounging in the office chair, to the desk, to the coffee table, she loves being where the action is.
She loves joining phone and video calls, and AT LEAST insists on being in the room for emotional support during any meeting.
Stella is the ultimate office cheerleader, although none of the emails she sends make any sense, so we have to be careful not to leave our laptops open and unattended near her for long.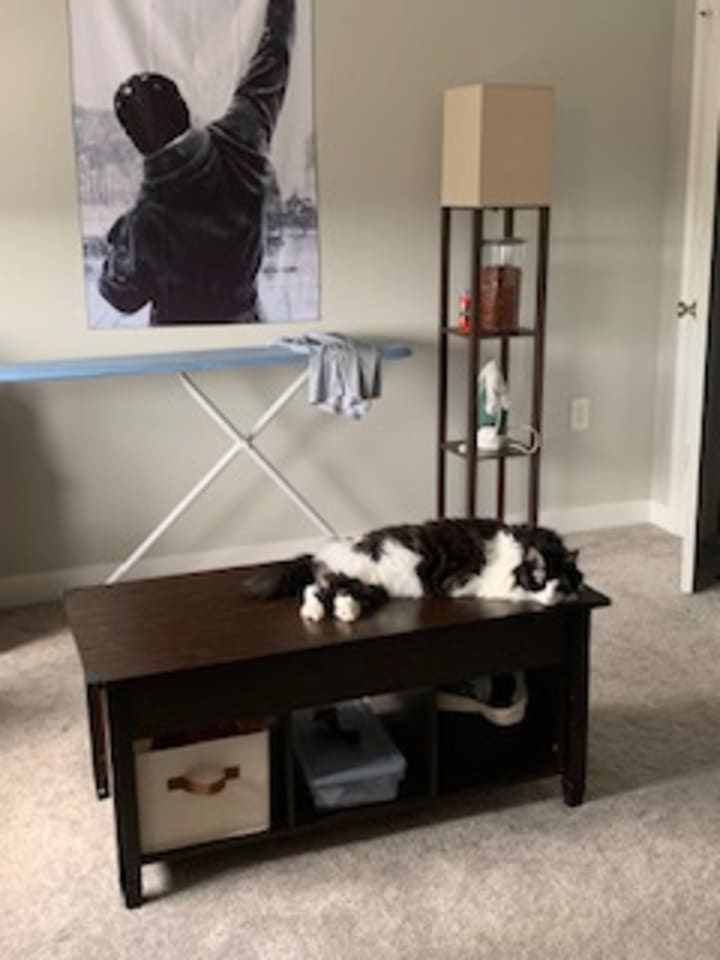 Some mornings, when I am experiencing difficulties getting out of bed, I call her name and along comes chiming the little purple bell hanging on her collar. Soon after, I am greeted by her pointy ears popping up by the bedside, followed by her impatient coos, until I make my way out of bed for our morning cuddles on the couch.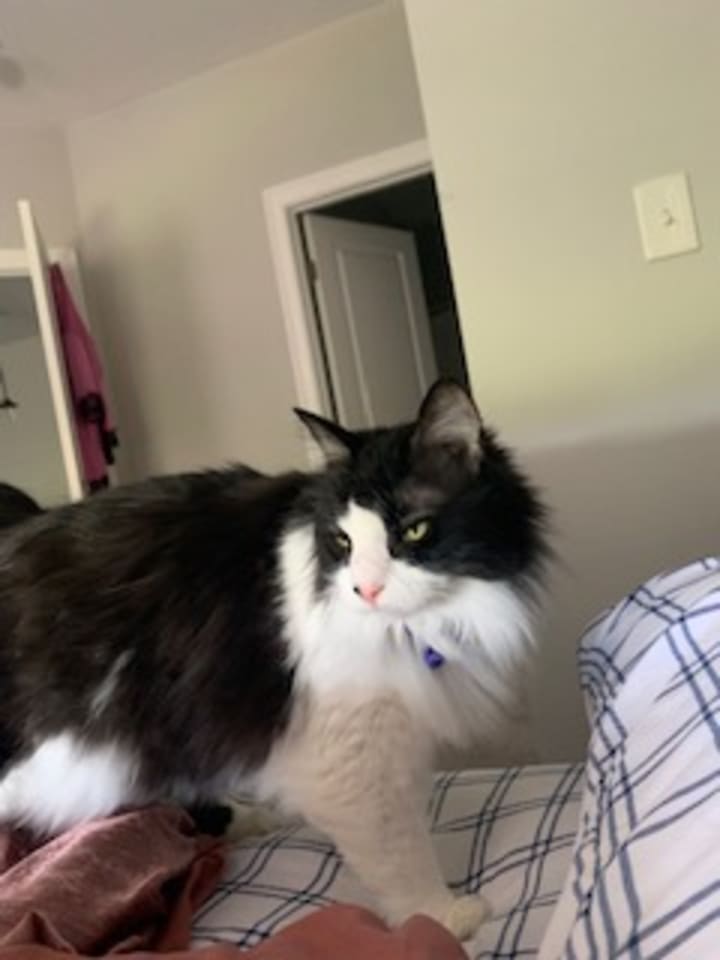 She prefers to play alone, and the only mouse she interacts with is the one that's synced to the computer. I guess sometimes she has technical difficulties, cause I'll find the mouse suspiciously on the ground underneath the desk as a result of what I can only assume to be a fit of office cat rage.
It's been a learning process for both of us as we grow accustomed to one another, but together, we are growing closer by the day.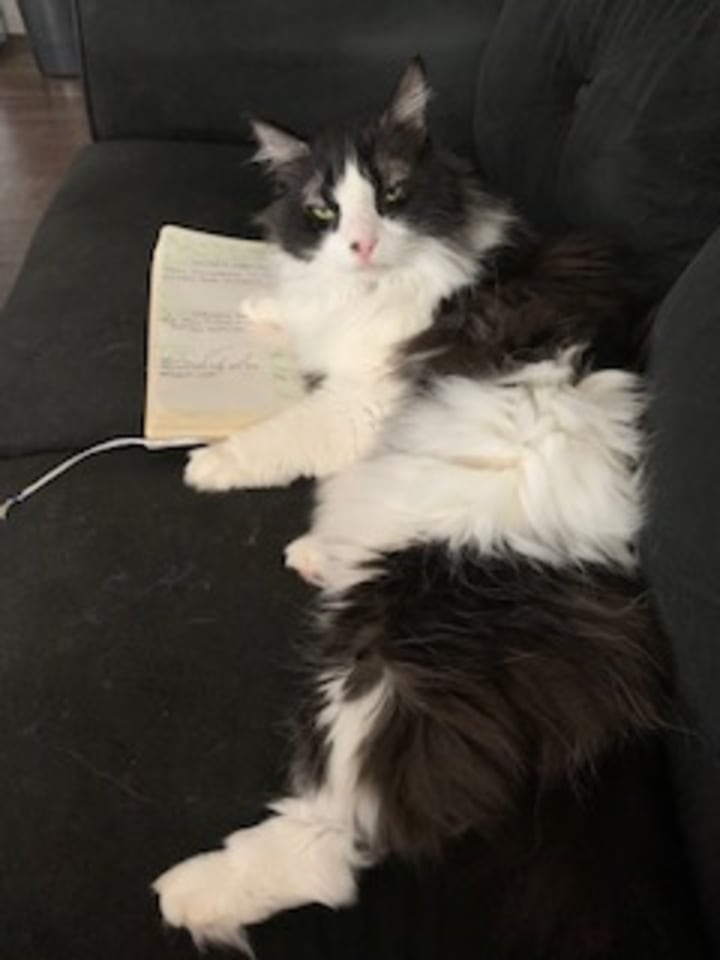 I've taught Stella where everything is in our apartment and what we expect of her, behavior-wise, and she's taught me helpful tips and tricks, like that it's a bad idea to try to pick up an agitated cat during a fire alarm.
Any onboarding process can be tricky, but thankfully Stella has a pretty impressive resume, having practically worked as the Executive Assistant to the Director of the animal shelter, and was up for the challenge.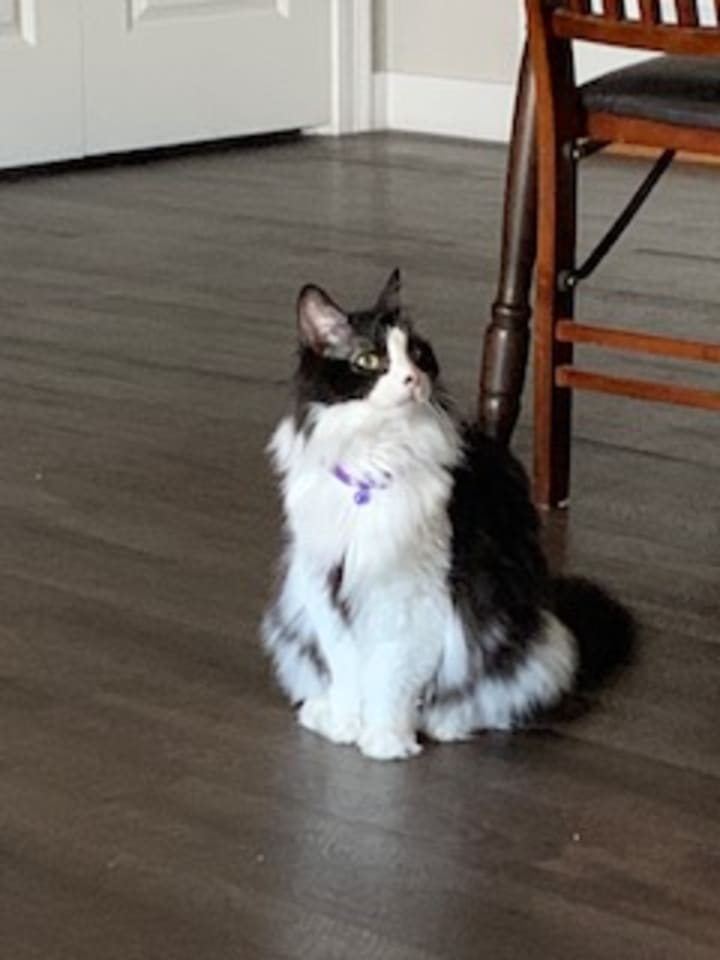 I restart my contract job this Monday, and while some of the pre-start adrenaline has manifested itself as nerves, I feel comforted knowing I'll have my own personal assistant helping me out and rooting me on.
Tammy left immensely large shoes to fill, and while Stella still has a few areas of improvement to work on (we discussed her occasional biting during her most recent progress report), I am so thankful to have her by my side.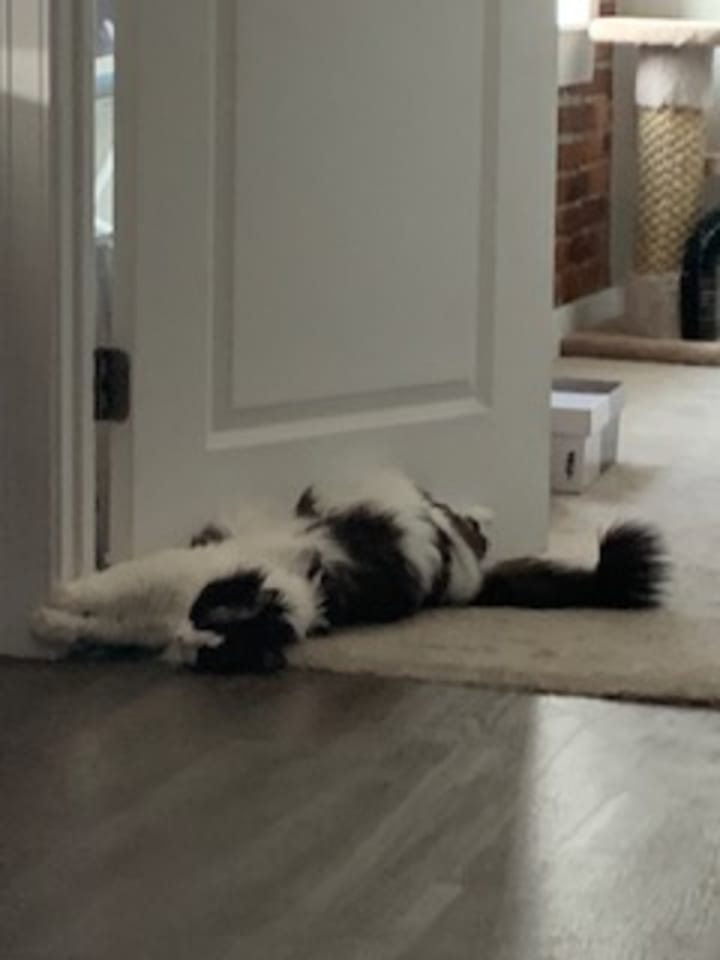 My boyfriend has coined her journey from desk drawer to entire office as 'The Stella Glow Up', and I can't really think of anything more accurate.
Now, if you'll excuse me, I've got to step into a meeting with Stella (we're going to watch Hocus Pocus and cuddle on the couch).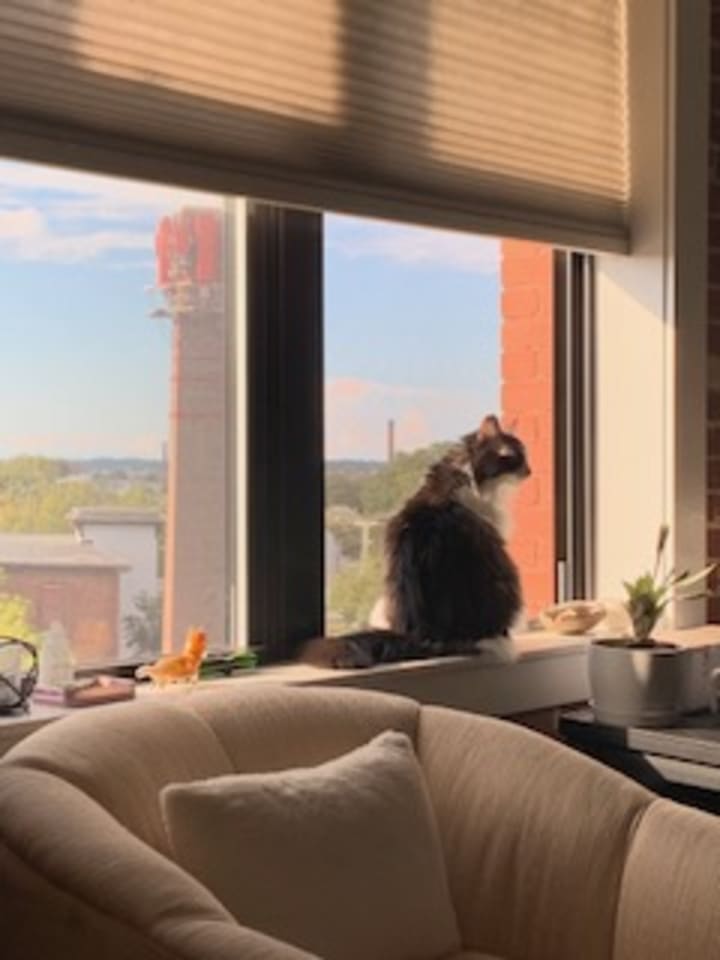 Adopt, don't shop, and thank you to all of our animal friends out there who help keep us going!
Not able to adopt, but still want to help out? Donate to your local shelter, or look into how you can help at:
American Society for the Prevention of Cruelty to Animals (ASPCA) -- link here
Animal Welfare Institute -- link here
Brother Wolf Animal Rescue -- link here
About the Creator
Mixed, optimistic, and depressed MA-based zillennial just out here trying to make you feel things.
We're all a little messed up, and that's okay. Let's be human together<3
UCLA '18 . Art History . Mythology
Book in Progress: Mess of a Human
Reader insights
Be the first to share your insights about this piece.
Add your insights