The return of Sherple
The neighborhood cat who inspires fear in man and beast.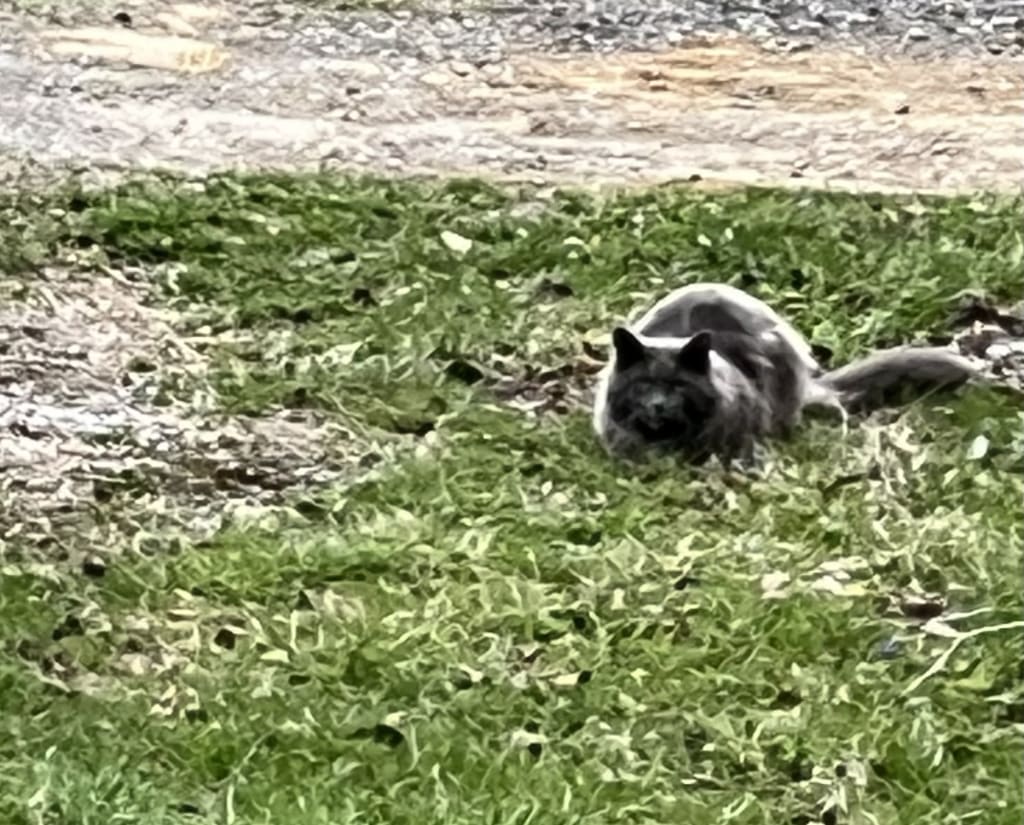 Last summer my two youngest grandchildren began giving names to various neighborhood cats. There was Fluffy whom we don't see anymore who was white with various other colors on her fur. She was usually in a neighbor's yard and her fur was ruffled as if she had just come out of a dryer. Midnight was the yet black cat with yellow eyes who roamed up and down the sidewalk, Shadow was a dark cat who walked the alley behind the house and Tabby is the bright orange Tabby cat. Honey was white with black and brown spots and Butterscotch was white with light brown spots. And then there is Sherple.
I don'tknow where my grandaughter got the name but it seems to fit this cat perfectly. I first saw him one night as I was putting out trash and in the dark, I thought he was a raccoon. He strutted past me and not knowing what it was I had a feeling of apprehension. In the daylight, he was a dusty dark gray or perhaps would be black if he had a good bath. The grandchildren said he instilled fear in the other cats and they did not like him either. Butterscotch, Tabby, and Honey became comfortable around my grandkids who would leave food and water in the back. At first, Tabby stood back and a deep growl sound like a dog.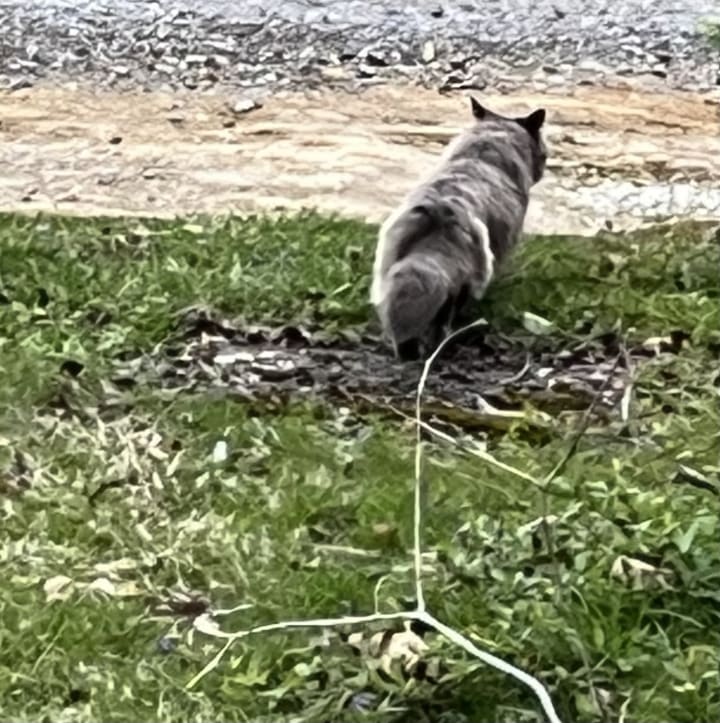 I am hoping to get these three to the vet to get their shots and adopt them because they now are family. They meet me when I get out of the car and walk with me to the corner and back when I take an afternoon stroll. Tabby now has a softer purr and is the most loving of all but Sherple is a different story. His size suggests he is eating well somewhere out there but he believes he is the king of the neighborhood.
When Sherple walks I am reminded of the episode of the Tom and Jerry cartoon episode Let's go Picnicking where at the end the ants take over all the food as they are carrying it away the music is going da dum dum dum dum da dum dum dum dum. The ground is shaking because of the ants and it becomes louder and louder, and you can watch it in the following video. As Sherple walks it seems as if the ground is shaking and both my grandchildren agreed with my assessment.
The grandchildren told me that on two separate occasions that when the cats were in the alley they all backed up when Sherple arrived and that he made a sound worse than the one Tabby used to make. They said that Sherple did not mew-meow or hiss like other cats and did not even growl like Tabby. They said he made a hideous noise that sounded demonic and implied get the heck out of my way. When he did this the other cats backed up or scattered.
This morning I found Honey, Tabby, and Butterscotch on the cat tower my son placed in the back under the carport. I gave them food and water and as I waited to remove the food bowl so as not to attract any stray animals I saw Sherple. He was about 30 steps away in the alley near a bush between my yard and my neighbor's. He was standing boldly watching the three fostered cats eating. He glared at me and I got my phone and snapped two pictures which have been enlarged so you can see him. When I made a few steps towards he ran down the alley on the left which is the way he always comes from.
Tabby's growl softened once he saw we were not going to hurt him but Sherple's looks and the sound my grandchildren said he makes indicate he is big trouble and they have been warned to not go near him and not to allow him to come into the yard when possible. Sherple could possibly be fostered, loved, and domesticated if indeed he is living in the streets but that's not my job because I have my hands full.
About the Creator
Cheryl is a poet, freelance writer, published author and former Newspaper columnist. She has degrees in Psycology and Biblical studies. She enjoys sharing natural cures, and Nostalgia related info. Tips are greatly appreciated.
Reader insights
Be the first to share your insights about this piece.
Add your insights