The Retiree
Klunker's Rest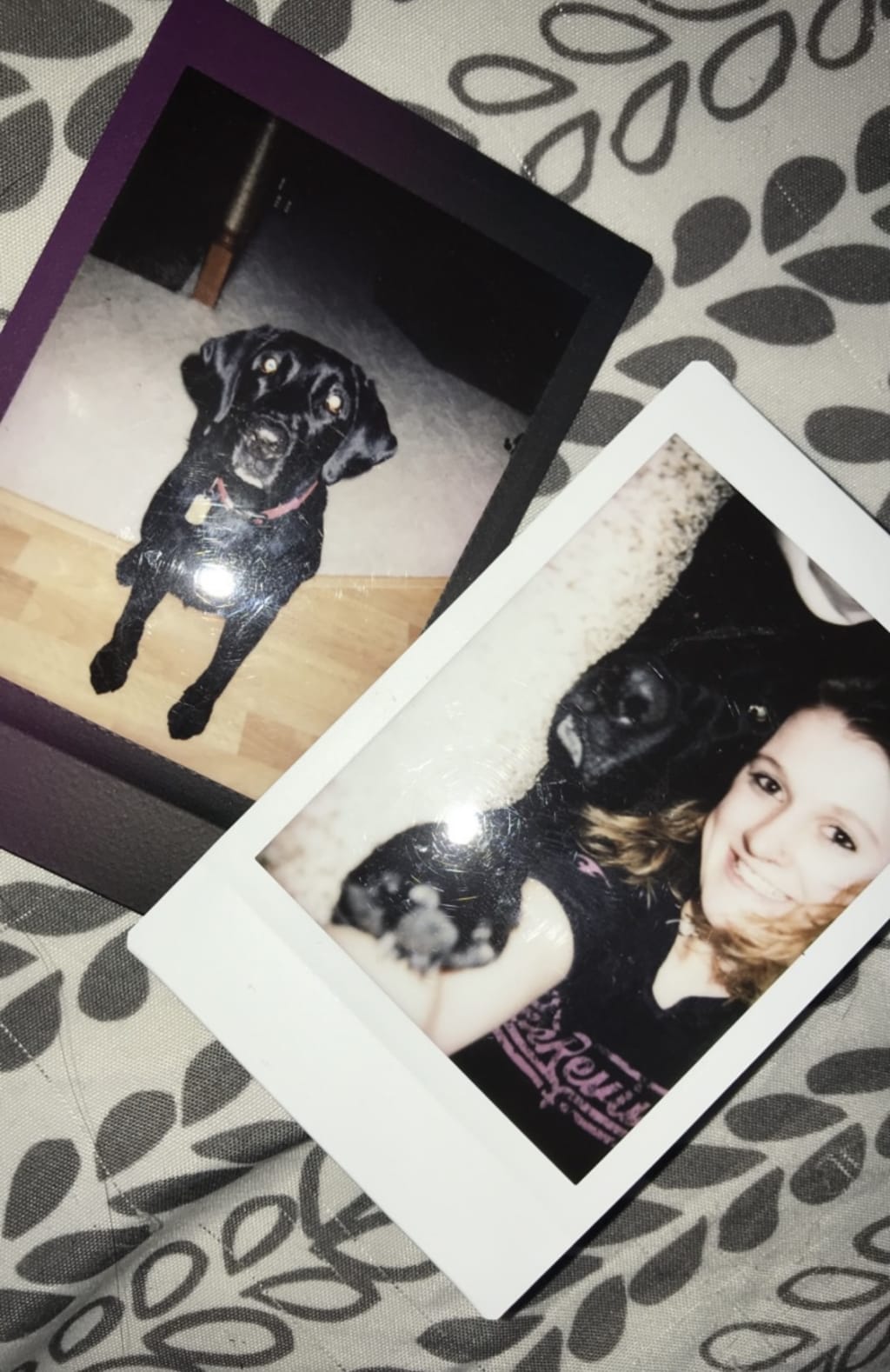 I stepped out of my jeep and headed toward the front door of my parents home. With each step, I listened for the tippy tap of toenails on tile waiting eagerly inside, but they never came. I jumped up the porch steps, and once I finally turned the key in the lock and pushed the door open, he stood there, big dark eyes looking up at me. Tail beating against the banister behind, the embodiment of my heart within the walls of my own chest. Immediately, I let everything fall from my grip, scattered it across the floor. I cared only about scooping his slobbery sweet cheeks into my hands, kissing his shiny black nose while he frantically licked my chin, cheeks, neck, as giggles poured out of me. The snow from my boots melted beneath my feet as we danced across the hardwood, content.
Home for the weekend, I prepared for days full of excitement, hoping to spend every moment possible with my Klunker. The stairs leading down to my old bedroom were steep and unforgiving on his old creaking joints, so I decided to sleep on the couch where Klunker could rest beneath my feet. A good dog truly dedicated to his role, he lay next to me all night long, protecting me between a deep lullaby of snores.
When the morning shone through the large cathedral style windows that my mother picked out eight years prior, I awoke to gentle licks dangerously close to my ear. I pulled away and rolled over as Klunk climbed up on the couch with his front legs, begging me to take him outside. Slipping into some socks to ward off the cold early winter frost, I carried his back end down the three unforgiving front steps and led him out into the wooded back yard where we grew up exploring and playing make believe. As we wandered about, I found myself drawn to an area past the kennel where the trees formed a semi-circle and shade scattered across the ground forming intricate patterns and designs. Where rocks marked the spots of the lives that used to be a part of mine. A small orange red rock that shone when the sun set for my first ferret. A rough, rugged boulder sat where Klunker's older brother Blu rested. One for each being that touched my life in a way they could not comprehend. I couldn't help but brush my fingertips across each placement that meant so much to me. As tears pooled in my eyes, I heard the crusty snow crunch under four paws behind me. Turning gently, I stared for a little too long at my aging boy, still just a puppy in my eyes, until a chill shivered beneath my pajamas. Gently, we walked side by side back home.
When Sunday afternoon came, it was time for me to pack up and head back to school. I dreaded the thought, taking extra time to sort through my belongings, until I couldn't put off the inevitable any longer. For a long time, I laid next to him on the floor in a bright patch of sun that danced across the living room floor. It seemed as though he thought that if he ignored my leaving, I would never have to go, but my dad laughed at the observation, told me he was just a tired old dog. Slowly, I rose from our patch of sunshine and made my way to the front door. Telling my parents goodbye, I shut the door behind me. That was when I heard it. The soft and sweet tippy tapping of toenails on tile. Quiet at first, but louder and louder as I walked away. So loud, I stopped to listen a little longer. Suddenly, my mom opened the front door and he came bursting out, all stiff-legged but full of energy as he barreled down the front steps toward me. Something he hadn't done in weeks. Hope and happiness spread throughout my body and he ran after me, trying to jump in the backseat of my old jeep. I played with him outside for just a bit longer, helped him back in the house and sat with him as he fell asleep in the slightly shifted square of sunshine. Later, I snuck out, careful not to wake him. On my way out, I noticed the concrete we poured when the house was first built. I traced my fingers along the imprints of hands. One for each of my siblings, and there right next to mine, a small paw print with a K carved out in the middle. I put my hand over top, acknowledged the way it disappeared beneath my palm and then drove home content.
The next day, Klunker didn't wake up. My mom called, I could hear the catch in her voice and I knew. My best friend, my soul dog was gone, another stone for me to run my fingers across and reminisce, alone. She reassured me that he had waited for me, said his goodbyes, died at peace. Although I knew the day was coming, it still felt unbearable. For months afterward, I'd find his hair clinging to an old sweater, and tears would spring into my eyes. Unable to comprehend washing it away, treating it as though it were nothing more than dust, I stuffed one particularly saturated sweater in the back of my closet and let it be. Ran my fingers across the stitches some mornings as I absentmindedly looked for something to wear. Mourned him outside of his place beneath the towering trees at my parents home. I avoided returning until Christmas time came around. I had graduated college and went home to celebrate the holidays. I pulled up in my jeep and parked in my normal spot. Walked slowly toward the front door, listening for the tippy taps of toenails on tile, a sound that never came again.
Reader insights
Be the first to share your insights about this piece.
Add your insights