The Life of Rocky
A story in memory of my grandma's dog, Rocky, who sadly had to be put to sleep in October of 2016.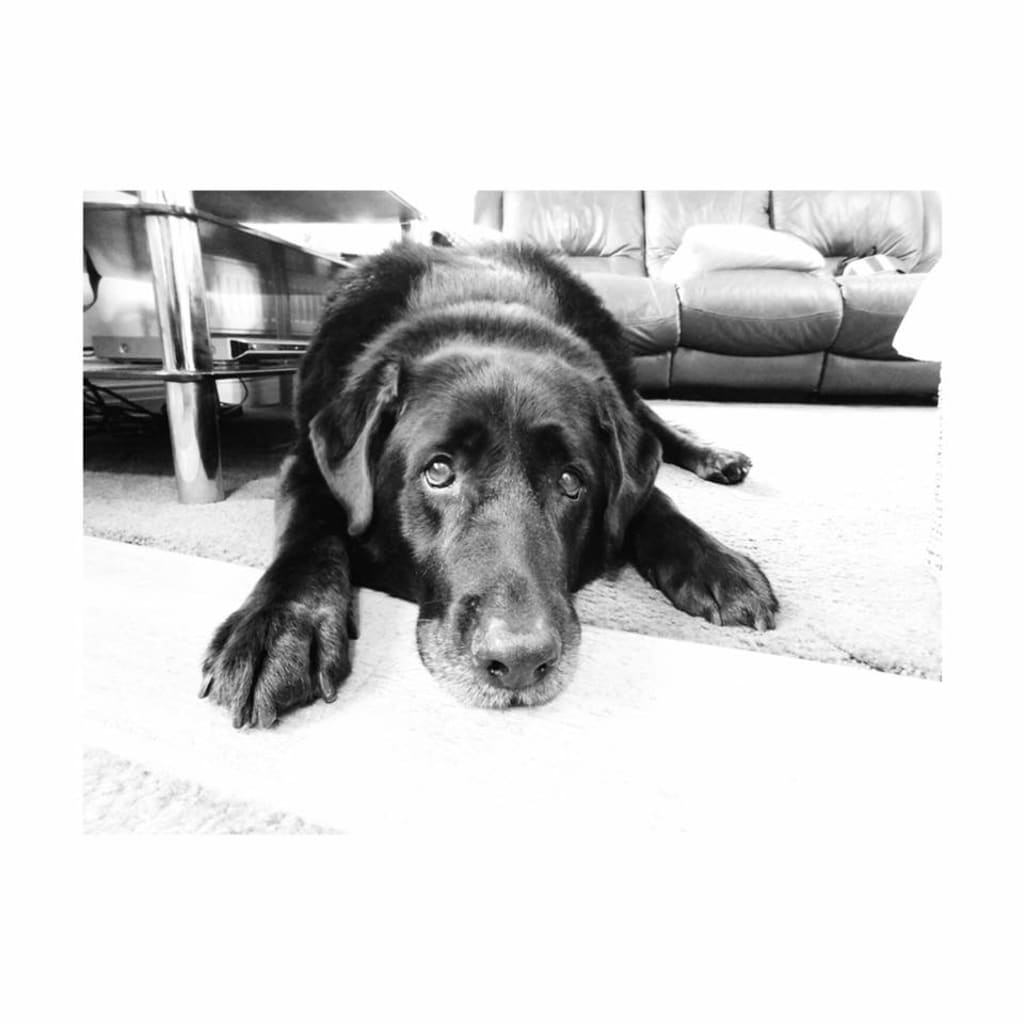 Rocky on Christmas Day, 2015.
In September, 2004 – three weeks before my 7th birthday – my mother had said to me that my grandma and grandad had homed a pet dog. His name was Rocky and he had come from our family friend, Julie.
Julie had Rocky through his year as a puppy and due to the fact Rocky couldn't get along with her eldest dog, Jake, she sadly had to rehome him. Julie had tried rehoming him to a couple who insisted they wanted Rocky, but unfortunately, Julie could not come to terms with passing him on to an estranged couple who she did not know, nor very well.
Julie then asked my mother if her mother [my grandma] wanted a dog. At first, they were both unsure due to what had happened to a previous dog in the past, however, it didn't take them long to accept the offer of homing in Rocky.
At first, me being the sensitive six-year-old I was, I told my mother to carry me into my grandmother's house because 'I was scared' of a gigantic dog, [I had no idea how big he was] however, when I saw him and his adorable puppy-faced eyes, I immediately fell in love with him.
Since that day onwards, Rocky was our best friend. He was black, fluffy and huge. You could think of him as a wild bear - he was huge.
He became the love of my life straight away.
Throughout the years, I used to sleep over at my grandma's and grandad's house every weekend and every school half-term just to spend time with Rocky.
Rocky was a beautiful, shiny, black Labrador Retriever. He had a lovely and soft coat. He was also one of the happiest dogs of them all. He always played with you, always wanted a good fuss and always wanted love and attention - and that's exactly what he was given! He kept two in particular toys throughout his years: a coloured ball that squeaked once upon a time and a green, Christmas bone-looking toy, which did also squeak.
Rocky would play fetch with you using his colourful ball, in and outside of the house. It would normally be either me or my grandad who were to throw his ball, time after time. This game could go on for hours. It never felt like it could end.
I would also try to ride on his back as if he was a horse too. That explains how big he was, doesn't it?
Rocky sadly had to compete with my dog, Millie, who we rescued in 2008 at age 2. She is a Patterdale Terrier - she loved Rocky, she would sit by the fire with him, where it was warm, however, at the same time, you could not stroke him without stroking her. She was certainly a jealous dog when it came to TLC [Tender Loving Care].
When certain people used to visit, he would race towards you with one of those two toys he had in his mouth; his tail wagging, his ears pricked up and his eyes wide open. If he did that, then you knew damn well he was excited and happy to see you! He loved those people.
In his younger years, my grandad, Michael, used to take Rocky round the woods and through the Derbyshire Dales on the weekend. He was extremely energetic. On the weekday, it would be me playing fetch with his tennis ball for hours in the back garden - that was also another game which I would be outside for hours with him at a time.
Rocky was the joy of my life; the love of my life and the highlight of every day. You could not not love him. He had the cutest baby face, even when he reached 10-years-old. He would always knock your hand if you stopped fussing him after a certain amount of time, he would always prick his ears up if you spoke to him in a funny way, or even if you looked at him for too long - he would think you were going to give him something.
He always knew to come to me for love, attention, and fuss because I couldn't say 'no' to him. I couldn't say no to sharing my food with him, for example: if I had a biscuit, I would have to save a bit for him.
As a little girl, I was always the person to let him out of the kitchen every morning to come upstairs to us, so he wasn't alone. I would jump in between my grandma and grandad while in bed, and Rocky would then follow, by jumping on the bed.
Rocky was incredible. He was the type of dog you could not replace with another. He always looked so happy, he always jumped so excitedly, his actions were enough to tell you how he felt towards you.
However, on Tuesday, 11 October, 2016, I woke up knowing my best friend had to be put to sleep. It was upsetting knowing I would never be able to see him again, cuddle him again and give him the love he wanted, ever again. I don't think anybody understood how heart-breaking that news was. I couldn't let him go.
Rocky's 13th birthday was only a month before.
To begin with, Rocky had a spot on his chest. The groomer who bathed him that same day had noticed it as he had caught it by accident, pulling the original head off of it. Well, after a few weeks, or even months, it had gradually expanded, bigger and bigger. We eventually became worried and decided to take him to the vets, only to hear the saddening news - it was cancer.
Unwillingly to us, Rocky had been suffering from an aggressive mass tumour. He wasn't suffering on the outside, though, he was still eating, drinking, jumping around and acting as normal.
That tiny bit of news changed my life forever. It was an incredibly difficult decision having to put him to sleep rather than putting him under anesthetic to [hopefully] cure his cancer. The veterinary nurse had said he may not have woke up after the operation if we were to choose that decision.
Rocky was not only the love of my life, he was my best friend, the last memory of my grandad, who sadly passed away in 2011 due to cancer as well. My grandad and Rocky were also close - in fact, Rocky was the best friend my grandad had ever had. They were inseparable.
At 11:04 am on October 11, 2016, Rocky was put to sleep. My best friend was in heaven. He was in a safe place and I believed he had met with my grandad again and they were both happy to have each other back.
On October 18, 2016, [my 19th birthday] Rocky was cremated. I paid to have his ashes brought back home with us.
Since then, I haven't deleted one memory, video, photo, nor have I thrown away Rocky's toys - instead, I've kept them somewhere safe. I have also kept his collar, his lead, his bed and his blanket he used as a puppy.