The life of Bailey and Chloe
Fur babies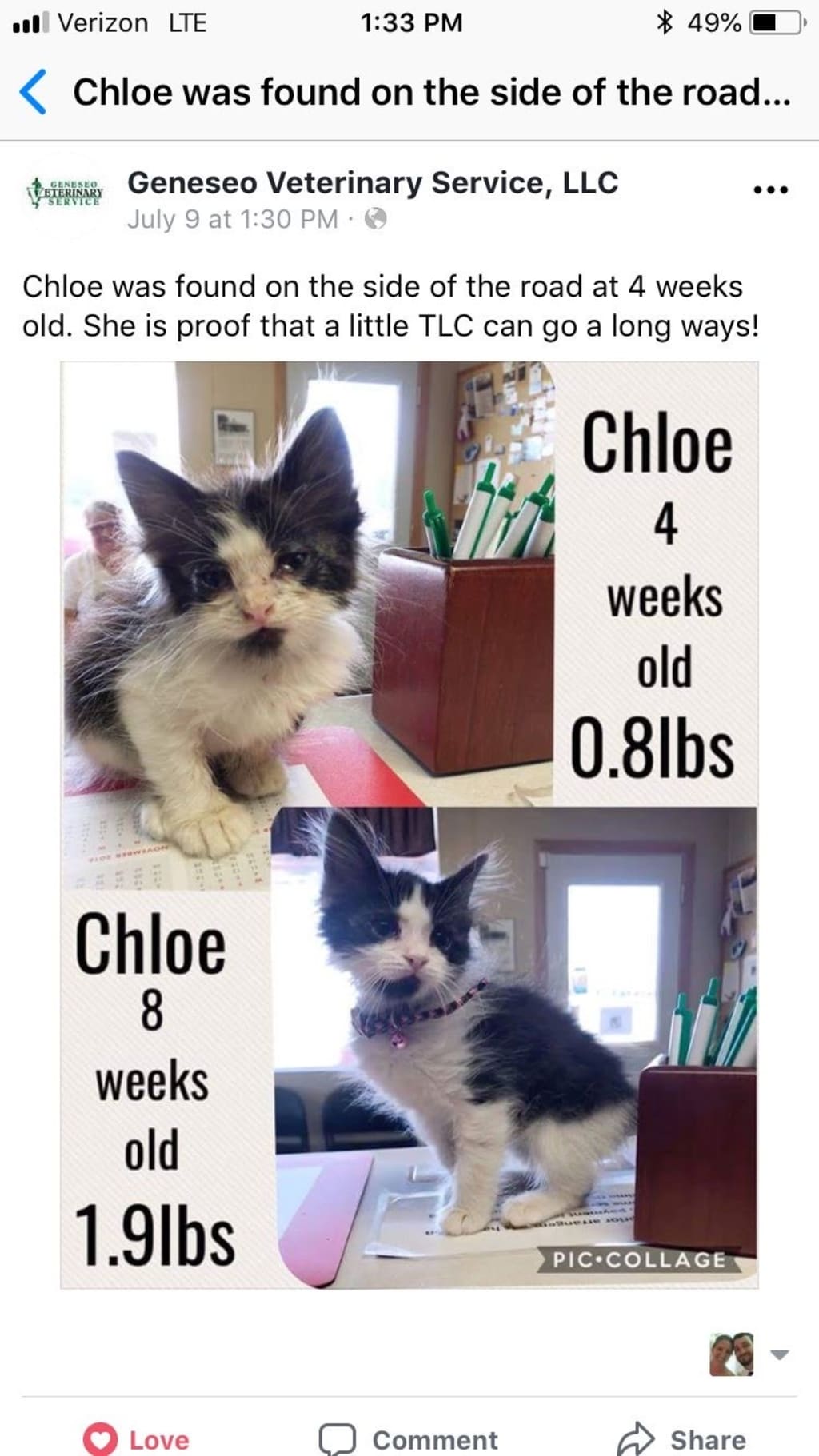 Chloe is a 2-year long-haired cat, and Bailey is a 2-year-old chocolate lab.
Chloe is a rescue. My husband and I found her about a month before we were married alongside the road outside the village we call home. She was very sick and tiny. When we first saw her, she had a cold, lice, fleas, and eye infection. She was 8ounces, and about a month old, we guessed. She has come along way in the last two years.
Chloe quickly became my whole life. My husband traveled a lot for work, so it was just Chloe and me. In her short life, she had multiple baths in the first few months of living with us. I don't know if anyone has ever had to bathe a cat, but it is a fun or easy task. Every morning, we had to clean and apply her eye medication on top of all the baths. Some days we would have to do this multiple times a day. As the days and months went on, she started to see and realize what was going on and would fight or try to run away. Many times she would try to climb up me and sit on my shoulder. Eventually, her eyesight became better, and her infection went out; that was the best day of my life, seeing her healthy and a normal kitten. She quickly became my only companion for weeks when I would bottle feed her, give her medication, and play together. Sometimes we would sit and watch tv together, or she would hang out on my shoulder while I would do laundry or dishes. She quickly became my parrot cat dog because she would sit on my shoulder no matter what I would be doing and make a barking like noise at birds or squirrels out the window.
About six months into her life with us, my husband started to talk about getting a puppy, and when his friend ends up with a puppy around Christmas, that drove home the want. I grew up with dogs and wanted one also but was unsure how it would all work, so I had to ask all the hard questions because the majority of the responsibilities would be falling on me when he was gone. We both worked twenty to thirty minutes from home. So all my questions were, how would it work, where would the dog be doing the day? Could we afford a dog? What would we do when we wanted to go somewhere? A few weeks prior, my dad had said he wanted a puppy for Christmas, and my mom said no. We talked to my sister about helping out with the puppy if we got one because she worked odd hours and had Monday Tuesday off at this time. On New Years, we found someone selling an eleven-week old chocolate lab. We drove over two hours to get this puppy. We called my parents and told them we had just added a puppy to our family, and my dad started with really (his favorite word) and then asked what kind, how old and what is the sex of the dog. When I told them she was an eleven-week old chocolate lab. My dad's whole attitude changed. The more I said, she, my dad, said are you saying she I yes is a female? he said, oh. We always had male dogs growing up. We had to change the puppy's name; it was Chloe, which would have been confusing, so we went with Bailey.
About the Creator
Hello my name is Andrea. I'm 28 married with a chocolate lab and long haired cat. My pets are my life and they make life more enjoyable. They are my motivation and reminders that sometimes you just need to just sit down and enjoy life.
Reader insights
Be the first to share your insights about this piece.
Add your insights