The Joy and Pain of Fostering Dogs
It's a mixed bag, but a very rewarding one.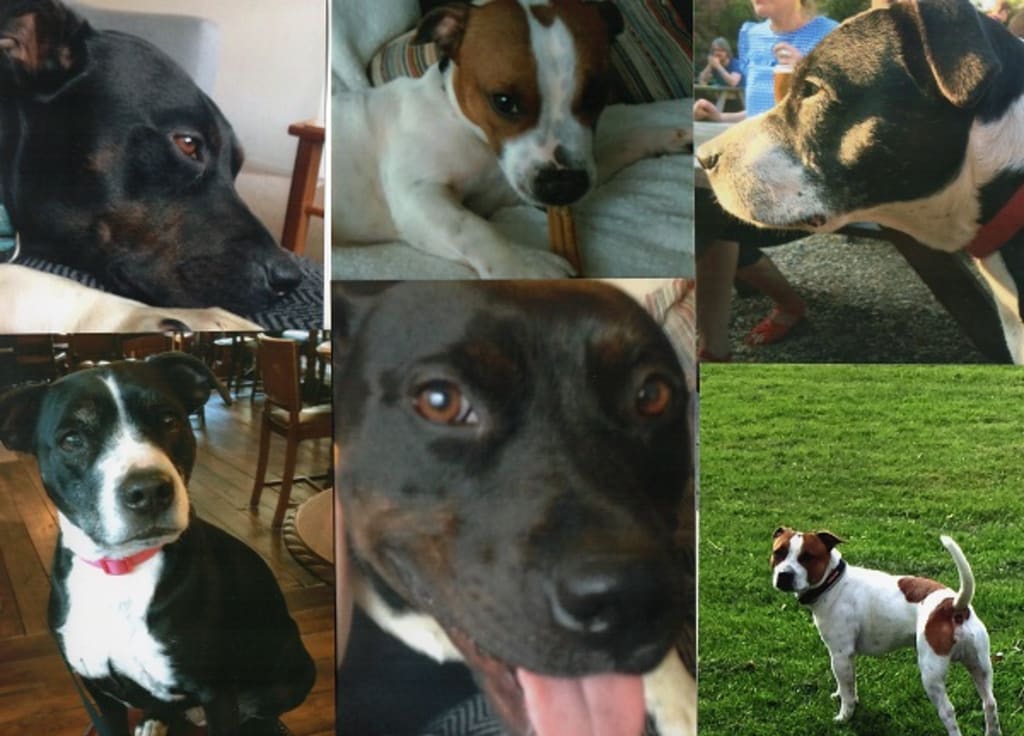 Three of the dogs I have fostered
Fostering dogs is an emotional rollercoaster.When I was 16, my family got a dog. My wife has wanted a dog since she was a little girl, but it had never happened for her. There were a variety of reasons, but it was mainly due to the bane of everyone's life: work.
It wouldn't be fair to leave a dog cooped up in a flat whilst we both went to work all day. Fortunately for my wife's hopes of owning a dog, I was made redundant at the end of 2016. As I had been with the company for 14 years, my pay off was a fair one and one which enabled me to follow my dream.
No, not dog ownership (or at least, not just that) but writing for a living. I had written a blog about football for six years, had a sizeable following on Twitter, and figured if I didn't try now then I never would.
"Ah, so you'll be at home all day then?" My wife asked. "Could we get a dog now?"
Sure we could. But what if I don't make it as a writer, and go back to working in an office all day? Then what?
Fortunately, my wife discovered a temporary form of dog ownership: fostering. We look after a pooch who is currently in kennels for a few weeks until they find their forever home. It is a path strewn with pros, cons, and dog poop.
There's lots to enjoy with a dog.
First and foremost, we get to have a dog! Hooray! Walks in the park, games of fetch, and the companionship that comes from having a pet. All pretty standard stuff.
But it's more than that. Most of the mutts have been abandoned at some point in their lives, and have any number of issues. Of the dogs we have had so far, two have had injuries to their legs, and one was very dubious of people.
The toughest challenge of all though was one who spun in circles chasing her tail and often refused to leave the flat, especially at night. Fear of further abandonment was our assumption regarding the latter problem, but as with all of these dogs, it's very much guess work. Who knows what horrors they've been through?
But believe it or not, this is part of the positive experience. We can't cure all of their problems in their short time with us, but we can help to rehabilitate them on their path to resuming a normal life with a loving family. Teaching May, the stressed out tail chaser, to lie down on command was a genuine joy for me. Getting through to a dog who was lost in her own confusing, isolated world was a truly rewarding experience.
It's not all roses.
This is also one of the negatives of fostering, unfortunately. You go through the struggles to re-acclimatize them to the real world, and whilst you do help the dogs, their permanent new owners reap the benefits of your efforts.
And that says nothing for the accidents on your dining room carpet, the struggles to get them to sleep, or the injuries you pick up when they get worked up and you try to calm them down. As good as fostering makes you feel, it's certainly no picnic from start to finish. It can often be a struggle, both mentally and physically.
Anybody with a pet will know what the worst part of it is, though. You let the dog into your life and grow to love it (which usually takes about five minutes), but before you know it you lose them. It's great that they have a new home, but that doesn't make it any easier.
My wife and I have cried every time they have left, and will doubtlessly do so every time in the future too. But at the same time, we'll welcome a new little buddy into our lives as often as we can.
Get involved!
If this has inspired you in any way, please get in touch with your local shelter and look into fostering a dog. I can't recommend it enough.
Reader insights
Be the first to share your insights about this piece.
Add your insights