The Holidays
Happy Holidays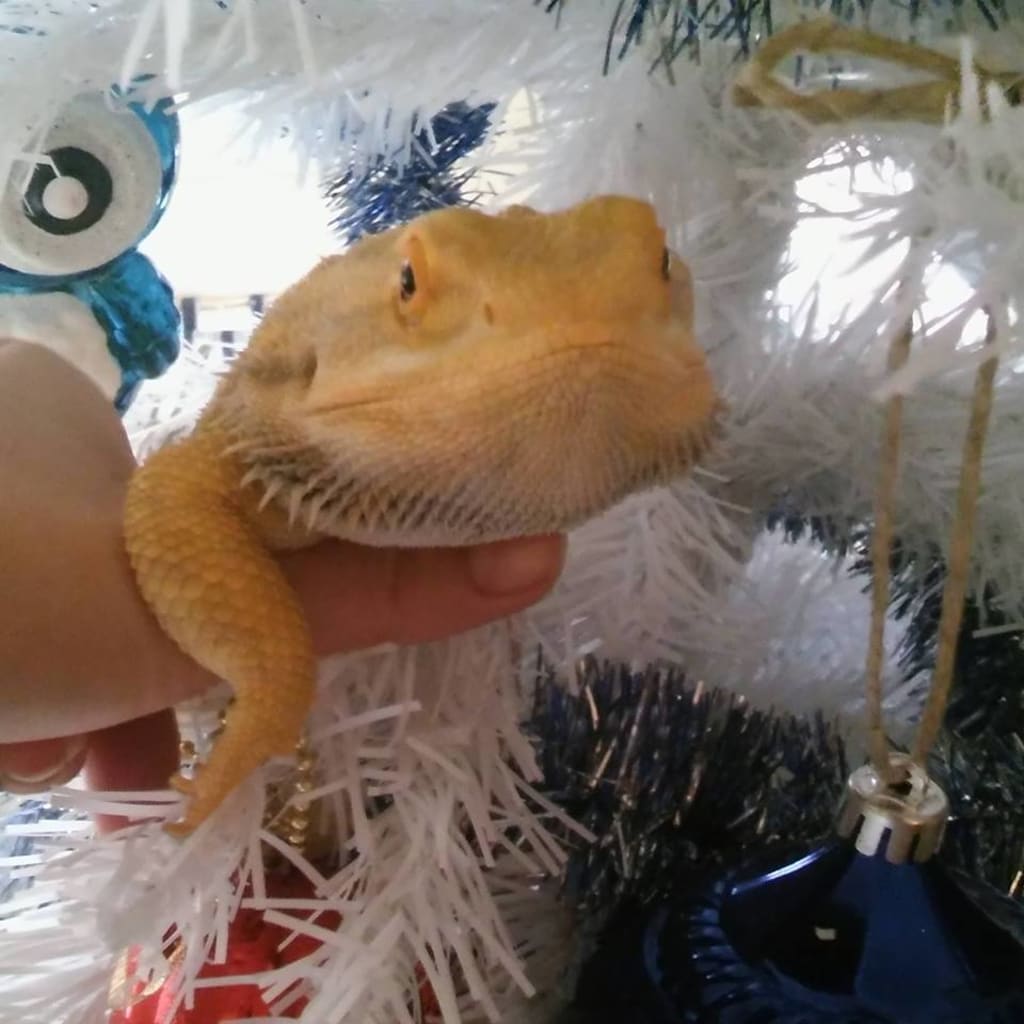 I always celebrate the holidays with buying my bearded dragon lizard gifts, my Mom gifts, and myself gifts. I spend a little time wrapping each gift and putting them under a tree.
This year is different as circumstances became difficult for me. This year, I'm not celebrating my holidays the way I always celebrated in past with buying my pets and my Mom gifts.
The reason why I decided not to do gift giving is because it's expensive and I don't have the funds to give gifts out to my bearded dragon lizard or even my Mom. I always love giving the gift of soap, slippers, clothing, lotions, and boots for us, and Myah's personal soaps and other essential items that are for bearded dragon lizards.
The year 2018 has been a very difficult year for us. We were faced with so many issues, it would turn your world upside down. We had been displaced twice from our home from a tree limb. Our car had issues with the water pump, engine coil packs, belts, alternator problems, and battery problems. My bearded dragon lizard had the worst case of giardia from all the stress of moving from our house, going into hotel rooms, and nearly dying from it. The tree with the limbs that was hitting our house has finally died and no one will cut this tree or even touch it.
I'm hopeful that next year will be better and maybe I can give gifts to my Mom, my bearded dragon lizard, and myself next year. I never really buy material things. I buy the things we need, despite our wants.
The holidays aren't about what's under the tree. It's not about material things. All material things break. All material things are just things that are unimportant. The people you surround yourself is more important.
The holidays are about traditions, family, and friends. Material things should not be the things that make you, you. After all, material things are just things that give temporary happiness. They will break in time and then you're back to square one.
Bearded dragons love soft things.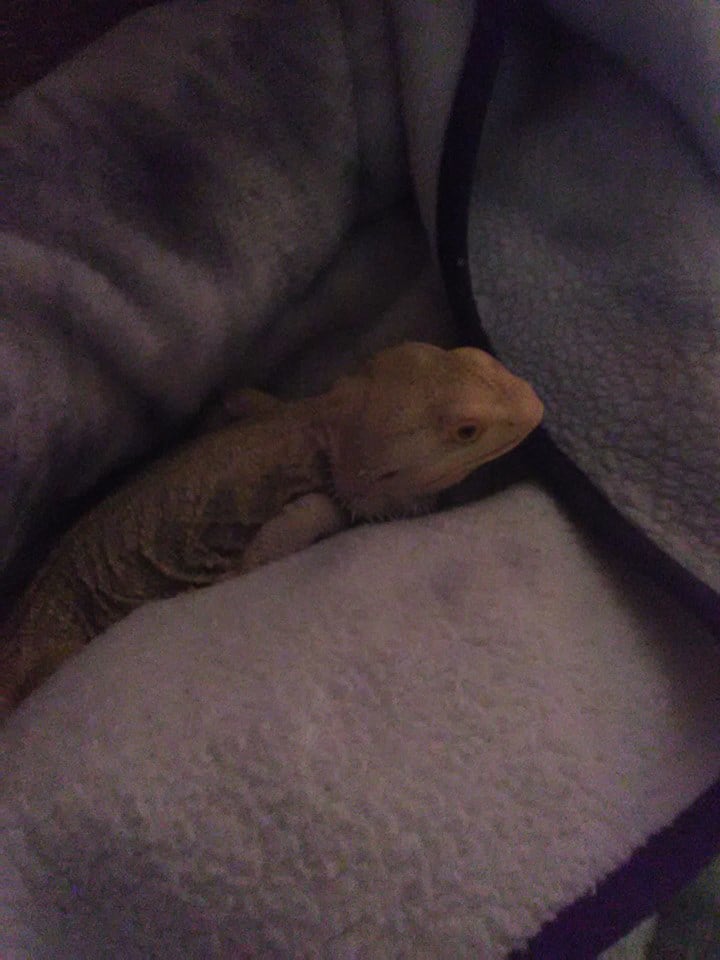 There's a reason why they're called "dogs of the reptile kingdom." This is my four-year-old beardie, Myah (Boy). He is such a sweetheart and loves to have soft toys and soft hammocks. I have sewn hammocks by hand, medium pillows, and have numerous stuffed toys on hand for him. This boy is happily spoiled and enjoys his holidays.
He loves to pose under the tree, pose with the tree and enjoys the colors. Every year, he has posed with the tree with all the decorations. He has his own mitten stocking and snowman ornament.
Did I mention that he has his own saucer chair? He does and he uses it to bask under his UVB. This boy is smart as a whip. If he glimpses you going upstairs for his feeders, he'll watch you from his saucer chair.
He even has his own bed and blankets.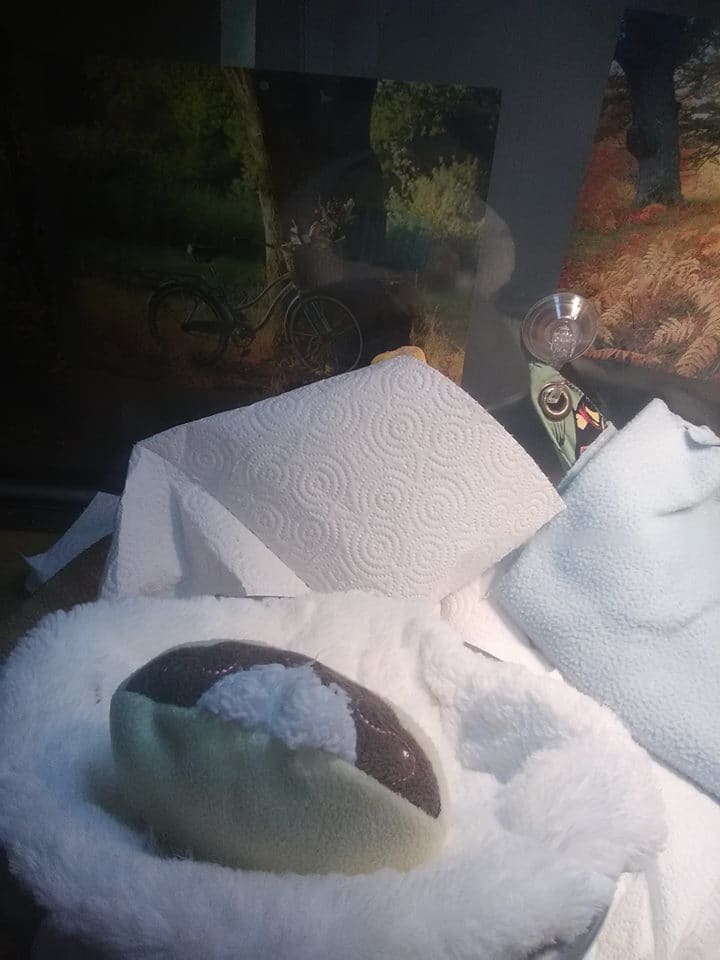 Then there's this silly picture of him playing hide and seek. He will bury himself under his paper towels. He loves all manner of art so he has to have something to look at during his day. He also loves his cupcake pillow. He will lay on it, holding it, all the while relaxing under his UVB. Myah also has a lovey bunny blanket, too. The bunny lovey blanket is pink and white. He loves bright pink colors.
I have showered him with many gifts and it took me months to replace his favorite blue bear. He had a bear he loved so much that one day, I noticed it stunk like mold. Unfortunately, I couldn't get the smell out and had to throw it out. I had to search for a bear that was the same color. It was a baby blue bear from Gund. He despised all other bear replacements by giving the revenge of a thousand bearded dragons. The ultimate revenge was telling me what he really thought of it.
Now he's happy with his new baby blue bear and spends the majority of his time lying on it, watching his favorite shows and movies. He also has a dolphin toy that he likes as well.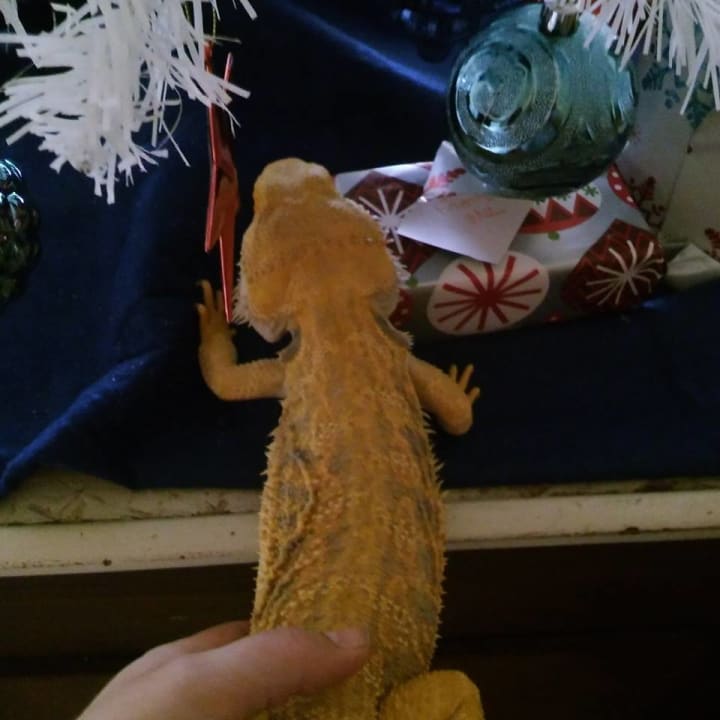 "Which one of these gifts are mine, Mom?" Myah looks for his gifts under the white tree. "I see Santa's Sleigh over there!" No fooling this sweetheart, now is there? Not at all. He knows his gifts are here and there.