The First Fourteen Years
How A Little Gray Kitten Became Family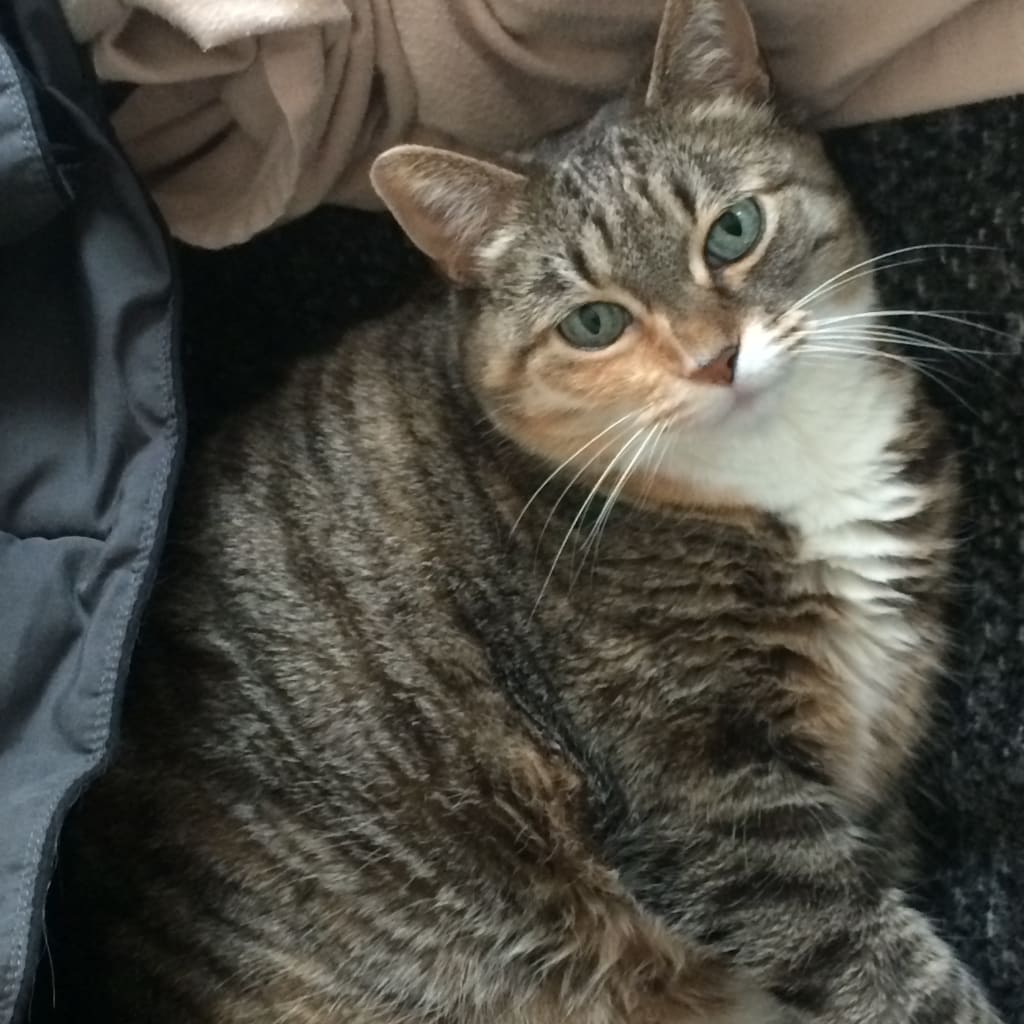 Just shy of her 15th birthday, this kitten rules the house.
We weren't in the market for a pet when she adopted us.
My husband was full-time college student two months away from his undergrad degree and planning to leave the country for a year to work on his master's. I had just started freelancing full-time.
Money was tight. We lived on a busy two-lane highway. And we knew the next year was going to be tumultuous. And I was pretty severely allergic to cats.
But all that changed with one little gray streak.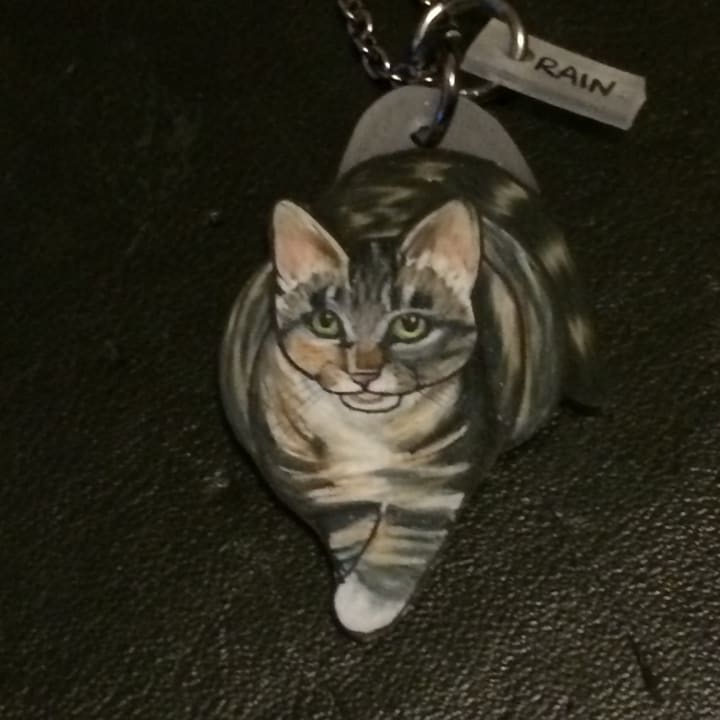 October in southern Illinois can be mercurial, hot and dry one day and pouring rain the next. That particular day, it was pouring rain.
We ran out to the car to take my husband to campus to go to class and then his work study job. I was dropping him off as I had a story to work on for the local newspaper.
Just as we were getting into the car, I saw a little gray streak run out from under the car toward the back yard. I was only vaguely certain it was a cat.
"Are there any more under there?" I asked, getting soaked to the skin while I smacked the hood of the car and peeked under it.
"Any more what?" he asked.
"There was a kitten under the car."
Understanding, he got back out of the car and checked as well, to make sure we weren't going to hit anything.
He eventually made it to class, soaked and a little late.
That evening we talked about how strange it was to see the kitten.
We lived near a fair amount of student housing and many of the less responsible students got kittens only to dump them at the end of the semester. But all the ones we had seen in our neighborhood were white. A little gray tabby was not one of the usual suspects.
The next day dawned bright and sunny. That morning I was outside trimming ivy off the porch and when we got ready to leave, I left my shears, and the towel for cleaning them, on a camp chair on the porch.
I dropped my husband off at work and then ran some errands.
When I got home, the little gray kitten was lounging in the sun, underneath the hand towel on the chair.
"I think we've been adopted," I messaged my husband at work.
"Don't feed it," he said. "If you feed it, we'll never get rid of it."
So I talked to my upstairs neighbor, who told me I shouldn't have given her the bowl of milk.
Oops.
It was the only thing I had in the house that seemed like cat food. I was also pretty ignorant of cat care at that moment.
The kitten lounged on the porch in the sun all afternoon and the followed me to the top of the stairs when I left to pick my husband up from work. I was worried because that left her about 20 feet from the road and I was certain she'd be gone when we got back.
But Rain knew a good thing when she found it. And she knew just how to convince us.
When we got back from campus, she was still sitting in the same spot. And I watched my husband's heart melt as she walked over a rubbed up against his ankle.
He walked over to the railing on the side of the porch and leaned against it.
"Do you think your allergies could stand having a cat in the house?"
I was already hers, so I agreed to everything. She wasn't allowed in the bedroom to help with my allergies, I would be in charge of the litter box, and we'd have to check with the landlord to see if we could add her to the lease.
Then, he walked over to the door and invited her in. As soon as he opened the screen door, she trotted in like she owned the place and after that, she did.
What We Didn't Know
We were adopting a stray, so we thought pet ownership was going to be relatively inexpensive.
Ha! Boy were we uninformed.
That first night, we went to Wal-Mart and grabbed the basics, a litter pan and litter and some food labelled as kitten chow. We also grabbed some cat cleaning wipes because she appeared to have a scratch on her back.
The next day we called the vet and a couple days later she had her first check up.
This was the fall of 2006, and our first vet visit cost us well over $200.
Rain was about six months old at the time and had been beaten up by other cats pretty regularly.
She had an abscessed scratch on her back and because of that the vet recommended testing for FIV (feline immunodeficiency virus). Cats with it can be treated but they tend to have shorter lives and should not be around other cats for fear of infecting them.
Thankfully, Rain was not infected. But she needed the scratch cleaned and antibiotics for it. She needed her first set of vaccines and the vet recommended ditching the crap food we bought and buying something better.
I knew she was loved when I went home and told my husband how much I'd spent and his only question was for the cat, not me. He asked her if she was okay after the blood draw.
A couple months later, she finally went into heat for the first time, and gained enough weight that she could be spayed. That was another couple hundred dollars.
To be fair, as far as pets go, cats are fairly inexpensive. We just happen to spoil ours rotten. As she ahs gotten older, we've continued to refine what we feed her to make sure she has her nutritional needs met and is enjoying her food.
At this point, we spend almost $200 a month on her food or about the same amount as we pay in a month for one of us to eat.
She also rules the house.
That rule about not letting her into the bedroom? It lasted about three days. Then we gave in to her crying and found her a bed in the bedroom. Now, she has a bed in almost every room of the house. There aren't beds in the kitchen/dining room or the bathrooms, but there are dedicated kitty spaces in both offices, the living room, the game room and the bedroom.
She has her own furniture -- a cat tree and a couple of window tables, so she can enjoy looking outside. And because she was always a "near kitty," an ottoman.
When we moved from the home where we adopted her to a new place, we got a sectional sofa with a large ottoman. She refused to sit next to us on the sofa, but loved to curl up on her ottoman empire. When we moved cross country, we eventually got rid of the rest of the set, but kept the ottoman just for her.
Cats Can Stay Home for the Weekend
One of the things we told ourselves about having a cat was that if we wanted to travel for a day or two, cats were independent enough that we could leave her home alone.
Wrong again.
Well, maybe not completely wrong.
Cats are independent and unlike dogs, usually won't eat everything in sight. So you can put out extra food and water and leave them alone for a few hours or even a couple days.
Except that we don't. Rain is used to us working from home, as we have for the last 12 years, so if we're going to be gone more than a day, she gets a cat sitter. Generally speaking, cat sitters are fairly reasonable, we just pay more to make sure she has someone to keep her company when we're gone.
Last week, she celebrated her 15th birthday. Who knew that a kitten could be such a big part of our lives?
adoption
About the author
Lucinda Gunnin is a commercial property manager and author in suburban Philadelphia. She is an avid gamer, sushi addict, and animal advocate. She writes about storage and moving, gaming, gluten-free eating and more. Twitter: @LucindaGunnin
Reader insights
Be the first to share your insights about this piece.
Add your insights