The Far Reaches of the Pandemic
A Story of Loss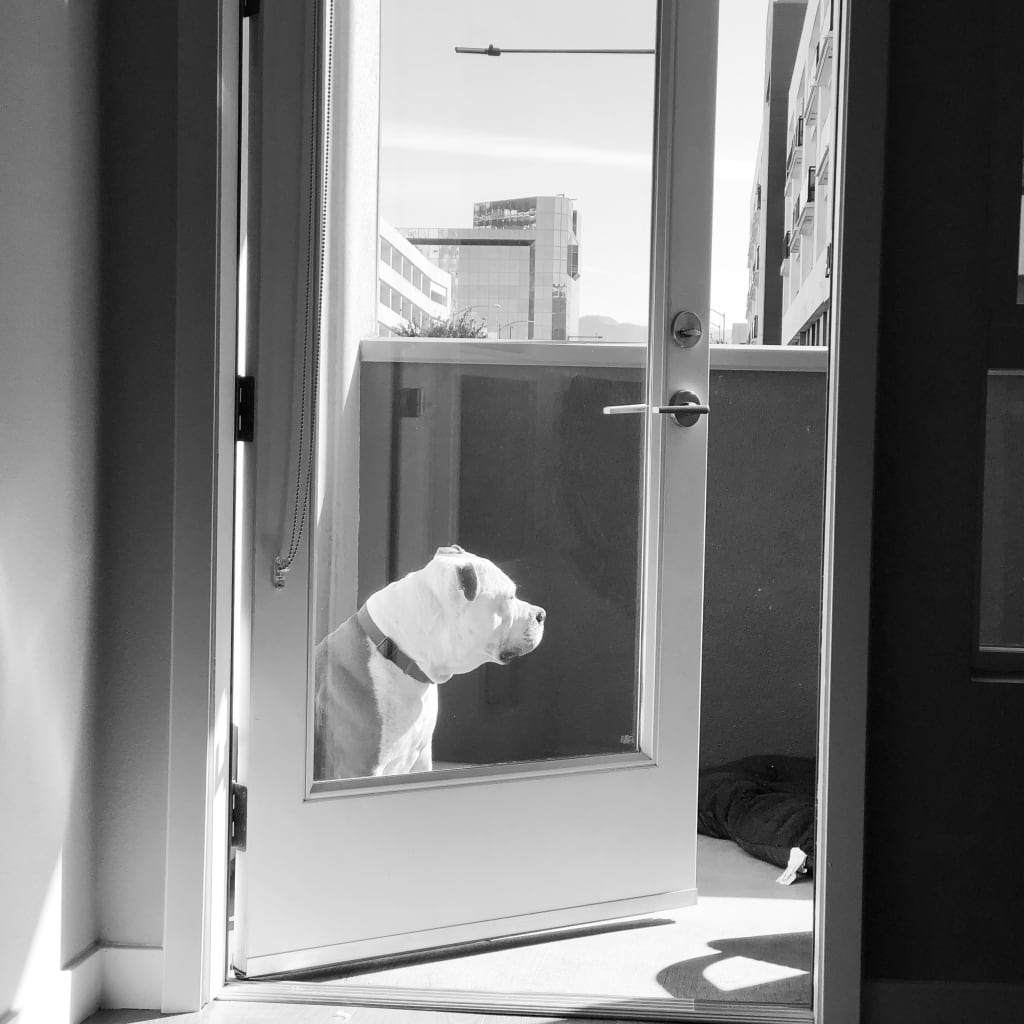 Gotti Boy
Mine will not the saddest story of loss in this strange new world we find ourselves living in. I have not lost my job, or my home. I have not even been sick, or lost anyone to COVID.
Like millions of others, though, who have not been infected, the pandemic HAS affected me financially.
At the beginning of 2020, I lived with my grown son, his girl, and our dogs. Gotti boy shown above, and the kids' puppy, Atlas, and things were looking up for our little family.
My job was going well with a new promotion, my son was applying all over the place, his girl had just gotten a good job, rent was paid. Life was feeling pretty good!
Then all hell broke loose.
The lockdown came.
My son's girl was laid off, his job opportuny dried up, and my income was now taking care of 3 adults and 2 dogs.
By the time I was furloughed a month later, I was behind in rent, using what I was getting paid for essentials like food, electricity, and cell service.
I went on unemployment for the first time in all my 54 years, and I was so grateful it was there. Yet, rent still went unpaid. His girl moved back home, taking her unemployment with her, and even though I was back at work, I had fallen so far behind. That hope I felt as little as a few months ago, had been decimated.
Here we are, December! Unbelievable how fast time has flown.
I am climbing out of the financial hole, slowly. I owe back rent, which 25% must be paid by January 31st. OR else.
One thing I never expected was my best friend getting sick.
I rescued Gotti a little over three years ago.
When I contacted a friend who fostered him to see if he had been adopted yet, he told me the very next day he was going to be sent to yet another shelter. It was meant to be.
It wasn't very long after that, I realized he was the one who rescued me. My dad had died, I had taken care of him in the last weeks of his life, and Gotti had been my rock.
The next September, we moved across to country to Los Angeles. Life changed exponentially.
At the beginning of the year, Gotti had developed some strange spots on his paw pads. Just a little on the back paws. When it started getting bigger months later, I decided to call a mobile vet to come to us, since my car battery died because of not going anywhere, and not having the money to fix it.
I was charged $800, which at this time was huge. He was put on antibiotics, given creme for his dried nose, and we were sent on our way.
The vet did not actually catch what was going on for him. A few months later, he started getting worse. The growth on his pads spread, he started getting sores, losing hair, falling over, and I thought my boy was dying. And. No money for a vet.
A friend of mine back east who used to volunteer at the shelter where I met Gotti got in touch and suggested I surrender him to her, and she would get him the care he needed. She believed he could be healed. She has a rescue, would raise money for him, , and he would go back to live with her and her pitties.
Never did I think that I would ever send him away. Never did I anticipate how far the tendrils of this pandemic would reach. Never did I expect my heart to be ripped out.
So, we know many have been affected financially. Especially food and service industries. People have lost businesses, jobs, homes, family and friends. Our leaders fight in congress over stimulus packages, making it more about politics and who wins instead of actually sending relief to those in true need.
I sit here and wonder who else has lost a beloved animal due to the insanity going on around us. How has the increased stress and grief from that loss going to affect them long term? We still have Atlas, he stayed when my son's girl moved out.
I am one of the "lucky" ones.
Gotti jumped into the car to go with the rescue person who was taking him to the emergency vet, like he knew he would get the care he needed and was going to go eventually rescue someone else.
My friend who took on his case, called to let me know he is treatable, the care he had already received was a little over half of what I had paid, and that the vet who saw him should've caught it. He should be back in Vermont with her by next week.
While it ripped my guts out, I had my cry, went to work, and am ever grateful for her, and for the choice I made for Gotti.
I chose to let him go. And he it seemed, was ready to be let go.
While life IS all about choice, people are having to make choices they never thought they would have to make. Food or rent? People or pets? Lonliness or risking health? Social distancing or human contact? Mask or no mask?
For the most part, I have been choosing to look to the possibilites in every situation. I will get over this. I will go on. I will get over my feelings of failure, of failing Gotti.
And I wonder, how many stories of loss are there and will there be that no will know about? How many holes will this pandemic leave in people's lives? What else is possible now?
About the Creator
Musings and imaginings from the brain of a fifty something year old Gemini who sold everything and moved to Los Angeles in 2018.
I am no professional, I write because it brings me joy, release, and peace.
Reader insights
Be the first to share your insights about this piece.
Add your insights