The Crazy Cat Lady #2
How Can People Be so Cruel?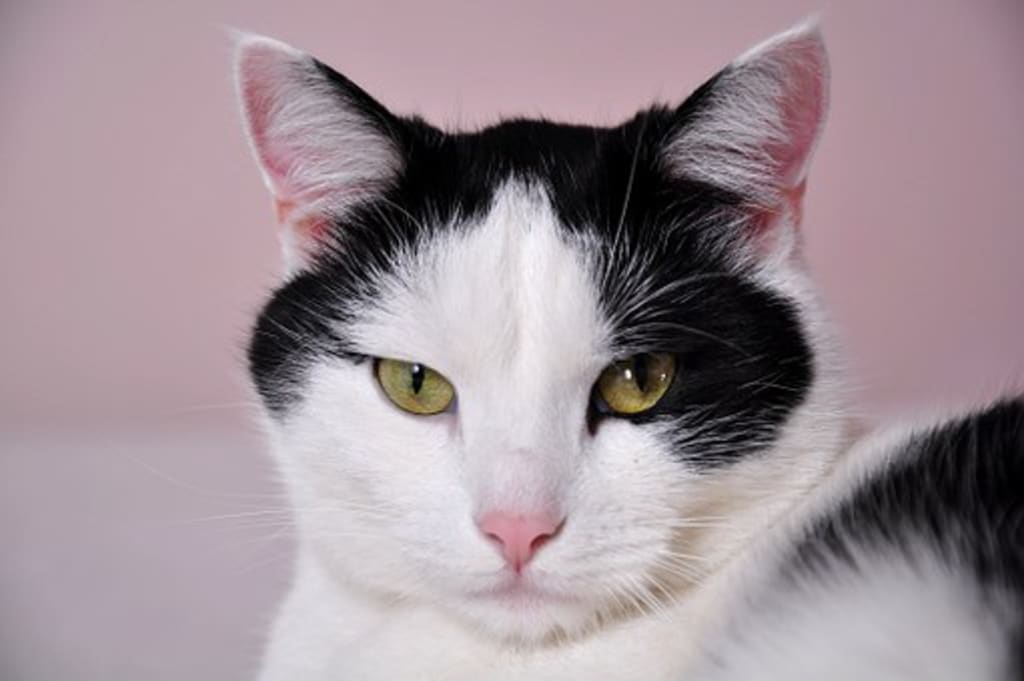 Sami Two Steps
Sami, whom we call Sami Two Steps, got this name because he lived about two steps from our home. Sami knew where to come for help. Cats know where they are accepted and loved.
Sami had no doubts that our family would treat him well and take him into our home. Sami is still with us in 2018. The vet just diagnosed Sami with very very early stages of congestive heart failure and kidney disease. We changed his diet. He is on medication and is doing better.
Sami has an especially heartbreaking story that turns out well for him.
One evening about 12-years ago as my husband and I returned from the grocery store and started to park the car in the driveway, sat a black and white cat about two years of age.
His name was Sami. Sami belonged to Mrs. Pike two houses down the street from our home. It had only been a few weeks prior that I had introduced myself to our neighbor, Mrs. Pike. Mrs. Pike was a widow who lived by herself with her cat Sami. She pointed to the little kitty sitting in the sun on her porch, and the small door Sami had on her porch so he could come and go as he wanted.
This evening Sami was very hungry and had a fair amount of automobile oil on his white back. Mrs. Pike had her porch lights on so I went to her house to find out why Sami was in such a state.
A couple of twenty-something girls came to the door when I knocked, and told me that their grandmother Mrs. Pike had suffered a heart attack and the ambulance picked her up, and she had been in the hospital.
They said that when she recovered enough to fly, her family flew her to Colorado to live with them. These girls told me that their grandmother never did come home when she finally left the hospital.
I asked them if they knew where their grandmother's cat was and they said they did not. They said that ever since they nailed his cat door shut, (so he could not get into the house) they had not seen him. When I asked them why they fastened his door closed, they said that they did not want the cat there anymore. No food, no water, no home for this poor baby.
They asked me, "Have you seen him?"
I told them that they were the cruelest people I had met yet and that Sami was now my cat and that unlike them I would care for him and give him the love he needed.
These people kicked Sami out of his home. Sami lost his owner and now had to fend for himself. This adorable cat has been with us going on about 12-years, and he has fit into our home wonderfully well.
On occasion, Sami visits his old house three doors away but considers our home his home and, as of 2018, Sami is still alive and doing well. Our vet cannot tell me how old Sami is, all the vet says is, "Sami is an old guy."
It Is a Baby Willy!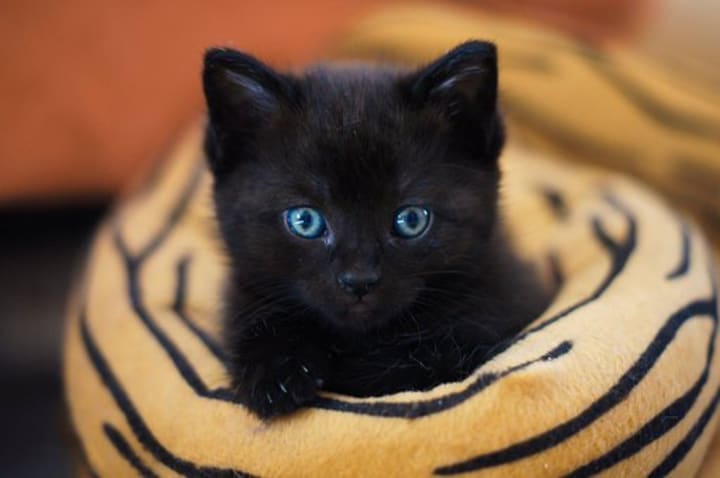 Wee Willy is about 14-years old as of 2018 and is doing well. He loves attention and has mellowed a lot since he has gotten older. Willy keeps the other cats on notice. Willy claims his territory and any other cat's territory.
Not all of my stray kitty stories are in order, and I apologize about this, but it is difficult keeping dates in order. I am not good with specific dates. However, I never forget the situation in which each stray cat came into or left our lives.
In December 2005, the week of Christmas, we were sitting in the living room, and I heard a small, weak meow at the front door. Thinking that one of our felines was outside, we went to look, and there stood a baby black ball of fur. This kitten was the spitting image of my daughter's adult female cat, Willy, aka Wilhemia.
All I could say to my husband was,"Oh my goodness, there is a Wee Willy at our door." Wee Willy came through the door, trotted into the kitchen and right to the food bowl as though he owned this home, "How did this never before seen kitten know where to go?" Who knows? I keep saying that cats are intelligent critters.
There was no one around outside and no footprints in the snow leading to the front door except for Wee Willy's tiny prints. Who could turn such a baby away in the coldest of winter and at Christmas time? Certainly not us, we would not close our door on a feline in need, no matter what age or at what time.
One thing that Wee Willy does that the other cat never did is that when we eat a meal, it is Wee Willy's cue that he needs his dinner as we eat ours. If I do not feed him at that time, he will head butt our arms until we prepare his meal.
Wee Willy has always been our other cats' Intimidator. He swats other cats for no reason. He lays in wait for an unsuspecting cat and then the chase is on. I may see rugs flying and fur laying on the floor. The chances are that Wee Willy was in the middle of the battle.
Like his cat mom, Wee Willy's black hair has bits of gray. He does not pick many fights anymore and has mellowed out. Although, he still claims territories if he wants them. Wee Willy is a special one of a kind feline.
As of 2018, Wee Willy has settled down and rarely chases. He enjoys laying in the recliner or finds a spot of sun to rest and nap. Wee Willy has been with us for 14-years as of 2018, and he is doing well. I will never forget the day at Christmas when this tiny baby came to our front door looking for a safe, warm home.
Sweet Little Freckles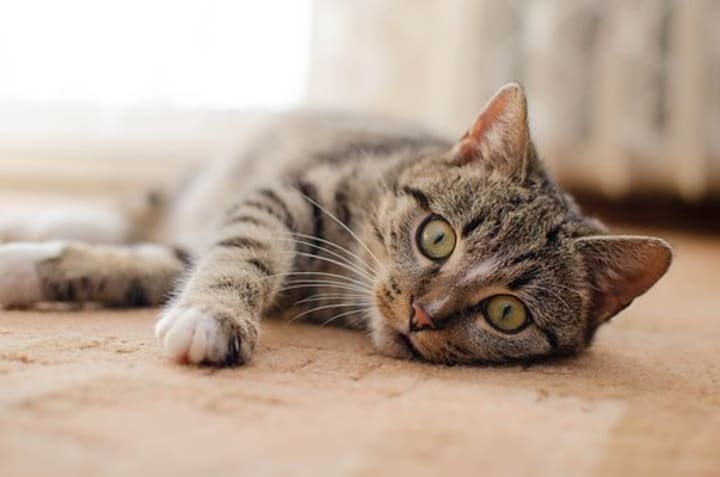 We tried hard to give Freckles a loving home, and he responded. However, I believe he is forever scarred due to being left behind by his family. We love Freckles, and he will always have a home with us. I will never understand how people can treat animals such as Freckles the way they do. It is undoubtedly a cruel world we live in, and I thank all of the gracious people who have a soft heart for dogs and cats who are in need.
It is impossible for me or my husband to turn a pet away when they are in need. One such cat is Freckles. We had some neighbors with two petite gray cats, and these cats did not get along, and fights broke out frequently between them.
These neighbors moved away and did not take Freckles. This poor soul sat every day on his front porch at that empty house waiting for his family to come back and of course, they never did. Soon after this family moved out, Freckles began eating at our back door.
It was not long before he started to come into the house and sleep during the day, but at night he wanted out, so we let him outside. In the morning he would return to eat and sleep during the day.
We do not like to do this, and it is dangerous for the cat. However, this is what Freckles did. There is not too much you can do to break a feline of currents habits such as wandering the neighborhood.
Freck was street smart and very cautious. I say a prayer for each of our felines, including Freck while he is out and about wandering. We also have a privacy fence around our home. However, this does not stop Freckles from jumping ship.
It is as though Freckles has this need to continue to visit his old home, but now he does not stay. He does his nightly walk and comes home. Because his prior owners abandoned Freck, he had trust issues which are understandable given what he went through.
Freckles had reasonably good health for a few years until he became ill with irreversible anemia and the doctor had to put him to sleep, in 2015.
RIP Freckles, you were unique.
Lucky Little Shadow aka Mamma Mia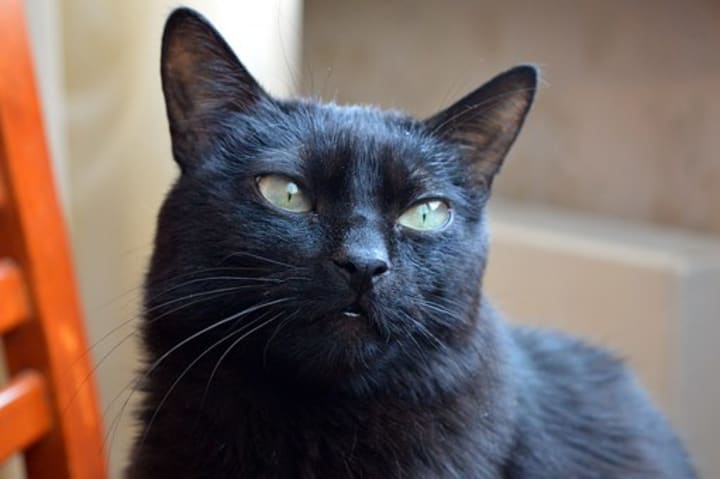 I think that when push comes to shove, Mia is happy she does not have to live in a barn. We adopted her in 2010 from our vet. She was three years old. The vet had a medical representative who lived on a farm and had several cats in his barn. He was attracted to Mia (Shadow at the time.)
He took her to the vet to be spray, checked, and have vaccinations. After all of this, his wife found she was allergic to cats and could not keep this kitty, so she ended up at the vet's office for adoption.
It was going on three weeks of staying at the vets that I could not stand it any longer. Many people do not like to adopt older cats, so they are more difficult to place in a good home.
In the beginning, Mia found the kitchen her safe place, and she ruled the kitchen area. She is protective of anything in that area. Any cats venturing into the kitchen know that this is Mia's domain.
Mia sat on the top of the washer, dryer, refrigerator, freezer, or a nearby shelf. Mia had a kitty bed, large litter pan, and all the food and water meant for her brothers and sisters and her. It has taken a while, but she began to tolerate others in her area. But, if she got the notion to do so, she will kick them out to parts unknown.
Since my Shadow passed away a year after, Mia came to us, Mia seems to be taking her place. Mia is becoming more attached to me and is even beginning to join me at night while I watch television. We love Mia and are glad that we took her. She knows she has a good home.
Then along came the "Twisted Sisters," Isabella and Sophia. Later on, I will explain how the "Twisted Sisters" came to our home. Mia does not like these sisters so left the kitchen area and dwells upstairs. Now, Mia lives upstairs in my bedroom and sleeps next to me every night. Mia and the Twisted Sisters do not see eye to eye.
Mia has her big litter pan, food, ice water twice a day and many big windows to look out and enjoy the sun. I see Mia as snug as a bug in a rug. Lucky for Mia, the Twisted Sisters do not go upstairs. During the winter of 2018, Mia started to venture downstairs and out on the front porch and continues to do so.
Sampson, from the House of 72 Cats!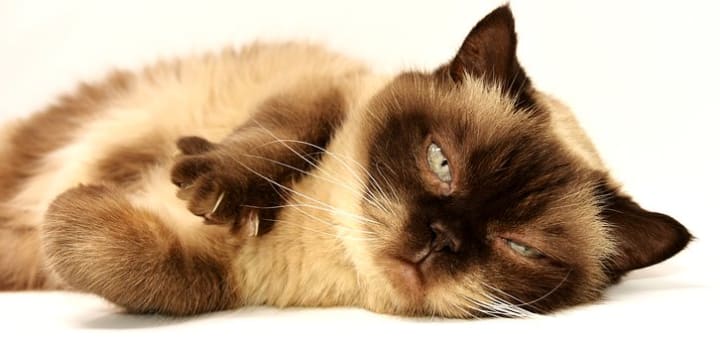 One day in the summer of 2013 there was an article in our newspaper about a loving feline owner who got into trouble by loving felines too much to the point that having so many cats were a bad thing for the cats and him.
This man devoted his life to his furry friends. This man suffered from stage four liver cancer, and he could not keep up the care of his furry family. During the time this man was fighting cancer, he somehow kept accumulating a cat populace to the tune of 72 felines.
It was when the man passed away that the Humane Society got news of the horrific condition of his home. The Humane Society along with the police and city's animal shelter had to apply hazmat suits to go inside and cage all the felines left there. Amazingly, there were only a handful of cats that had passed away.
The Humane Society cleared out a room and set up a makeshift home for these poor babies until their doctor could examine every one of them, install microchips, vaccinate and spay or neuter them.
At this time, when my son was looking for a Siamese cat, he found they had rescued one, and he went to check the cat out. He asked me to go with him, and it broke my heart to see so many needing a home and love. He did find the Siamese he wanted out of these 72 felines and named him Sampson.
This story has a sad ending for our son, as his little Sampson was ill. The illness passed the eyes of the vet at the Humane Society, and Sampson passed away from an untreatable health issue about six weeks after we brought him home.
The short life you lived at our home showed you happy, content and spoiled. Sampson had an irreversible medical condition and experienced a short life. The doctor at the Humane Society did not catch this illness, and when he became ill, we found out from our vet doctor the heartbreaking news.
Sampson's death was when our son decided to buy his next Siamese from a licensed and registered cattery. My sister and I drove 80-miles to get baby Willow a Siamese. That story is to follow.
Sampson, RIP 2013.
Hercules and Butterfly from the House of 72 Cats!
While I walked around the facility, one large golden longhaired cat kept following me. The volunteer told me that this cat was a female named Butterfly.
Butterfly jumped from one table to another and got eye level with me each time. He looked me in the face and begged my attention.
(She) kept (her) eyes on me all the while I was there as if to say, "Hey lady, I am here, and I want to go with you, please take me home."
I could not adopt any more felines as we are getting older and at the end of our rescue days, besides I knew that my husband would disown me if I brought Butterfly home.
When I got home, and for the next two days Butterfly remained on my mind until I told my sister about what happened and she wanted to go with me to take a look and possibly bring Butterfly home.
My sister said, "You have to do this, you simply must, and you have no choice."
I did not tell my husband where we were going. I said to her I did not promise anything.
As we walked into the Humane Society and into that depressing room, I asked where Butterfly was, and then I caught a glimpse of Butterfly. I knew it was (her) because (she) had little black freckles dotting her nose.
The volunteer said to me, "That is not Butterfly, that is Hercules, and he is a male cat, Butterfly is sitting over there." Beautiful Butterfly. She was the spitting image of Hercules only half his size.
I told my sister that I would take Hercules as he was the one I came for, and she exclaimed to me in a noticeable panic mode, "But what about Butterfly? You certainly cannot leave her here; you have to take her too."
I just went into a state of shock as I thought about what she said to me. I told her that I needed to call you know whom and cushion the blow, but I was afraid. She told me she would call and break the news to hubby and he better get used to the fact that you were bringing home two new kitties. The clerk at the Humane Society then said, "You do know that today is a two for one day. You get two kitties for the price of one!"
At the time I did not think anything about this trip to the Humane Society was funny. Now we laugh about that day and give thanks to my sister for her persistence.
That day we gave Butterfly and Hercules a new home, a new blanket, the best food, and plenty of love and attention. They have become my husband's cats. My husband also found out they were not Maine Coons as we thought, but Norwegian Forresters. They are lovely and so loved.
Hercules and Butterfly get along with our other kitties as though they have been there all along and to this day are doing fine. Our Butterfly is a lovely cat. She is older and no-nonsense. When people meet Butterfly, the inclination is to put her in their pocket and take her home. She is just a lovely cat.
Hercules and Butterfly came to us with bad teeth. Their teeth were yellow and decayed. Hercules had a few teeth pulled as has Butterfly. The beautiful butterfly has only four teeth left, but this does not stop her from eating dry and moist food well.
I found out from the vet that the previous owner, the man who had liver cancer, believed in putting a tetracycline antibiotic in his cat's drinking water to help ward off infections, colds, and illness due to the number of felines in his home. This tetracycline is known to turn teeth yellow in pets and people. Even with teeth problems these two cats are doing well in their new home. I suppose that this owner was doing the best that he thought necessary to keep his immense feline family as healthy as possible. In the end, this was not a right decision.
Scruffy a Lovely Stray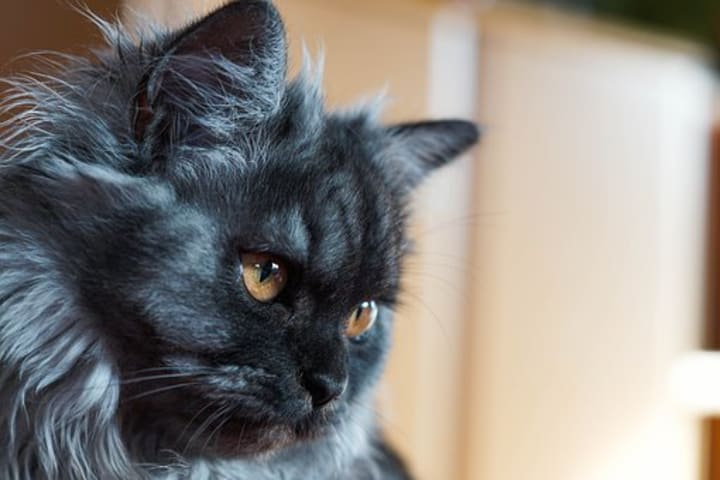 One of my jobs for seven years was 30 minutes north of my city. This nursing job was in a small rural town.
One winter night I was waiting for my son to pick me up and a beautiful gray, long-haired cat came to the door. This cat was hungry and dirty. I could tell that he had been fending in the wild for awhile. This cat was very loving and friendly.
That night it was below zero outside. All I had to feed him was some goulash from my dinner that night. This cat ate everything and wanted more, which I did not have. When my son arrived, I showed him the cat, and he said, "Mom, what are you going to do. We certainly cannot leave him here in this awful cold."
I got a big box, and we took him to his new home: our home. Scruffy never objected once as we climbed into our car for the 30-minute drive home.
My son gave him a nice warm bath, dried him thoroughly, and fed him like there was no tomorrow. Scruffy was the only word I could find that fit this cat, so this became his name.
Scruffy became my son's cat and lived wherever my son moved. Scruffy lived in Florida, Grand Rapids, Michigan, and back home. Scruffy was with us about 10-years before he passed away in 2009.
RIP Scruffy, you are still loved and very much missed.
The Twisted Sisters, Isabella, and Sophia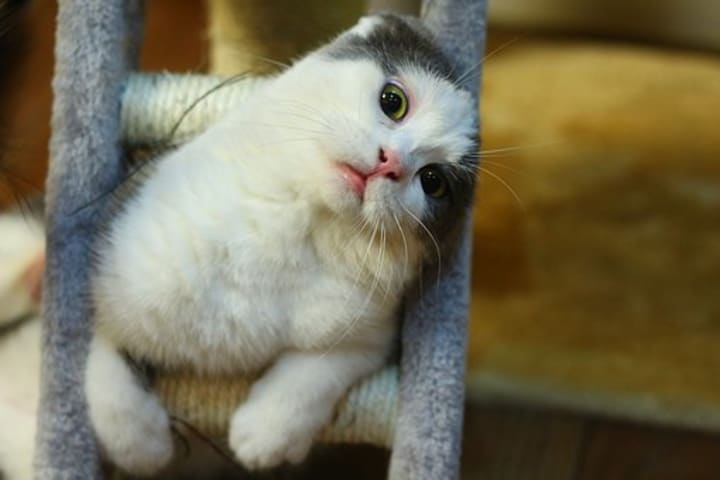 The Twisted Sisters do have their spats but when push comes to shove they have each other's back, literally.
Sophia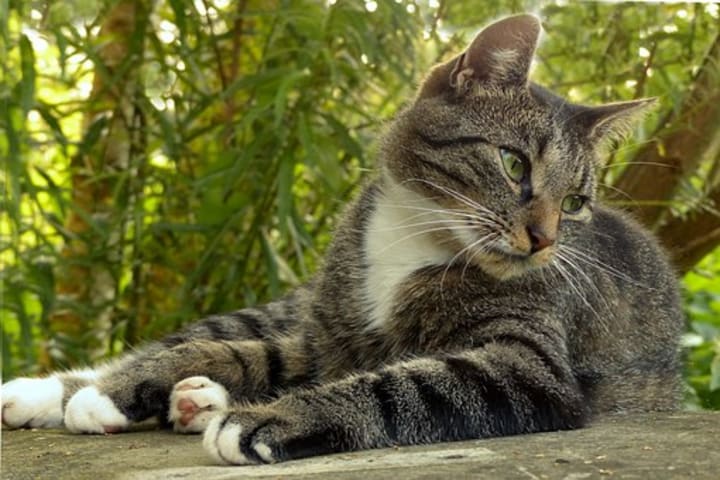 Isabella and Sophia are our latest cats and probably our last as we are getting older and more tired. These girls got the name Twisted Sister because they have some very odd characteristics that make us laugh.
Two years ago, my sister came to me and asked me to help her find a home for her daughter's two sister cats. Sophia is gray with a bit of white and Isabella is mostly white with a bit of gray.
The daughter did not care if they went to the same house or not, but if she could not find homes for them, she would have them put to sleep. My sister lives in a retirement complex and already has one cat, which is all she is allowed.
This news shocked my sister and me very much. Animals are not disposable. You do not buy a pet and when you tire of them put them to sleep. This daughter was serious. I do believe that this family loved these kitties and they were never abused but did lack human companionship and love. I thought about it, and my husband and I had to agree to take them.
This lady had a lovely family room in her home in her basement, and this is where Sophia lived most days. There were no windows, and she seldom went outside. Getting Sophia used to our home was difficult. It took over one year to make Sophia feel like this was her home.
Isabella, on the other hand, made herself right at home with no problem. Over the last two years, Sophia has become my husband's sidekick and followed him everywhere. If he is in a room with the door shut, Sophia bangs on the door with her front paws until he opens the door to let her inside. Every night while we watch television, Sophia, without fail, bangs on our hall coat closet wanting in for her nightly stroll. She stays, looks around, leaves, and all is good to go until the next night.
Isabella, I believe, has sun-downers. When the sun goes down in the evening, she goes to our downstairs bathroom and howls at the toilet paper. If she is feeling especially feisty, she will knock the toilet paper roll off the holder and chew it to bits or chase the paper roll into the living room. My husband has his nightly chore of telling Isabella, "Knock it off Izzy!"
These Twisted Sisters have brought further enjoyment and laughter to our home. Although, Mia does not like these two cats, she found it more appealing to live upstairs. There are plenty of windows and three rooms she runs around in. Mia has all she needs to live happily and content away from the Twisted Sisters.
Muffin aka Muffy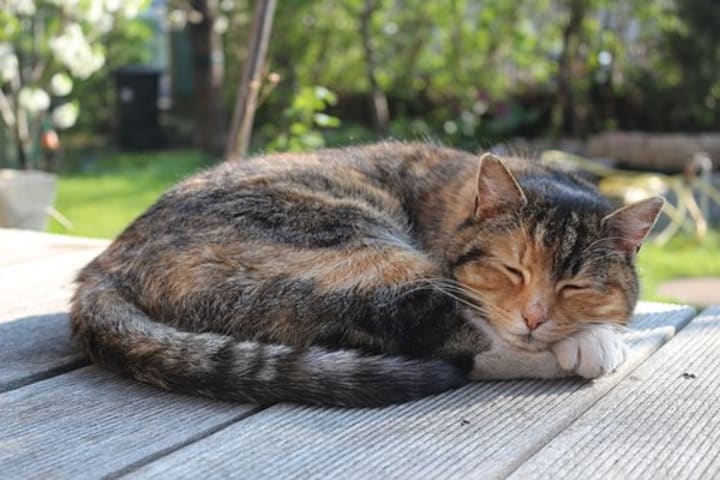 I Lied! The Twisted Sisters were not the last to come to our home.
About the time we took in the Twisted Sisters, a friend of my sister and I fought the good fight until finally losing her life to cancer when it ended up in her brain. Debbie's wish was to have her cat Muffy put to sleep when she passed away. She told us that Muffy was 16-years old.
My sister was her legal advocate, and neither my sister or I could follow her wishes to put Muffin to sleep. Muffin was 16-years old and, aside from severe obesity and arthritis, was doing well.
While Debbie was in hospice, Muffin was alone in the apartment. My sister would visit Muffin two to three times every day between being with her dying friend. Muffin required anti-inflammation medicine twice a day for her arthritis.
My sister could not take Muffy so my husband and I took Muffin. My sister and I took Muffy for a checkup before I brought her to my home and the vet said,"I give Muffy six to eight months to live."
The vet told us this because Muffy has bad arthritis and is extremely overweight. We continue to give Muffy her arthritis medicine every morning and evening. If we forget she really does let us know by becoming very loud.
Muffy weighs about 20 lbs. When Muffin came to us, she brought with her a cheap set of steps to help her climb onto the sofa where she likes to lay in our office. We bought her a new pair of solid steps and got her a large bed. Muffy climbs up and down the steps, goes to the litter pan, and to her bed on the floor. Muffin has been with us going on four years in 2018 and is doing the same as when she first came to us.
In April of 2018, Muffy had developed a large tumor on her chest that was growing bigger so we decided to have the vet remove this tumor. The risk was great due to her weight and age. She came through this procedure well. The vet told us, "I am 89 percent sure this tumor is cancer, but I do not know what kind unless we send the tumor in for testing. Something like this is done if you decide to start chemotherapy and radiation."
The vet also said, "Muffin is borderline diabetic and would benefit from a special diet of moist food."
Muffin never eats moist food and only one kind of dry food. She refuses to change this as I have tried a few times.
We decided to take Muffy home and do as we had been doing. We are not going top put Muffy through all the agony of cancer treatment.
Frequently you get a feline that you cannot change anything about: food, furniture, or life in general. Muffy is one of these cats. She only eats solid food, the same that her prior mom always gave her.
I would prefer her to eat a weight control food but she refuses to change. I will not make her life miserable at this stage of her life of 16 plus years. We are going to make her comfortable and continue on as we have always done.
To this day Muffin is doing as well as she can do and has taken over our office. She has her couch, carpeted steps to get onto the sofa, blankets, litter, pan, food, water, and toys. Some of our cats venture into the office to use her litter pan or steal some of her food, but Muffin never goes beyond the doorway of the room, that is, until I had surgery a year ago.
A year ago I decided I needed to follow through with some much-needed surgery and recuperated for ten days at my sister's apartment as everything was on one level and my home has stairs.
One day my husband called to tell me, "Muffin is rarely in the office anymore and walks around the house. She has been laying on the front enclosed porch catching the afternoon sun and now walks about every room in our home, downstairs," he said, adding, "She even drinks out of the community water fountain!"
These actions were very out of character for this cat. To make a long story short, when I got home two weeks later, Muffin went back into the den and had not ventured out since. Everyone thinks that Muffy was looking for me and waiting for me to get back home. Cats are highly intelligent critters and very smart.
I Lied Once Again and Along Came Lil' Luke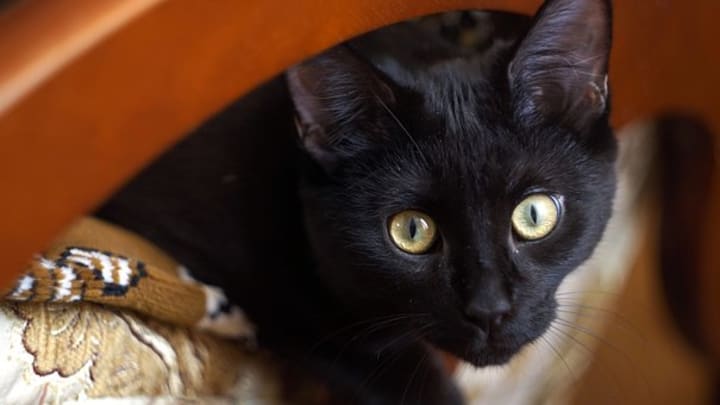 During the winter of 2018, the Michigan temperatures dropped to -20 for a few days. It was during this time that a small baby, born around November of 2017, came to our front door very hungry. I fed him, and he went on his way.
The next day he was back again for a meal. That day was bitter cold, so I fed this baby on our enclosed porch. There was no heat, but it was much better then leaving this baby in the cold and snow.
I put a thick warm blanket on one of our porch chairs and wrapped him up. He had food and water through the night and a make-shift litter pan, which he used. The next day he did not want to go outside, so he was allowed to dwell on the porch until we could get him to the vet's that Monday.
It is not wise to bring a stray dog or cat into your home until the vet checks the animal for FIP and Feline Leukemia. I told my sister about this new stray, and she said, "Well, what do you want to do? You have to take him to the vet's. Let's take him to the vet for a checkup and get him neutered, vaccinated, and chipped. I will pay the bill, but you have to give him a home."
I told my sister, "Slow down! I cannot take any more pets. I have nine felines already, are you crazy?! We cannot take this baby."
I called the Humane Society, and they could not accept this baby as they had met their quota of unwanted pets. I am such a sucker.
Since my sister offered to pay most of the vet bill for this kitty, I told her she could have the honor of naming him. She called me the next day and said she named him Luke. I added Lil' to his name, and he became a permanent fixture in our home, and that is the end of the story. Lil' Luke checked out healthy at about eight months of age.
Our senior cats cautiously accepted Lil' Luke, but when he tries to play with them they are not too accommodating. Lil' Luke found a playmate in Willow and continues to do fine. We never let Lil' Luke outside because he likes to jump the privacy fence and we cannot risk him getting hit by a car or lost.
We Love Dogs and Fish Too!
No, this cat family is not opposed to dogs. We love dogs. When we were much younger, my husband had two Great Danes. We also raised two Cocker Spaniels and a Chihuahua. These pets found families that wanted to take them as we could not devote the time we wanted because of working such long hours. Felines proved to be more self-sufficient. Cats seemed to fit into our lifestyle.
Do not misunderstand me, cats need and deserve human interaction, playtime, and attention. However, felines do well when you are not home due to work and short trips. Keep fresh water and food available at all times, and a comfortable place to bed down, and a good selection of toys and cats are happy campers.
My son has had a fish aquarium for years. He has tried his luck raising saltwater and freshwater fish and learned a lot during the last 20-years. To this day we continue to have a 50-gallon aquarium. We have a cat stand next to the aquarium, and all of our cats, especially Herk, sit on this stand and watch the fish swim. Hercules enjoys lying on his blanket that my son has on top of the aquarium. Watching our fish is relaxing and enjoyable for both the cats and us.
We are glad that we devoted the last 25-years to the feline populace and tried to do our very best with what God entrusted to our care. We would do it over again.
Q. "Was feline rescue difficult?"
A. "You bet animal rescue is difficult and has many challenges, especially at the end of life. Each pet had their unique way of saying, 'Good-by.' This end of life uniqueness is something that remains with me for life, and, each time, death took a piece of our hearts."
I have always had a problem with feline rescue, for the fact that I never wanted to give them up for fear of giving the pet to an abusive home. I never wanted to take the chance of my felines being neglected or mistreated, so I ended up keeping most of our rescues.
Death of a Beloved Pet
Pet ownership never gets more comfortable when we lose a beloved pet because they do become a member of our family.
It makes no difference if the pet was with us a short time or for 20-years, it hurts just as much. I hope to give each of them once again a big hug and kitty kiss when we meet at the Rainbow Bridge in Heaven where God has prepared a place for them and us when we meet again.
As of 2018, our feline family is down to ten, which includes my son's two cats, Hercules and Willow. Many of our beloved pets are senior citizens in this household and nearing the end of life. I know their time is coming and I dread it now as much as I did 20-years ago.
There has always been controversy as to whether our pets go to heaven. I had a pastor years ago who spoke about this very issue. This pastor said, "Animals do not have a spirt nor do they have a soul. Therefore animals do not go to heaven."
I know in my heart that pets indeed go to heaven from personal experiences I have had in the past. No one can convince me otherwise. This revelation gives me great comfort to know that someday I will meet our beloved pets again.
"Do you have as difficult time as I do dealing from the death of a pet? The following long-known poem may bring you comfort."
"Just this side of heaven is a place called Rainbow Bridge.
When an animal dies that has been especially close to someone here, that pet goes to Rainbow Bridge. There are meadows and hills for all of our special friends so they can run and play together. There is plenty of food, water, and sunshine, and our friends are warm and comfortable.
All the animals who had been ill and old are now restored to health and vigor. Those who were hurt or maimed are made whole and healthy again, just as we remember them in our dreams of days and times gone by. The animals are happy and content, except for one small thing; they each miss someone very special to them, who had to be left behind.
They all run and play together, but the day comes when one suddenly stops and looks into the distance. His bright eyes are intent. His eager body quivers. Suddenly he begins to run from the group, flying over the green grass, his legs carrying him faster and faster.
You have been spotted, and when you and your special friend finally meet, you cling together in joyous reunion, never to be parted again. The happy kisses rain upon your face; your hands again caress the beloved's head, and you look once more into the trusting eyes of your pet, so long gone from your life but never absent from your heart.
Then you cross Rainbow Bridge together."
Author unknown
No Regrets
As a pet owner, you may naturally have a few regrets. Maybe you feel you did things wrong or could have done things differently. Perhaps you made a critical error in judgment and wished you could redo your actions.
As a pet owner, all you can do is always remember to go the extra mile and do the best you can do no matter how tired you are or limited time you have at the moment.
If you have a feline or are thinking of getting a feline and have questions and I can help let me know, and I will do my best. Having so many felines for so long is a daily learning process. We are still learning, but we have learned tons of information. I wish we were as wise 20 years ago.
*Additional Note
All photos are from the free Pixabay photo gallery of felines. These photos are identical to the cats spoken of in this article