The Cool Cat Merchandise That Every Cat Lover Deserves
Your cute furry friend would want you to get these!
There are two things that I thoroughly enjoyed during my childhood, playing with my pets, and sketching. I was lucky to grow up in a pet-friendly household that allowed me to have a dog and a cat. I was pretty active in sketching and drawing when I was younger. As I grew older and entered my teenage years, school started demanding more and more of my time. I stopped spending time sketching and nurturing my drawing talent. My free time was consumed by either studying or some other meaningless stuff. The raging hormones that come with puberty didn't help either. I cleared high school and joined college, where I studied while working part-time. As you can guess, my schedule never allowed me to have any hobbies. My primary focus was on school and work.
I kept this up even after clearing college and getting a full-time job. One day while I was seated at my desk at work, exhausted and wholly demotivated, I realized that I'd been living my life on autopilot. I was working through the motions of a low-paying job while not creating any impact on my life or other people's lives. That's when I decided to tender my resignation and start doing things that I liked.
The Leap of Faith
Nothing prepares you for the challenges you face when you quit your job to follow a passion. After leaving my job, I started offering content writing services to small businesses. I still wanted to do some drawing and design, but I hadn't figured out how to monetize that skill, and I needed to eat and pay my bills. So I focused solely on writing, which I enjoyed and still enjoy since way back in school when I wrote essays. Now here I am, four years after taking that leap of faith, slowly going back to what brought me joy as a child. And that's how my idea of designing t-shirts was born.
The Business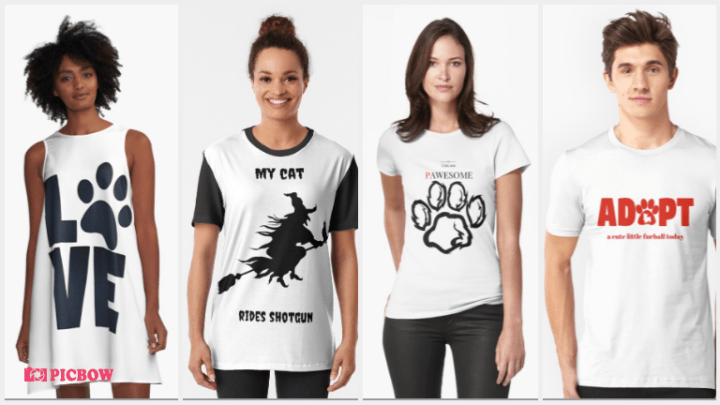 My relatively new business revolves around designing t-shirts for cat lovers. Cats are amazing, cute, cuddly, playful, and a tad bit antisocial, and we love them for that. I wanted to design and create something that would help cat lovers and cat parents express their love for cats.
Some of these designs I created months ago but hadn't found a way to sell the t-shirts online. I didn't have the capital to print them and ship them manually, and I didn't have the workforce to run an independent online store successfully. So I opted to use Redbubble as a launching point of the business and expand from there once I created more designs.
My Business Goals
My goal for this business is to bring joy to pet lovers by creating designs that appeal to their animal-loving nature. Creating t-shirt designs for cat lovers is just a starting point. I intend to develop designs for dog lovers, fish lovers, bird lovers, basically all categories of pet lovers. I also want to expand the business and start selling on my website, possibly develop to selling on Amazon later on.
If you're a cat lover, you should head over to my Redbubble store right now and check out my merchandise. Click here to access my store. As for dog lovers, fish lovers, bird lovers, and other pet lovers, I'll soon have t-shirt designs for you. Now that we're in lockdown, thanks to this pandemic, I have more time to create some cool designs for everyone. And when we come out the other side of this crisis, we'll all have some cool tees to wear as we enjoy the sunshine with our cute, cuddly pets.