The Best Empawyee Ever
A Work Day in the life of Princess Ladybug Lindsey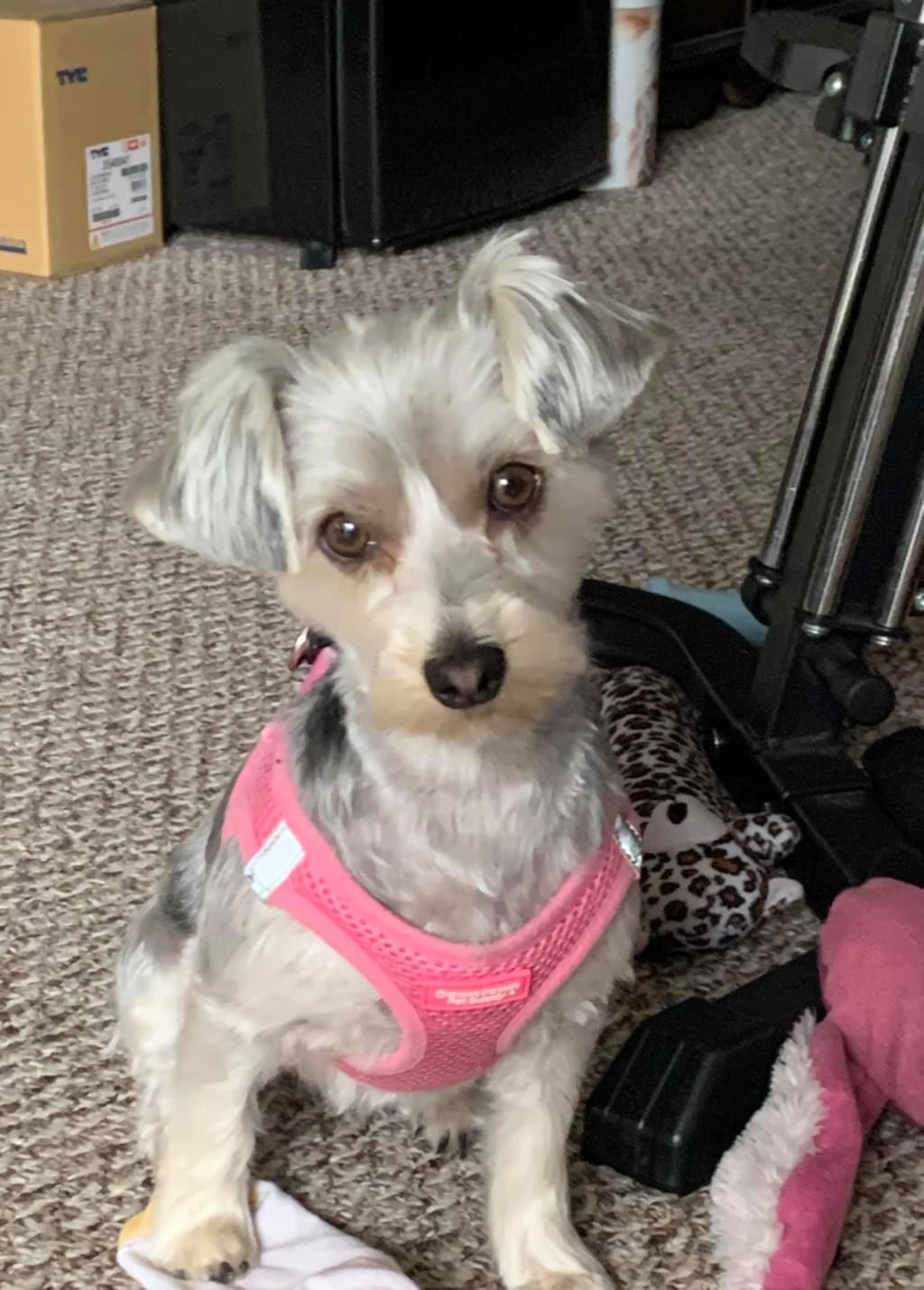 Princess Ladybug Lindsey
Princess Ladybug Lindsey, otherwise known as Bug, kept me sane during the initial days of the pandemic when I was teaching from my bedroom office. I could talk to her just like a coworker, bounce ideas off her cute little furry head, pick her up when a prop was needed and use her as an ongoing excuse to go take a walk outside. It was wonderful. She agreed with all my ideas, never questioned my lesson plans, got more excited than my students did and worked her little nose to the grindstone all day long. She was the consummate paraprofessional as I "attempted" to teach struggling readers to read on Zoom. This task was no easy feat and believe me Bug got me through some of the most trying times with my kiddos. I've taught reading for 25 years and never have I ever struggled as much as I did last year. My experience teaching beginning readers from a computer made my decision to retire a great deal easier last spring.
But, I regress, I must get back to my partner in crime, Princess Ladybug Lindsey. She never missed a day's work, worked for kibble and water and started every morning on time with a peppy attitude. She jumped right out of bed each morning when the alarm began to ring at 7:00. We both hit the potty, grabbed my fully caffeinated cup of hot tea and her kibble and water. She gobbled down every last bite of her kibble, knowing she would need the energy to get through until lunch. We started promptly at 8:00 and of course, our first group of the day was the dreaded group of 6 kindergarten students. Kindergarten students are their own breed and truly are like herding cats when you have them all in the same room. Imagine just for a minute what it was like to keep their attention when they were in six different homes. Usually one of them was sitting up asleep, another was eating a fantastic looking breakfast and another was putting on her makeup for the day. And, to think, I wanted their attention. How dare me? One day, I was struggling keeping their attention more than usual, so I picked up poor Bug and said, "Look at my dog!! Her name is Bug!!" Suddenly I had all eyes upon me. Then I proceeded to tell them how Bug started with B and asked them to tell me some other words that started with the "B" sound. Another day my reading lesson with a first-grade group was bombing. It was not my finest hour. Again, Bug to the rescue. She began to whine and one of my students said, "You have a dog???" As though it was a foreign concept. So, I quickly held Bug up in front of the screen and we were able to compare and contrast how Bug and Rosie, a dog from a book we had just read together were the same and different. Folks, that was what a teacher calls a teachable moment when you follow the students instead of your plan. It worked out much better than my plan because I had an actual concrete example of a dog to use for the purpose of comparison. By 11:30 each day, I could tell Bug was starting to get a little weak so that's when we broke for lunch. She ate a bit of kibble and took a short little nap. At 1:00, we would begin again. Bug enjoyed the afternoons because she wasn't used as a prop to get the student's attention or be held up as a living example to compare and contrast. Our afternoons were a little easier because most of the students were beyond beginning readers. Bug just laid in her bed quietly until a student let out with a crazy sound, the microphone squealed or another animal meowed or barked. Bug could tell it was the end of her day when I flopped my head down on the keyboard and started to say "Tomorrow's a new day and another chance for us to teach them Bug!" She just cocked her head, grinned and jumped in my lap. Who could possibly ask for a better assistant! Not me!
If you enjoyed the story about Princess Ladybug feel free to leave her a tip!