The Adventures of Kitty and Daisy
Part One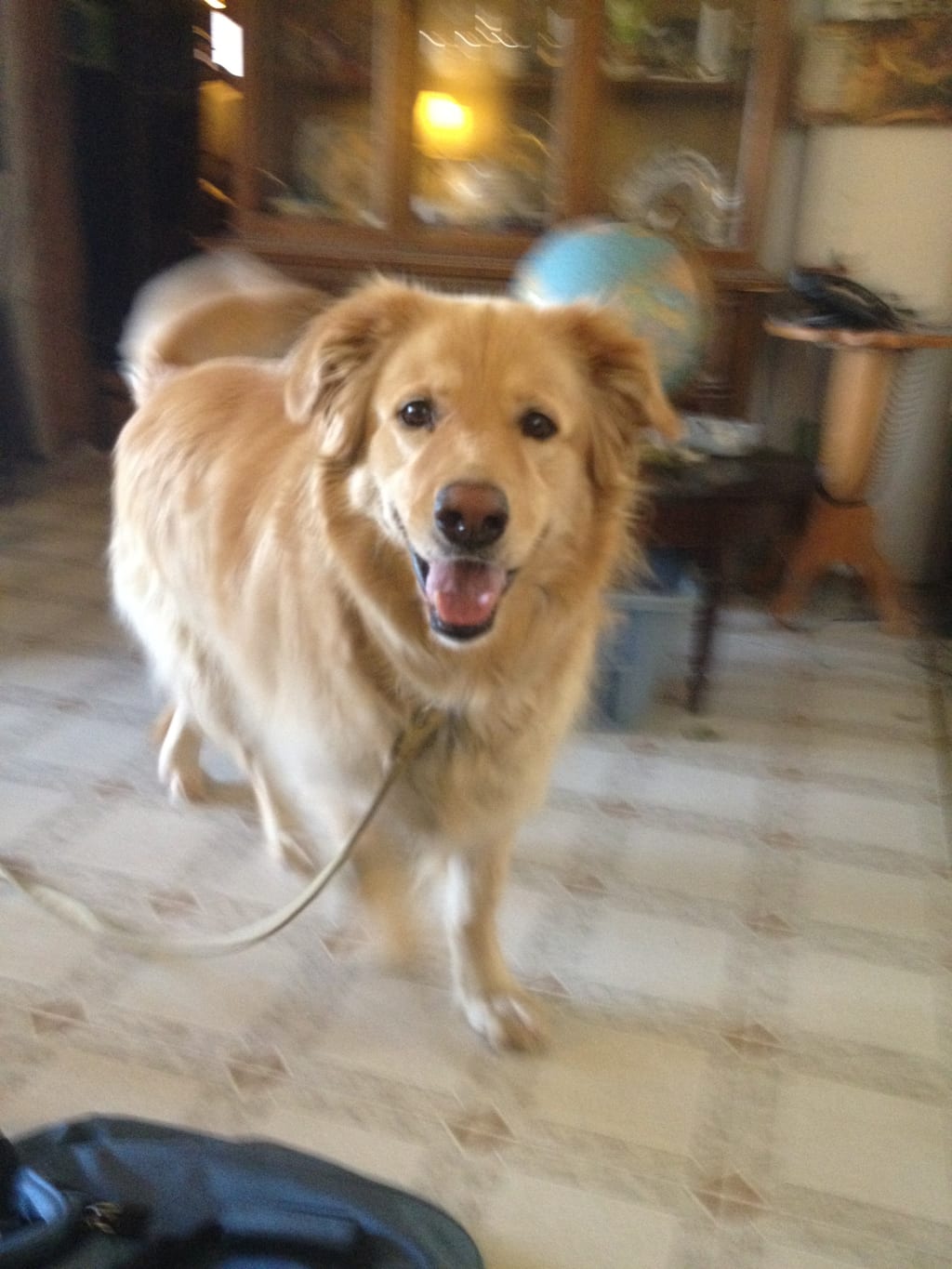 Liz was mourning the loss of her best friend Gingles. A beautiful collie husky dog that she had for many years. Her father adopted Gingles from the animal control as a puppy. Gingles had a unique look on her. She had beautiful thick long golden-brown fur with light brown husky and collie markings on her face and a white diamond on her chest. Gingles went everywhere with Liz, camping, and at one time when she was working out of a trailer for a bit, Gingles was right there by her side. When Gingles became older, she was in a lot of pain and could not walk up the stairs.
A few months after Gingles passed, Liz was browsing the web and saw on a site an advertisement for a litter of puppies. They were a mix of golden retriever, husky and lab. Liz looked up from her laptop and said, "Hey, look at these puppies! They are such a cute mix!" Johnny and Bev came over to look and smiled. "Aww, they are so cute. Maybe we can go see them. Let us send them a message." Bev said. Liz said, "Okay, I'll send the message now" Liz wrote an inquiry about the pups.
A little while later, Liz got a response. "Hey, I got a response from them. They said they are just up north, not too far away from the mall. They said we can come up tomorrow morning." "Okay, that's perfect! We usually go to the mall in the morning. We can drop off Mom at the mall, then go look at the pups!" said Bev with excitement. "Sounds like a plan." Said Johnny.
The next day, Johnny, Liz's brother, Beverly, Liz's sister, and Liz, woke up in the morning. Liz made coffee and tea, along with eggs, bacon, and toast. Everyone was getting ready for the mall. Liz showed their dad the puppies on the website and he smiled. "Don't tell your mother" he whispered. "We are dropping her off at the mall then checking them out" she said smiling.
They drove up to the mall and dropped their Mother off at the mall to do some shopping. "Now what are you kids up to?" said their mom suspiciously. "You're going to get a puppy, aren't you?" They all smiled. "It's a secret" said Liz. "Well, I just have to get a few things, don't be too long" said their mom. Then, they drove to the house where the puppies were.
When they arrived at the place, there was a long road going past the main house into the backyard. It was a little scary, but they continued to drive down the windy road. Then they drove up to the barn where the dogs and puppies were. Liz got out of her car as well as Johnny and Beverly. A large dog with beautiful black long fur and a white diamond shape on its chest, along with white husky markings on its face ran up and greeted Liz. Liz was a bit intimidated at first when it came up to her but felt better that it was a very friendly dog.
The owners came out and said "Hello, how are you?" "Great thanks and yourself?" "Great thanks! You here for the pup, are you?" "Yes" Liz nodded. "She is the mother and she is a black lab mixed with husky." Then, an exceptionally large golden retriever came out. "He is the father." Another dog came out who was a chocolate lab, exceptionally large as well. "That dog is the father of the chocolate lab puppies, but they are still too young" They showed them the litter of puppies and someone was walking out with the last male puppy who resembled the mother. "There are three puppies left, all female and all golden color." Liz went into the area the three puppies were. She went to the one with the blue eyes. It was a quiet one and was not moving much. Then, another puppy jumped on Liz's knees. Someone took the third pup. Liz picked up the pup that jumped on her and was excited. "We will take this one!" she said as she took out the money to pay for her. "There you go." The owner thanked her and said, "Here's a list of the food we have been giving her and here is a bag of her food just in case you would like to keep feeding her the same brand." Liz brought the pup to her mother to say her goodbyes and brought the pup to her father who was chewing on a stick. Liz then carried the pup to her car as they thanked the owner for the pup.
On the drive back to the mall, the new pup was settled on Johnny's stomach nice and peacefully sleeping. "Well, we finally got a new puppy!" said Liz smiling while she was driving and pulled into the mall parking lot. "Yes, she's a cute puppy!" said Bev. "She's so relaxed." Said Johnny. "She's very comfortable with you Johnny." Said Liz as she was parking. Liz parked and Bev unbuckled. "I'll go in and get mom" said Bev as she opened the car door. Bev got out and closed the car door and walked towards the mall. Liz and Johnny waited in the car.
About 20 minutes later, Bev and her Mom were walking back to the car. Their Mom looked inside and saw the puppy lying on Johnny's stomach. "See, I knew it! You got a puppy! Aww she is cute. What are you going to name her?" "We haven't decided yet." Said Bev. Bev and Mom got in the car and Liz started it and headed home.
They drove in the driveway and Liz parked the car. "Welcome home new pup!" said Liz as they all got out of the car. Johnny went in the back with the pup and Dad came out to look at her. "Hi pup!" he said as he lifted her up smiling. The pup was wagging her tail. The pup was happy with her new family. "Now we have to show her to the cat!" said dad.
They brought her in the house. Kitty, the cat was on the couch. Dad carefully placed the puppy beside Kitty. Kitty looked at the puppy and then sniffed her. The puppy moved to look at Kitty and Kitty hissed at the pup. Then the puppy started to bark at the cat. Kitty was making sure the puppy knew who the boss of the house was.
The next day was Sunday. They all went to Church. Some people heard that there was a new puppy so after Church, they came over to see the pup. Hanna, a child that was going to the Church asked, "Do you have a name for her yet?" Liz said, "we are not too sure of a name yet for her, do you have something in mind?" Hanna said excitedly "yes, how about Daisy?" Liz smiled and said "That's a great name, we shall call her Daisy then! Thanks for the name!" "You're welcome! She's so cute!" Hanna said smiling.
And that is the beginning of the adventures of Kitty and Daisy.