Taz and Cash
The loves of my life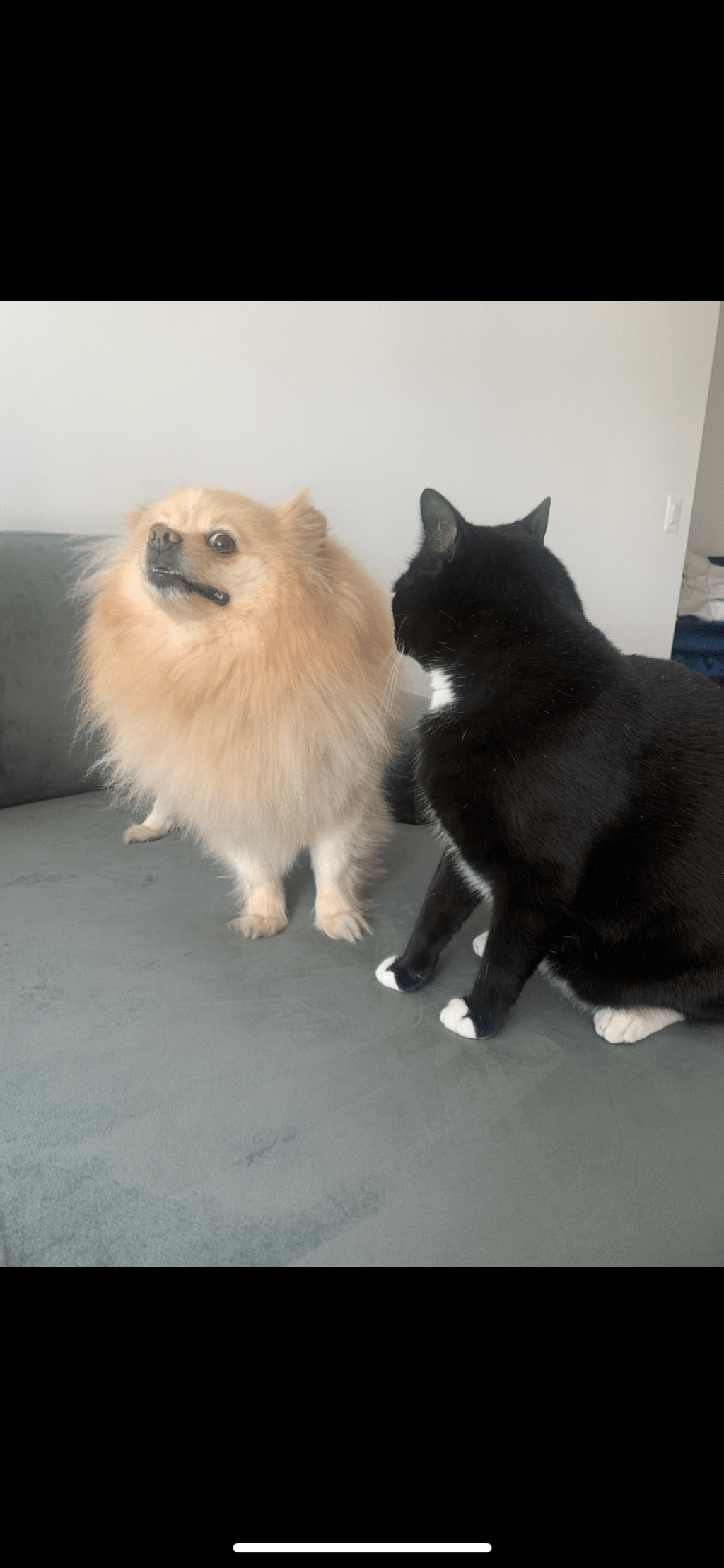 Taz and Cash
I'll never forget the first time I met taz. Ugh! The cutest sweetest quiet little baby I've ever met. My heart exploded and I couldn't get him off my mind. I saw him outside of a local nyc pet shop I'd passed by on my way to grab coffee. Now let me tell you this! I've seen really cute sweet puppies before. Jeez, I even put two down payments on two different puppies prior to meeting my little baby boy. Taz was different though. I couldn't say no to him and I couldn't leave the store without him. I'm not really sure how to even explain it. It was like "ghesmat"(which means destiny in Farsi). If that wasn't love at first site I don't know what else to call it or even explain the feeling of love and warmth that made me feel whole. I know it sounds corny and everyone thinks the same about their little furry companion but taz will always be and feel super special to me. After seeing him in the pet store I met up with a close friend the next day had lunch and couldn't stop thinking of taz! So my friend told me we should go see him and if I really still wanted him by the time I saw him a second time then just to do it. I had finally become financially stable, independent, and becoming the woman I am today so why not fill my home/life up rite now with another fur baby. Yes taz is actually my second pet. My first pets name is cash and he is a black and white tuxedo cat. He's another very special soul in my life and I actually rescued him. I was driving my friend home to her apartment in queens and it was raining out when she then said "oh my god! Look how cute that kitten is!". I then opened my door and there he was. This beautiful very clean street cat that I had no idea where he belonged or if he even was a street cat because he actually had smelled like women's perfume. He took a sniff of my finger and hopped in as I grabbed him he instantly fell asleep on my lap. My friend then looked at me to see what I was going to do? I looked at his sweet face asleep and thought to myself "I guess I have a cat now". I then took him home where I stuck him i n my bathroom with some fresh formula kitty litter and a soft blanket. After the vet appointment went well and he got all his shots he brought me out of one of the lowest points of my life. I was in a state of depression and I thank god everyday for bringing cash into my life. The name cash comes from what I would name my first son if I ever had children. That's how special I saw this little fur baby. I remember cash would be so tiny in my big queen sized bed running through the covers playing with my hair and feet throughout the night and morning. Taz was named after my favorite monster tazmanian devil.
If you think your dog or cat will eat everything and anything...think again. Cash eats absolutely no human food expect for the occasional fish dishes I'd make myself. Taz on the other hand is very picky which makes me laugh sometimes because of how particular he is. Which I only have myself and his dad to blame for spoiling him so much. He really loves crunchy textures. He loves plain lettuce without dressing. He loves all types of cheese. The funniest time I could think of including food was when me and my boyfriend left a pizza pie on the coffee table opened. We turned off all the lights and were watching tv in the bedroom where I then hear a small bang! As I walked in I turned on the lights where I see two pizza slices in tazs mouth where he then began to run and he actually tripped over the slice of pizza beacaue he was so tiny at the time. Imagine that! That was the only time I didn't reprimand him for not listening to me because of how hard he made me laugh! He really has the best personality when it comes to just being silly and super playful and sweet that I can never be mad at him.
Now even tho taz is fixed and I took care of that situation for him he never lost the urge. So basically I replace his "girlfriend" every year because he just humps it all the time and sleeps with her. He doesn't just hump her tho! He really kisses and loves on her which is too funny for me not to laugh at. I feel like he knows emotion so well just from being in the most loving home and around all different types of great people. I love that he's so smart where I don't have to yell at him for being too aggressive or to not attack someone or another dog. This dog is filled with love. The best is when cash and taz play fight and cash definitely messes taz up sometimes! Taz is the instigator for sure. Taz will run up to cash and bite his ear or kiss him on the face. Cash will grab taz and hold him down and kick him. Which of course I have to break up from time to time. But when I tell you the cutest set of brothers and yes they do think they're brother by blood. I really love that cash is only 8 months older than taz so since they're wasn't much of an age gap they were both babies that grew up together. The bond they have is unmatched! I remember as me and taz were coming back from Miami which I had to have my dad watch cash for 10 days. That was the longest they'd ever went without seeing each other. I care back early March prior to the quarantine on New York and every since then they've never slept apart. That made my heart so warm knowing how much they love each other and how much gratitude I have towards both of them. Some for different reasons and different ways but for the most part the same.
They've changed my life forever in the best way. They made me really know what unconditional love is and how much I really needed a love like that. They've made me more responsible for sure and made me almost have a purpose and deeper meaning in my life. I know it's not the same and I have no children but this was small practice for when I do have my own children. Cash pulled me out of the deepest depression of my life as I mentioned prior but he really brought me back to life. At the time I was in my old apartment I had stopped eating as much for a while and lost so much weight that it was unhealthy. Having cash's love meant everything during a time I had felt so alone. He was the light. Tazs love was extra but his love has no comparison. They both know when I'm sick. Neither one of them make a lot of noise. They both follow everything I do and I know I love them because their happiness is my happiness. They feel everything I go through. They love when I'm happy and taz always has that huge beautiful smile. He's literally the happiest dog. He's my best friend and they're both apart of the few souls I trust in this world. I've put them before myself since I've had them which is now 6 years. They made me a better person. They've shown me how to show compassion and made me stronger by the strength they give me when I don't have my own. I met the love of my life 3 months after I got taz and now after 6 years I made my own family and have nothing to do but continue to give these two fur babies the best lives they've alwyss deserved. Sometimes I look back at how far I've come and taz and cash's unconditional love is definitely part of the reason I am happy today and everyday for the most part. They are my light.