Sweetie
A Fitting Name And A For Ever Home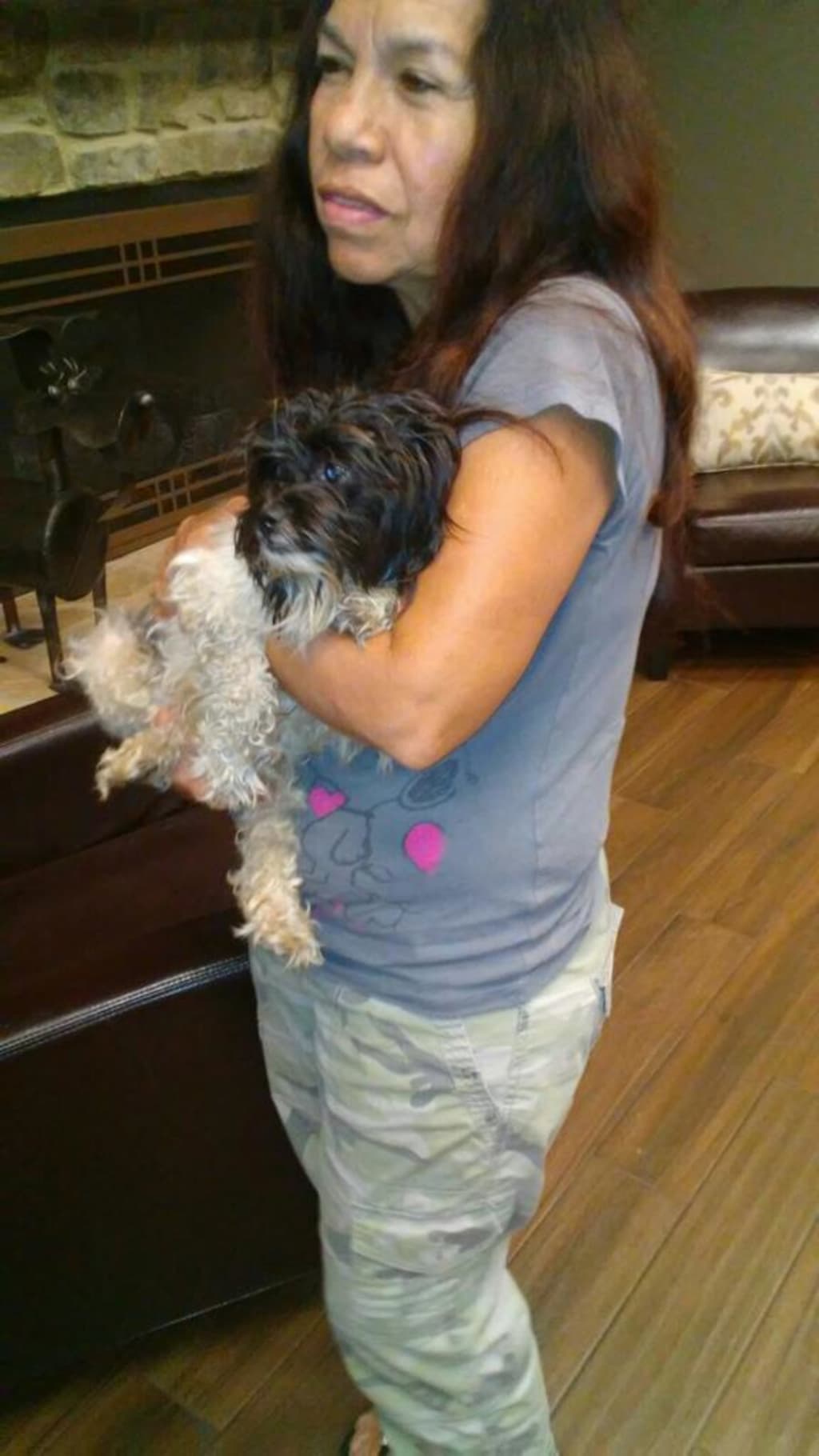 Emily and Sweetie 7/3/2017
Sweetie
A Fitting Name And A For Ever Home
By Roberto Alago
Loud noises can be traumatic for dogs. Thunder and Fireworks can scare them so much, that the poor things just run away from their homes and their loved ones. That is how we came to meet Sweetie; one of the sweetest, gentler dogs I have ever met.  Believe me, I know dogs. I've been around dogs all my life and being married to an animal lover, has made dog rescuing a routine in our lives. So, let me tell you about sweetie and how ours came to be her forever home.
It was July 3, 2017. My wife was taking her new car out for a spin and I was coming along just for the ride. Nearby, the sounds of fireworks could be heard.  Apparently, some people had decided to start their Independence day celebration a bit early.
As we crossed an intersection, out from the bushes and into the street came dashing what could only be perceived as a hairball with legs. My wife slammed the breaks and I almost hit the dashboard. Thank God for seatbelts! "What's going on!" I asked in an obviously annoyed tone. "Its a dog!, It's scared" My wife replied, followed by a command; "Go get it."
"Really? You want me to get out of the car and chase after a dog that is running scared?" "Well... I'm driving. It's your turn."  She looked at me with that little smile she knows I can't resist.  We've been through similar situations many times before. Most of the times, she is the one doing the rescuing. So, I knew, resistance was not an option. We were going to rescue this dog even at the risk of my own safety and comfort.
I got out of the car and got to work. Now, normally, when rescuing dogs, it is not a good idea to chase them. Its better to call out to them and offer a treat.  Let them come to you. However, this was a busy intersection and the dog was running frantically in and out of the moving traffic. If I didn't get it out of the street soon, it was bound to get hit or even killed.
So, I took sure steps and wave traffic to stop.  Once traffic stop moving, I called out to the dog. It would have nothing to do with me. It didn't understand I was trying to help. It ran off to the sidewalk and the chase was on again.
It surprised me that a little dog could run so fast. I chased after it for about three blocks, then waited for my wife to catch up in the car and pick me up.  Once in the car, I told my wife; "That's it. I'm running no more.  Besides, I don't even know where it went."
Emily (That's my wife's nickname), having that "I will rescue this dog if its the last thing I do"  attitude; said; "I know where it went. You drive, I'll chase." With that, she got out of the car and turned the block onto a residential area.
I took command of the rescue Mustang and headed in her direction. I found my wife by the front door of the corner house on that street and the dog had gone into their fenced yard.  Emily knocked on the door. A man came to the door and she explained that she had found the dog on the street and it had gone into their yard.  She asked if it was their dog. The man replied that they had no dog and she was welcome to take it, if she wanted. 
So, Emily went to the gate and started to call the dog. In the yard, the dog was running to and fro looking for an exit and not finding one, gave up.  Once the dog calmed down, it slowly approached the gate, lowered its head and allowed Emily to pet it. Emily picked up the dog and by the time she came to the car, she had fallen in love.
When she came into the car, she was smiling from ear to ear. I knew that smile. I knew, no matter what I say, this dog was coming home and I better get used to the idea.  So, we proceeded to do the initial check-up. Its hair was long and unkempt; full of borrows and knots.  Its tail was crooked and tangled. It was painful when touched. We thought it had a broken tail and headed to the only Animal clinic that was open after 6:00 PM; about a 45 minutes drive.
At the Fayetteville Animal Hospital, the staff was enchanted by this beautiful dog. After we explained the situation, they checked for a Chip and found none. The Veterinarian did a full examination, deworming, shaved her tail, shots for Rabies and Parvovirus. They even gave us some food, a collar and a leash. All at no cost to us.  Since it was a rescue, the Hospital covered the cost. How cool is that?  We need more places and people like that. Thanks to all the people who donated to the Hospital to make this happen. Please, keep donating, there are more sweeties out there in need of help.
The doctor said that it looks like the dog had been on her own for at least two weeks. The good news is that the tail was not  injured. It was just tangled so badly that it couldn't move without pain. Now that it had been shaved, that little tail kept wagging; a fast wag, an "I'm excited" wag, a happy wag.
Back in the car, the dog lay at my wife's legs and licked gently at her hands. It sure was a beautiful scene.  Emily commented: "She's so sweet. I think I'm going to call her sweetie." And so, Sweetie it is. 
As we were leaving the Hospital's parking lot, the dog left my wife's lap and made itself comfortable on mine. It started to lick my hand; as if saying to me, "I understand now; you wanted to help. Thank you." Then, she slept all the way home.
We had two other dogs at home; Jagger and Cookie and didn't know how they were going to react to a new dog, specially since we had recently buried the Cocker Spaniel; Lady. It didn't take long for sweetie to make herself at home and Jagger and Cookie accepted her with open paws. 
I did an online check in all the animal rescue and shelter websites, I could find,  to no avail. It seemed, no one was looking for this sweet little dog.  She had no owner, no house, no bed.  So, it was decided. We would provide it. We went to PetsMart and gather a few supplies, food and a new bed. We checked the Bulletin Board and there was no listing for a missing Shih Tzu fitting her description.
Her days of wondering are over. She now has a family and playmates. Her fur is clean and well kept. She has a very  sophisticated appetite and her food is specially prepared. She is now at her new home; her forever home.
#animal #dog #rescue #pet #vet #fireworks #independence #wanderlust #Fayetteville #clinic #roberto #alago
About the Creator
Born in PR. Married, Father of four and Grandfather of eight. Soldier, Computer Expert. Admissions Associate at Interactive College Of Technology. A versatile man with interests too numerous to list; including: Acting and Public Speaking.
Reader insights
Be the first to share your insights about this piece.
Add your insights