Sweet as Honey!
a story about my adoption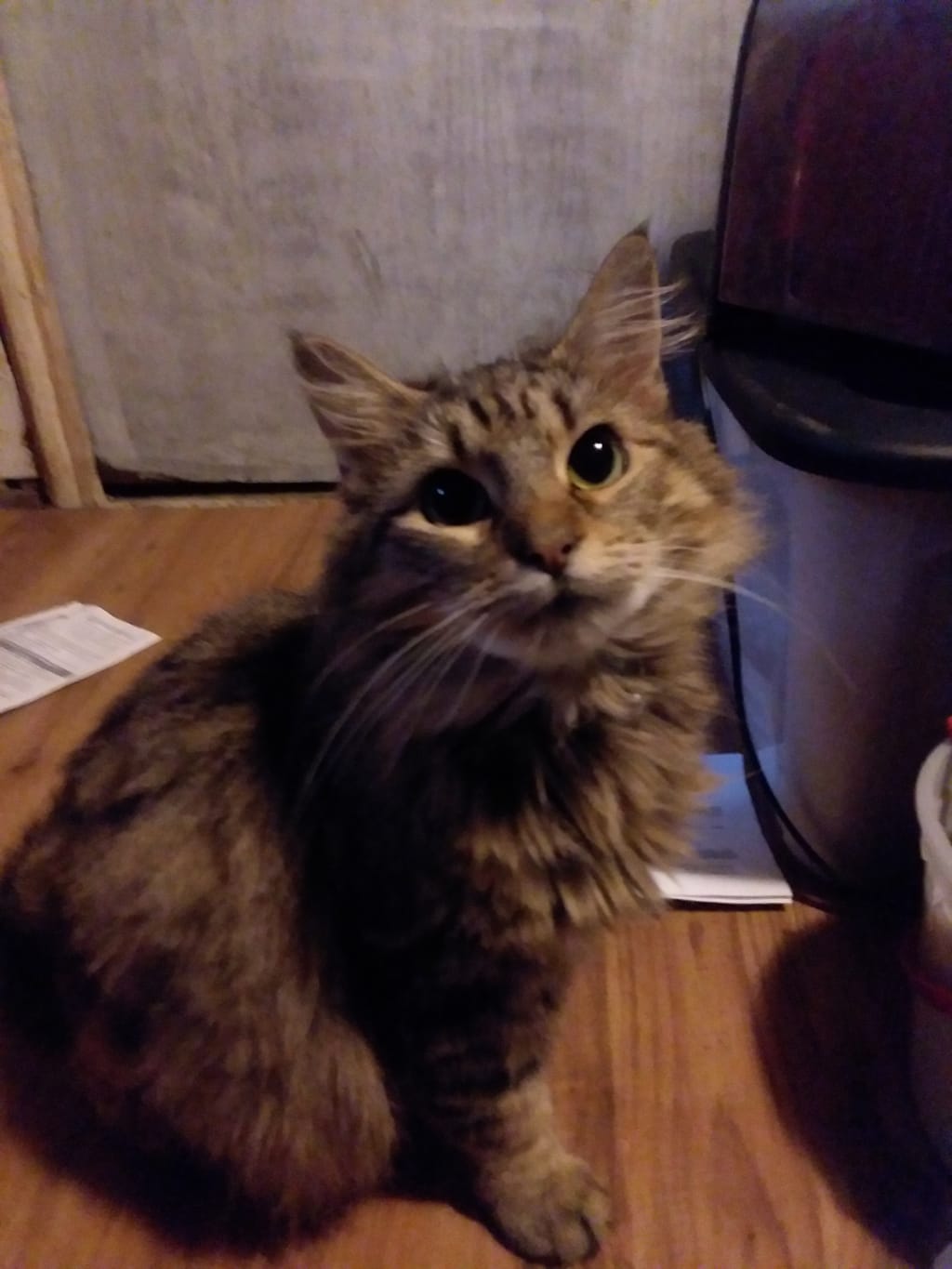 She's a little model.
If I could pick one word to describe my cat it would be "savior." Honey wasn't bought, adopted, or given to me, but instead, she came into my life when I needed her the most. A tiny stray who was surprisingly very affectionate and friendly. I jokingly say that she adopted me and not the other way around.
Honey showed up around January of 2019 and befriended my grandfather through a can of tuna fish. A tiny mane coon mix stray with a knack for befriending anyone she came in contact with. With it being winter it was still cold so my mom would let her curl up in her lap. One day my mom went to move her and saw her lap covered in this white liquid; from there we realized Honey had an infected wound on her back leg and we took it upon ourselves to help her heal.
After a month of cleaning her wound and feeding her, she was good as new. From there we realized that she didn't like men with the exception of my grandfather, but she clung to me and mom. We use to call her Honey because of her honey-colored eyes and eventually it just stuck. So thus Honey came into our lives. Throughout 2019 and the beginning of 2020 Honey started becoming more attached to me. Then in April, she got pregnant and I decided she was to be my indoor pet from then on. She gave birth and after the kittens were ready to be rehomed she was spayed. It was during this period that she saw me through the deaths of my two rabbits and the falling out of a friend group. She started becoming more alert to my anxiety issues and preceded to start laying on my chest when I would have panic attacks. And just like that, I was hooked. My anxiety has always felt like an overwhelming monster that I couldn't shake or handle. After the death of my dog, Red, it had been so long since I had an animal that helped with my anxiety. She was something that I didn't know that I needed.
Eventually Honey and I became bonded like she was my familiar just waiting for the right time to come into my life. She was meant to be my cat and I was meant to be her owner. We talk to each other and cuddle. Yes, I talk to my cat... sometimes I even meow back at her. She makes me laugh and smile with her little quirks. She came into my life during a period when I didn't know that I needed her and now as I push through what's been the hardest four months she's been my lifeline. She saved me. She helped me through the sudden death of my grandfather and a hard breakup. A time in my life where I thought I was never going to make it through. She helped me through every tear-filled night in June as I planned a memorial for my pappy and every moment that I wished I could just text my ex. She's been my lifeline.
As the months have gotten colder my cat has developed health issues herself taking the form of unexplained seizures. These health concerns surfaced in mid to late August but have gotten considerably better. We don't know how these seizures really developed. All we do know is that her breed can be prone to overheating and UTIs and both of those can lead to unexpected seizures. I do my best to care for her although the fear is a bit heavy. I try to ensure she stays comfortable and safe in the event she seizes, but even in her own stress she still manages to make my day better and significantly brighter.
My cat is precious. She's funny and courageous. She's smart and calm. She's become a celebrity amongst my friends and everyone loves her. She's a gift sent from the gods. She's my best friend and my whole world. My Honey is my savior.
cat
About the author
Hi, I'm Katie. I'm a 27-year-old musician with a passion for writing and streaming. Aside from writing on Vocal, I stream on twitch. I play a variety of games. In May of 2021, I lost my dearest grandfather and it's forever changed me.
Reader insights
Be the first to share your insights about this piece.
Add your insights