Stewie's Tail-Wagging Transformation: How Ollie Food Fuels My Three-Legged Race to Health and Happiness
From health hurdles to Chihuahua races, dive into the inspiring life chapters of Stewie and his quest for a joyful, healthy life.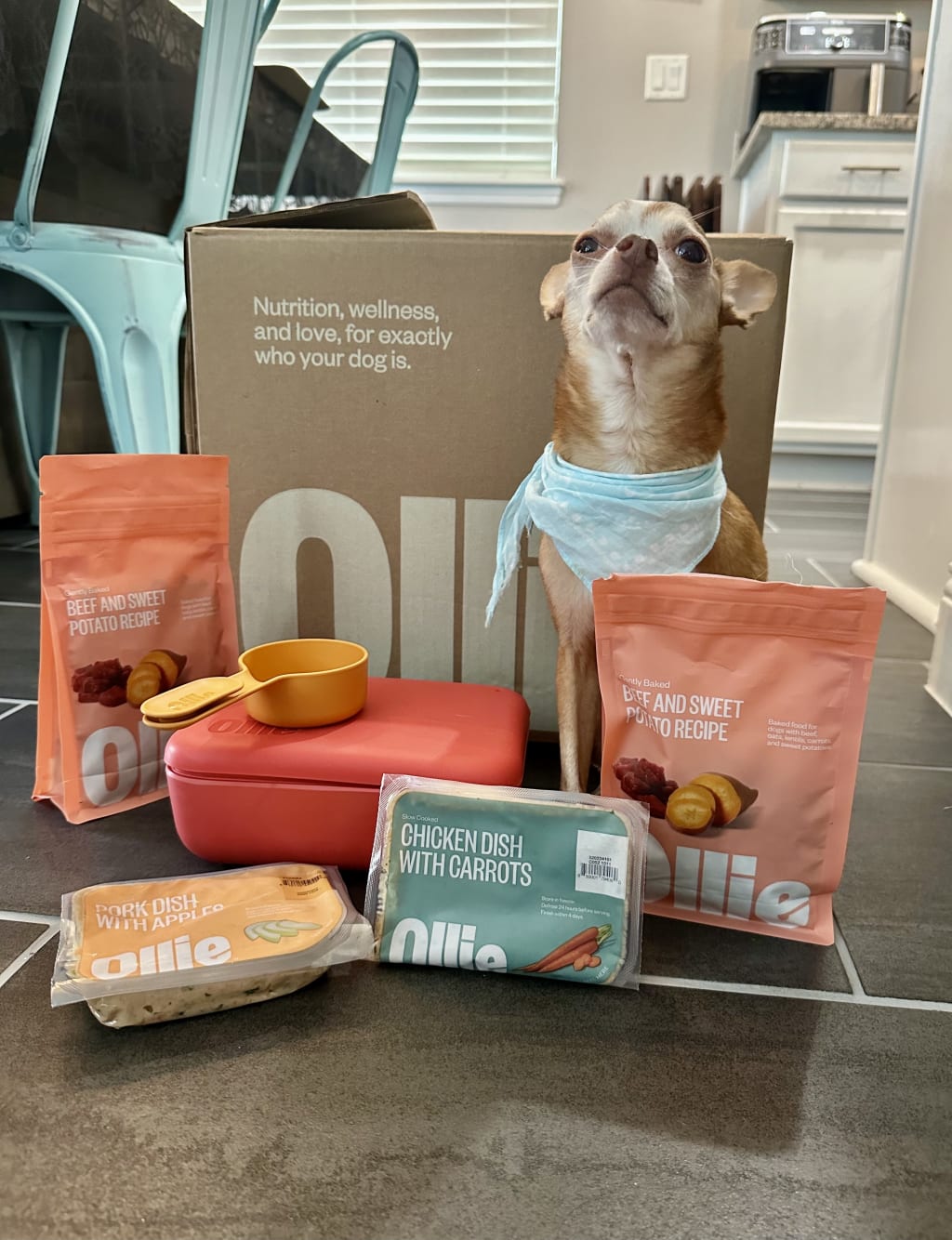 Why I'm an Ollie Pack Dog:
Hello everypawdy! My name is Stewie. I'm seven years young and I live in St. Petersburg, Florida. My mama rescued me in 2021, just five weeks after I became a tripaw. Don't fret, I can still run super fast! I even participate in our local Chihuahua Races. I adore belly rubs, relish walkies, and have fun playing with my lamb chop stuffed animal. My mom is my best friend, and I never truly understood love until she rescued me. I am a very spoiled (and might I add, handsome) boy. I love being social, dressing up in fun outfits, and always being the center of attention. The puperazzi can't get enough of me!
Though I've been living my best life since being adopted, it hasn't been all smooth barking. I have a few health concerns my mom consistently monitors to ensure I remain a vibrant young lad. I suffer from chronic abnormally high liver enzymes, episclerokeratitis in both eyes, and an ultra-sensitive tummy. She's also concerned about the joint health in the shoulder opposite my amputation since it bears a lot of my weight. I'm so grateful for my mom; she's ceaselessly searching for ways to keep me jovial, healthy, and energetically exploring the town. That's where Ollie enters our lives. She believes Ollie helps her take the best care of me!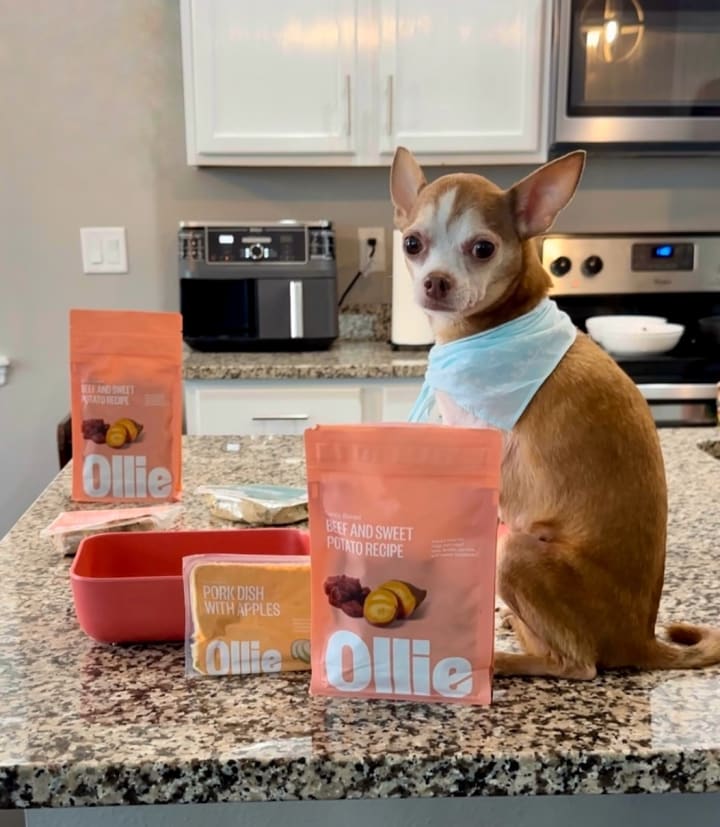 Reasons why my mom chose Ollie Foods for me:
1. It's REAL food.
Ollie sources prime ingredients and employs stellar cooking techniques, ensuring I receive the nutrition I need. Given my chronic high liver enzymes, I am at risk for lethargy, diarrhea, decreased appetite, and intestinal absorption issues. Thus, eating clean, healthful recipes packed with ingredients that promote overall organ health is crucial. Consuming the right foods also aids in maintaining healthy vision and staving off eye diseases like the one I battle. Mom stresses the significance of daily omega-3 fatty acids, beta-carotene, and Vitamin A intake for healthy eyes. Additionally, Ollie's natural foods boast essential elements like phytonutrients and antioxidants. These are vital not just for dogs diagnosed with arthritis or joint issues but also for those, like me, looking for preventive care. We all need to nourish our adorable selves with quality stuff! Ollie incorporates authentic ingredients: veggies, fruits, robust grains, and top-tier proteins. The visible veggies attest to its freshness and premium quality. Plus, all their foods are crafted in human-grade kitchens – super impressive!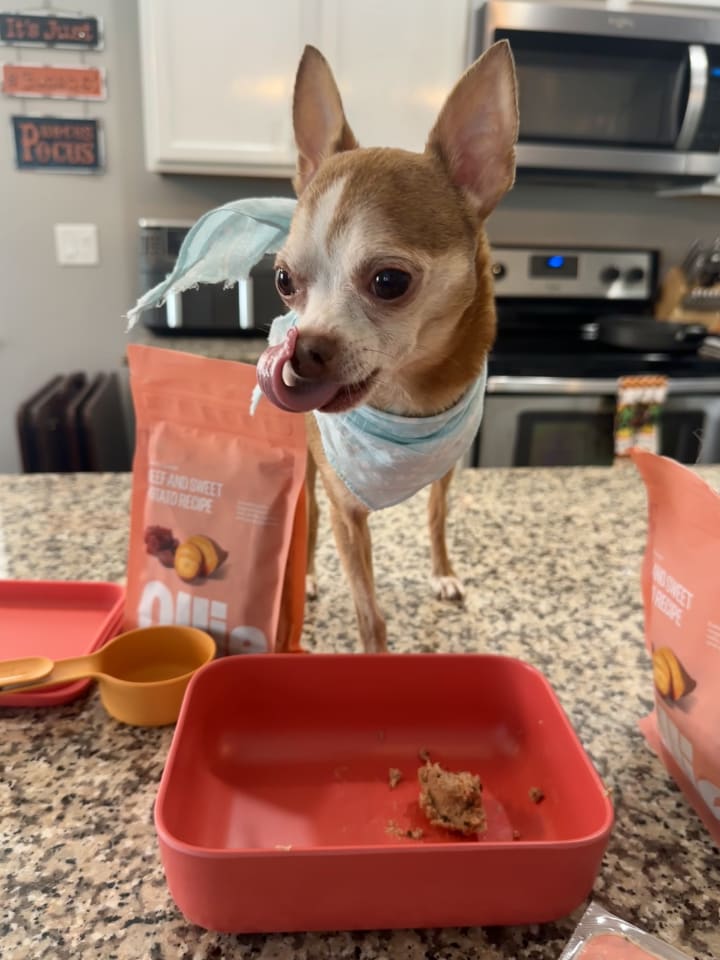 2. It's tasty.
I fell in love with Ollie from the first bite. Mom was astounded by my immediate liking, especially considering my fussy palate! My top picks? The beef dish with sweet potatoes and the chicken meal with carrots. They're so scrumptious that mom serves me both together when I'm being good. Ollie's high-quality protein recipes, derived from whole foods and slow-cooked, are a testament to its delectability. Both fresh and baked offerings are free from preservatives, fillers, or artificial flavors. Given my sensitive stomach, this is paramount. Since switching to Ollie, my appetite has soared, and digestive issues are history!
3. Extra benefits.
The perks of Ollie's food plan are numerous. Since adopting this balanced diet, mom observes that my fur feels softer, and I itch considerably less. Nutritional inadequacies can induce dry skin, exacerbate allergies, and yield a rougher coat. Now, I can look my absolute best! A nutritious diet also fortifies immunity. Conversely, processed foods may deplete the immune system, lacking the essential nutrients our bodies need. According to one study, dogs that are fed a homemade fresh diet live longer than dogs on traditional diets!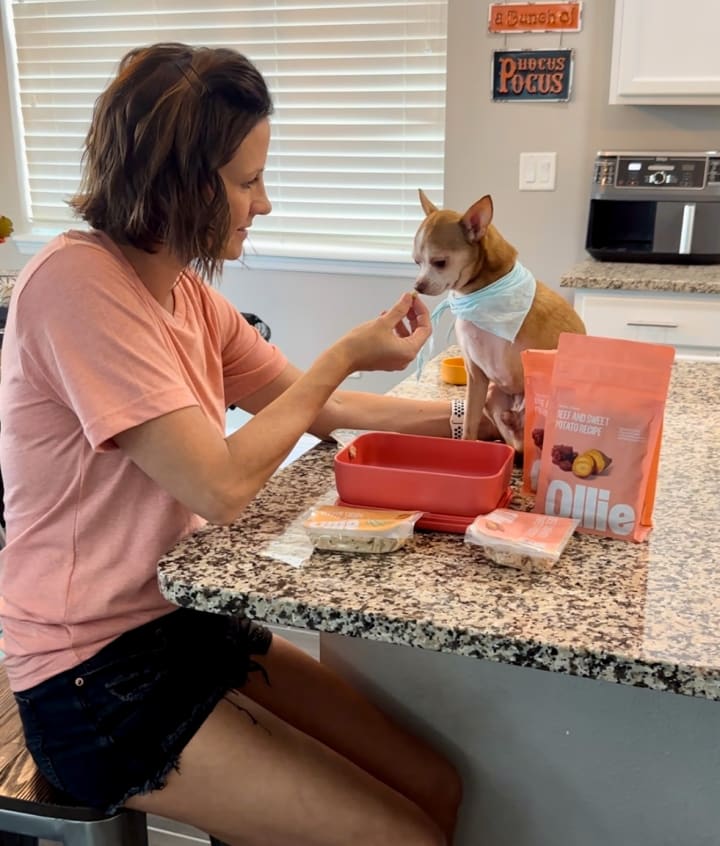 4. Easy for mom.
Mom simply completed a brief quiz about my preferences, breed, age, etc., and Ollie's board-certified vet nutritionists suggested a tailored meal plan. You even get to pick between baked or fresh recipes. I opted for a mixed plan because variety is the spice of life! The food is then delivered right to our doorstep, frozen and timely, which makes mom's life easier. The package includes a handy food scooper, a feeding guide, and a puptainer ensuring everything remains fresh. Given mom's hectic schedule, Ollie's convenience is a blessing. They ship to all 48 contiguous states, and my initial order arrived promptly. Mom also appreciates Ollie's affordability; two meals cost $3 or less daily, with free shipping. The cherry on top? A whopping 60% off your first food box! And their membership program lets you dictate delivery frequency.
If any pups out there experience issues like mine, I recommend trying Ollie. Even if you're the picture of health, prevention is pivotal! Mom can't be certain of my diet during the initial five years of my life, but she's committed to ensuring a nutritious lifestyle benefits me in the coming years. I've got grand ambitions, like clinching victory in the Chihuahua races. I have big dreams, such as racing in the Chihuahua events and hopefully taking the top spot! I'd be thrilled if you'd join me on my journey. Do follow my adventures @acutienamedstewie for a mix of fun and valuable health tips.
About the Creator
Hi there! My name is Breck and I am Stewie's dog momager. Stewie is a tripaw rescue chihuahua who loves to dress up, belly rubs, and be Mr. Social around town. We love to share our adventures as well as products we love.
Reader insights
Be the first to share your insights about this piece.
Add your insights