Stella's Perfect Pairing
The Story Of A Dog and Her Favorite Breakfast Shop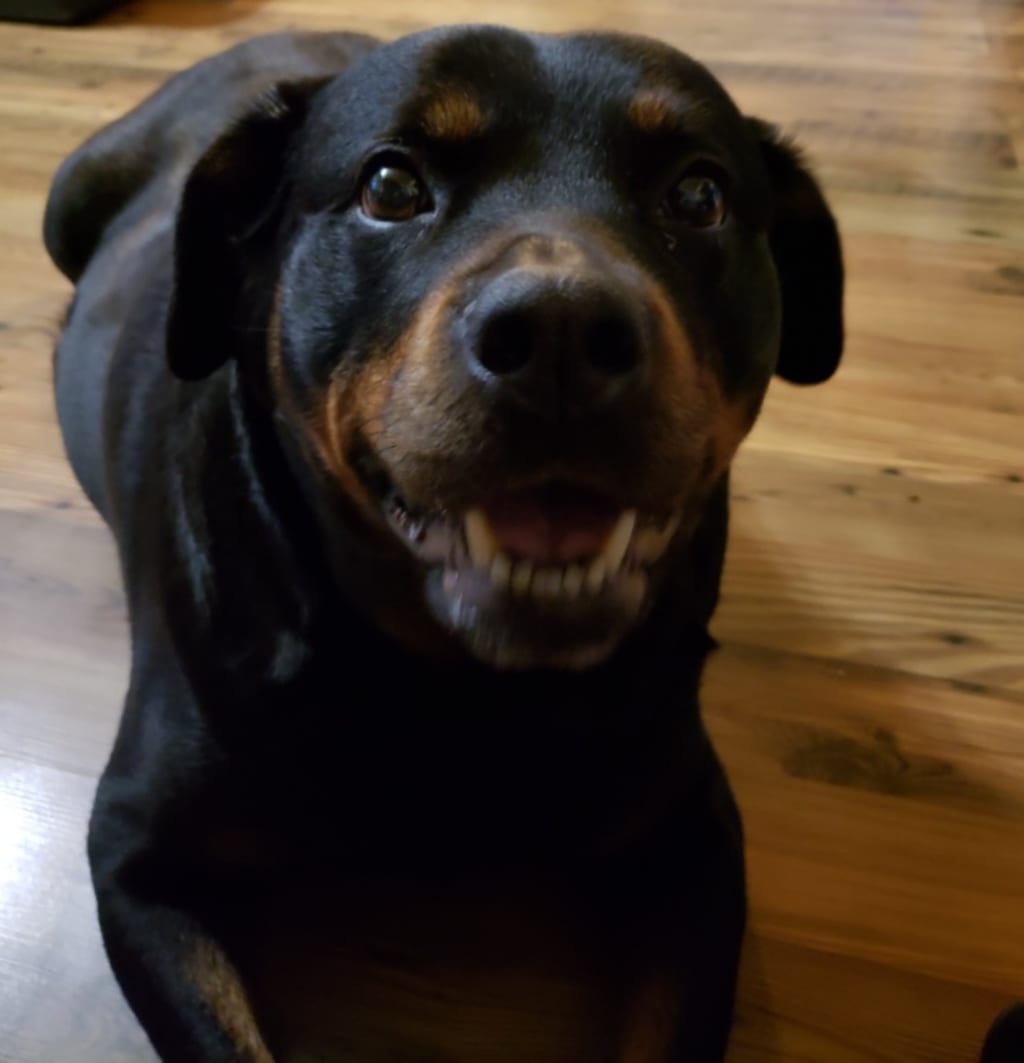 Stella was technically my sister's dog, but I treated her like she was my own. I would bring her out when I brought my dogs out, I would cuddle with her, pet her, and play with her the same way I did with my own. I would give her snacks whenever I gave them to my own dogs. We even had a morning routine where I would spend time with her while I drank my coffee. I loved her like she was mine, and I think that might be why it hurts so much that I didn't get to say goodbye. She passed away in July, when I was stuck at work. We'd dropped her off at the vet the day before, but we thought she was coming back.
I can still remember how much it hurt when I walked through the door for the first time since she was gone. She wasn't there to greet me, as she always had been. The house still feels empty without her. It's especially hard when I catch myself calling out to her or noticing that her water and food bowls are empty before remembering that she's gone. I'm not writing this to make myself sad, but I felt compelled to honor Stella. I wasn't going to enter the perfect paring contest because I didn't think I had anything to add, but then I remembered Stella's perfect pairing.
Stella was spoiled. She had two toy boxes overflowing with toys and a daily snack routine that would have made any other dog jealous, but there was something she liked more than any of that. Breakfast. Specifically, breakfast from a local bagel shop. It had started out as my breakfast, but I couldn't resist her puppy dog eyes staring at me as I ate. I would get a bagel sandwich and break little pieces of egg off to give her, but eventually she got her own. I didn't order her anything crazy, just a singular scrambled egg for herself.
Some people claim that dogs don't understand when you tell them things, but I felt like she knew when I told her I was going to get breakfast. The way she greeted me when I arrived home with our breakfast food was different. She always wiggled and gave kisses when someone came home, but when I had breakfast, she would wiggle so much that her back paws would temporarily leave the ground. We even remarked that it was her dancing and planned to get a video of her 'dancing' when I came home. Unfortunately, we never got the chance to record her.
When it was time to eat, she would always position herself between my sister and me and wait patiently for us to give her bits of our food. I had often described her eyes as 'hungry eyes' because she would look at me and then look at my food while she waited, making it clear what she wanted. My sister and I took turns giving her the egg, which she ate slowly. We always thought she ate things slowly whenever she wanted to enjoy them.
Despite loving the food and coffee from that bagel shop, I haven't been able to go back since her passing. I had come to think of it as Stella's breakfast place, and I can't see myself having it without her. I think it would be too painful to look down and not see her positioned between me and my sister or to leave out her scrambled egg when making the initial order. Whenever I pass that bagel shop, I find myself wishing that Stella could enjoy it with us one last time.
dog
About the author
Jade is an indie author from Louisiana. While her first book failed, she has plans to edit and republish it and try again. She has a senior min pin that she calls her little editor, and a passion for video games and makeup.
Reader insights
Be the first to share your insights about this piece.
Add your insights