Stella's Favorite Breakfast
Stella was a dog who knew what she liked, and she loved food.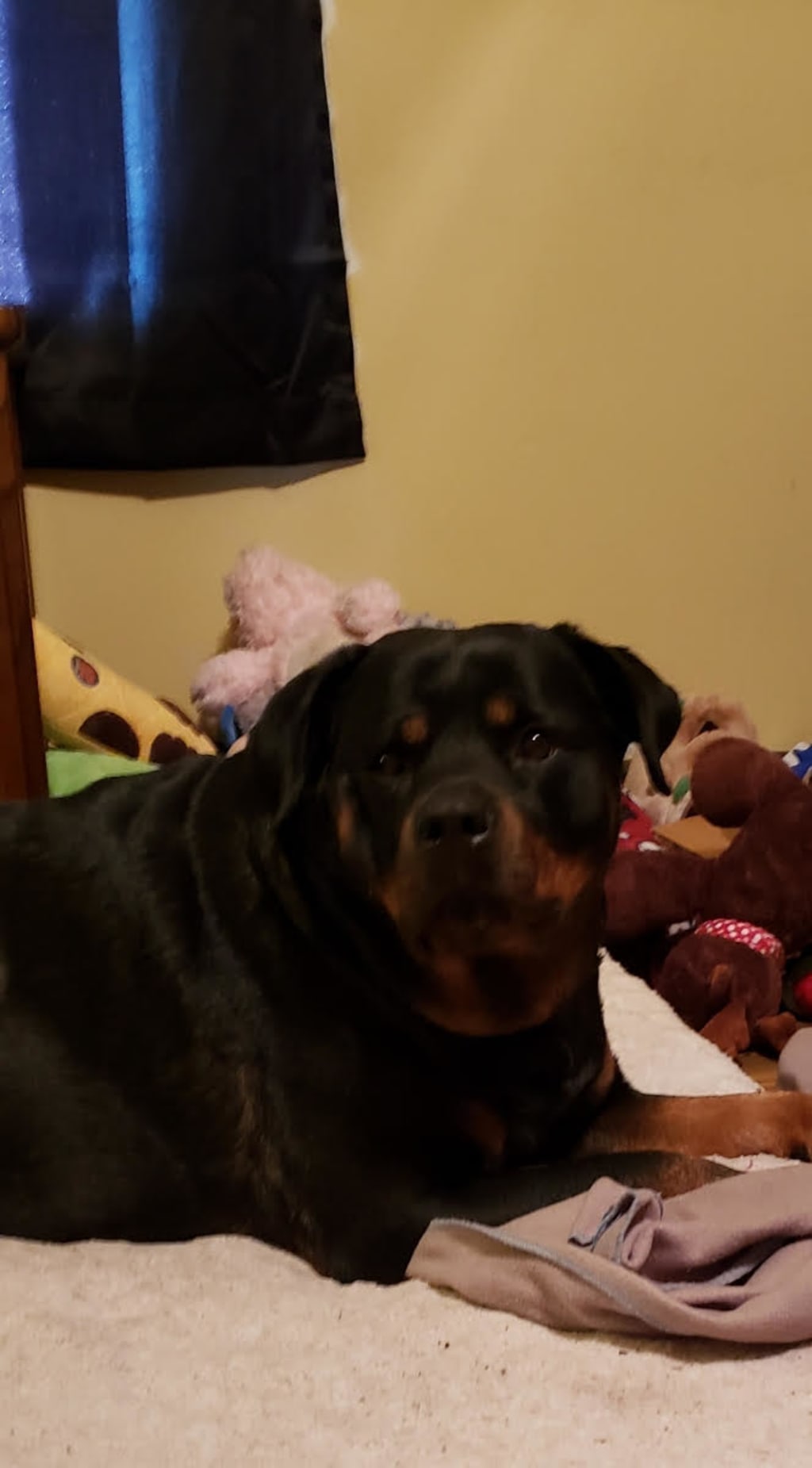 Most people would say it was impossible for a dog to have a favorite restaurant, but I'm sure they'd change their tune if they could have met Stella. Stella was a dog with a big personality. She knew what she wanted, and she had no trouble expressing herself.
Stella was my sister's dog, but I thought of her as one of mine. I often described her as a rottweiler teddy bear, since she was so sweet and cuddly. I treated her the same as I did my own dogs. I bought her presents and snacks on the holidays or when I had extra money. I even took her outside when I brought my dogs.
She saw me as one of her humans, which means she was always happy to see me. She would greet me at the door and wiggle her entire body when I came home from work. She'd also lick my face whenever she could reach it. Sometimes she'd even follow me around, and she always seemed to know when I was having a bad day. She'd show me extra affection on those days.
I'd often sit with her in the mornings while I drank my coffee. I'd pet her while absentmindedly watching whatever happened to be on tv (usually the news). Sometimes I'd even be lucky enough to have some food that I could share with her.
I'm a morning person, so breakfast has always been my favorite meal. I found a local bagel restaurant with an extensive menu that my family enjoyed. Whenever I could afford it, I'd pick up breakfast for my family (and flavored coffee for me).
Stella always knew when I was going to get breakfast, and she'd greet me by wiggling her entire body. This wiggle differed from when I came home from work because she'd wiggle so hard her back paws would momentarily lift. We called it 'getting dancey'. She'd follow me into the kitchen after and watch as the food was being handed out.
After we all had our food, Stella would lie on the floor between me and my sister and wait patiently for us to slip her little pieces of egg. It took little to make her happy, but sometimes there wasn't much egg for us to share with her. I decided to start ordering an egg just for her.
I'll never forget how happy she was the first time I ordered her an egg. She knew something was different because she kept looking at the extra food container. It was almost as if she knew I'd gotten that for her. When we were done eating, I gave her the egg, and she was slow and gentle when she devoured it. From that point on, it become a breakfast tradition, and I made sure to never forget it.
Sadly, Stella passed away during the summer of 2020 when I was at work. I never got the chance to say goodbye to her. All I have left of her are memories. The memories are simple and sweet, and I know I'll cherish them forever, but I can't begin to describe the emptiness I felt the first time I walked into my house after work, and she wasn't there to greet me.
The entire house felt quiet without her there. I can still remember the hot tears that streamed down my face when I brought my dog out that night. The sight of her empty bed and bowl was almost too much for me to deal with, and the weeks following her passing were especially rough for me.
Stella has been gone for over a year, but I still refer to the local restaurant as Stella's restaurant. I haven't been able to eat there since she passed away, and I honestly don't know if I ever will. Even though I have nothing but wonderful memories of sharing my food with her, I don't think I could eat from that restaurant without thinking of her.
I know my memories of Stella are simple, but sometimes simple memories are the best. I miss Stella and wish she was still here with me, but I still smile when I think of all the good times, I had with her.
dog
About the author
Jade is an indie author from Louisiana. While her first book failed, she has plans to edit and republish it and try again. She has a senior min pin that she calls her little editor, and a passion for video games and makeup.
Reader insights
Be the first to share your insights about this piece.
Add your insights