Squirrelendipity
Photo Expedition and Friendship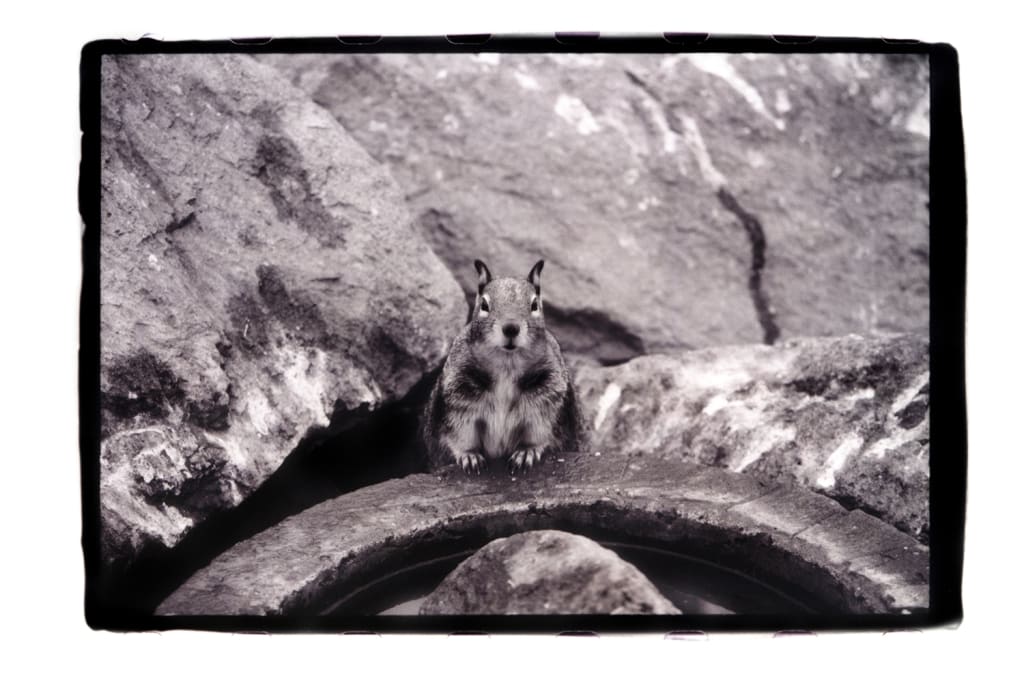 Photo © Lon Casler Bixby
I was on a photo expedition in Morrow Bay, California shooting the typical tourist-type photos that everyone who visits the area shoots.
After getting a few nice shots, I decided to stroll over to the docks, view the boats, and then take a seat at the end of the docks and sing "Sitting on the Dock of the Bay." It had always been a dream of mine to do that. But as I walked down the dock, this beautiful and quite animated Pelican decided to put on a show. Perched on top of a piling he squawked, flapped his wings, and danced like a street performer asking for tips, or at least asking to be photographed for posterity. I obliged him with a beautiful portrait before continuing on to fulfill my dream.
With fishing boats rollin' in, I sat on the edge of the dock, feet dangling just above the water, and started crooning "I'm sittin' on the dock of the bay... Watching the tiiide roll away.... Oooo..."My off-key rendition was suddenly interrupted by the sound of snickering. I turned around to see some old "Salty-Dog" Sea Captain shaking his head and trying to hold back laughter as he prepared his ship to roll out again.
Embarrassed, but having at least lived part of my dream, it was now time to trek out on the jetty toward one of the "Sacred Sisters" (a chain of ancient volcanic peaks). It turned out to be a longer walk that I had anticipated, so about half way to the "Sister" I decided to take a break from the hike, sit on a rock, and just enjoy the moment, the view of the bay, and the nature that was all around me.
I sat for a few minutes watching the seagulls, shooting a quick shot here and there as they flew past in their constant search for food. The seagulls in this area are quite fearless and after realizing that this quiet photographer was not a threat, they started landing near me, many within arm's reach. Not one to miss an opportunity, I lifted my camera and was able to capture many intimate shots of the birds calmly relaxing in their surroundings.
After photographing the birds for a while, I decided it was time to explore further out on the jetty. I gathered my belongings, stood, and suddenly noticed movement out of the corner of my eye. It was a squirrel! Wow! I had no idea that squirrels lived out here by the ocean. Must be quite rare. Then I noticed another... and another... and then many more. Hmmm, not so rare, I guess. But I had no idea what type of squirrels they were... So I dubbed them... "Sea-Squirrels." And like the seagulls, they were fearless; mostly because every tourist that came out here continually fed them.
And again, not wanting to miss an opportunity, I started snapping a few shots of the cute little rodents as they raced about looking for handouts from the other tourists. Before I knew it, the squirrels were gathering around me looking for food. And since I had no food, a few of them started chewing on my sneakers and pant legs. Thinking this was cute, I took a few shots as they enjoyed themselves on the cuffs of my pants.
Suddenly one squirrel dug his nails in and started climbing right up my leg. Nope! That was my limit. I gently brushed him off; he gave me a surprised look, and then walked away from me, swishing his tail. I watched him go, but every few feet he would pause, turn around, and chitter at me as if he wanted me to follow.
So I did!
He led me to the other side of the jetty where he stopped at a fresh-water drinking hole. He took a long cool drink, and then turned toward me, and I could swear that he motioned for me to sit and share a drink with him. I sat, but did not take him up on the offer to drink.
Instead, I took some photos of my new-found friend as he politely posed by his hidden watering hole.
As the time passed we became more comfortable and told each other the stories of our lives; we laughed, we cried, we shared our loves, our losses, our inner-most thoughts... and we simply enjoyed the serendipity of each other's company.
The afternoon gave way to evening and the conversation began to die down, it was time to leave. We hugged, bid each other a farewell, and with the memory of our shared experience forever embedded in our souls, we went our separate ways.
The years have now come and gone... and every time I view the portrait I made of my "Sea-Squirrel" friend, I am reminded of those wonderful hours we spent together, and it always makes me smile.
© Lon Casler Bixby
About the Creator
Lon Casler Bixby is a published author: Fiction, Poetry, Humor, & Comic Books. He's also an award-winning photographer whose work has been featured in magazines, art & coffee table books, & in Art Galleries throughout the world.
Reader insights
Be the first to share your insights about this piece.
Add your insights