Setting Expectations
Or, Rather, a Lack of Them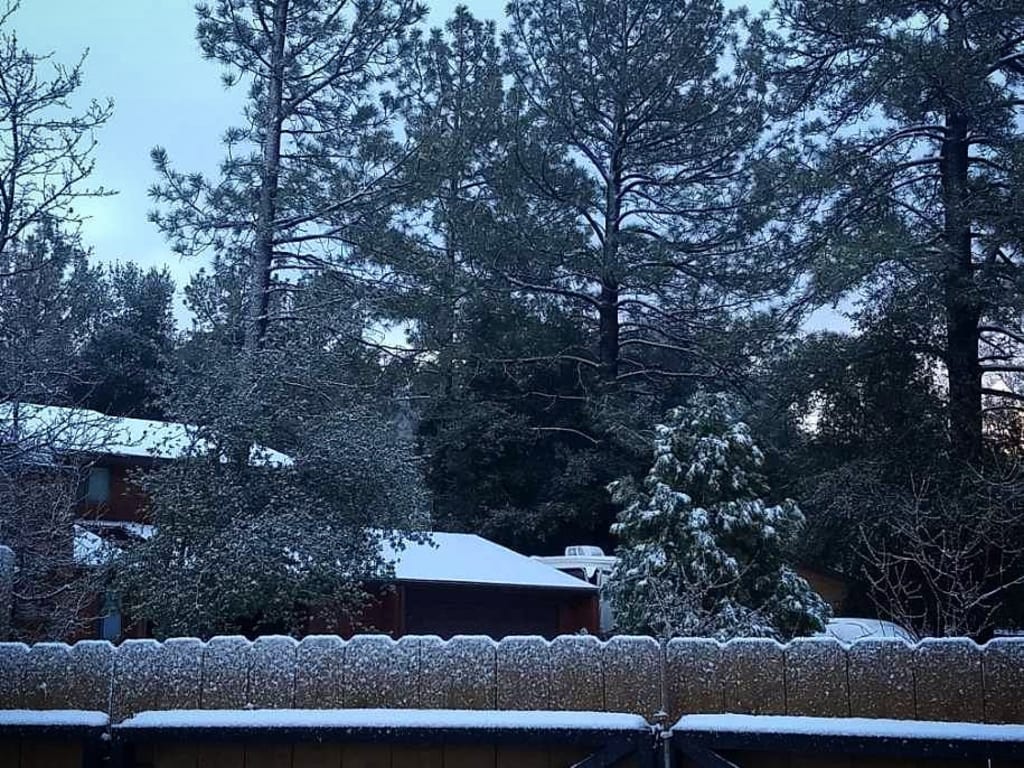 Snowy mornings in the mountains of California
Just the other day, I tacked up my three-year-old thoroughbred mare in her dressage saddle and bridle, lunged out her bucks and leaps, carried the mounting block to her side, and got smacked in the face by cold, hard reality. Anyone with a young horse KNOWS that everything was going far too smoothly in the beginning of that narration.
My horse wouldn't let me mount.
Every time I set the mounting block at her side, she would take a step backward. When I would step foot on the mounting block, she stepped backward. When I grabbed the saddle, she would step backward. When I gathered my reins, she would step backward. When I put my foot in the stirrup, she would step backward.
You get the idea.
Then comes the part of the story I am not so proud of ... I lost my temper. One smack on her flank resulted in my sensitive mare turning to face me and flying backward. In all the fuss, my reins broke and she galloped away. This was the moment where I realized that my expectations for my horse were far too high. A quick walk/trot ride was just not in the cards for that day. I adjusted my goals and ended up quickly mounting, walking a lap around the round pen, and hopping off.
This is an all too common experience in my life, as well as many other equestrians. Just a few days after this incident, I mounted my eight-year-old rescue mare and found out that I had failed to teach her to stop. Every time she halted on the ground, she was getting the cue from my body language, not the pressure on the halter or "whoa" vocal command. I wasn't even surprised at this point, just trying to roll with the punches in my exhausted and apathetic state.
These setbacks are especially common during the winter months, where horses are cooped up due to rain and snow in the colder weather. Every horse is more energetic, full of attitude, and eager to get out and RUN!
'Tis the time of year for surprise mud baths and faces full of snow.
Bucks, rears, kicks, spins, leaps, and constant bolting.
Especially when it comes to developing hot young horses, every training session needs to be scaled back. From a quick walk/trot ride, I have changed my goals to lunging without ripping the line out of my hands, taking a walk on the trail without trampling on my toes, or tacking up without sitting and breaking the halter (again). Going back to basics, focusing on ground manners, and staying alive are the goals for the winter season with my mares.
For those with indoor arenas and attached barns, maybe this advice is irrelevant. However, I know this is not the situation many of us find ourselves in during the thunderstorms and blizzards. Muddy arenas result in falls during turnouts, and damp stalls lead to endless thrush. The reality is that many facilities just aren't set up properly to thrive in less than ideal weather conditions.
So leave behind the guilt and blame, the frustration and fear, even the (not so subtle) tears. The sun will come out soon and our horses will lose their thirst for blood. Until then, think small! Big dreams were made for warm weather and dry arenas, not slick ice and muddy blankets!