Saving my Savior
The Story of Bundles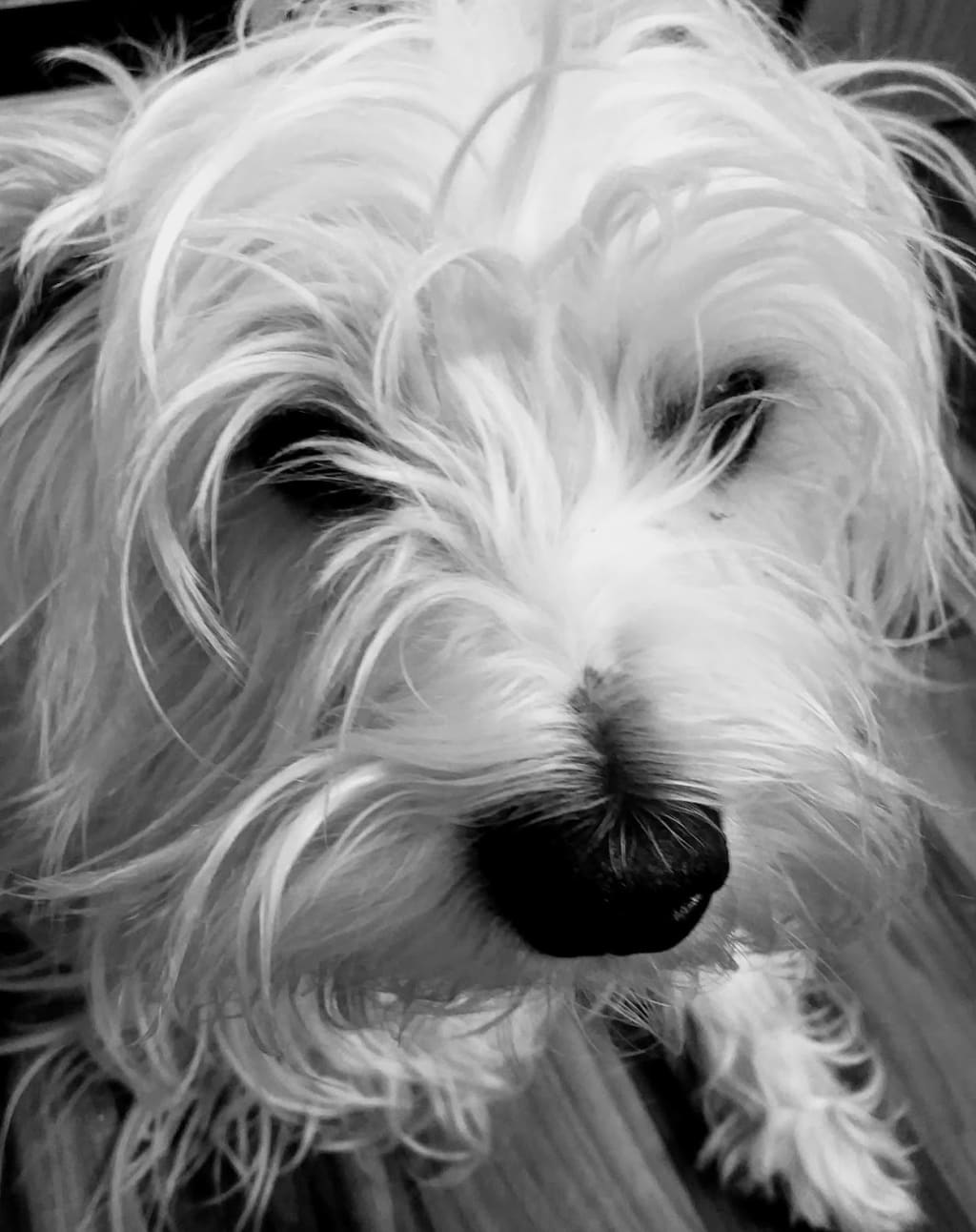 Bundles, Emotional Support Animal of Miss Mist
June 24th 2019
That is the day my life changed fur-ever. Unbeknown to me I was on a journey to adopt my own savior. You see, at this time I had felt that what I was missing in life was a dog. Many things lead me to believe in this theory... first I am a homemaker so I have plenty of time available to spend with animals, especially those that live in the house. Secondly, growing up we had a family dog and the love she gave, the energy she had, and the beauty she held were things that often brought joy to us. I felt that I was missing those in my life on the date I went to pick up Bundles.
He wasn't always named that though, he was Mack when I first got him. His story goes a little something like this. A truck driver found him in Texas and had brought him home to North Dakota. He was then placed on Craigslist as the family decided that they couldn't take care of him any longer. His 'rehoming fee' was $75 although looking back on it now, he quite literally was almost given away. The woman that greeted me seemed to be quite surprised that I had given her the money for him on the day I brought him home.
What I didn't know about this little fella though, I would soon learn from simply interacting with him. You see, he wasn't acting quite right and was clearly very sick as when he threw up it would be red foamy bile produced from his internal condition. He also began to appear fearful of the world around him, though, when I first met him he was very eager to say hello. I didn't realize that the pup I had brought into my life needed my help as much as I needed his... but I was beginning to understand this.
A visit to the vet, some costly medication, and a diet change soon had him feeling a bit better... at least physically. Mentally, my new friend still had a process to go through as he wasn't used to living with people. This was made apparent as in the first few months I owned him he attempted to run away more often than not. Where would he go? Just anywhere that looked interesting... and away from people. I would always follow him when he did this though as you remember, I needed him.
Mentally, I was in a similar condition than he was. I didn't have any friends, I didn't have work, and I needed something that I could feel cared for me as much as I did it. That's why it needed to be a dog *laughs* My 2 rescued cats care for me, but they are more independent than the species of dogs are. I had also been suicidal in the past which I won't get into the story of here, but was still trying to overcome the after affects of. My conclusion is that Bundles and I had something in common... we were both scared of the world around us and it was because we had both been in abusive situations.
Today, I realize that by bringing home this Craigslist puppy, what I really did was bring home another creature that had been in a situation as terrible as the one I had been in before. I had quite literally rescued him, unbeknown to myself at that time, and in turn he had only begun to rescue me. Isn't it amazing though, how he entered my life was in a way that I would be able to accept him as is and care for him without fear or regret?
So what has Bundles taught me?
Firstly, not all dogs like Grass! To me this is insanely confusing. Most dogs either use the little pads that absorb their waste products or use Grass to potty on. Bundles? He would prefer to use rocks or concrete to drop his waste upon. To this day I am unsure why or even how he came to behave in this manner. Perhaps, he was locked away somewhere when he was younger and had no interaction with grass as a baby? I've come to live with the fact that he's "allergic to grass" which I always find myself chuckling silently about when I introduce him to others.
And Secondly, dogs really can bond and imprint on a human being after they have reached adulthood. Though even this leaves me wondering if he was fully an adult when I received him. The Vets said that he was about 3 years old, though, he gained 5lbs when I started caring for him and although is a bit bigger, is very healthy in physical standards for his build. This bonding though is unique as he has the type of stubbornness that refuses to do things which he doesn't wish to do.
When it's raining, oftentimes, it is hard to get an animal to go outside for a potty break. However, with Bundles, he will absolutely refuse to move for anyone other than myself. Both my husband and my son will attempt to take him out. If I am anywhere near the sight of Bundles, usually it is only through trickery that the pup would go outside with either of them. I guess the logic here is know what you are asking for! I had asked for an animal that would show me love and be able to differentiate my care with the care that others can provide. Without a doubt, Bundles knows whom his mommy is and will always seek me out before others.
Through his relationship with me, I have learned that I am indeed special and that I belong. In his stubbornness, I have came to find that guiding is better than controlling. I have one of the world's best behaved dogs... he's quiet, he walks nicely on a leash, and his personality is still very apparent, yet, it's only through hard work and spending time together he has been able to accomplish this. People we meet no longer can see a street dog in him as he has blossomed into a great companion. This is true for me also... in working with Bundles, no one can see how long I was at rock bottom or the struggles I faced unless I tell them.
It can easily be said that by being Bundles savior, I myself was saved from some of the struggles I dealt with. I hope that this story inspired you to think about all the ways that your animals bring peace, love and joy to your everyday life!
About the Creator
Hello World!
It's impressive how two simple words can change your life isn't it? I will be writing about everything under the sun, most of my work leans to the inspirational side of things or recalling memories. Please enjoy the read!
Reader insights
Be the first to share your insights about this piece.
Add your insights