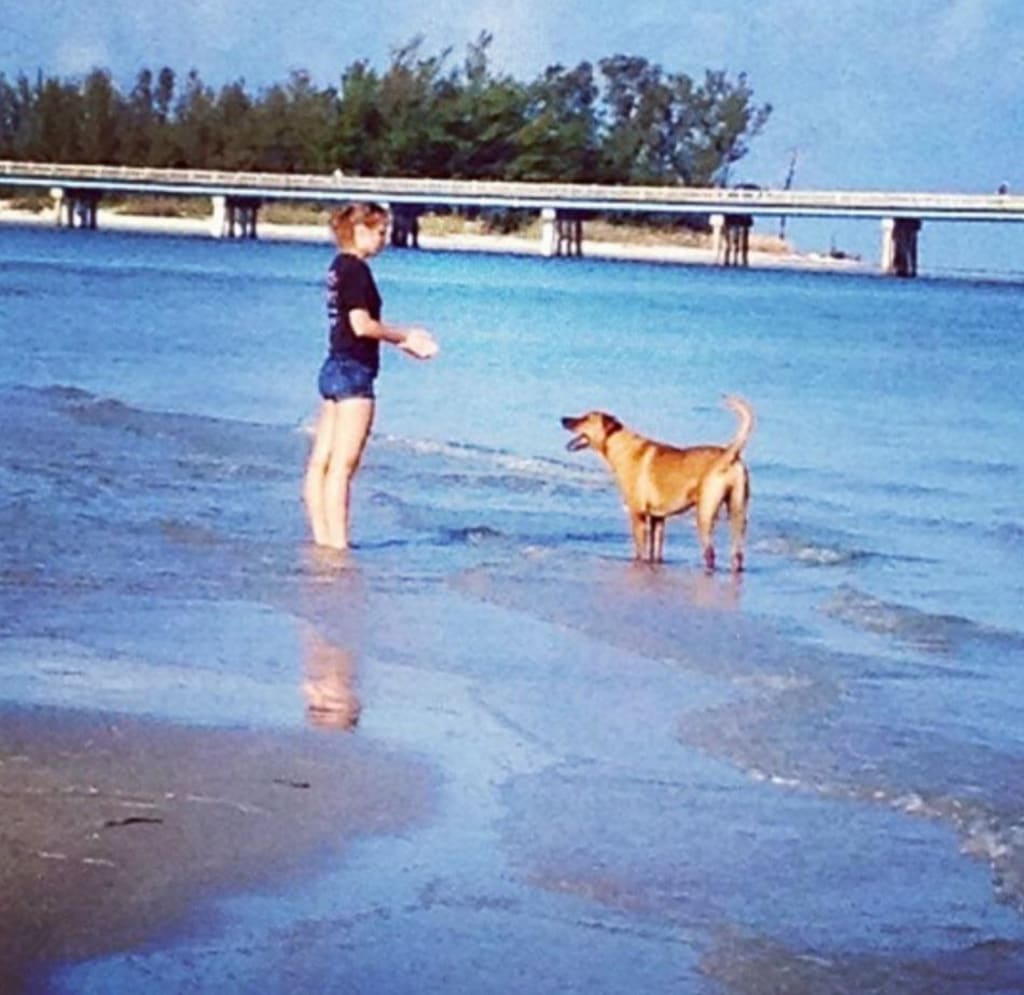 You were one in a litter of nine. To me, you were one in a million. I was a freshman, quickly learning that high school isn't nice to outcasts. I had saved up my babysitting money to cover your adoption fees. It felt like a fortune. Looking back, it was a steal. For $250 I got a best friend. For a small fee, I found love.
It was a family affair. My parents, my siblings, they didn't want you. Your brother was a looker. For a puppy, he was regal. They wanted me to pick him.
You, on the other hand, were awkward.
You might not have been born one, but you sure grew into the role of a leader. But before that, you were scared. Trashcans, sprinklers, strangers, you were scared of them all. Not for long.
It didn't take too much time for you to win over the rest of the household. You were still a dork at heart, but, boy, you were sure good at hiding it. You had become a faux guard dog.
I can't help but feel like you did that on purpose: saved your soft side for me.
The puppy that once literally crapped himself when a bird flew over his head soon became the beast that chased the feathery fiends off of his island.
Oh, your island. Salt, sand, and dog shit - what a place. The tide would expose a sandbar on the west end, and that was your spot.
You would rock the boat as you paced the four-foot stretch from starboard to port. It was a short ride to your sanctuary, but I'm sure it was never quick enough for you. You were jumping from the bow before we could drop the anchor.
Once you were off, you were gone for the day. The friends you made. The hell you raised. I remember it all. To me, it was sunsets and tan lines. To you, it was an adventure. It was a dog park fenced only by the ocean. It was a kingdom, and you, the king.
The days when we had the refuge to ourselves were glorious. We ran through the waves together. You wore a smile on your face as you looked back at me, as if to say "Mom, keep up!"
You would forget about me the moment other dogs showed up. In the face of a competitor, you were a force to be reckoned with. In the face of a friend, you were a protector. Crabs, stingrays, jellyfish, barracudas - we admired those potential threats together. Even you knew to respect their space.
I wonder if you think about those times. Now, when a walk to the yard is cause for a nap, do you remember when you could run for hours? Now that we leave your leash on the hook because you're too old to need one, do you remember what it sounded like when we removed it from your collar? Do you remember how it felt? To lose the weight of a boundary? Do you remember?
My Sweet Angel Baby, I know your nickname will soon hold a new meaning. Until then, I live for the days you act like your former self: the days when you bark at the mailman, the days when you get out of your bed to greet me at the door, the days when you mistake my finger for part of the treat in my hand.
I hope the Rainbow Bridge leads to an island off of the Gulf Coast. I hope there are gulls waiting to be chased and sand perfect for digging.
I hope you find a group of friends and you lead them on a new venture every day. I hope you smile at the sun as it shines a spotlight on your beautiful, salt-covered coat.
Most of all, I hope you wait for me. Stick close to the bridge, buddy. I'll meet you there one day.
dog
About the author
Reader insights
Be the first to share your insights about this piece.
Add your insights