Prioritizing my Pup's Health: Why I Switched to this Fresh Food Option
Ollie Fresh gives Teddy the necessary nutrients and vitamins he needs to stay healthy and looking "fresh" for the camera.

Supported byOllie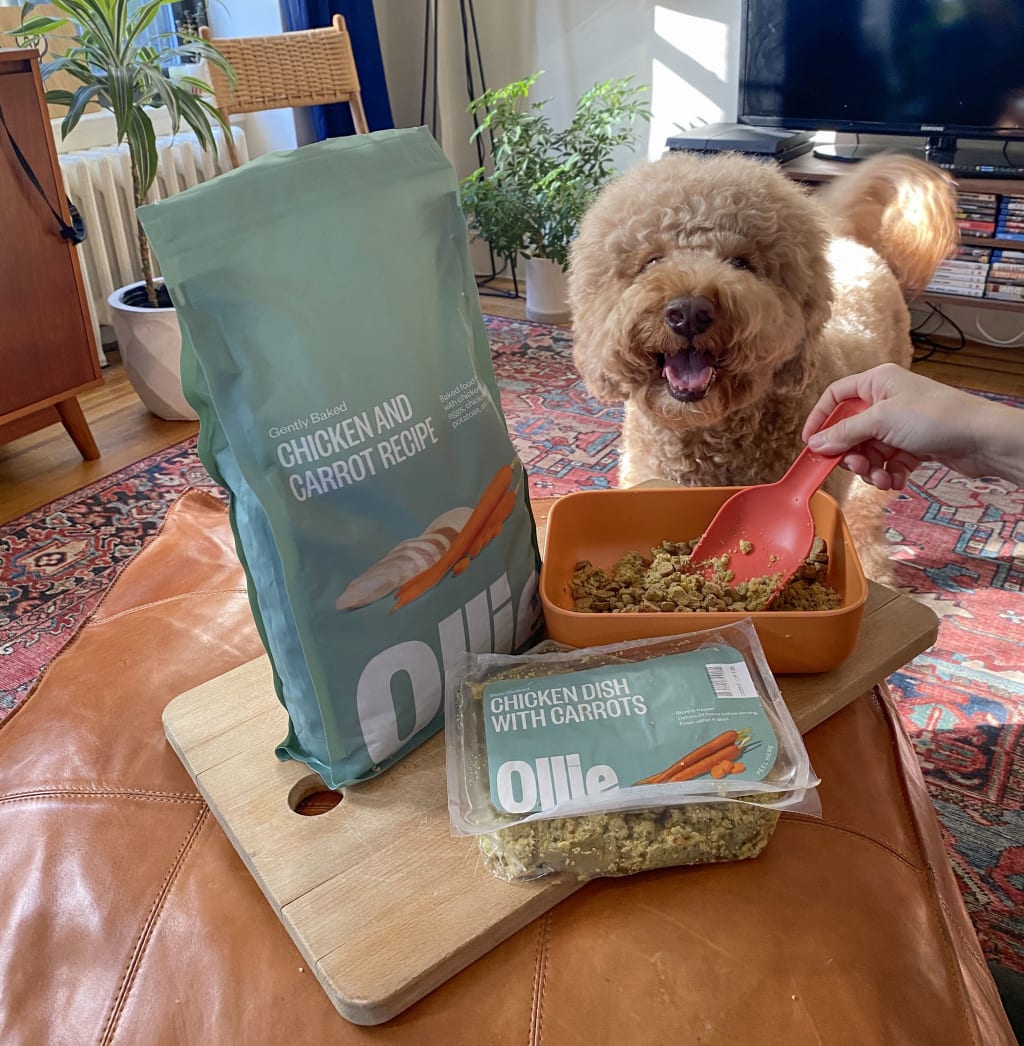 Oh, Teddy. He's my main man! And everyone else's, too. We all love seeing Teddy on camera—and of course, I want him to be as happy and as healthy as possible, both on camera and off.
While Teddy has always been a bundle of energy, I really wanted to give him everything possible to look fresh for the camera. Enter—a major diet revamp.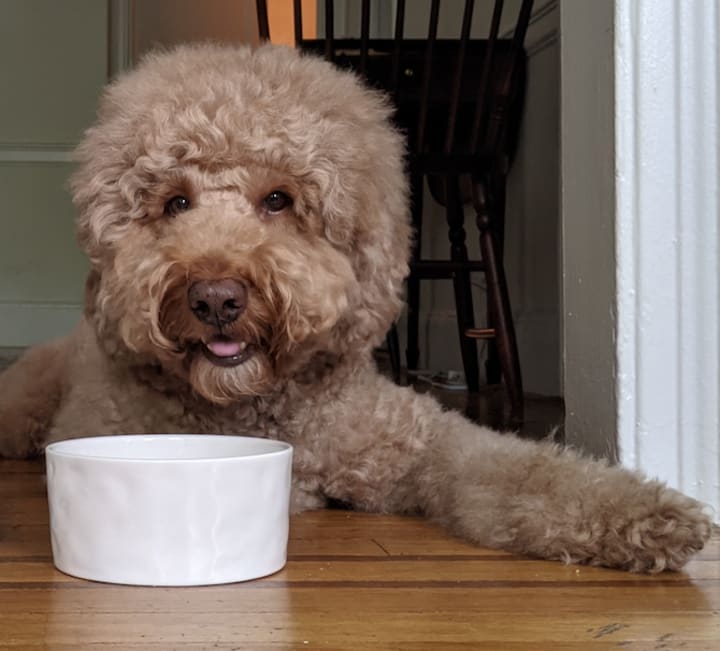 What Dogs Need for Optimal Health
It's no secret that the dog is the most popular pet in the world—and for good reason! Pups offer companionship, love, and laughter. And while they're relatively low maintenance on the surface, requiring little more than a lot of snuggles and some food, the reality is that there are a few more things that dogs need to stay healthy and happy.
They need water. That's a no-brainer. They need exercise. You can often provide this via something as simple as a daily walk or run. Of course, regular veterinary care is important, too.
But the number one most important thing your dog needs is a healthy diet. Store-bought dog foods claim to offer just that, but if you look at the label, you'll often find that they are anything but ideal.
So what nutrients do dogs need? You may be surprised to hear that they need many of the same things we do! It varies by breed, but most dogs need a certain intake of iron, fiber, and vitamins (including vitamins A, D, and E).
All of these combine to help keep up your furry friend's energy levels while also making them look as cute and cuddly as possible (in Teddy's case, as cute as possible for the camera!).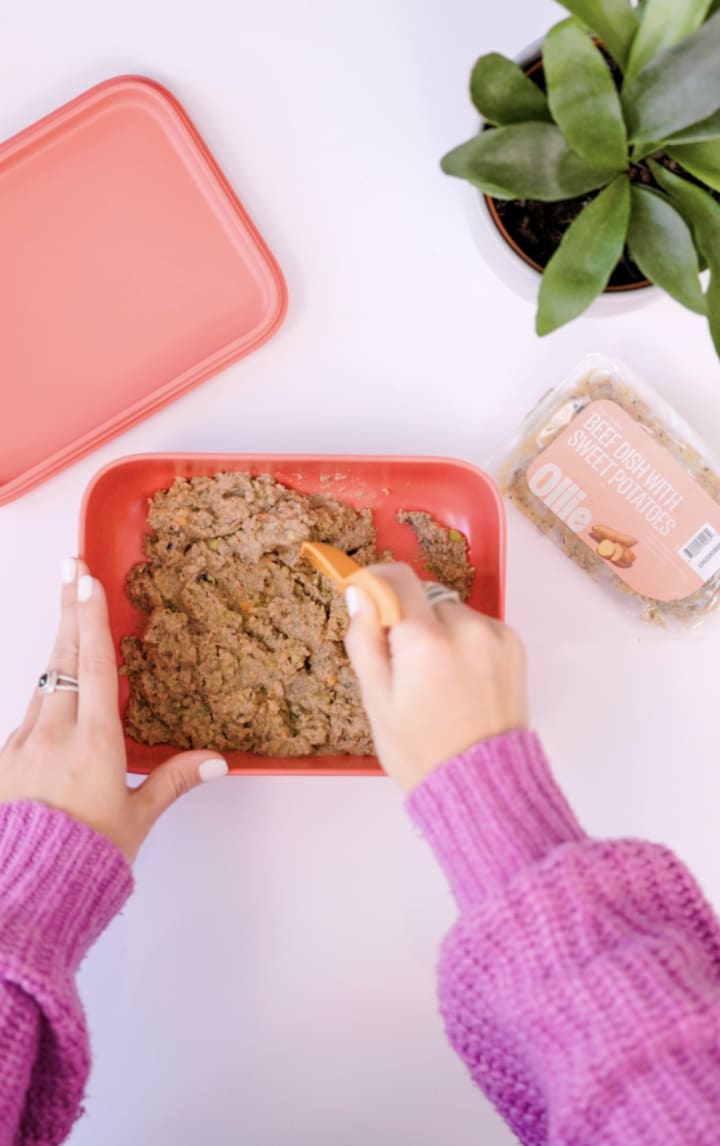 My Dilemma–and the Silver Bullet Solution
While Teddy's health was obviously my top priority, I wasn't really sure how to give him exactly what he needed. I wanted a way to balance his nutritional needs with his high-energy lifestyle. In a perfect world, I'd be able to pop into Walgreens and find the perfect dog food, just for Teddy.
But we don't live in a perfect world, so I wasn't exactly sure what to do next.
Fortunately, my friend recommended Ollie Fresh to me.
At first glance, Ollie Fresh looks just like all the other dog foods that are out there. But if you look closer, you'll see much, much more. And let me tell you, Ollie Fresh was the silver bullet solution to my Teddy-feeding problems that I'd been looking for!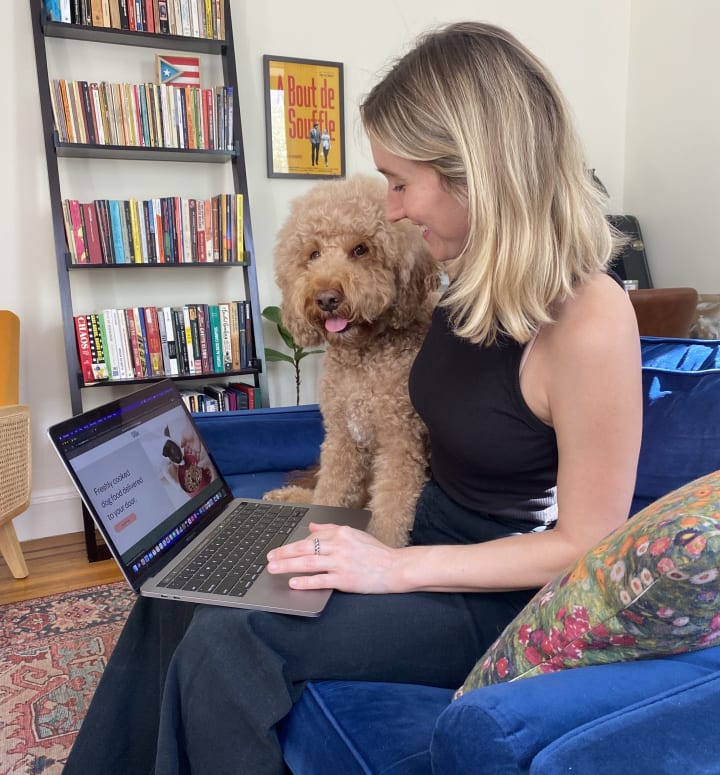 What is Ollie Fresh?
Ollie Fresh is a dog food that is made (with lots of love, of course!) to meet the highly individualized needs of dogs. No two formulations are alike—in fact, if you decide to feed your pup Ollie Fresh dog food, you'll be able to fill out a questionnaire with basic information about your dog to get a better idea of what he or she needs.
For Teddy, I was able to input specific information like his activity level (very high) and his need for a food that would boost his skin, eye, and hair health, in particular. You can also provide details like your dog's age, weight, and breed. That way, you can find a food that is anything but cookie-cutter—a food that is precision-made for your pup and your pup only.
Ollie's dog foods are minimally processed and made from all-natural ingredients. We're talking about things like chia seeds, fish oil, sweet potatoes, and beef. When I've bought dog food before… let's say… they were a little less than appetizing! When I open the box from Ollie, I'm half-tempted to try a bite myself. It's THAT fresh!
Everything is made through a gentle cooking, small-batch process, meaning nutritional value and flavor is maximized to the greatest extent possible. And of course, there's no fillers and no preservatives. Everything is made from 100% human-grade chicken, beef, turkey, and lamb, and are sourced to high-quality standards and abide by the USDA rules and regulations.
Ollie's Fresh is great for any dog, even dogs that aren't in front of the camera all day. It takes the hassle out of figuring out your dog's diet, which in the past, I always felt like it required a master's degree in nutrition to do. Provide your details, get your first (discounted!) starter box, and then wait for your delivery. You can pick how often you want your pup's meals delivered so the subscription works well for your routine and your dog's diet.
From beef to chicken, lamb to turkey, Teddy has tons of delicious food options to choose from each day. These are delicious recipes that require refrigeration - and can even be frozen for long-term storage and maximum convenience. You never have to worry about running out.
It's so simple and stress-free. After making the switch to Ollie's Fresh, all I have to do is wait for my food delivery each month.
Oh–and of course, standby for all the snuggles and Teddy kisses I inevitably get after mealtime. He laps this stuff right up!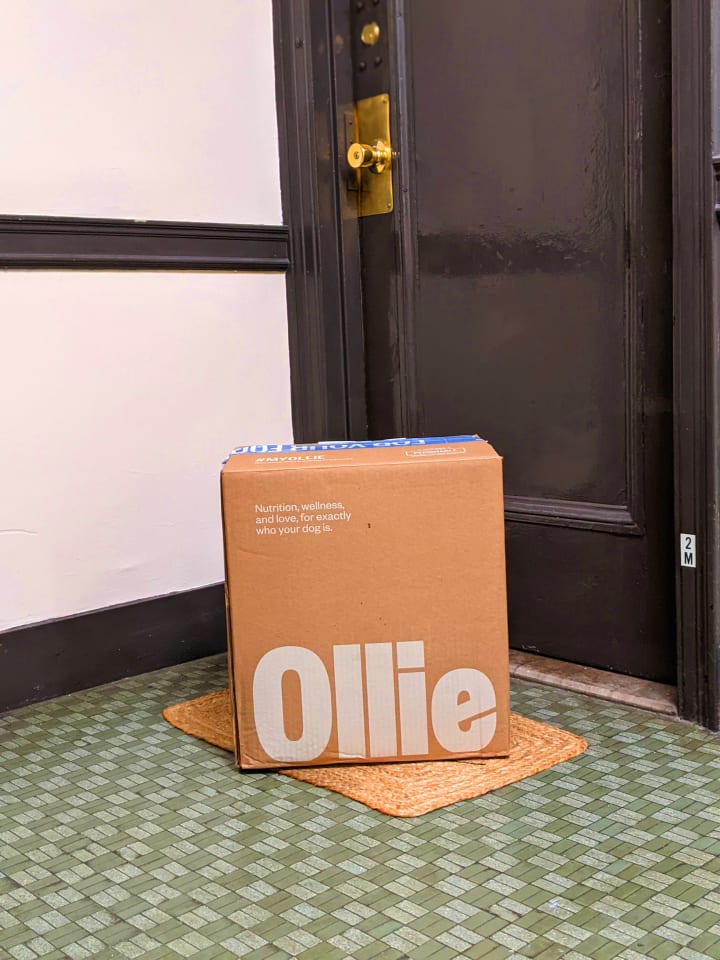 The Takeaway
Since switching to Ollie's Fresh Food, I've noticed a considerable difference not only in Teddy's appearance but also in his demeanor. He also LOVES eating this food. In the past, Teddy would leave his dog food in the bowl for hours at a time. Since switching, Teddy often comes to ME at mealtime to ask to eat. He wags his tail until he's finished licking that bowl clean (which, let me tell you, does not take very long at all).
Don't believe me? Check out his latest spots on Law and Order - or of course, on his Instagram. He is absolutely glowing! Not only that, but his energy has improved and he wants to go on more walks (and get ALL the pets, of course). Teddy's lifestyle has dramatically improved thanks to Ollie Fresh. He's looking forward to more people seeing him on the covers of magazines and playing even more roles on television.
As a proud dog mom, it's important for me to keep Teddy happy not just so he stays fresh for the camera, but so he lives the happiest, fullest life possible. With Ollie's Fresh Food, we can do just that.
Say cheese!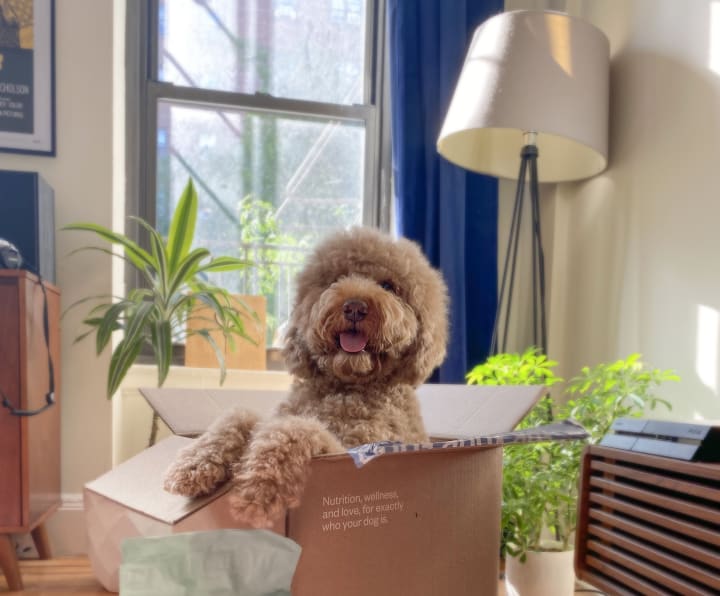 About the Creator
Teddy is a NYC based dog model/actor
Highlighted credits:
TV/Film: Law & Order: Season 21, Episode 7 "Legacy"
Magazines: New York Times (May 2021), Glamour Spain (April 2020)
Brands: Arizona Iced Tea, OUAI, Chewy, Tavour, Petco, JCPenney, Ollie
Reader insights
Good effort
You have potential. Keep practicing and don't give up!
Add your insights