The Pet Whisperers
Play with Your Pet When You Aren't Home with Dogness Pet Camera & Treat Dispenser
I love to have a good weekend getaway, but I also want to make sure my cats are just fine at home.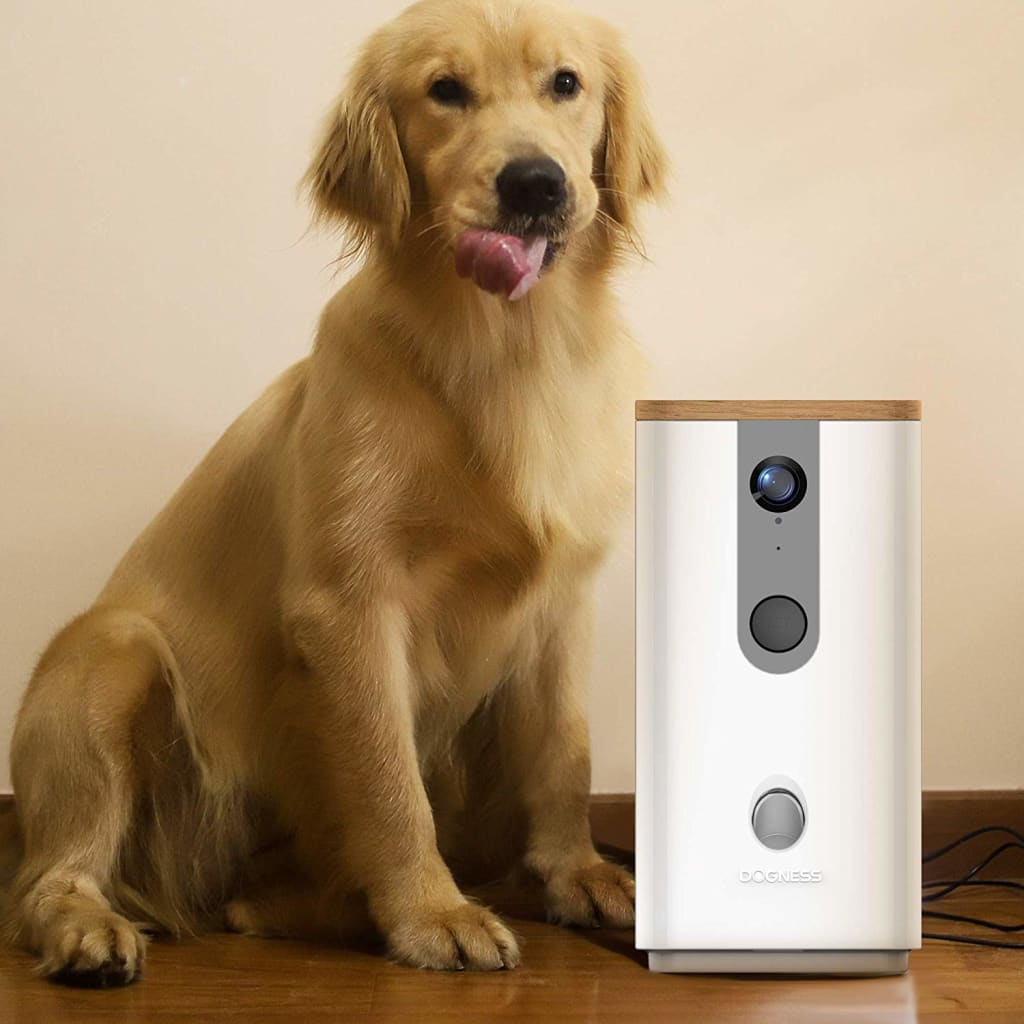 I'm faced with the same old dilemma every time I go away; I'm eager to explore and check out new places, but I'm also a devout pet owner (or as some might say, a crazy cat lady). It's great to get away and leave the monotony of daily life behind for a little while, but when you've got pets, there are some responsibilities you can't forget as easily as a laundry basket of unwashed clothes. It's hard to be an explorer and also a good pet owner.
If you have pets, even if you can't take them with you on your adventure, you still want them to be well taken care of. Plus, let's face it; for a lot of pet owners, your pets will be a lot happier at home. If you have a nervous dog or if you have cats, they'll definitely be a lot more relaxed staying home rather than being dragged along with you. I know with absolute certainty that my little scardey cats would rather stay at home than go on a long trip in a cat carrier, only to be unloaded in an unfamiliar place.
Plus, I'm a very dedicated cat mom. When I was living in a 500 square foot apartment in the heart of Baltimore, I had more furniture for my cats than I had for myself. I have a small indoor garden of catnip, catmint, and other herbs that are healthy for cats, and I'll have guests come over and comment that my cats eat better than they do.
Cat lady mannerisms aside, I'll generally hire a sitter if I'm going away for an extended period of time. Getting a good dog walker or cat sitter can be challenging though, for sometimes even your most well-meaning friends or colleagues might not be the best sitters, despite their eager volunteerism.
It's great to be able to set your mind at ease with a pet camera at home. You can open up the app, pull up the video feed, and see how your little family members are doing at home. When I finally decided to invest in a setup like this, I got the Dogness Pet Treat Dispenser.
The treat dispenser is a fantastic feature, it's so much fun to do more than just peek in on a video feed and feel vaguely creepy. This was something I really wanted in a pet cam system. I didn't just want some simple webcam—I could rig something up myself with Skype and my home computer if that was all I was looking for.
After a little bit of time home with the camera, my cats learned to rush over to the Dogness when they heard my voice. They would then eagerly await treat distribution. This is a fun feature since it lets you interact with your pet from afar, but it's also a great strategy to actually get your pet to come over to the camera.
With cats in particular, they really like their hiding places, and you may never actually see them if you just get a plain, old security camera. Without any kind of reward for coming over to the camera, our stubborn feline friends might just hide out of sight the whole time. If you have a dog, this may not be quite as much of a problem, but they'll still be super excited to get a treat anyway.
Two-Way Audio
I positively love this feature. It's what really makes it feel like you're spending a little time with your pet, even when you're far from home. You can still enjoy interacting with your pet even if you're not physically there to see them. My little girl, Lucky, is a very vocal feline. She almost always meows in response if I ask her if she wants a treat.
If you are gone for a while and have a pet sitter, it's common for your cat or dog to still miss you. If your pet is a very social animal, they're going to miss you even more. Knowing this makes it harder to leave your pets for an extended period of time, but whether you're traveling for work or pleasure, we all have to get out and about sometimes.
My little boy, Breezy, is always close at hand when I'm at home, and he tends to hide a lot when I'm away. He's very social though, and despite the stereotypes about cats, he doesn't like being left alone. It's really heartwarming to use the two-way audio to talk to him and see him come out of hiding with his ears perked up.
Night Vision
As much as I love my cats, when I'm on vacation, my days are usually pretty packed. If I've ventured into a different time zone, that makes remembering what time it is at home even trickier. Since the Dogness pet cam has night vision, I can open up the app and see what's going on regardless of what time it is.
The night vision is quite clear, too. With a lot of webcams and security cameras, lighting is a constant challenge. Fortunately, there's no need to leave a light on or burn any unnecessary electricity. The Dogness camera's night vision is sharp enough that you can still spot your pet, even if your home is dark.
The Dogness records in HD, so if you check in when your home is in a low-light timeframe (like dawn or dusk), you can still see well enough to pick up on movement and make sure all is well at home.
Camera Design
The camera itself isn't too big, but it is also a little larger than you might initially expect in the pictures. This is simply because it has a treat compartment that's just large enough to hold as much as you'd want to feed your furry friends while you're gone. Don't be deterred by the size though, you've got to have some decent space to hold the treats themselves.
The camera unit has grips on the bottom if you decide to leave it on any piece of furniture. It also has the option to be hung on the wall if you'd like to mount it that way instead. However you orient it, I'd recommend putting it somewhere your pet spends a lot of time. With any camera, if you put it in a place that's too out of the way, you might not see your pet right away when you tune in to the app.
The Dogness dispenser has helped me relax more when I go on vacation. I recently took a long weekend getaway to snowy Vermont and decided to check in with my cats at home. They seemed a bit confused at first when they heard my disembodied voice, but they're clever little critters, and they came over to the camera in short order once I released the treats. The system responds promptly to commands sent from the app. It's very reliable.
When browsing around and getting ready for a trip, it's easy enough to find tips for what to do when you're traveling and your cats stay home. A good camera system like the Dogness should always be one of them. I'm always looking for ways to take better care of pets.
For example, I'm working to get my cats on a natural diet without all the unnecessary carbs and additives that are in most commercial pet food brands. They've been reluctant so far to embrace it, but it's a work in progress to get them on a truly healthy diet. While the details of that are lengthy enough to be a story for another day, the core idea is the same. It's a way of giving them the best possible care I can provide. Thus, if I'm trying to give them the best food and ample attention, it only makes sense to have my home outfitted with the best pet camera as well.