PITBULLS FOREVER
Pitbull Lab Mix - Is A Labrador Pitbull Mix Right For You?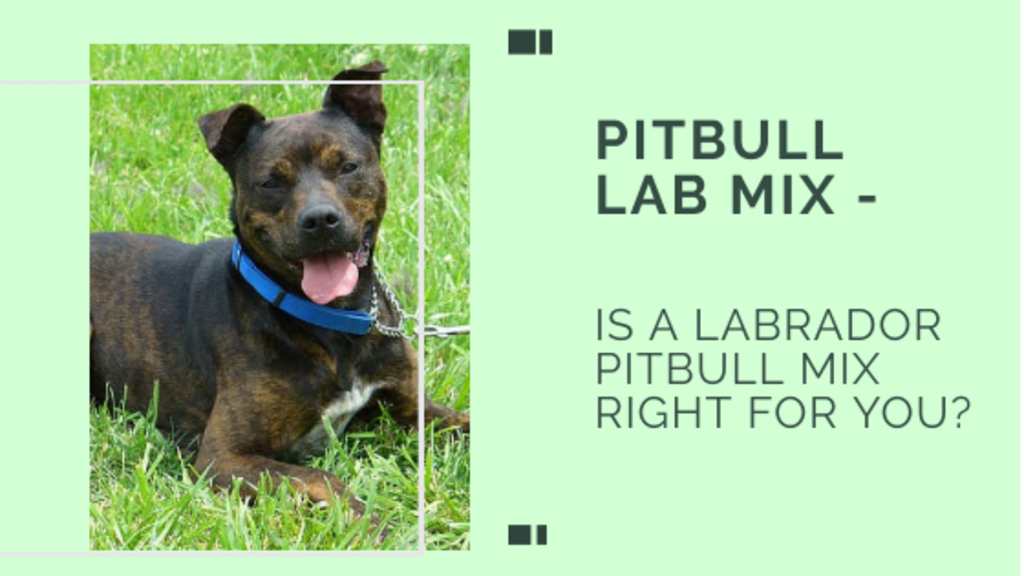 The famous Pitbull Lab mix, also commonly known as Pitador or Labrabull, is an affectionate, loyal, and intelligent companion.
Their highly affectionate nature sometimes makes them extremely protective of their family but without a doubt all that comes from nothing but a place of love.
This adventurous mix is an interesting combination of two extremely famous dog breeds in an unpredictable and exciting way.
These are highly trainable and not at all difficult to care for dogs. So if you want a devoted and loyal companion, to be a part of your joys and sorrows, labrabull should be your top choice,
Their highly possessive nature does sometimes give them a negative reputation, but stick with us and we are certain after knowing them better your opinion of this energetic and athletic cross-breed will surely change dramatically. So read on more to satisfy your curiosity and learn all about the Pitbull Lab mix.
Pitbull Lab Mix Overview
A Pitbull Lab mix is a wonderful cross between the loyal American Pitbull terrier and the loving Labrador Retriever.
Terrier and Retriever, both are hugely popular breeds, and the Labrador constantly topping America's most popular breed chart for 26 consecutive years is the very proof of it. The American Pitbull Terrier though is not officially a breed registered by American Kennel Club yet but it has been graded among the top three most popular dog breeds for quite some time now.
To this date, the origin of this cross-breed cannot be traced back to a specific event or time period. It is highly likely that this amazing breed is a wonderful result of accidental breeding.
With the passage of time, this breed has acquired more and more popularity owing to its protective and affectionate nature. These young pups are extraordinarily intelligent and they love to be with their families all the time. They are not comfortable being left alone. This is a huge factor to keep in mind before you make a decision and set your heart on this gorgeous dog.
Pitbull Lab Mix Appearance
Being a cross-breed the appearance of the Pitbull Lab mix can vary greatly. The distinguishing features of the most common Pitadors are described here but it has a massive variety.
Both Pitbulls and Labradors have an athletic build and are medium size dogs. Compared to Pitbull, the Labrador is much slimmer and has drop ears that lie fairly flat on the head. The Pitbull on the other hand is much more muscular with slightly stiff ears.
Despite the uncertainty about what features your pup might inherit, one thing is certain that they will be majestic.
Their coats are mostly shiny and short, but sometimes Labradors can have a double coat as well. If that is the case, it will increase their shedding significantly. Even if they get the smooth silky coat of the classic Pitbull, it will still shed but the shedding will be significantly lower than the alternative case.
Size and Weight
As a result of cross-breeding, the weight and height of each full-grown dog are prone to fluctuation. They are most likely to range between 45 to 90lb in weight and are generally 17 to 28 inches tall. In most cases, males are comparatively larger than females.
Coat and Colors
The parent's coat colors determine the coat color of the Pitbull Lab mix. Labradors generally have three distinct variations in color: black, yellow, and chocolate. However, Pitbulls generally come in a much wider range of coat patterns and colors.
Common Labrabull mix colors are black, yellow, white, chocolate, brindle, and tan. These are the most common occurrences however, there are many more. So any other color variation should not come as a surprise to you.
It's coat is often silky and short Due to its double coat the Labrador is a high shedding dog and there is a possibility of your pup inheriting the same characteristic.
Pitbull Lab Mix Temperament
A huge factor to keep in mind while dealing with any cross-breed dog is the unpredictability in the behavior of each pup's personality and temperament. Some puppies could be the best of both worlds while others could get less wanted traits of both parents.
A smart way to make an educated guess about a cross-breed's demeanor is to invest time in getting to know it's parents.
The Labradors are extremely personable, and affectionate dogs. They love everything and everyone. These dogs are energetic, playful, and have loads and loads of affection to bestow upon their human.
The Pitbull too is energetic and playful! They love to cuddle and are amazingly affectionate with their owner and their family. The Pitbulls however do possess a strong protective side that the Labrador lacks. This does sometimes makes them more conscious of strangers and even other dogs. This all actually comes from a place of love thanks to the strong bond they instantly form with their human so the bad reputation that they carry is not definitely well-deserved.
The Pitbull excelled in the temperament test set by the American Temperament Test Society with an amazing score of 86.4%!
None of both the breeds are known for barking, so this is definitely not something to worry about.
Separation anxiety however is a huge problem for this breed as none of the parent breeds are comfortable being abandoned. When they are left alone for a long time, they get anxious or bored and might take it out by chewing your furniture.
For a Pitbull Cross-breed, Socialization is crucial – you should introduce them to people slowly and then keep them around lots of other dogs and people starting from a young age to keep their social anxiety in check.
Is Pitbull Lab Mix a Good choice for a Family Dog?
The Pitador is an amazing, wonderful, and a very warm family dog that loves to play and hang out with kids.
As long as they are socialized properly from a very young age by being in the company of kids of all ages, they are good to go. So choosing them as your family dog will turn out to be a great experience for everyone.
How to Train your Pitbull Lab Mix?
As a new Pitbull Lab's owner, training the dog properly should be your top priority.
These dogs are brilliant and easy to please. The best way to train them is to start early.
They learn better when subject to positive reinforcement and encouragement. They are true foodies, so food can serve as a motivation for them to learn any desired behavior. Some dogs also get motivated by praise or toys as well. However, they respond to negative reinforcement with great aggression. So, be patient and stay away from using any harsh way of training them.
Due to the uncalled-for bad reputation, they get for being a little aggressive, People often forget how easy it is to train these dogs. After all, their parent breed, American Pitbull Terriers are the best service dogs, Aren't they?!
They are quick to learn and they enjoy helping others a great deal. To keep them entertained, they need to be given constant mental stimulation or else they get bored instantly.
Socialization is of the utmost importance to this breed.
It is preferable to have people visiting on a daily basis when they are yet puppies. Let everyone know what behavior is acceptable in the dog's presence and let them treat the dog when the puppy behaves well. Thus, the dog will begin to see being introduced to new people positively! This trick works for most dog breeds generally. Leaving your dog all alone with other dogs is a no-no. Better safe than sorry.
Caring for a Pitbull Lab Mix
Taking care of your pooch is something to be enjoyed and cherished, which means the breed you choose should be well-suited to your lifestyle. This breed is particularly active and outdoorsy and so prefers somebody who is available often.
An hour's exercise is the minimum they require to function. Anything less than this and they'll drive you nuts. A Pitador needs an outlet for pent up energy which makes having a backyard essential.
Thankfully, you won't need to groom them too often -- a weekly brush is all they need. This too presents a great opportunity to get closer to your furry friend. Cut their nails often and clean their teeth and ears. You'll have to stay on top of flea and worm treatments also.
Exercise Requirements
This breed requires moderate to high exercise. Asb oth of its parents are a highly active breed, you'd expect Pitadors to need an hour of exercise daily too and this is the case.
They take after their parent, the Lab, in terms of being pleased by all types of exercises. From hiking and swimming to agility classes, it'll all do.
As they are highly perceptive, obedience and agility classes are an ideal way of giving them physical and mental exercise.
As they are a Pitbull cross, the legal obligation of ownership is a problem you may, potentially encounter. Some places require them to be walked on a leash all the time. Do research what the specific regulations are in your state.
If they've had positive experiences socializing with other pups in their formative years, letting them off the hook (literally, in this case) shan't be a problem. All you need to do is make sure you've mastered recalling, which is easy enough as they're very intelligent. However, if there has been a history of your pup being aggressive towards others, keeping them leashed is safer.
They're big softies so they love a snuggle to relax at the end of the day.
Feeding and Diet
Sadly, the unusually high drive for food Pitadors exhibits easily lends itself to obesity. Make sure to maintain a strict check on their diet.
The exact diet requirements of each pup vary, depending on weight but a good rule of thumb to follow is to feed them 30 calories per pound of weight.
If you're using kibble, that equates to about 2 and a half cups of the stuff each day for a dog weighing 60lb.
Mixing wet food with kibble affects the amount of food they'll need. The protein content of the food you're using should be top-most on your checklist. Select good quality food with a big fat and protein content. High cereal foods are to be avoided as this breed doesn't carbohydrates as much.
Common Health Problems
Generally, both the labrador and pitbull are fairly healthy breeds. However, they still have some conditions in common that you need to be aware of.
They're pre-disposed to elbow and hip dysplasia. Any reputable breeder will have a record of the good elbow and hip scores for each parent dog. Both dogs should also have satisfactory eye test results which are recent.
Another common issue these dogs face is obesity. Keeping a check on their weight and making sure they're a healthy weight is super important as obesity can hinder their mobility and negatively affect their overall health when they're older.
How Long Does a Pitbull Lab Mix Live?
The average life span of a Pitbull Lab mix is between 10 and 14 years.
Buying a Pitbull Lab Mix
if you've stuck around till now, you must've fallen in love with this breed by now. What's the next step you ask? Getting one of your own, of course! You can start looking at local shelters. Unfortunately, many a Pitbull Lab mix ends up in a kennel despite having done nothing wrong.
Sometimes, people just can't pass up on a particularly cute little puppy. In this case, you should make sure they belong to a well-reputed breeder. A reputable breeder should be able to produce all necessary health checks for both parents. You will also get an opportunity to meet both parents of the pup and this is something you should certainly strive for as nothing else can give you such a clear indication of how your pup's personality will turn out once they're an adult. Meeting the mother of the pup is a must and in case the Pitbull is the father, we suggest trying to meet him as well.
We also recommend inquiring about the pup's temper, likes, and dislikes. Go ahead and ask the breeder whatever you want, don't be shy! As they become old enough to live independently from their mother, at between 8 and 12 weeks, they will begin to show their
Asking the breeder about the puppies' personalities is also a good idea. By the time they are old enough to leave their mother, around 8 to 12 weeks, they will be starting to show signs of individualism.
Summary
This breed is ideal in case you have plenty of both time and space for them to keep them entertained and occupied.
Their grooming needs are minimal and even if they shed, it is generally insignificant and not much of a hassle to clean up.
Issues around other dogs, as well as people, are resolved if they are trained properly and with dedication and allowed to socialize
All a Pitador wants is to give love and be given just as much of it in return, which is easy enough as they're such a precious breed. Their negative reputation isn't something to be put off by. If you get one, you're in for a handsome as well as a smart treat.
Read full article about pitbull