PEPPA The Frug
{noun} French Bulldog x Pug; {noun} Family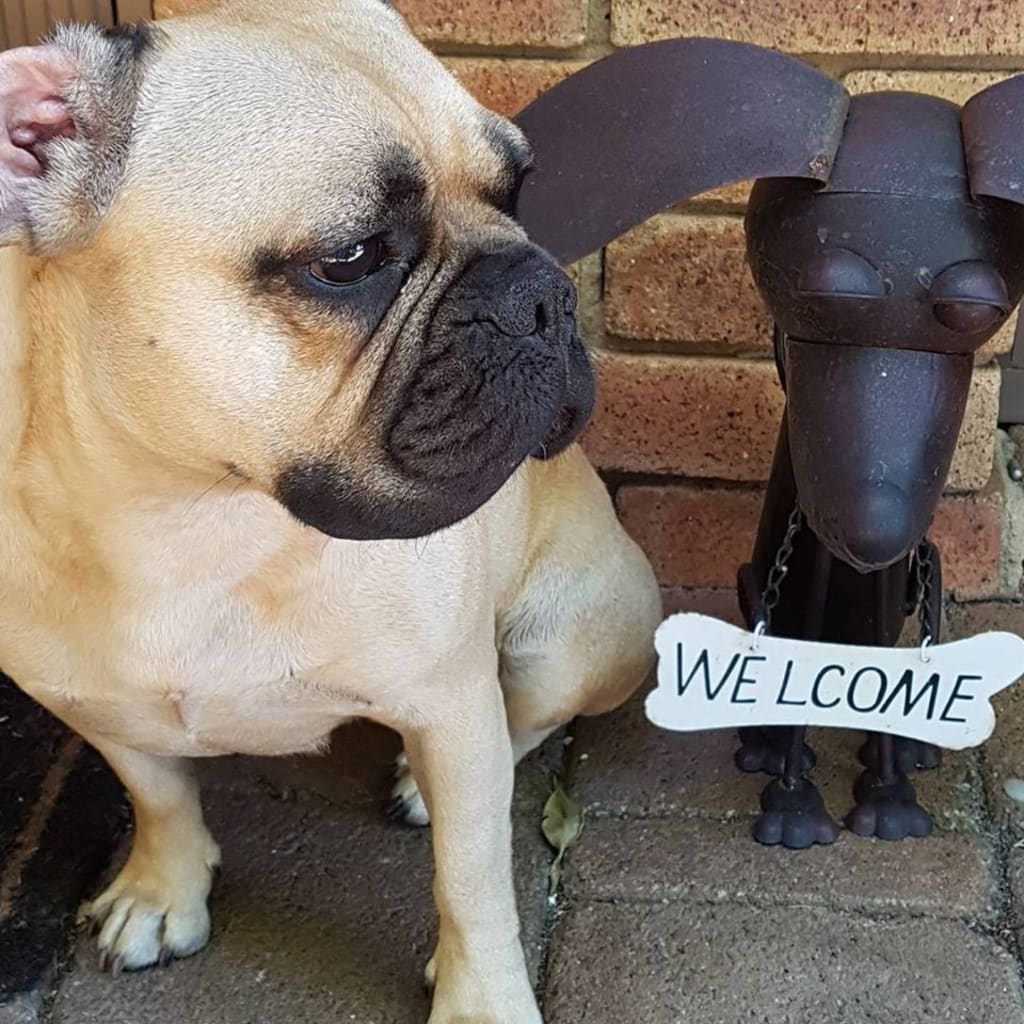 Welcome.
"Sweetie,"
We said to Peppa.
When my hubby Luke and I first got her, she was overwhelmed.
Like most rescue dogs, she had some issues. A lot. She was trained to do her business outside, though, so that was a plus. But that was where it ends.
Her recall was unbelievably poor. She suffered from terrible separation anxiety. She can be destructive. She had food security issues. She snored like a freight train (just like her Mum, my hubby says). She was aloof - almost like she was not interested, like this was just another family she would be fostered in and eventually leave.
We were witness to her opening up to us. We found front row seats to her little idiosyncrasies. That she plays with Dad and chills with Mum. That she lives for cuddles, and loves to be slowly woken up in the morning with them. That she loves scooting, especially after a meal. That she itches her ears all the time, and cleans herself before bed. That she licks her paws on command to make her settle down.
She slept on our bed on her first night with us, because we thought that would soothe, calm and reassure her. She has been a permanent fixture ever since. And yes, Luke wears ear plugs sometimes, to avoid hearing the orchestrated snoring duet.
We have learned to work around her food insecurities too, by giving her lots of encouraging words and non-verbal cues which, you might be surprised, she understands. We treat her with wafer biscuits, which are not good for her, because she loves them anyways. She eats what we eat too. But we have learned to make sure that she has her definite, regular eating space where her food bowl is, and to not feed her from our hands by the dinner table.
Peppa is also known as our pillow monster and cushion slayer. Funny, she goes for Luke's pillow most of the time. Other times, it's throw cushions when she wants attention and loving. So now we remember to shut the doors to the bedrooms. Where we keep all pillows and cushions. Period.
Aside from her anxiety tablets, we now adjust our schedules around her so she isn't alone for long periods of time. That, and she loves drives in the car, whenever we can take her. She knows this when Luke goes to lock the back door instead of putting her in her cage out in the back patio - so much so that she jumps at the drawer where we keep her harness and leash.
She now answers to not only her name, Peppa, but to "ratbag," "darling," and "baby girl" ...because she is. Our baby.
So now, after four years with this special, incredibly wonderful dog who thinks she is human, we are still so grateful and over the moon. "No one can love a pooch like we love her" would be an understatement.
My husband and I are going through a difficult time. But we learned how to love each other not just more but better, be more open and forgiving, be more generous, be more patient, and have more fun with each other. She has been and what still is keeping us together. We thought she needed rescuing, but in the end, she rescued us.
One day soon, if it all works out, I hope we can give her a human baby brother or sister, too. But for now, she is our family. And we are hers. For always.
Peppa said,
"Mum and Dad,"
Welcome.
dog
About the author
Anna is a Filipino-Aussie based in Perth, Western Australia. Her writing is unique and interesting, a paradox filled with (thought) bubbles, (word) balloons and (fairy) dust of doodles --- inspiring creativity and sparking the imagination.
Reader insights
Be the first to share your insights about this piece.
Add your insights